QComp Technologies, Inc. Announces New Automated Pallet Dispenser
rong>Space Saving, Reliable & Easy to Maintain Automation Solution Consistently Aligns and Dispenses Up to 6 Pallets per Minute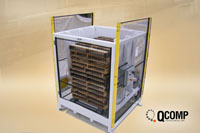 GREENVILLE, Wisconsin - QComp Technologies, Inc., a leading robotics integrator, today announced its new automated pallet dispenser. The plug and play dispenser provides a space saving area for stacked pallets to be staged in front of downstream processes. It was designed to provide manufacturers with an easy to maintain, and reliable dispensing solution that can accommodate the "less than perfect" pallets.

"Manufacturers are consistently working to optimize valuable factory space and challenged with working with imperfect pallets," said Tom Doyle, president of QComp Technologies, Inc. "The QComp Pallet Dispenser uses no drag chains, tabs or fingers that can damage pallets and it can square, align and dispense pallets quickly and efficiently without using a maze of conveyors. It can also be utilized in reverse to stack empty pallets."

The Qcomp Pallet Dispenser utilizes an integrated scissor lift and feed conveyor to dispense or stack pallets. It is capable of dispensing pallets at a rate of up to 6 pallets per minute and is seamlessly integrated with QComp palletizers. The unit features a wide chain to protect pallets, a Rockwell Micrologix PLC and a Panelview Plus 600 HMI interface.

Founded in 1990, QComp Technologies, Inc. is a robotics integrator, providing automation solutions for a variety of industries. The company designs and builds automated robotic manufacturing cells and material handling systems, as well as engineers and manufactures drive systems for paper, metal and converting industries. With headquarters in Greenville Wisconsin QComp has sales and service offices in Wausau and Milwaukee, WI. More information can be found on the company's website at www.qcomptech.com.

QComp and the QComp logo are trademarks of QComp Technologies, Inc. All trade names are either trademarks or registered trademarks of their respective holders.