Predictive Maintenance Information Among New Features of Mitsubishi Electric Automation's Newest HMI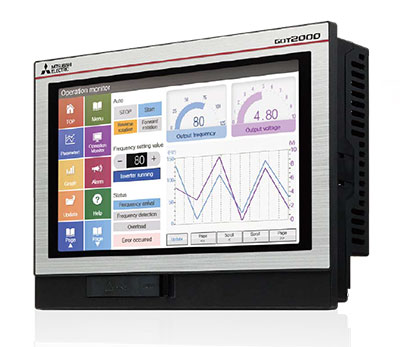 GT2107 Wide HMI Improves System Visibility and Performance
VERNON HILLS, Ill. – Driven by end user demand for improved visualization into their automation solutions portfolio, Mitsubishi Electric Automation, Inc. has introduced the GT2107 Wide Series Human Machine Interface (HMI). The GT2107 is an interface that monitors and controls machine components with a graphical touchscreen that connects to equipment such as PLCs, VFDs and servos. This compact HMI features a 7-inch wide display with 800 x 480 resolution for clear image quality and is equipped with a remote connectivity option through a VNC server.
The optional VNC server (VNC license sold separately) provides remote access to the HMI and connected equipment, allowing users to operate the system using tablets or personal computers to view data in real time. The GT2107 also offers predictive maintenance information, giving plant managers the opportunity to proactively plan and manage equipment maintenance.
Beyond predictive maintenance information and remote connectivity, the GT2107 Series HMI offers many other innovative features designed to meet the increasing factory automation pressures faced by engineering and plant managers, particularly in applications used in printing, solar, material handling, energy and small packing systems. These key features include:
Program backup/restore function
Two USB ports (device and host)
Interactive display for seamless integration with Mitsubishi Electric devices
Device monitoring
Logging
Factory automation transparency (download/upload through front USB to equipment)
Servo maintenance function
SD card drive
The GT2107 HMI provides end users with access to logged information, while the wide video graphics array (WVGA) allows them to see more information on the screen. A keyboard, mouse or other host device can be connected through the USB host. In addition to USB device ports and an SD card drive, Ethernet and serial connectivity are provided as standard features.
"The GT2107 is a huge advancement in HMI technology. It was designed to provide as much information as possible to improve system operation, troubleshooting and maintenance, on small, low cost HMIs" said Agnieszka Zupancic, senior product marketing engineer at Mitsubishi Electric Automation, Inc. "Both our end users and OEM customers will benefit from the innovations we built into the interface. For example, we expect that the flexible SD card drive, which stores projects, system applications and resource data will be especially useful to OEMs."
About Mitsubishi Electric Automation, Inc.
Headquartered in Vernon Hills, Ill., Mitsubishi Electric Automation, Inc., offers a wide range of factory automation products, solutions, training and support services for the industrial and commercial sectors. A U.S. affiliate company of Mitsubishi Electric Corporation, Mitsubishi Electric Automation represents more than 75 years' experience in the automation industry. A broad product portfolio includes programmable automation controllers (PAC), programmable logic controllers (PLC), human machine interfaces (HMI), variable frequency drives (VFD), servo amplifiers and motors, control software, computerized numerical controllers (CNC), motion controllers, robots and low-voltage power distribution products. The company takes its solutions on the road with the 53-foot long Solutions in Motion mobile showroom that appears at tradeshows, training seminars and other events across North America.
In addition to factory automation, Mitsubishi Electric US group companies' principal businesses include semiconductor devices, automotive electrical components, elevators and escalators, heating and cooling products, solar modules, electric utility products, and large-scale video displays for stadiums and arenas. Mitsubishi Electric US group companies have roughly 31 locations throughout North America with approximately 4,000 employees.
Company Contact
Pam Summers, Sr. Content Management Specialist
Tel: 847-478-2415