PI's Precision Automation Solutions Featured at 2017 LASER World of PHOTONICS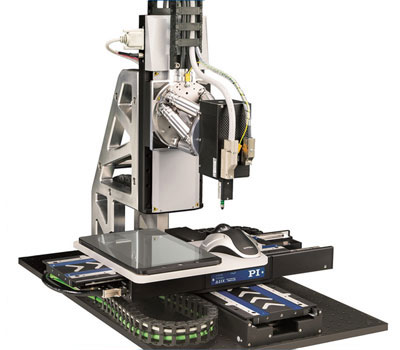 Precision automation solutions for Si Photonics, Laser Machining and Touch Display Testing – provided by PI's engineered systems group.
Auburn, MA – The world's largest conference and trade show on laser technology and photonics is the backdrop for PI's most anticipated high performance motion solutions for photonics, robotics, microscopy, and precision industrial automation applications. Held in Munich, Germany from June 26th to 29th, LASER World of PHOTONICS includes lectures and exhibits from the pioneers of the photonics world and anticipates more than 30,000 visitors this year.
Engineered Precision Automation Systems
Designed specifically for packing and probing applications, the innovative fiber alignment system - the Fast Multi-Channel Photonics Alignment engine (FMPA) - will be displayed at PI's booth in Hall B2. The multi award-winning product family delivers nanoscale alignment precision and speed by combining the latest in software, hardware, and precision mechanics to speed up the testing and packaging of silicon photonics (SiP) components that involve multiple optical inputs and outputs.
An additional feature at PI's booth is a 10-axis precision motion system for touch panel testing that includes a voice coil actuator with highly sensitive force feedback and a hexapod for 3D linear and 3D angular alignment with a software controlled pivot point.
Another exhibit focuses on precision laser machining. Here the broad spectrum of drive and control technologies provided by the PI Group is combined into a state-of-the-art system with higher accuracy and throughput than traditionally possible.
Download the Engineered Systems - Gantry Solutions brochure >
Definitely worth a visit, PI's engineers will walk you thru the short process of how PI takes your motion control issue and turns into a fully functioning solution that saves you time and money.
About PI
PI is a leading manufacturer of precision motion control equipment, piezo motors, air bearing stages, and hexapod parallel-kinematics for semiconductor applications, photonics, bio-nano-technology and medical engineering. PI has been developing and manufacturing standard & custom precision products with piezoceramic and electromagnetic drives for 4 decades. The company has been ISO 9001 certified since 1994 and provides innovative, high-quality solutions for OEM and research. PI is present worldwide with 15 subsidiaries, R&D / engineering on 3 continents and total staff of more than 1,000.