PI Ceramic Invests $11MM Into Expanding Its Piezo Transducer Production Capabilities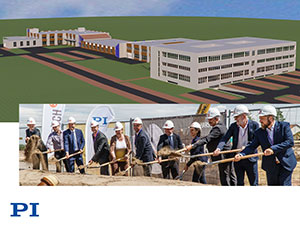 Ground has been broken for the new 81,000ft² production facility addition at PI Ceramic's location at Lederhose, Germany.
Auburn, MA – PI Ceramic (PIC), a subsidiary of global precision motion and piezo technology solutions leader PI (Physik Instrumente), announced their investment to enlarge their current facilities in Lederhose, Germany, increasing their current footprint by half again. PI Ceramic produces ultrasound transducers, piezelectric sensors and high performance piezoelectric transducers for OEMs in many industries.
PI Ceramic production / office space expansion
The new building offers 3 floors for multilayer piezo ceramic assembly production in addition to general office space, a significant increase to its existing 129,000ft² structure. PI Ceramic specializes in high quality standard and customized piezo transducers for applications including medical, aerospace, and robotics. PIC's patented ceramic-insulated multilayer PZT actuators are used on the Mars Rover Curiosity after passing a 100 billion cycle stress test by JPL/NASA. PI Ceramic currently employs about 330 people (about one quarter of the PI Group). The anticipated move-in time is planned for mid-2020.
Managing Director Dr. Patrick Pertsch explained, "This building is an expression of our joint success here at PI Ceramic. I am excited for us to fill it with ideas, sophisticated piezoceramic products, and most of all, solutions that meet the demands of our customers".
About PI
PI is a leading manufacturer of air bearing stages, piezoelectric solutions, precision motion control equipment, and hexapod parallel-kinematics for semiconductor applications, photonics, bio-nano-technology and medical engineering. PI has been developing and manufacturing standard & custom precision products with piezoceramic and electromagnetic drives for 4 decades. The company has been ISO 9001 certified since 1994 and provides innovative, high-quality solutions for OEM and research. The PI group employs more than 1,300 people worldwide in 15 subsidiaries and R&D / engineering centers on 3 continents.