PI Appoints Dr. Cliff Jolliffe to Head its Precision Automation Technologies Market Segment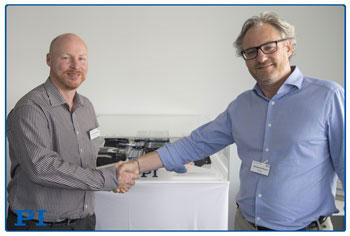 Jolliffe takes over the responsibility of developing PI's business in industrial precision automation.
Auburn, MA – Worldwide motion control and nanopositioning solutions leader PI (Physik Instrumente) has named Dr. Cliff Jolliffe as Head of Segment Marketing – Automation, in Karlsruhe, Germany, as he brings with him over two decades of automation technology experience. For the last 15 years, Jolliffe worked for a well-known precision mechatronics company as subsidiary manager, Laser Medical and Micromachining Manager, and was also responsible for sales of digital motion controllers across Europe.
"I'm excited about joining PI's team and am really impressed by the drive and passion that everybody has for our products. The new direct driven linear and rotary stages, motion controllers, and broad range of technologies that I've seen, really enhance our ability and confidence to increase our sales in the global precision automation markets", says Jolliffe.
Dr. Jolliffe has the perfect technical background to head the automation segment for PI – he holds a PhD in electric motor design. The United Kingdom government recognizes him as an expert in the field of precision automation and he currently chairs a cross-industrial / academic panel that seeks to advance research in joint ventures with manufacturing companies.
PI congratulates Cliff Jolliffe!
Standard and Custom
PI has in-house engineered solutions with over 4 decades of experience working with customers to provide products that meet application demands, and can quickly modify existing product designs or provide a fully customized OEM part to fit the exact requirements of the application.
About PI
PI is a leading manufacturer of air bearing stages, piezoelectric solutions, precision motion control equipment, and hexapod parallel-kinematics for semiconductor applications, photonics, bio-nano-technology and medical engineering. PI has been developing and manufacturing standard & custom precision products with piezoceramic and electromagnetic drives for 4 decades. The company has been ISO 9001 certified since 1994 and provides innovative, high-quality solutions for OEM and research. The PI group employs more than 1,000 people worldwide in 15 subsidiaries and R&D / engineering centers on 3 continents.