Outstanding Users of Robotics and Machine Vision Technology Honored
Memorial Sloan Kettering Cancer Center and Molding International & Engineering Receive Top Prizes
Ann Arbor, Michigan – Memorial Sloan Kettering Cancer Center (New York, NY) and Molding International & Engineering (Temecula, CA) are the winners of the Robots and Vision User Recognition Award, presented during a special ceremony at the International Robots & Vision Show in Rosemont, Illinois on Wednesday evening, June 13.
Sponsored by Robotic Industries Association (RIA) and the Automated Imaging Association (AIA), the award is presented every two years to companies that have successfully implemented robots and/or machine vision technology.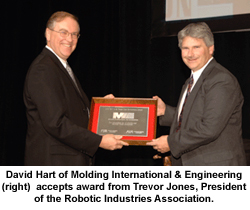 Molding International & Engineering (MIE) was selected in the category of companies with fewer than 200 employees. The company uses an innovative vision guided robot system to manufacture insert molded electrical connectors. Unique end of arm tooling is also included in the system, which has resulted in benefits such as increased plant capacity, quality improvements, reduced variation in molding processes, and elimination of work-in-progress inventory. MIE has been using robots and machine vision in its flexible automation cells since 2001.
Among the key automation suppliers for the flexible automation projects are DENSO Robotics in Long Beach, California and Tensor Automation, supplier of DVT/Cognex camera equipment, located in Temecula, California.
''The flexible automation strategy developed at MIE was strategic in origin and absolutely necessary for MIE to compete in the demanding zero defect critical automotive market,'' said David Hart, Engineering Manager at MIE. ''Had we not embraced this strategy and successfully implemented it, our ability to meet this zero defect criteria would have been impossible.''
''This is a great example of a small company that has made significant investments in robotics and machine vision in order to become more competitive,'' said Donald A. Vincent, Executive Vice President of RIA. ''It proves that robots and machine vision aren't just for large companies.''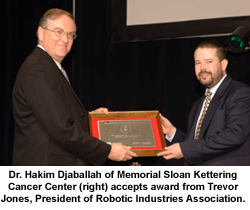 Memorial Sloan Kettering Cancer Center was selected in the category of companies with more than 200 employees. The High Throughput Screening Core Facility at the center uses robots and machine vision to screen large chemical libraries against various cancer targets. The application has been successfully working in production since 2004. Among the key benefits provided by the system is the ability to discover novel and potential drugs for clinical use to fight a broader range of cancers, especially for those being neglected by the large pharmaceutical companies.
''For economical reasons, many pharmaceutical companies aren't willing to research certain type of rare cancers,'' said Dr. Hakim Djaballah, head of screening at Memorial Sloan Kettering. ''Thanks to this innovative application, we can now research these cancers using chemical screening techniques typically associated only with large pharmaceutical companies. We can investigate several cancer cell lines in forward and reverse time schedules, especially those primary cancer cells derived from patients, where we can correlate clinical observations to findings in the laboratory as to the response of these cancer cell lines to different therapeutic regiments,'' Djaballah explained.
The Memorial Sloan Kettering HTS system was designed internally and integrated by the laboratory automation and integration group at Thermo Fisher Scientific located in Burlington (Canada).
''Memorial Sloan Kettering has demonstrated that robots and vision technology can impact our lives in many ways we'd never imagined,'' said the RIA's Vincent. ''Most people think of factory applications when they think of robotics, but this application shows just how diverse the uses of robots can be.''
Two companies were cited for ''honorable mention'' recognition in the category of more than 200 employees. Engineered Machined Products, Inc. (Escanaba, MI) was selected for applying robotics for high-quality deburring and cleaning. Flexibility, along with increased customer satisfaction and overall reduction in maintenance and operational costs were cited as the leading benefits. Company representative Paul Harvey noted that ''it's critical to get the message out that when you look at overall global costs of doing business, U.S. companies can be competitive through effective utilization of robotics.'' FANUC Robotics America was the lead supplier for the system.
Haldex Brake Products Corporation (Grain Valley, MO) was honored for a unique vision inspection system that provides 100% inspection of seven different features across several hundred different part numbers of the same product family. Haldex's customers require failure rates of 50 parts per million or less, which the vision inspection system allowed them to achieve. Interestingly, the company failed at its first attempt at a machine vision solution, but used the knowledge gained to successfully develop the system that is now being recognized. Interactive Design, Inc. was the system integrator for the application that has been working successfully since June 2006.
The 2007 winners join the list of previous award recipients that includes Delphi Corporation, Pirelli Tire, Pepperidge Farm, Pioneer Hi-Bred, and Honeywell.
Founded in 1974 and 1984 respectively, RIA and AIA represent more than 500 companies that supply, use or integrate robot and machine vision technology, as well as major research organizations, universities, and consulting firms.
For more information about RIA and AIA, visit the association's websites at www.roboticsonline.com and www.machinevisiononline.org, or call RIA and AIA Headquarters at 734/994-6088.
Contact:
Dana Whalls
734/994-6088