New Micro-Positioning Components and Solutions Catalog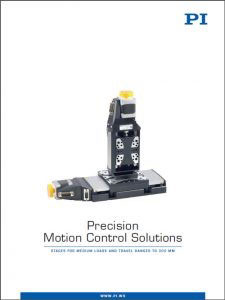 Applications for linear and rotary stages with classical DC and stepper motors include the industrial fields and research where precise positioning of measuring tools, processing tools and cameras is mission critical.
Auburn, MA – Motion and precision positioning systems expert PI (Physik Instrumente) released a new catalog of engineered products necessary for precision positioning of medium loads used in industry and research.
The products high-lighted in this catalog are developed to move loads of 10kg to 50kg (22lb to 110lb) over distances up to 300mm. Rotation stages provide rotation angles of 360 degrees. Achieving accuracy in the micron and sub-micron realm is not a trivial matter and stages with ballscrew/servo or stepper drives combinations can be superior to direct drive motors when it is necessary to achieve high holding force, torque or particularly for vertical positioning.
Linear and rotary stages are also available in compact sizes for easy installation into limited space.
Standard and Custom
PI has in-house engineered solutions with over 4 decades of experience working with customers to provide products that meet application demands, and can quickly modify existing product designs or provide a fully customized OEM part to fit the exact requirements of the application.
About PI
PI is a leading manufacturer of air bearing stages, piezoelectric solutions, precision motion control equipment, and hexapod parallel-kinematics for semiconductor applications, photonics, bio-nano-technology, and medical engineering. PI has been developing and manufacturing standard & custom precision products with piezoceramic and electromagnetic drives for 4 decades. The company has been ISO 9001 certified since 1994 and provides innovative, high-quality solutions for OEM and research. The PI group employs more than 1,000 people worldwide in 15 subsidiaries and R&D / engineering centers on 3 continents.