New Electric Drives and Controls Website from Bosch Rexroth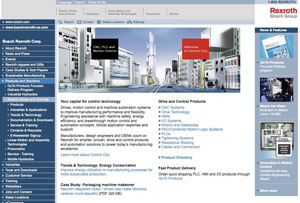 (Hoffman Estates, IL – www.boschrexroth-us.com) Bosch Rexroth's Electric Drives and Controls technology group launched a new website to give customers, distributor partners, systems integrators and OEMs fast, easy access to the latest product information, technology updates, applications support, free downloads and technical literature. Visit the new website at www.boschrexroth-us.com/brc.
An in-depth resource for Rexroth electric drive and control technology, the new site helps first-time visitors discover the full depth and breadth of Rexroth's offering, and helps returning customers quickly find what they need. The site also showcases Rexroth's Control City initiative, which highlights Bosch Rexroth's unique advantages in CNC, PLC and Motion Control technologies for manufacturing automation.
The new website reorganizes and streamlines the group's web presence for the North American marketplace, making it easier for visitors to access information on the new product releases, download documentation files and other useful software tools, training schedules, and learn specifics about new customer case histories. It is regularly updated with new multi-media product announcements, instructional videos, white papers on topics such as energy conservation, robotics, distributed intelligence and SERCOS III Ethernet developments, and industry-specific information on new drive and control solutions for businesses in industries such as food and packaging, printing, and automotive manufactutring.
The site also makes it easy to take advantage of the group's GoTo Focused Delivery program, which is designed to provide fast delivery of in-demand PLC, I/O and HMI products for machine builders.
New sections of the website include a new, easy-to-access Product Directory, and 10 new Product Category pages. These pages follow industry-standard product category breakdowns, such as Drive Systems, I/O components, CNCs, PLCs and HMIs, so both new visitors and regular site users can find information about specific types of products.
Each Product Category page includes a Featured Product, highlighting information on the product releases and system upgrades the group is promoting. The pages also include product tables with easy-to-read summaries of product capabilities and links to detailed product pages, along with links to relevant Case Histories, Technical Papers and product-specific catalogs for IndraMotion, IndraControl, IndraDrive and IndraLogic product platforms.
A new Documentation and Downloads section provides a central resource for searching and downloading, and ordering up-to-date product technical documentation, system instructions, datasheets, product videos, documentation files and sample software downloads.
Bosch Rexroth AG is one of the world's leading specialists in the field of drive and control technologies. Under the brand name of Rexroth the company supplies more than 500,000 customers with tailored solutions for driving, controlling and moving machinery used in industrial and factory automation as well as in mobile applications. Bosch Rexroth is a partner for industrial applications, factory automation, mobile applications and renewable energy development. As The Drive & Control Company, Bosch Rexroth develops, produces and sells components and systems in more than 80 countries. In 2008 Bosch Rexroth AG, part of the Bosch Group, achieved sales of around $8.3 billion (5.9 billion Euro) with 35,300 employees. Visit www.boschrexroth-us.com for more information.