New Direct-Drive Linear Motor Stages deliver Sub-nm Resolution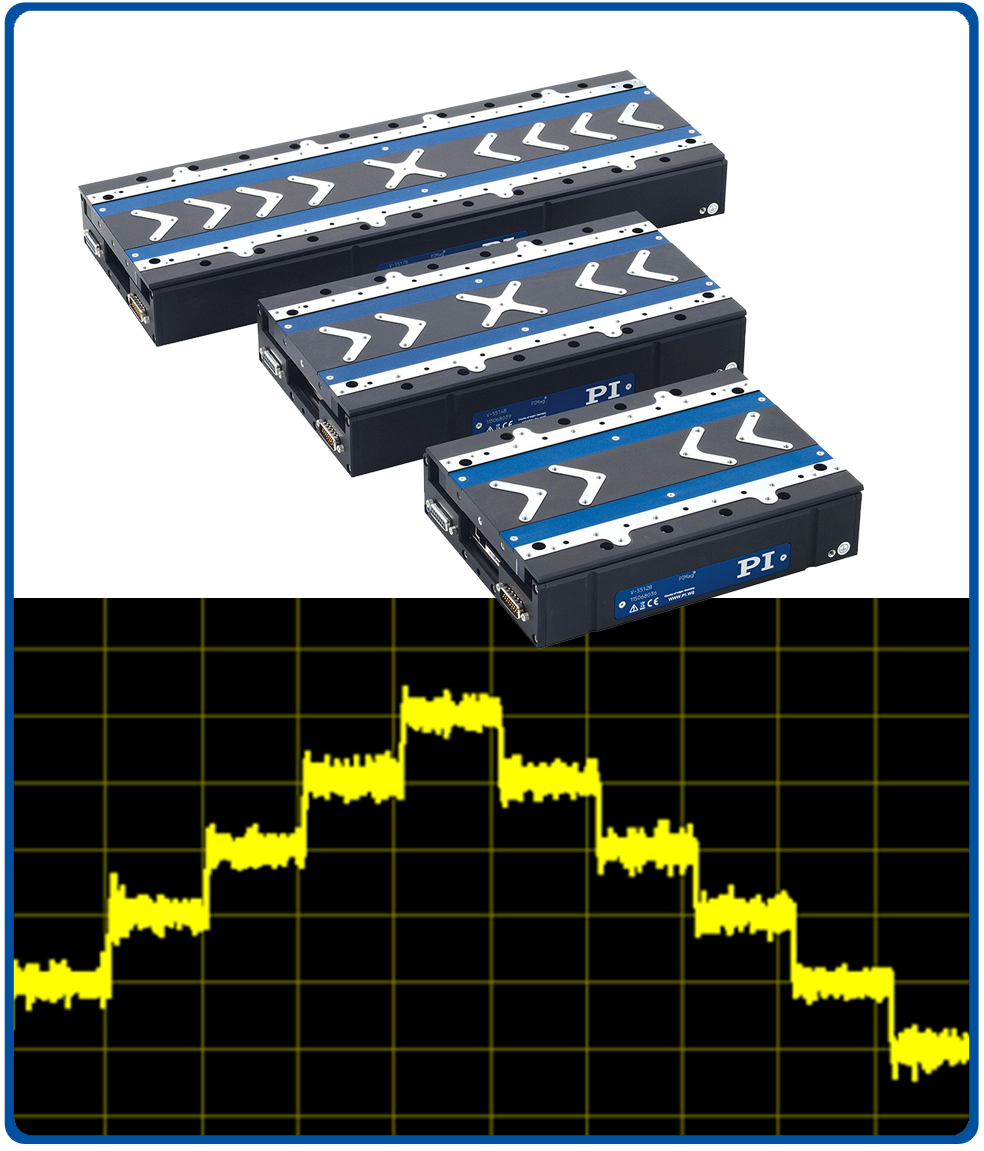 New from PI, these ultra-precise stages are now available with 0.2 nanometer resolution linear encoders, ideal for high-end alignment, scanning and automation applications, in fields such as photonics, biotechnology and laser optics.
Auburn, MA – Motion and nanopositioning industry leader PI released a new precision feedback option for its linear stages equipped with direct-drive ironless 3-phase motors.
Absolute and Incremental Encoders, Excellent guiding accuracy: 4 to 9 inch travel range
The V-551 family of ultra-precision positioning stages models is equipped with precision crossed roller bearings featuring anti-creep cage assist and excellent guiding accuracy (1µm straightness / flatness per 100mm).
Two types of position feedback systems are available: absolute-measuring encoders providing 2 nanometers resolution and incremental encoders providing 0.2 nanometers resolution with effective 0.5nm minimum incremental motion at the stage platform.
Why ironless linear motors?
Ironless linear motors are used when high dynamics needs to be combined with extremely smooth motion. They are ideal for applications where extremely constant velocity is required, such as in optics inspection, metrology, photonics, interferometry, and semiconductor test equipment. The frictionless, zero-wear motor drives are also popular in fast automation applications, where reliability and maximum up-time are mission-critical.
Specifications, Datasheet, More Information
http://www.pi-usa.us/products/precision_positioning_pi-micos/Linear_Precision_Positioning_Stages_Mc.php#High_Accuracy

Standard and Custom
PI has in-house engineered solutions with over 4 decades of experience working with customers to provide products that meet application demands, and can quickly modify existing product designs or provide a fully customized OEM part to fit the exact requirements of the application.
About PI
PI is a leading manufacturer of air bearing stages, piezoelectric solutions, precision motion control equipment, and hexapod parallel-kinematics for semiconductor applications, photonics, bio-nano-technology, and medical engineering. PI has been developing and manufacturing standard & custom precision products with piezoceramic and electromagnetic drives for 4 decades. The company has been ISO 9001 certified since 1994 and provides innovative, high-quality solutions for OEM and research. The PI group employs more than 1,000 people worldwide in 15 subsidiaries and R&D / engineering centers on 3 continents.