New Catalog for Alignment of Optics & SiP: See Live Demo at Photonics West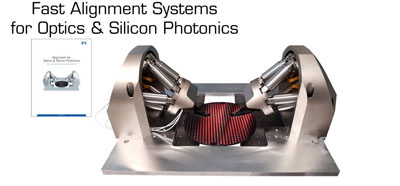 Award-winning high-speed automated systems from PI speed up wafer-level testing and assembly tasks for SiP and Optics applications.
San Francisco, CA – A new catalog on fast automated alignment solutions for silicon photonics and optical components will be available from PI, just in time for this year's SPIE Photonics West conference. The catalog highlights award-winning multi-axis, parallel alignment systems for industrial requirements where speed is critical and accuracy needs to be at the nanoscale – including wafer-level testing and component packaging.
The SiP Solution
The FMPA Fast Multichannel Photonics Alignment Engine is the fastest alignment system currently on the market. Based on parallel execution of mechanical and optical processes, time savings on the order of 90% and more are feasible compared to traditional photonics alignment systems. The systems are available for single and double sided alignments and can also be added to existing wafer probers.
See It Live at Photonics West
You can experience the SiP wafer probing demo in person at SPIE Photonics West, from January 30th in San Francisco, CA.
Request a Print Copy or Download the New Alignment for Optics & Silicon Photonics catalog
http://www.pi-usa.us/pdf/index.php#FiberAlign
Watch Automated Photonics Alignment video
https://www.youtube.com/embed/BJbYzLJ7kWA?start=443&rel=0
Standard and Custom
PI has in-house engineered solutions with over 4 decades of experience working with customers to provide products that meet application demands, and can quickly modify existing product designs or provide a fully customized OEM part to fit the exact requirements of the application.
About PI
PI is a leading manufacturer of air bearing stages, piezoelectric solutions, precision motion control equipment, and hexapod parallel-kinematics for semiconductor applications, photonics, bio-nano-technology, and medical engineering. PI has been developing and manufacturing standard & custom precision products with piezoceramic and electromagnetic drives for 4 decades. The company has been ISO 9001 certified since 1994 and provides innovative, high-quality solutions for OEM and research. The PI group employs more than 1,000 people worldwide in 15 subsidiaries and R&D / engineering centers on 3 continents.