New Bosch Rexroth Landing Pages Improve access to Case Studies and Technical Articles
Bosch Rexroth's new overview pages make it easier for users to browse, locate and read case studies and technical articles online.
Photo caption: Bosch Rexroth has redesigned its website page for case studies and technical papers and created brand new landing pages for individual articles.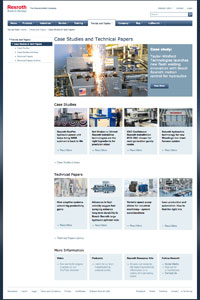 Bosch Rexroth has updated its U.S. website to improve usability and optimize navigation. The "Case Studies and Technical Papers" home page has been completely re-worked, with individualized landing pages for nearly 50 articles related to drive and control technologies.
The redesigned Case Studies and Technical Papers home page is located at www.boschrexroth-us.com/stories and features a clear and user-friendly layout, making it easy for readers to locate case studies and technical papers on specific topics of interest. The most recent articles in each section are presented in a row, with links to the full stories. Additionally, users can easily access the complete list of Rexroth stories by selecting "Case Studies Library" or "Technical Papers Library."
Older stories are still available on archive pages reached through the left-hand navigation on the Case Studies and Tech Papers home page.
Each recent case study and technical paper has its own landing page, which provides a snapshot overview of the complete article broken down into three parts: challenge, solution and results or key considerations. From the landing page, readers can download the full article as a PDF, view related articles or watch relevant videos.
The new Case Studies and Tech Papers home page is particularly helpful for users who want to stay up to date with the latest content from Rexroth. New papers will be added as they are published, and with notification through the Bosch Rexroth US Twitter feed Twitter users can simply search for the hashtag #BRstories for quick access to the most recently published material.
Rexroth's recent website changes aim to help users browse information and resources more easily. The new landing pages for case studies and technical papers will help manufacturing and design engineers quickly find relevant and real-world examples of how Rexroth technology can be used to improve systems and processes in a wide variety of markets and applications.
About Bosch Rexroth
Economical, precise, safe, and energy efficient: drive and control technology from Bosch Rexroth moves machines and systems of any size. The company bundles global application experience in the market segments of Mobile Applications, Machinery Applications and Engineering, Factory Automation, and Renewable Energies to develop innovative components as well as tailored system solutions and services. Bosch Rexroth offers its customers hydraulics, electric drives and controls, gear technology, and linear motion and assembly technology all from one source. With locations in over 80 countries, more than 36,700 associates generated sales revenue of approximately 5.7 billion euros ($7.6 billion) in 2013.
About Bosch
The Bosch Group is a leading global supplier of technology and services. In 2013, its roughly 281,000 associates generated sales of 46.1 billion euros ($61.2 billion). Its operations are divided into four business sectors: Automotive Technology, Industrial Technology, Consumer Goods, and Energy and Building Technology. The Bosch Group comprises Robert Bosch GmbH and its more than 360 subsidiaries and regional companies in some 50 countries. If its sales and service partners are included, then Bosch is represented in roughly 150 countries. This worldwide development, manufacturing, and sales network is the foundation for further growth. In 2013, Bosch applied for some 5,000 patents worldwide. The Bosch Group's products and services are designed to fascinate, and to improve the quality of life by providing solutions which are both innovative and beneficial. In this way, the company offers technology worldwide that is "Invented for life."

In the U.S., Canada and Mexico, the Bosch Group manufactures and markets automotive original equipment and aftermarket products, industrial drives and control technology, power tools, security and communication systems, packaging technology, thermotechnology, household appliances, healthcare telemedicine and software solutions.