New Autonomous Mobile Robots & Logistics Conference Set for October 12-14, 2021 in Memphis, Tennessee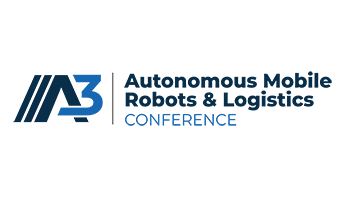 ANN ARBOR, MICHIGAN – The Association for Advancing Automation (A3) returns to live events this fall, focusing on the surging interest in mobile robotics, distribution, material handling, and e-commerce technologies, with the Autonomous Mobile Robots & Logistics Conference, October 12-14, in Memphis, TN.
FedEx, the Memphis-based, global transportation and technology leader, has been named the official title sponsor for this conference, which builds on the success of A3's Autonomous Mobile Robots (AMR) event last held September 2019 in Louisville, KY, attended by hundreds of industry leaders.
"We are so excited to be back to live events, starting in the AMR and logistics space," said Jeff Burnstein, President of A3. "While our 2020 virtual event was successful – more than 2,900 registered for our AMR conference last fall – there's nothing like meeting the leading companies and learning about the new technologies and latest applications in person. We expect the pandemic to be in the rear-view mirror in the US by October, and will take all steps necessary to create a safe environment for all of our participants."
FedEx is planning to provide select conference attendees with a behind-the-scenes look at some of its Memphis-area innovation and operations facilities.
"FedEx was built on innovation, and it continues to be an integral part of our culture and business strategy," said Rebecca Yeung, vice president, advanced technology and innovation, FedEx Corporation. "We see the incredible benefits that next-generation innovation brings, and we are excited to support this year's Autonomous Mobile Robots & Logistics Conference as it brings cutting-edge innovations and hundreds of industry experts to the Memphis area."
The conference and exhibits will feature presentations from leading users and suppliers. In addition to mobile robots, there will be talks and exhibits focused on robot arms, gripping solutions, vision, AI, motion control and related technologies used in logistics applications.
A3 also will present an update on its new ANSI/RIA R15.08-1-2020 American National Standard for Industrial Mobile Robots - Safety Requirements - Part 1: Requirements for the Industrial Mobile Robot and the ongoing work on Part 2 of the standard.
"As more mobile robots are used in warehouses, distribution centers, factories and other environments, the development of safety standards to protect people is more important than ever," said Carole Franklin, A3's Director of Standards Development.
Registration is now open! Conference spots sold out in 2019 and are expected to go fast in 2021, as well. For information on speaking, exhibiting, sponsoring or attending, contact A3 at events@automate.org or call +1 734 929-3268.
About Association for Advancing Automation (A3)
In April 2021, the Robotic Industries Association (RIA), AIA – Advancing Vision + Imaging, Motion Control & Motor Association (MCMA), and A3 Mexico converged into the Association for Advancing Automation (A3), the global advocate for the benefits of automating. A3 promotes automation technologies and ideas that transform the way business is done. Members of A3 represent over 1,100 automation manufacturers, component suppliers, system integrators, end users, research groups and consulting firms from throughout the world that drive automation forward.
A3 hosts a number of industry-leading events, including Vision Week (June 8-10, 2021 virtual), A3 Business Forum (January 31-February 2, 2022, in Orlando, FL), the Automate Show & Conference (June 6-9, 2022, in Detroit, MI), and The Vision Show (October 11-13, 2022, in Boston, MA).