Monthly Robotics News – October 2021
The most intriguing robotics news from the past month, brought to you by the team at RoboDK.
Industrial Robot Brief
October saw the welcome return of more automation trade shows after a long hiatus, adding to the sense of a return to normal for the sector. The appetite is clearly there, with some shows seeing a 50% increase in attendees compared to pre-pandemic levels.
Industry's appetite for robots is on the rise too. Q2 robot orders in North America increased by a staggering 67% compared to the same period last year, according to figures from the Association for Advancing Automation (A3) released in October. More than half (5,530) of orders came from non-automotive customers with industries from metals and life sciences to electronics and consumer goods adopting automation in increasing numbers.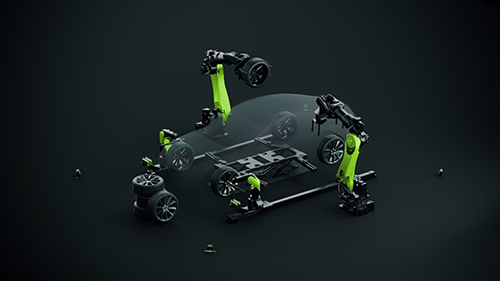 Meanwhile, in other industrial automation news: autotech startup RoboTire, which has developed an ingenious tire changing robot, closed a USD7.5 million Series A funding round; logistics, supply chain and warehouse robot specialists Dexterity raised USD140 million in new funding; Japanese electronics company Omron Corp. announced plans to take a 10% stake in cobot maker Techman Robot; Aim Robotics and Kassow Robots announced a partnership; and Miso Robotics unveiled a robotic chicken wing frying solution.
A system designed to further enhance the safety of human-robot collaboration has been unveiled by researchers at Skolkovo Institute of Science and Technology. Dubbed 'CoHaptics,' the wearable system can track human users' movements using hand-tracking technology and provide tactile feedback to warn them about potential collisions with robots.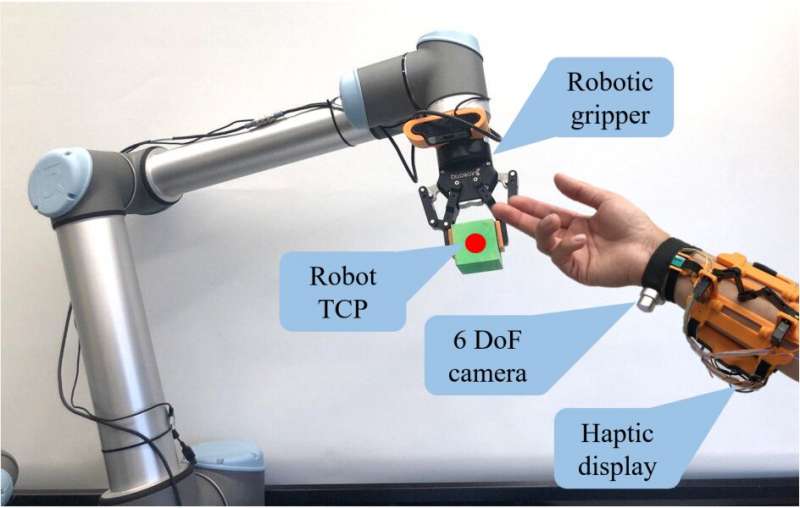 Also in October, Montreal-based Mecademic, which specializes in the design and manufacture of small, 'plug-and-work' industrial robots for micro-automation applications (see video below for more) announced a partnership with Electromate that will see Mecademic's miniature arms being made available through Electromate outlets.
Amazon Boosts Investment In Robotics Research
A busy October for Amazon Robotics began with news that MIT and Amazon are to establish a 'Science Hub,' focused on "areas of mutual interest." Artificial intelligence and robotics will be the center's focus in the first year, according to the company: "Amazon will provide gift and sponsored research funding over the next five years to support research and academic fellowships on campus."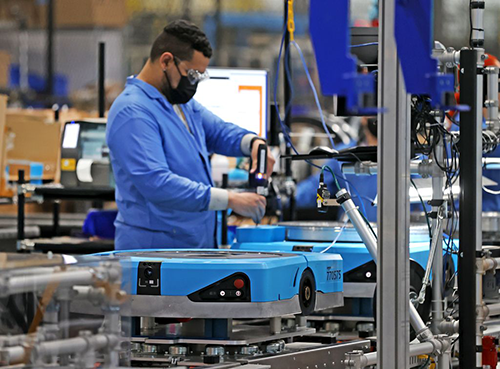 Amazon also announced the opening of a new robotics innovation center in Westborough, Mass. The USD40 million, 350,000 square feet facility, which includes robotics research and development labs, will enable Amazon Robotics to grow its engineering, manufacturing, support and test teams.
New Modular & Swarm Robots
Imagine a future where tiny, smart robotic devices can quickly self-assemble into robots capable of handling real-world industrial applications and payloads. That day is a long way off, but advances in swarm and modular robotic systems (accompanied by advances in material science and miniaturization of motors, sensors and computing components) provide a tantalizing glimpse of what aspects of this future might look like.
In October, researchers from the Swiss Biorobotics Laboratory (BioRob) unveiled 'Roombots' –modular shape-changing, 3D reconfigurable robots. Each Roombot is a simple device consisting of an outer shell, a battery, three motors for movement, and a wireless connection. Collectively, they can self-assemble into items of furniture.
Also in October, researchers at Norte Dame unveiled a reconfigurable swarm of identical, low-cost quadruped robots that can combine their efforts to overcome obstacles in the environment. These robots are more complex than Roombots, with four legs, a flexible tail to improve stability, a light sensor, a magnetic connector that enables the robots to dock to each other, and a battery. Collectively, they can form chains to create a centipede like shape.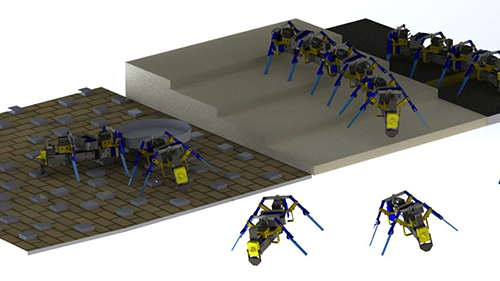 The researchers noted that while individual robots performed better at simple tasks, groups of robots were better at more complex tasks such as obstacle traversal and object transport in rough terrain, where flexibility and the ability to work collectively came to the fore.
OnRobot Launches Free E-Learning Platform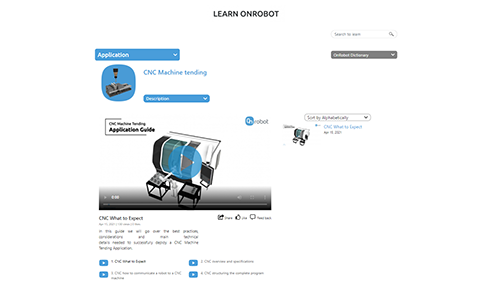 Interested in learning how to deploy cobots and lightweight industrial robot arms in real-world applications such as CNC machine tending, palletizing, and sanding? Check out Learn OnRobot, a free online training platform designed to guide people of all skill levels through the steps involved in effectively deploying collaborative applications. The new resource, which launched in the last week of October, is accessible via browser on computer, smartphone, and PC, and is available in 9 languages.
RoboDK's October Reading
Five more stories from October that captured our attention.