Mitsubishi Electric Automation, Inc. Announces Platinum Sponsorship of GCAMP
The two companies will collaborate efforts in building the next generation of the manufacturing workforce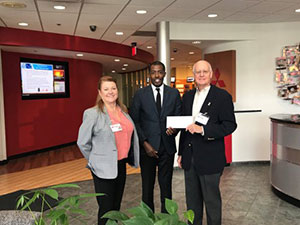 Mitsubishi Electric Automation, Inc. announces a Platinum Sponsorship of the Golden Corridor Advanced Manufacturing Partnership (GCAMP). Through this sponsorship, Mitsubishi Electric supports its customers´ interests by investing in the skilled workforce required for their business.
GCAMP works to connect manufacturers to their next generation workforce in the »Golden Corridor» region of the Chicago metropolitan area. GCAMP works extensively with students to connect programs and projects directly to Golden Corridor manufacturers in a variety of ways. It arranges open houses for students and parents to see advanced manufacturing in action, while educating those students and parents on the technologically advanced career opportunities in manufacturing. GCAMP offers manufacturing networking meetings as well as events for area manufacturers to tour advanced manufacturing programs, learn about programs offered to students, connect with educators and meet the students. Additionally, GCAMP assists students in attending automation and manufacturing trade shows such as IMTS and FABTECH. It also works with local secondary schools and community colleges to develop manufacturing programs and support dual credit courses to help students along a STEM manufacturing career path.
Through GCAMP´s extensive student resources, Mitsubishi Electric will have the opportunity to support education in manufacturing in an innovative manner, by bringing its CNC products, robots, and industrial automation equipment to the next generation of manufacturing employees. The sponsorship will also yield long-term benefits to other manufacturing businesses, educators, students, municipalities, and local community residents by fortifying the manufacturing and automation foundation in the region.
»Mitsubishi Electric is excited to sponsor a local organization like GCAMP,» said Derrick Jordan, mechatronics engineering group manager at Mitsubishi Electric Automation, Inc. »So many industries benefit by a strengthened manufacturing workforce, from automotive and aerospace, to medical and agriculture. We look forward to the impact this will bring to our community.»
About Mitsubishi Electric Automation, Inc.
Headquartered in Vernon Hills, Ill., Mitsubishi Electric Automation, Inc., offers a wide range of factory automation products, solutions, training and support services for the industrial and commercial sectors. A U.S. affiliate company of Mitsubishi Electric Corporation, Mitsubishi Electric Automation represents more than 75 years´ experience in the automation industry. A broad product portfolio includes programmable automation controllers (PAC), programmable logic controllers (PLC), human machine interfaces (HMI), variable frequency drives (VFD), servo amplifiers and motors, control software, computerized numerical controllers (CNC), motion controllers, robots and low-voltage power distribution products. The company takes its solutions on the road with the 53-foot long Solutions in Motion mobile showroom that appears at tradeshows, training seminars and other events across North America. Additional information about Mitsubishi Electric Automation is available at us.MitsubishiElectric.com/fa/en.
In addition to factory automation, Mitsubishi Electric US group companies´ principal businesses include semiconductor devices, automotive electrical components, elevators and escalators, heating and cooling products, electric utility products, and large-scale video displays for stadiums and arenas. Mitsubishi Electric US group companies have 38 locations throughout North America with approximately 4,000 employees.
About the Golden Corridor Advanced Manufacturing Partnership (GCAMP)
The Golden Corridor Advanced Manufacturing Partnership, or »GCAMP», is a 501(C)3 organization with a mission to work towards creating a sustainable manufacturing workforce along the I-90 »Golden Corridor» section of the northern Chicago suburbs. GCAMP is a coalition of area manufacturers, educators at all levels, trade associations, workforce boards, and municipal economic developers that supports activities through grant sponsorship and hands on work to promote advanced manufacturing as a career pathway. Additional information about GCAMP is available at www.gcamp.org.