Mitsubishi Electric Automation Adds Option Card and Programming Software to 800 Series VFDs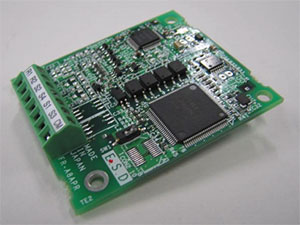 VERNON HILLS, Ill. – Mitsubishi Electric Automation, Inc. introduces the FR-Configurator2, a new generation of variable frequency drive (VFD) programming software, plus plug-in type option cards and stand-alone accessories for its FR-A800 and FR-F800 series inverters. These additions are designed to provide flexibility in order to maximize the inverters' performance and application efficiency.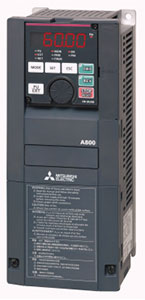 The stand-alone and shared accessories include the programming software, keypads, cables, terminal blocks, resistors, and a regeneration controller. The FR-Configurator2 software allows users to view and set parameter lists, and check diagnostics. It also lets users perform parameter conversion for easy migration from 700 Series VFDs to the newer 800 Series VFDs. Key functions of the option card include input and output (digital and analog), communication and feedback.
"These add-ons expand the functionality of 800 Series VFDs in a variety of applications from pumps and fans to complex motor control systems," said Christopher Rhodes, product marketing engineer, Mitsubishi Electric Automation, Inc. "Food and beverage, HVAC, forestry and mining industries will especially benefit from these 800 Series VFD options."
800 Series inverters and the new options are well suited for controlling three-phase induction and IPM/SPM motors in fan and pump applications. In the mining industry, they can be used in material handling conveyors, run in/out tables, reheat furnaces and cooling beds.
The 800 Series inverter option cards and accessories include a wide range of communications including CC-Link and PROFIBUS-DP, parameter programming units and operational display panels. The 800 Series also includes other stand-alone options, including harmonic suppression controllers, regenerative converters and heatsink options.
Mitsubishi Electric Automation offers a comprehensive line of factory automation products and solutions. Installation manuals, specification documents and other materials for the 800 Series option cards and accessories are available at the Mitsubishi Electric Automation knowledge base and resource library.
About Mitsubishi Electric Automation, Inc.
Headquartered in Vernon Hills, Ill., Mitsubishi Electric Automation, Inc., offers a wide range of factory automation products, solutions, training and support services for the industrial and commercial sectors. A U.S. affiliate company of Mitsubishi Electric Corporation, Mitsubishi Electric Automation represents more than 75 years' experience in the automation industry. A broad product portfolio includes programmable automation controllers (PAC), programmable logic controllers (PLC), human machine interfaces (HMI), variable frequency drives (VFD), servo amplifiers and motors, control software, computerized numerical control (CNC), circuit breakers, robots and motion controllers. The company takes its motion control solutions on the road with the 53-foot long Solutions in Motion mobile showroom that appears at tradeshows, training seminars and other events across North America.
In addition to factory automation, Mitsubishi Electric US group companies' principal businesses include semiconductor devices, automotive electrical components, elevators and escalators, heating and cooling products, solar modules, electric utility products, and large-scale video displays for stadiums and arenas. There are roughly 50 locations throughout North America with approximately 3,600 employees.
Company Contact
David Kaley - Marketing Communications Manager
Tel: 847.478.2213