Kollmorgen - Kollmorgen Servo System Catalog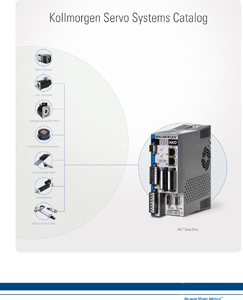 Kollmorgen introduces the new Kollmorgen Servo System Catalog. The catalog details the features, benefits and specifications of the company's broad range of servo system solutions including Kollmorgen's complete range of AKD® Ethernet-based servo drives, AKM™servomotors, direct drive technology, Kollmorgen Cartridge DDR® motors, housed DDR motors, linear positioning systems, precision tables, electric cylinders, rodless actuators, TRUE Planetary™ gearheads, stepper motors, stepper drives and other product solutions. The 86 page catalog also details Optimized Solutions from Kollmorgen that results in rapid prototyping, shorter design cycles and getting machines to market faster.
"Motion can distinctly differentiate a machine and deliver a marketplace advantage by improving its performance, which translates to overall increased efficiency on the factory floor. Perfectly deployed machine motion can make a machine more reliable and efficient, enhance accuracy and improve user safety. Motion also represents endless possibilities for innovation. In fact, with Kollmorgen servo components that are known to integrate seamlessly together, machine builders can increase overall equipment effectiveness by up to 50%, and this catalog can help them see how," says Josh Inman, Business Unit Manager.
About Kollmorgen
Kollmorgen is a leading provider of motion systems and components for machine builders around the globe, with over 70 years of motion control design and application expertise.
Through world-class knowledge in motion, industry-leading quality and deep expertise in linking and integrating standard and custom products, Kollmorgen delivers breakthrough solutions unmatched in performance, reliability and ease-of-use, giving machine builders an irrefutable marketplace advantage.