Joseph F. Engelberger Foundation Donates $20,000 to The Joanne Pransky Scholarship Funded by Women in Robotics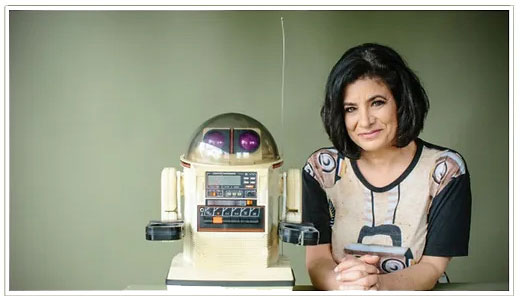 ANN ARBOR, Michigan – The Joseph F. Engelberger Foundation has donated $20,000 to the Joanne Pransky Scholarship, established this year by the Women in Robotics organization to celebrate the life of this robotics pioneer and support women entering the field. Known for her role in advancing personal and service robots, Pransky passed away in May after more than 36 years in robotics.
Often referred to as the world's first robotic psychiatrist for her focus on human centered robotics, Pransky served as an advisor to the robotics industry, even serving as a board member of the International Service Robot Association early in her career. She also consulted for some of the industry's top robotic and entertainment organizations, including the Association for Advancing Automation (A3), Motoman, Staubli, KUKA Robotics, STRobotics, DreamWorks, Warner Bros., and Summit Entertainment.
"Joanne was a true pioneer in advancing the cause of personal and service robots," said Jeff Burnstein, president of A3, which manages the Joseph F. Engelberger Foundation. "For more than 30 years, she worked alongside industry leaders, including Joe Engelberger, to let the world know that one day robotics would become an important part of our everyday lives. With each passing year we get closer to realizing that goal, and I'm very sad that my friend Joanne is no longer with us to see the tremendous progress being made in robotics outside of the factory. We hope this donation helps encourage others to join our industry with the same enthusiasm and passion for robotics Joanne always displayed."
Engelberger, known as the "Father of Robotics," was the founding force behind industrial robotics. He passed away on December 1, 2015. A3 honors his legacy through its annual Joseph F. Engelberger Robotics Awards as well as through annual grants that are awarded through his foundation.
Women in Robotics is a 501(3) not-for-profit organization. To contribute to the Women in Robotics scholarship fund, designed to encourage more women to enter the field of robotics – across any discipline, visit https://bold.org/scholarships/joanne-pransky-celebration-of-women-in-robotics/
To learn more about Women in in Robotics Day, visit https://www.womeninrobotics.org/wir-day-2023
About Association for Advancing Automation (A3)
The Association for Advancing Automation (A3) is the leading global advocate for the benefits of automating. A3 promotes automation technologies and ideas that transform the way business is done. Members of A3 represent nearly 1200 manufacturers, component suppliers, system integrators, end users, academic institutions, research groups and consulting firms that drive automation forward worldwide.
A3 hosts a number of industry-leading events, including Automate 2024 (May 6-9, 2024, in Chicago); the International Robot Safety Conference 2023 (October 9-11, Pittsburgh, Pennsylvania); AI & Smart Automation Conference 2023 (October 10-11, 2023, Pittsburgh, Pennsylvania); A3 Business Forum (January 15-17, 2024, Orlando, Florida) and the Autonomous Mobile Robot & Logistics Conference (October 8-10, 2024, Memphis, Tennessee)
For More Information
Jackie Rose
Association for Advancing Automation
(734) 929-3264
Kelly Wanlass
HCI Marketing and Communications, Inc.
(801) 602-4723