Infrared Camera with Microscope Optics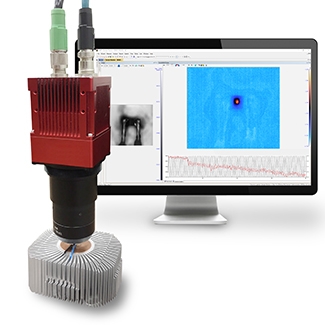 High-precision result images, micro-precise detection options, detailed analysis capability: Specially developed for use in non-destructive testing, the infrared camera with microscope optics from AT – Automation Technology offers numerous advantages when it comes to inspecting the smallest components. Probably the most popular application for the camera is the inspection of electronic components. Since these are often so tiny that normal infrared cameras reach their limits in terms of resolution, the infrared camera with microscope optics from AT is the optimal solution for reliably checking the functionality of the mini object to be inspected and thus for quality control.
AT – Automation Technology has developed a very customer-friendly tool regarding the infrared camera with microscope optics, since detailed analyses in the micrometer range can usually only be carried out with cooled infrared cameras, which are very expensive and require a lot of maintenance. The AT solution, on the other hand, is cost-effective, maintenance-free and, at the same time, of particularly high quality and technology. With the help of the microscope optics, a resolution of up to 10 micrometers is possible at a distance of 12 millimeters from the object. The very compact dimensions of the camera-optics combination should also be emphasized, and the camera can also be used in harsh environments in a temperature range from -35° to +55° without any problems.