In-Sight® 7000 Smart Camera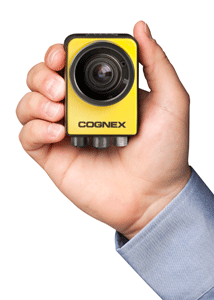 Cognex Corporation (NASDAQ: CGNX), the world's leading supplier of machine vision systems, introduces the ultimate vision system that is small, tough and very smart — the In-Sight® 7000 smart camera. This new vision system series represents a true revolution in machine vision, featuring powerful vision tools, faster image capture, capability to power and control a range of external lighting, and enough input/output (I/O) capacity for virtually any inspection scenario — all in a compact, industrial IP67 package that makes the system ideal for more applications than ever before.
"The significance of this new technology cannot be overstated," said Bhaskar Banerjee, Business Unit Manager, Vision Systems. "Not only does the In-Sight 7000 deliver proven, reliable Cognex vision technology, but because of its small package size and unique new features, companies can deploy vision systems much more easily than they were previously able to."
Smarter Tools
The In-Sight® 7000 smart camera users can rely on the industry-leading Cognex vision tool library for reliable, repeatable performance in even the most challenging vision applications. Proven In-Sight measurement, location and inspection vision tools and the flexible EasyBuilder® environment to make all inspection, defect detection, guidance, alignment and measurement applications easy to set up and deploy.
Faster Image Capture
The In-Sight 7000 smart camera provides many model options to choose from, all with a tough metal IP67 package, including the highest acquisition speeds available with In-Sight with a maximum of more than 100 image captures per second. The high acquisition rate provides users reliable inspection of products on even the fastest bottling and pharmaceutical production lines.
Lighting Power and Control
Unlike most vision systems, the In-Sight® 7000 smart camera has the capability to power and control specialized lighting directly, eliminating the need for external power supplies.
Expanded Input/Output Capacity
With three input and three output connections powered by this vision system, the In-Sight® 7000 smart camera has sufficient capacity to meet the needs associated with virtually any inspection scenario.
More Options
Additional features of the small, tough and very smart In-Sight 7000 smart camera include CognexConnect™, which offers the widest range of built-in communication protocols that interface directly with the vision system. The compact In-Sight 7000 features built-in Ethernet, RS-232 serial and multiple discrete I/Os. The system can communicate directly to virtually any PLC or robot controller, or manage multiple smart cameras remotely from a networked PC or HMI, simplifying implementation and reducing costs.