Imaging, Endoscopy, and Fiber Optics Applications Benefit from New Piezoelectric Micro-Tubes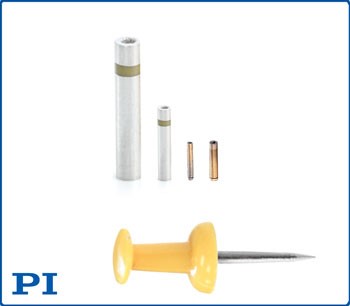 Available in two sizes and custom designs, these new tubes are suitable for the most precise applications.
Auburn, MA – Piezo ceramics specialist PI Ceramic (a division of PI Physik Instrumente) complements its line of piezo transducers with a new line of ultra-compact tubes, with inner diameters down to 200 microns. These new piezoelectric micro-tubes are suitable for nanopositioning, fiber alignment, and imaging applications in medical, optics/photonics, and microscopy applications.
Applications
Piezoelectric tubes are suitable for applications in the field of medical imaging, such as endoscopy, microscopy, fiber optics, and photonics.
Especially in High-Resolution Scanning Fiber Endoscopy, piezo tubes can improve the performance of existing systems.
Due to the high speed and miniature size of the piezo tubes also finds applications in video endoscopy.
200 Microns Inner Diameter
The new ultra-small piezo tube transducers come in two standard sizes: 0.2/0.5mm ID/OD (inner/outer diameter) with 4mm length, and 0.9/1.5mm ID/OD with 15mm length.Custom Geometries, Materials, and Electrodes
Custom geometries (length, diameter) and custom materials are available, in addition to the large variety of standard piezo tubes and tubular stack transducers offered by PI. Customers can choose from electrodes applied in thick-film and thin film technology. Other options include multi-segmented electrodes for multi-axis scanning operation and modified response behavior as well as wrap-around contacts for easy integration into a mechanical assembly.
Specifications, Datasheets, More
Overview in Miniature Piezoelectric Transducers
About PI Ceramic Piezo Technology
PI Ceramic (division of Physik Instrumente) is a leading manufacturer of piezo transducers and piezo ceramic materials. PI's multilayer ceramic actuators are Mars Rover tested and their reliability and performance is critical for precision motion control equipment in markets such as semiconductor manufacturing, photonics, bio-nano-technology and medical engineering. PI has been developing and manufacturing standard & custom precision products with piezoceramic and electromagnetic drives for 4 decades. The company has been ISO 9001 certified since 1994 and provides innovative, high-quality solutions for OEM and research. The PI group employs more than 1,000 people worldwide in 15 subsidiaries and R&D / engineering centers on 3 continents.