Bosch Rexroth expands its wide range of aluminum profiles to include an Inch 10 and 15 series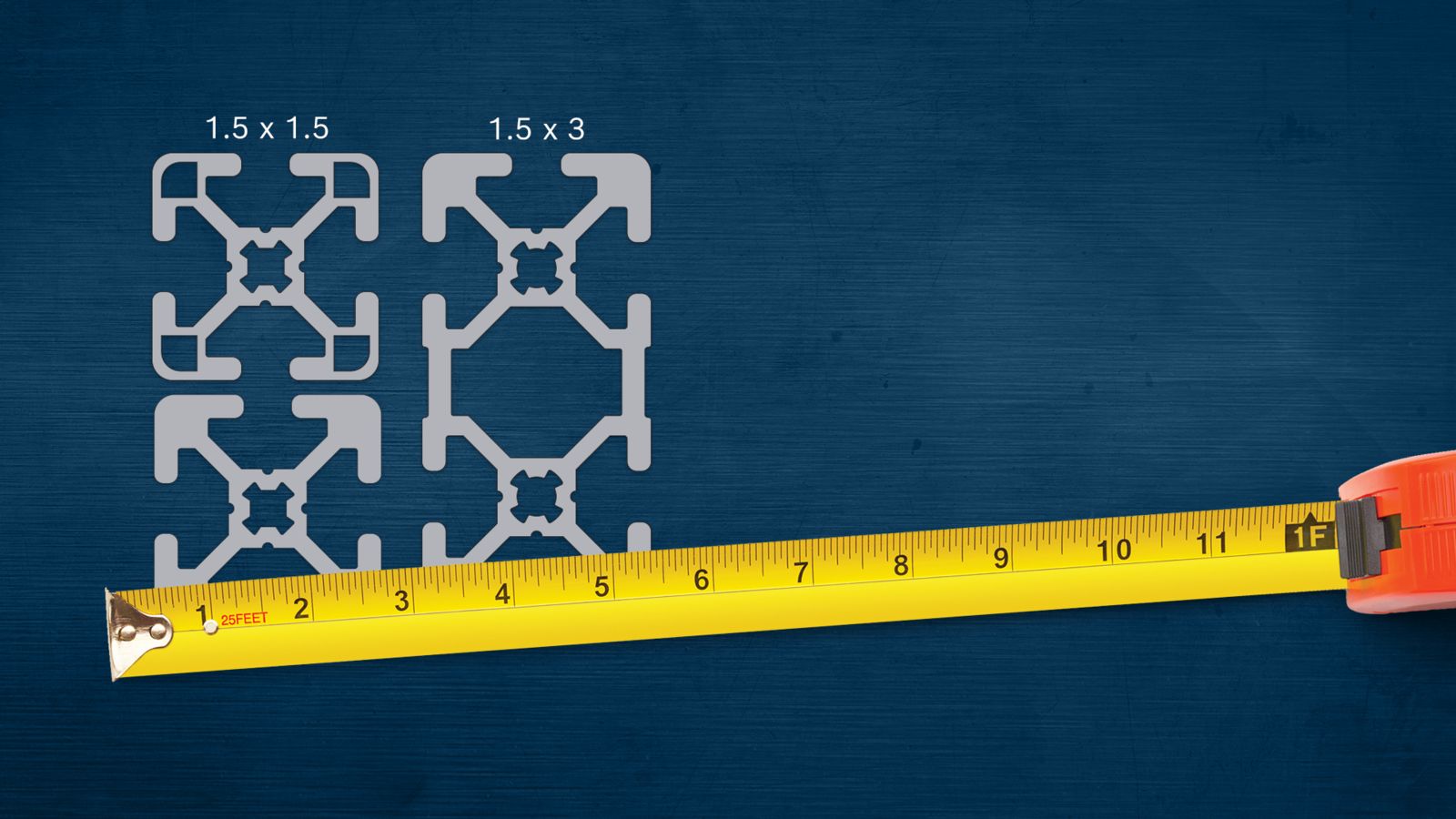 Adding to its robust aluminum framing product portfolio metric series, Bosch Rexroth is expanding its offering in North America to include the Inch 10 and 15 series. With 9 strut profiles and over 100 components to choose from, Bosch Rexroth continues its commitment to provide unbeatable flexibility for the design of your assembly line. Our new Inch series is backed by our over 40 years of experience continuously enhancing aluminum extrusion and providing high-quality and versatile final products.
With our new Inch 10 and 15 series, build anything from worktables, machine bases, industrial guarding, and tool racks to robot stands, workstations, carts, display units, and more! When built, the end result is a strong, yet lightweight structure that's as function as it is attractive. Like our industry-proven metric series, the high-strength aluminum profiles have a natural-color, anodized surface that scratch-and corrosion resistant, never needs panting, and is virtually maintenance free.
Bosch Rexroth's Inch 10 and 15 series include the following strut profiles:
· 1" x 1"
· 1" x 2"
· 2" x 2"
· 1.5" x 1.5"
· 1.5" x 1.5" LT
· 1.5" x 3"
· 1.5" x 3" LT
· 3" x 3"
· 3" x 6"
In addition to the 9 profiles, Bosch Rexroth offers over 100 different supporting accessories, providing everything you need to build almost any application.
Learn more about Bosch Rexroth's Inch 10 and 15 Series at www.boschrexroth-us.com/inch-series
About Bosch Rexroth:
As one of the world's leading suppliers of drive and control technologies, Bosch Rexroth ensures efficient, powerful and safe movement in machines and systems of any size. The company bundles global application experience in the market segments of Mobile and Industrial Applications as well as Factory Automation. With its intelligent components, customized system solutions, engineering and services, Bosch Rexroth is creating the necessary environment for fully connected applications. Bosch Rexroth offers its customers hydraulics, electric drive and control technology, gear technology and linear motion and assembly technology, including software and interfaces to the Internet of Things. With locations in over 80 countries, more than 32,000 associates generated sales revenue of around 7.0 billion euros in 2022. www.boschrexroth-us.com.
About Bosch:
The Bosch Group is a leading global supplier of technology and services. It employs roughly 421,000 associates worldwide (as of December 31, 2022). The company generated sales of 88.2 billion euros in 2022. Its operations are divided into four business sectors: Mobility, Industrial Technology, Consumer Goods, and Energy and Building Technology. As a leading IoT provider, Bosch offers innovative solutions for smart homes, Industry 4.0, and connected mobility. Bosch is pursuing a vision of mobility that is sustainable, safe, and exciting. It uses its expertise in sensor technology, software, and services, as well as its own IoT cloud, to offer its customers connected, cross-domain solutions from a single source. The Bosch Group's strategic objective is to facilitate connected living with products and solutions that either contain artificial intelligence (AI) or have been developed or manufactured with its help. Bosch improves quality of life worldwide with products and services that are innovative and spark enthusiasm. In short, Bosch creates technology that is "Invented for life." The Bosch Group comprises Robert Bosch GmbH and its roughly 470 subsidiary and regional companies in over 60 countries. Including sales and service partners, Bosch's global manufacturing, engineering, and sales network covers nearly every country in the world. With its more than 400 locations worldwide, the Bosch Group has been carbon neutral since the first quarter of 2020. The basis for the company's future growth is its innovative strength. At 136 locations across the globe, Bosch employs some 85,500associates in research and development, of which nearly 44,000 are software engineers.
Additional information is available online at www.bosch.com, www.iot.bosch.com, www.bosch-presse.de, www.twitter.com/BoschPresse.