Automate Conference Features Small Business Owner, Drew Greenblatt, to Speak on How to Grow Great Jobs and Profits with more Automation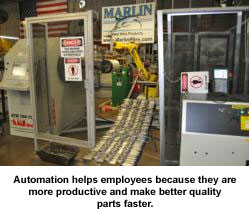 Marlin Steel Wire's President, Drew Greenblatt, speaks in Session 1 at Automate 2011 in Chicago IL on Tuesday March 22, 2011. "Grow Great Jobs and Profits with more Automation" is his message on how to lift the USA out of its recession quicker. The Show is free and Conference sessions, with tracks for new users and veterans, requires separate registration. Early bird discounts end March 1.
Greenblatt's speech is an in-depth, first-hand example of automation's role in the pursuit of profits and jobs creation in U.S. manufacturing. His message is that employees in highly automated factories are paid more and have a more secure future with better benefits, a safer workplace and jobs that are more interesting. Automated companies are more likely to survive the recession because they can ship faster and produce a better quality product consistently, according to Greenblatt.
Marlin Steel manufacturers wire baskets, wire forms & sheet metal fabrication - unique because everything is made in the USA, exported to 33 countries, and the company is on a six-year run of increased corporate profits and revenues. Marlin Steel's industrial baskets are exported for parts washing applications (ultrasonic cleaning baskets) by prestigious clients like Sanofi, Pfizer, Merck, Roche, Genentech, UTC, GE Medical, Baxter, Raytheon, Northrop.
Companies like those are registering at record levels for Automate 2011 which is the largest solutions-based showcase of automation technologies in North America. Automate demonstrates the full spectrum of automation technologies and solutions for a broad array of industries that provide integration of automation, robotics and machine vision. Attendees can solve challenges that face their industry and learn from real-world solutions, sometimes with insights gained by those in other industries. The show features the latest robotic, vision, motion control and automation technologies and systems from leading global suppliers.

Mr. Greenblatt is among 70 speakers in the 42nd International Symposium on Robotics featuring cutting edge robotics research. The show is collocated with ProMat which is sponsored by MHIA and is North America's premier material handling and logistics show.

Automate attendees are End Users, OEMs, Machine Builders, Distributors, Government Buyers, R&D Labs and academia seeking automation technologies. They are looking for the latest technologies to increase their competitiveness and automation solutions to help them enhance productivity and save money. Visitors have arrived from more than 30 countries representing a broad array of industries including Aerospace, Appliance, Automotive Manufacturing, Automotive Supply, Consumer Goods, Defense/Military, Education, Electronics, Food & Beverage, Furniture, Medical Devices, Off-road Vehicles, Paper/Printing, Pharmaceuticals, Plastics, Semiconductor, Textiles, Agriculture, Aluminum, Automation, Biotechnology, Chemical Manufacturing, Construction, Distribution, Energy, Entertainment, Fabricated Metal, Fasteners, Fluid Power, Foundry, Gaming, Glass, Government, Laboratory Equipment, Locomotive Manufacturing, Machine Builder, Machine Tools, Mail Processing, Mapping, Material Handling, Mining, Minting, Motorcycle Manufacturing, Packaging, Pet Food, Primary Metals, Printing, Telecommunications, Transportation, Warehousing, Wood.
Exhibitors from around the world display automation equipment and systems including: Automated Assembly Machines/Systems, Automatic Identification & Data Collection/RFID, Ergonomics and Safety Equipment, Industrial Automation Control, Machine Vision and Imaging Equipment/Systems, Motion Control Equipment, Parts Handling Equipment/Conveyors and Materials, Robots/Robotic Systems, Sensors and Sensor Integrated Systems, and System Integration/Consulting.
Marlin Steel Wire's secret sauce is Quality Engineered Quickly (QEQ). Blazing fast speed powered by innovative ideas from the engineering team (20% of the company are mechanical engineers) fabricated on $2.5mil of robots.

Testifying multiple times to the US Congress on regulation, taxation, global competition and exports, Drew Greenblatt, - Marlin Steel's President, also serves as the Chairman of the Regional Manufacturing Institute & the Executive Board of the National Association of Manufacturers.
Greenblatt has recently appeared on Fox (Small Business Contributor), CNN, ABC as well as the Wall Street Journal, New York Times and Washington Post.