Association for Advancing Automation Announces Speakers from NASA, Verizon, HP, Microsoft, and More for 2022 Business Forum
The leading automation networking event back in-person featuring mentalist Kevin Viner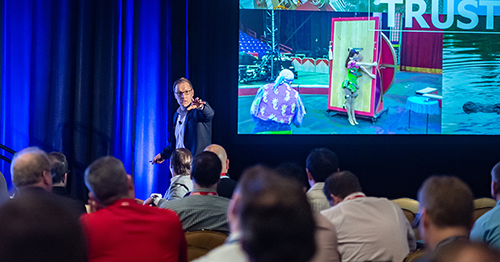 ANN ARBOR, MI – More than 500 executives in robotics, vision, imaging, motion control and industrial AI will gather Jan. 31-Feb. 2, 2022, as the Association for Advancing Automation's A3 Business Forum, the leading networking event for the automation industry, returns to Orlando, Florida.
Keynote discussions will offer the latest economic and industry statistics and projections – with TR Economics analyst Alan Beaulieu and A3's Vice President of Membership & Business Intelligence Alex Shikany. Additional keynotes will feature on technology, cybersecurity, and leadership, with talks by NASA's Jet Propulsion Laboratory, Verizon, HP, and others.
The event is designed to be "amazing, inspiring, and informative" according to A3. Presentations include:
Interactive Mind Reading, For People Who Have Seen it All
2022 Global Economic Update
Alan Beaulieu, ITR Economics
BACKABLE, What Makes People Take a Chance on You
Suneel Gupta, Author; Entrepreneur and CEO of RISE Labs; Former Head of Product Development at Groupon and Mozilla Labs
How the Verizon Network is Powering Industrial Automation
Mariah Scott, President Robotics Business Technology, Verizon
Into the Unknown: How Leadership, Ingenuity, and Perseverance Put a Rover on Mars
Adam Stelzner, Chief Engineer, Mars 2020, NASA's Jet Propulsion Laboratory
Cybersecurity & Industry
Jeremy Dodson, CISO, NextLink Labs
Prosumer-ism & the Automation Revolution in Digital Manufacturing
Christoph Schell, Chief Commercial Officer, HP
In 2020, nearly 650 global automation leaders in the automation industry attended the A3 Business Forum. The event is exclusively available to all employees of companies that are members of A3.
Attendees also will hear several roundtable discussions, including:
The 2022 Automation Outlook
Alex Shikany, Vice President, Association for Advancing Automation
Deba Sen, President, Abrasive Systems Division, 3M
Rashmi Misra, GM AI, Mixed Reality & Silicon Platforms, Business Development, Microsoft
Greg Smith, President - Industrial Automation Group, Teradyne
Trends in Automation: Finding the Next Solutions
Dean Banks, Consultant
Oli Qirko, Senior VP and GM - North America, Cambridge Consultants
Shane Dittrich, House of Design Robotics
"As you'll hear in the economic outlook, and demonstrated by our quarterly industry statistics report, demand for automation solutions has never been higher," said Jeff Burnstein, A3 President. "The A3 Business Forum provides the insights industry leaders need to take advantage of the growing opportunities in automation as well as connections to leading suppliers, customers, educators, start-ups and others in the automation ecosystem."
To register for this member-only event, please visit the A3 Business Forum website.
About Association for Advancing Automation (A3)
The Association for Advancing Automation (A3) is the leading global advocate for the benefits of automating. A3 promotes automation technologies and ideas that transform the way business is done. Members of A3 represent over 1,050 automation manufacturers, component suppliers, system integrators, end users, academic institutions, research groups and consulting firms from throughout the world that drive automation forward.
A3 hosts a number of industry-leading events, including Automate Preview Series (Ongoing), A3 Business Forum (January 31-February 2, 2022, in Orlando, FL), the Automate Show & Conference (June 6-9, 2022, in Detroit, MI), The Autonomous Mobile Robot & Logistics Conference (October 11-13, 2022, in Boston, MA) and The Vision Show (October 11-13, 2022, in Boston, MA).
For More Information:
Jackie Rose
Association for Advancing Automation
(734) 929-3264