Andrew Vogl of Kollmorgen Named MCA Chairman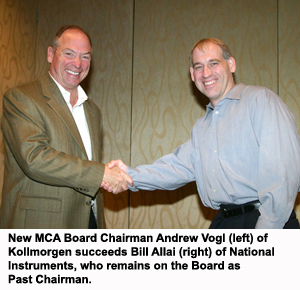 Andrew Vogl, Vice President, Sales Americas for Kollmorgen, was named Chairman of the MCA Board of Directors for 2012-2013 during the annual MCA Business Conference in Orlando, Florida.
"I'm looking forward to serving the members of MCA as Chairman of the Board of Directors," said Vogl. "We'll be focusing on promoting motion control technology to existing market areas to help our customers improve their competitiveness, as well as introducing motion control to market segments who don't currently use or understand the value of the technology. We will continue to build on our statistics program which provides real and useful market data to the industry," added Vogl. "MCA membership continues to grow, as a matter of fact, we're at a record high, and as more companies understand our mission to grow the industry, we look forward to their membership and support."
"Andy is a key member of the Board and has been with us since MCA's founding in 2006," said Dana Whalls, MCA Vice President. "He has served as Vice-Chair for the last two years and represents MCA on the Board of its corporate umbrella, the Association for Advancing Automation (A3) – formerly the Automation Technologies Council (ATC). Andy is an active and enthusiastic advocate for the motion industry, and I'm looking forward to his leadership of the MCA Board over the next two years."
Andrew Vogl succeeds Bill Allai, Motion Control Principal Engineer, National Instruments, who remains on the MCA Board as Past Chairman.
Vogl and Allai are joined on the board by newly-elected director Matt French, VP/PMC Division General Manager, AMETEK. French is serving his first term on the board.
John Hegel, President and CEO of Minarik Motion and Control was elected as Vice Chairman of the Board. The other 2012-2013 members of the MCA Board include Jesse Henson, Business Manager, Motion & PLC, ABB Inc.; Dan Jones, President, Incremotion Associates Inc.; John Payne, Vice President of the Motion Division, Yaskawa Electric America, Inc.; William Steury, Group President, Automation and Pneumatic Solutions, Cross Company; Ken Sweet, General Manager, Electromechanical Automation Division, Parker Hannifin Corporation; and Victor Swint, VP/GM Motion Control Business, Rockwell Automation.
About MCA
The Motion Control Association (MCA) is a global not-for-profit trade group dedicated to promoting the understanding and use of motion control technologies and developing business opportunities for mechanical and electronic (mechatronics) motion control companies. Founded in 2006, they currently have over 70 member companies from around the world. Members include global manufacturers of complete motion control systems, component manufacturers, distributors, system integrators, end users, consulting firms, academic institutions and research groups directly involved with mechanical and electronic (mechatronics) motion control.
MCA (www.motioncontrolonline.org) is part of the Association for Advancing Automation (A3), formerly the Automation Technologies Council, an umbrella group with over thirty years' experience serving over 650 global automation companies involved in robotics (Robotic Industries Association, www.robotics.org), vision and imaging (AIA, www.visiononline.org), motion control and related automation technologies.