AKD™ Servo Drive from Kollmorgen Named 2010 Design News Golden Mousetrap Finalist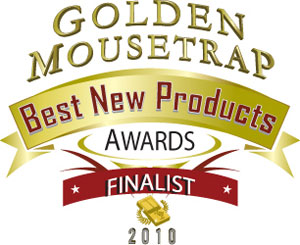 RADFORD, VA – The AKD™ Servo Drive from Kollmorgen has been named a 2010 Design News Golden Mousetrap Award Finalist in the Motion Control/Automation category. The Ethernet-based AKD delivers best-in-class performance with industry-leading flexibility, scalability and power range to meet the unique performance requirements of nearly any application; from basic torque and velocity applications, to indexing, to multi-axis programmable motion via the company's powerful new complete machine automation solution - Kollmorgen Automation Suite™.
AKD servo drives enable machine builders to standardize on a single drive family with a common Graphical User Interface (GUI) across the power range to deliver optimized machine performance, throughput and accuracy across multiple applications, while minimizing engineering time and costs associated with stocking, understanding and programming multiple types of drives.
"Design News congratulates the winners and finalists of the 2010 Golden Mousetrap Awards for the great work they've done to develop new and innovative products for design engineers. These products, as always, showcase the highly imaginative ways that today's engineers are 'building a better mousetrap,' and we thank them for their contributions," says Jennifer Roy, Managing Editor, Design News.
For more than two decades, the Design News Awards Program has recognized engineering innovation and creativity in product design. For 2010, Golden Mousetrap awards were given in four major categories: Electronics, Motion Control/Automation, Hardware/Software, Materials/Fastening/Joining/Assembly, and 20 subcategories. Design News editors gathered a record number of entries and based on their expertise in each technology area, painstakingly selected the winners and finalists.
"AKD is specifically designed with the versatility, communications, and power that OEMs need to expand machine performance and increase integration speeds. The AKD facilitates true plug-and-play operation with standard Kollmorgen servomotors to get an optimized, high performance system up and running quickly, in less space and for less cost, than lower performing options. Multiple Ethernet connectivity options available from the base hardware support a variety of open and closed protocols, without the need for separate option cards. And a broad power range in a smaller, compact design enables machine builders to use these robust drives with a single interface," says Josh Inman, Product Manager.
The AKD is available for 120/240 VAC or 480 VAC operation, with a power range of 3 to 24 Arms continuous current, 9 to 48 Arms peak. Models with an industry-leading power range up to 96 Arms continuous and 192 Arms peak will be available in 2010. The AKD's high power density enables machine builders to get more power from a drive as small as 168mm x 57mm x 153mm. As a result, OEMs can reduce the size of their machine, or increase its power without increasing its size. And with common interface and hardware across the entire AKD power range, machine builders will benefit from faster commissioning and troubleshooting, too.
The AKD is uniquely capable of supporting a variety of feedback devices and Ethernet Motion buses from the base hardware, without the need for any separate option cards. Currently supported feedback devices include Smart Feedback Devices (SFD), Endat, BiSS, Analog Sine/Cos encoders, incremental encoders, HIPERFACE® and resolvers. Currently supported Ethernet Motion buses include EtherCAT®, CANopen® and in the near future will also include Modbus/TCP. Because these capabilities are available "out of the box" from the base hardware, the AKD maximizes quality and operational flexibility while reducing costs and overall footprint increases associated with integrating option cards.
The AKD delivers patented Auto-tuning algorithms that automatically adjust all gains, including patent-pending observers. This advanced Auto-tuning functionality also provides immediate and adaptive responses to dynamic loads and promises precise control of all motor types. Additionally, Auto-tuning can help overcome less-than-perfect mechanical designs and help machine builders solve even the most challenging scenarios by compensating for compliant transmissions and couplings that would otherwise rob a machine of its intended performance.
With up to 27-bit resolution, the AKD delivers the industry's lowest noise characteristics for improved machine precision. Additionally, a powerful dual processor system executes industry-leading servo algorithms with high resolution for very fast settling times. Because the AKD provides torque loop updates in 0.67 μs, while velocity and position loops lead the market at 62.5 μs and 125 μs, respectively, these drives immediately accommodate changing load conditions for industry-leading performance.
The AKD's easy-to-use GUI features a six-channel real-time software oscilloscope for fast commissioning and diagnosis. A multi-function Bode plot allows users to quickly evaluate performance, while Auto-complete functionality of programmable commands saves looking up parameter names. One-click capture and sharing of program plots and parameter settings allow users to send machine performance data instantly. Because the AKD makes it so easy to monitor system performance and share system information, there is virtually no effort required to get a Kollmorgen motor and drive system up and running, and the user friendly interface across the power range makes commissioning and general interactions a truly intuitive process.
Additional features and benefits of note include:
Digital signal processor control supports reliable, repeatable steps
Screw terminal connectors on I/O allow for fast and easy installation
Optically-isolated I/O reduces noise, and eliminates need for additional hardware
SIL-qualified, over-voltage, current, and temperature detection for added dependability
Option cards that increase available I/O and add NVRAM
Processing power providing multi-axis machine control capability
The AKD is rated for operation in ambient temperatures ranging from 0°C to 40°C (up to 55°C with de-rating), and boasts a robust MTBF greater than 340,000 hours. They conform to Category 3/Sil2 and RoHS standards, meet the insulation requirements of IEC60601, are UL listed and carry the CE mark.
The breadth and depth of features delivered by the AKD make it an ideal high performance drive solution in a wide range of applications in any number of industries, including packaging, converting, printing, food and beverage, material forming, solar and medical.
ABOUT KOLLMORGEN
Kollmorgen is a leading provider of motion systems and components for machine builders around the globe, with over 60 years of motion control design and application expertise.
Through world-class knowledge in motion, industry-leading quality and deep expertise in linking and integrating standard and custom products, Kollmorgen delivers breakthrough solutions unmatched in performance, reliability and ease-of-use, giving machine builders an irrefutable marketplace advantage.