AIA Signs Memorandum of Understanding with Korean Machine Vision Industrial Association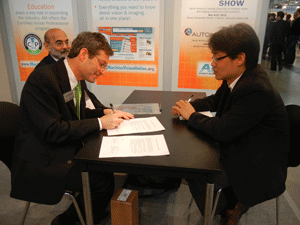 The Automated Imaging Association (AIA), the world's largest machine vision trade group with more than 315 member companies from 30 nations, has signed a memorandum of understanding with the Korean Machine Vision Industrial Association (KMVIA), a year-old trade association representing machine vision in Korea.
"We are delighted to be collaborating with KMVIA in our mutual efforts to advance the understanding and use of imaging and vision technologies," said Jeff Burnstein, President of AIA.
The agreement outlines a wide-range of activities on which the two associations will collaborate including an exchange of market data, mutual support for trade shows and technical conferences, promotion of leading global standards, and promotion of member companies and their products and services. Hong-ki Baek, Chairman of KMVIA said "As KMVIA is a very young association and Korea is a fast growing market, we expect AIA can give us great help to accelerate growth with fluent experience."
One of the first activities AIA will support in Korea is the KMVIA's first trade show, The Korea Vision Show, April 3-6, 2012 in Seoul. Burnstein said AIA would participate with a booth and lead a delegation of industry executives interested in doing business in Korea.

Burnstein signed the agreement on behalf of AIA, while Hong-ki Baek, Chairman of the Board of KMVIA, signed for the Korean trade group. The agreement was formally announced during the AIA Networking Reception at VISION 2011 in Stuttgart. Sungho Huh of Envision, a member of the Board of KMVIA, gave an update on the Korean machine vision market at this event, attended by more than 220 global industry executives.
For more information about AIA, contact AIA Headquarters at 734/994-6088 or visit www.machinevisiononline.org.
For more information about KMVIA, contact Sungho Huh at +82-2-2624-5560.