ABB's Largest Ever Robot is 25 Percent Faster Than Competitor Robots in High Payload Range
The IRB 8700 is the market's best performing high payload robot with the lowest total cost of ownership
AUBURN HILLS, Mich. – ABB has introduced its highest payload, multipurpose industrial robot, the IRB 8700. The robot has a reach of 3.5 meters and is capable of handling a payload of up to 800 kg (1000 kg with the wrist down; 630 kg with LeanID). Designed for the ultimate in uptime, reliability and reduced maintenance, the IRB 8700 provides the lowest total cost of ownership among competitor high payload robot models. The new robot is targeted for material handling applications in the automotive, transportation and other heavy industries.
"When designing the IRB 8700, we focused on combining ABB's largest ever model with an unusually long reach for a robot in the high payload class," said John Bubnikovich, vice president, sales and marketing, ABB Robotics North America. "Utilizing ABB's superior motion control technology at high moments of inertia, the new robot automatically adapts and adjusts its speed to accommodate heavy and wide parts. With a compact footprint, optimized counterweight, parallel linkages, stiff axes and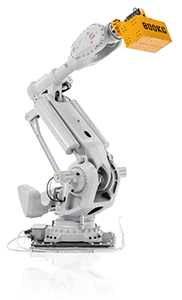 fewer drive motors, the IRB 8700 keeps its momentum down and speed up, providing unmatched agility and performance."
The IRB 8700, ABB's largest ever robot offers all the functionality and expertise of the ABB portfolio in a much bigger package. The robot has only one motor and one gear per robot axis, while most other robots in this size class use dual motors and/or gears. In addition, there are no gas springs; only a reliable counterweight and mechanical springs for counter balancing. Together these design elements mean the IRB 8700 has fewer components and is able to deliver shorter cycle times and higher accuracy – making it 25% faster than any comparable competitor robots in its payload range.
The IRB 8700 is available in two configurations, one with a reach of 4.2 meters and a payload of 550 kg (620 kg with the wrist down; 475 kg with LeanID), and the other with a reach of 3.5 meters and a payload of 800 kg (1000 kg with the wrist down; 630 kg with LeanID). Both configurations are available with LeanID, a cost-effective Integrated Dressing (ID) designed for easier programming, reduced wear and a smaller footprint. Both configurations also have an incredibly high moment of inertia at 725 kgm2.
About ABB
ABB is a leader in power and automation technologies that enable utility and industry customers to improve their performance while lowering environmental impact. The ABB Group of companies operates in around 100 countries and employs about 150,000 people.
About ABB Robotics
ABB Robotics is a leading supplier of industrial robots - also providing robot software, peripheral equipment, modular manufacturing cells and service for tasks such as welding, handling, assembly, painting and finishing, picking, packing, palletizing and machine tending. Key markets include automotive, plastics, metal fabrication, foundry, electronics, machine tools, pharmaceutical and food and beverage industries. A strong solutions focus helps manufacturers improve productivity, product quality and worker safety. ABB has installed more than 250,000 robots worldwide.
All ABB Robotics' products are fully supported by the ABB Robotics' global sales and service organization in 53 countries and over 100 locations.