10 Industrial Robot Companies That Lead the Industry
Whether you're looking for a new robot or just getting familiar with the industry, you probably want to know… which industrial robot companies are most popular? Many great industrial robot companies are worthy of your attention. But, some companies have been leading the industry for decades.
Some people feel more comfortable choosing an industry-leading brand.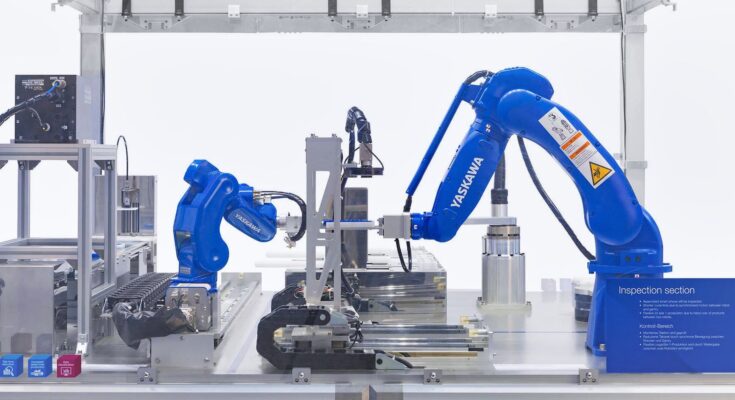 They figure that the more people who use a robot brand, the better the robots will be. There is certainly a logic to choosing a brand that has been popular for decades.
In reality, there are now hundreds of industrial robot companies that offer reliable, feature-rich, and productive robots. It's worth looking at the whole market as each manufacturer excels in different areas.
But, some robotic companies certainly lead the industry.
And robots from all of these manufacturers are supported by RoboDK.
What Makes An Industry-Leading Industrial Robot Brand?
The robot brands listed below are what we would call "industry-leading."
What does this mean in practice?
Indeed, an industrial robot company can stand out for several reasons including:
It has a high annual revenue or other markers of high financial success
It has been a stalwart of the robotics industry for decades
Its robots are ubiquitous in some industries or for some applications
It pioneered a change in the industry
These markers don't tell the whole story, but they can be useful for getting a broad overview of the "key players" in the robotics market.
The Biggest 4 Industrial Robot Companies
For many years, the robotics industry has been led by a set of companies that are often referred to as "The Big 4."
In fact, these companies' robots can be found in thousands of facilities worldwide and together they command roughly 75% of the market for robotics. Therefore, they are often immediately recognizable thanks to the distinct branding and product design from each company.
You can usually recognize an ABB robot by its white color with distinctive red logo.
ABB was founded in 1988 and is based in Zürich, Switzerland. As well as robotics, it specializes in other automation technology and power equipment.
The company has an annual revenue of around $28 billion and in 2002 it became the first company in the world to sell 100,000 robots.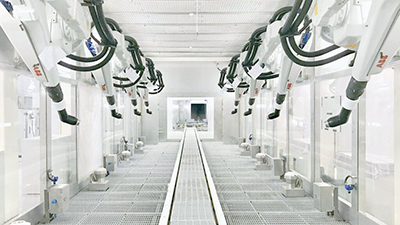 You can usually recognize a Fanuc robot by its bright yellow color.
Fanuc was founded in 1972 and is based in Oshino, Japan with its headquarters at the base of the iconic Mount Fuji. The company specializes in robotics and other automation equipment, particularly CNC machines.
The company has an annual revenue of $4.7 billion and has installed over 750,000 robots worldwide.
You can usually recognize a KUKA robot by its distinctive orange color.
KUKA was founded in 1898 when it started as a manufacturer of acetylene gas. The company first ventured into industrial automation in 1956 with an automatic welding system and created its first welding robot in 1971.
The company is based in Augsburg, Germany, and has an annual revenue of $2.5 billion of which $899 million is in robotics.
The Motoman range of robots is produced by Yaskawa, which you can usually recognize by their white and blue coloring.
Yaskawa was founded in 1915 but their first robot was released in 1974. It was the first electrically driven industrial robot in Japan, as robots before then were all hydraulically driven.
The company is based in Fukuoka, Japan, and has an annual revenue of around $1.7 billion of which around $597 million is in robotics.
6 Other Popular Industrial Robotics Companies
Although The Big 4 above have a huge place in the robotics market, these other industrial robotics companies could be said to be also leading the industry in their own ways.
You can find robots from these companies in many facilities worldwide. As with all incumbent companies in robotics, they are all based in Japan or Europe.
Comau is an automation and robotics manufacturer based in Turin, Italy.
The company was founded in 1973 and developed the first laser robot for General Motors in the 1980s. Most recently it has moved into collaborative robotics and its Aura cobot has the largest payload capacity on the market (170kg).
The company has an annual revenue of $1.2 billion.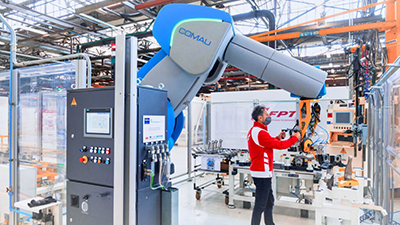 When you think of Epson, you might first think of their desktop printers. However, the robotics arm of Epson is a large player in the industry.
Epson was founded in 1942 and is based in Nagano, Japan. The company first brought its robots to the North and South American markets in 1984.
The whole company has an annual revenue of $9.6 billion of which about $1.32 billion is in wearable and industrial products.
Kawasaki is a Japanese industrial manufacturer probably best known for its motorcycles, engines, and aerospace equipment.
The company was founded in 1896 but started making robots in 1968 when it joined an agreement with Unimation (the world's first industrial robotics company) to make robots locally.
The company has an annual revenue of $1.3 billion and has installed over 160,000 robots worldwide.
A company best known for its electric products, Mitsubishi Electric's robots are another common fixture in the industry.
Mitsubishi Electric (itself part of Mitsubishi) was founded in 1921 and is based in Tokyo, Japan.
The company has an annual revenue of around $11.6 billion of which around $3 billion is industrial automation systems.
Stäubli robots are another stalwart of the robotics industry and can be found in many facilities worldwide.
The company was founded in 1892 and is based in Horgen, Switzerland. Beginning as a manufacturer of weaving automation, it diversified into robotics in 1982 when it acquired Unimation.
The company has an annual turnover of around $1.2 billion.
Finally, the newest company on this list was at the forefront of one of the latest trends in robotics — collaborative robots (aka cobots).
Universal Robots was founded in 2005 and is based in Odense, Denmark. The company likely coined the term "collaborative robot" to mean a robot that can operate without safety fencing. The company has an annual revenue of $219 million.
Omron and the Growth of Cobots
Since then, dozens of other collaborative robot companies have been founded and the bigger players in the market have also produced their own cobots.
One such company that entered the collaborative robotics market with great success is Omron.
Omron is an industrial automation company based in Kyoto, Japan. They partnered with Techman Robot in 2018, adding a series of successful collaborative robots to their existing wide catalog of industrial robots, including mobile robots, SCARAs, and Delta robots. The company has an annual revenue of $6.9 billion.
Which Industrial Robot Brand Should You Choose?
On the whole, all these industrial robot companies and more could be a good choice for your next robot.
But, how do you tell which robot is the right one? It can be overwhelming to see so many different robots available.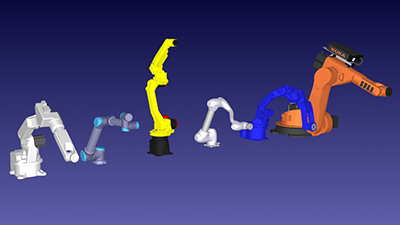 A good place to start is to decide what properties your robot application will need. What payload capacity, for example, and what reach will be necessary for your task?
From then, you can continue your research with a better understanding of what you're looking for in a robot.
Finally, whatever robot brand you choose, you can be sure that it can be supported by RoboDK.