Bosch Rexroth To Present Battery Production Solutions at The Battery Show North America and Electric & Hybrid Vehicle Technology Expo 2023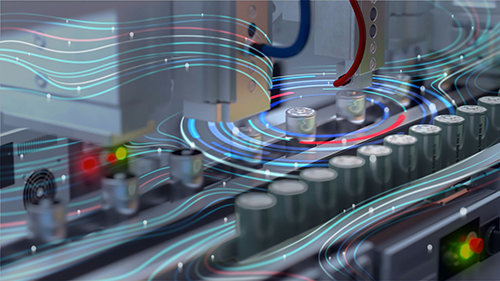 Bosch Rexroth will present its latest automation, material transport, and assembly technology products and solutions for battery manufacturing in booth 2517 at The Battery Show North America and Electric & Hybrid Vehicle Technology Expo, September 12-14, in Novi, MI.
With working demonstrations, product exhibits and on-site industry specialists, Bosch Rexroth will present a broad portfolio of manufacturing technology and expertise tailored to meet complex battery production automation requirements.
The Battery Show North America and Electric & Hybrid Vehicle Technology Expo is North America's largest and most comprehensive advanced battery manufacturing trade show. Bosch Rexroth will showcase how its industry-leading technologies — including ctrlX AUTOMATION controls and drive systems, robust and proven TS conveyors, linear motor-powered Flexible Transport System and Smart MechatroniX offerings — can intelligently and seamlessly integrate into complete automation solutions, helping battery manufacturers get products to market faster through open, scalable production platforms.
Key booth highlights and interactive exhibits include:
Battery Module Assembly Simulation: Featuring technologies across our automation portfolio, this demo will simulate a four-station pack assembly process. See for yourself how technologies including our proven TS2, FTS transport systems, and Smart Function Kits work in harmony with ctrlX CORE and ctrlX IO. Visitors will experience how our complete portfolio comes together to create a robust, harmonized solution that enables battery manufacturers to get to market faster.
End-of-Line Battery Testing: New to The Battery Show floor, our End-of-Line exhibit demonstrates the use of our ctrlX DRIVE in battery module and pack testing. Utilizing an industrial battery (204V 75Ah) with a battery management system (BMS), this demo will show visitors how a ctrlX DRIVE efficiently performs battery charge/discharge cycles using a 3x250VAC grid connection.
ctrlX AUTOMATION: Our collection of kiosks illustrates the modularity and scalability of ctrlX AUTOMATION while presenting an overview of ctrlX DRIVE and ctrlX CORE hardware capabilities. On display is a three-axis ctrlX DRIVE linked to a ctrlX CORE control system running in real-time. Other components, such as ctrlX IO, ctrlX HMI and the MS2N servo motor, are included. In addition, the exhibit demonstrates how ctrlX CORE supports modern languages for today's industrial machinery, such as Java, Python and Node Red, plus many other application-specific languages.
Within the ctrlX AUTOMATION platform is ctrlX IOT, which enables efficient and secure connection in the IIoT. This progressive IoT toolbox features advanced security that meets the strictest I4.0 requirements and can fully integrate IoT solutions into hardware platforms.
Smart Flex Effector: The Smart Flex Effector is a first of its kind sensor-based compensation module with independent kinematics in six degrees of freedom. The Smart Flex Effector provides tactile sense of touch feedback to the robot application, essentially emulating the abilities of a human hand. A digital twin of the robotic operation can also be created from the multitudes of real-time data available from the device, providing complete process transparency.
It lends itself to complex handling applications, joining operations with micron-level tolerances, robotic teaching, performing in-process measurement, and providing movement flexibility that was previously unobtainable. The Smart Flex Effector solves a wide array of challenges that have troubled integrators for years.
NEXO Cordless Nutrunner and OPEX Torque Wrench: In this interactive demo, visitors will have an opportunity to use our NEXO and OPEX tightening tools to tighten various bolts on a mock battery module. The demo showcases the benefits of wireless manual safety critical fastening solutions, such as enhanced freedom of movement and improved ergonomics over cabled solutions.
Educational Highlights: The booth will also feature a new 3D animations that highlight major production steps in battery cell, module, and pack assembly, along with the complete range of Bosch Rexroth open automation, mechatronics and transport systems to improve all these process steps.
"We are experiencing incredible growth in battery manufacturing driven by the electrification of everything we know. As battery technology advances and demand surges, manufacturers are seeking smart, adaptable manufacturing solutions to help solve complex process challenges while increasing speed to market." said Mark Ziencina, Bosch Rexroth Market Segment Manager for Battery and EV.
"Bosch Rexroth is ready to meet those needs, combining battery manufacturing expertise with our complete factory automation offering. Our solutions are tailored to meet the complex battery production challenges of clean rooms and dry rooms, as well as those of transporting heavy packs, and overall automation platforms that streamline system updates and modifications as the industry evolves and battery innovation continues," he said.
At The Battery Show, booth visitors can connect one-on-one with Rexroth automation and assembly technology experts with backgrounds in battery manufacturing system development, engineering and implementation.
For more information about Bosch Rexroth and its complete automation solutions for battery manufacturing, visit www.boschrexroth-us.com/battery-info and stop by booth 2517 at The Battery Show.
About Bosch Rexroth:
As one of the world's leading suppliers of drive and control technologies, Bosch Rexroth ensures efficient, powerful and safe movement in machines and systems of any size. The company bundles global application experience in the market segments of Mobile and Industrial Applications as well as Factory Automation. With its intelligent components, customized system solutions, engineering and services, Bosch Rexroth is creating the necessary environment for fully connected applications. Bosch Rexroth offers its customers hydraulics, electric drive and control technology, gear technology and linear motion and assembly technology, including software and interfaces to the Internet of Things. With locations in over 80 countries, more than 32,000 associates generated sales revenue of around 7.0 billion euros in 2022. www.boschrexroth-us.com.
About Bosch:
The Bosch Group is a leading global supplier of technology and services. It employs roughly 421,000 associates worldwide (as of December 31, 2022). The company generated sales of 88.2 billion euros in 2022. Its operations are divided into four business sectors: Mobility, Industrial Technology, Consumer Goods, and Energy and Building Technology. As a leading IoT provider, Bosch offers innovative solutions for smart homes, Industry 4.0, and connected mobility. Bosch is pursuing a vision of mobility that is sustainable, safe, and exciting. It uses its expertise in sensor technology, software, and services, as well as its own IoT cloud, to offer its customers connected, cross-domain solutions from a single source. The Bosch Group's strategic objective is to facilitate connected living with products and solutions that either contain artificial intelligence (AI) or have been developed or manufactured with its help. Bosch improves quality of life worldwide with products and services that are innovative and spark enthusiasm. In short, Bosch creates technology that is "Invented for life." The Bosch Group comprises Robert Bosch GmbH and its roughly 470 subsidiary and regional companies in over 60 countries. Including sales and service partners, Bosch's global manufacturing, engineering, and sales network covers nearly every country in the world. With its more than 400 locations worldwide, the Bosch Group has been carbon neutral since the first quarter of 2020. The basis for the company's future growth is its innovative strength. At 136 locations across the globe, Bosch employs some 85,500associates in research and development, of which nearly 44,000 are software engineers.