What's New with Robotics in Injection Molding?
POSTED 06/01/2010
 | By: Bennett Brumson, Contributing Editor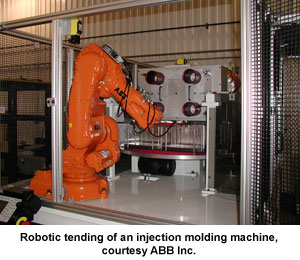 Robotics are being applied in increasing frequency in injection molding related processes, from loading of components to the injection molding machine prior to part molding, to finishing and assembling injection molded parts. The injection molding industry will be more comfortable with robotics as it begins to understand the advantages robots could bring to their factories. "The injection molding industry is accepting six-axis articulated robots to unload and process parts downstream from the molder," says Greg Johnson, Territory Sales Manager of ABB Inc.'s Robotic Division (Auburn Hills, Michigan)
Robots are increasingly able to perform secondary tasks such as in-mold decorating, in-mold labeling, and automated insert loading.
Insert Loading
"Motoman continues to see more insert loading work cells requested by end-users for trimming and deburring. Many injection molders used simple manipulators in the past but are now realizing the limitations of that approach for extraction of molded parts," observed Tom Sipple, Handling Technology Leader at Motoman Inc. (West Carrollton, Ohio). "I see a growth in interest of replacing dedicated extractors for new robotic systems. Six-axis robots can do more in a given footprint."
Likewise, "KUKA sees a trend of increased use of robots for mold machine extraction applications. After a part is removed from the injection molding machine, robots are able to do secondary applications, offering more flexibility than dedicated two or three-axis extractors," stated James Cooper, Vice President of Sales with KUKA Robotics Corp. (Clinton Township, Michigan) "Robots are performing clip insertion, trimming, assembly and packaging tasks as secondary processes outside of the mold machine. The same robot that extracted a part from the injection molding machine can do secondary processes, allowing end-users to accomplish more with a single investment."
Cooper goes on to say that articulated robots are more flexible than dedicated three-axis extractors. "Articulated robots can perform secondary operations such as trimming that a dedicated three axis extractor cannot. End-users who have already made an investment into a robot to extract the part from the mold can also trim parts repeatedly with that robot." Robots can run more than 70,000 hours mean time between failures, claims Cooper. "Dedicated extractors cannot match that performance."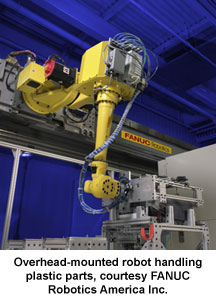 Doing more with less appeals to end-users of FANUC Robotics America Inc. (Rochester Hills, Michigan), contends Joseph McReynolds, District Manager at FANUC. "End-users are always trying to make their product flashier while being cost-effective. FANUC has integrated in-mold labeling work cells, where labels are pulled down into the injection molding machine by a robot and the labels become integral with the part." McReynolds adds that in-mold labels are a good marketing strategy for end-users. "The label is a permanent component of the part without worrying about damage to the label."
McReynolds also speaks of robotic insert loading. "Robots can insert metal or plastic parts, such as clips, for many automotive interiors. Clips are presented to the robot, which inserts them into the machine for the molding process."
Insert loading is on the mind of David Arceneaux, Operations Manager at Stäubli Robotics (Duncan, South Carolina) "An advantage of utilizing a six-axis robot is its ability to easily perform secondary operations within the cycle time such as loading and unloading an injection molding machine and doing insert loading."
While the injection molding machine is busy doing its primary task, the robot has ample time to perform secondary operations such as trimming and de-gating, or other necessary material removal chores. Having the robot undertake material removal not only affords greater efficiency for the manufacturer, but decreases workers' exposure to ergonomic injury if done manually. Robot's ability to carry out secondary operations is an incentive for injection molding manufacturers to retrofit their production facilities with flexible automation. The return on investment due to labor-savings and decreased worker compensation claims can be as short as four months.
While insert loading can be performed with three-axis extractors, six-axis articulated robots are rapidly becoming the machines of choice for injection molding applications. "Insert loading can be done with a three-axis extractor but a six-axis robot is more forgiving and user-friendly when setting up a robot handing two injection molding machines," says Craig Tormoen, President, Robotic Automation Systems (RAS, Waunakee, Wisconsin). "A robot takes a molded part from one machine and inserts it into another for the over-molding process." RAS is an integrator of ABB, Epson, Stäubli, and Yamaha robots. Six-axis articulated robots can manipulate molded parts in much more complex geometries than three-axis dedicated extractors.
Over-Molding
Over-molding merges two materials to form one cohesive component. An elastic material, such as fabric, is molded over a base material like plastic, to yield a subassembly. Many items constituting automotive interiors are manufactured by this technique, points out Tormoen. "Metal or plastic inserts are over-molded using six-axis robots between two injection molding machines. The robot takes a molded part from one machine and inserts it into another for the over-molding process."
Robotic over-molding is also used to fabricate automotive tail-light lenses notes McReynolds. "Automotive tail lights look like one piece of plastic of different colors for brake lights, directional and reverse lights. Tail lights are manufactured by having progressive injection of different color plastics by one machine." McReynolds continues, saying, "The robot moves into the mold, picks up amber and the part that just had been double-injected. The robot moves to put the amber into the red." The process is replicated for the clear plastic for the reverse lights. "One piece with three different colors is the result," says McReynolds.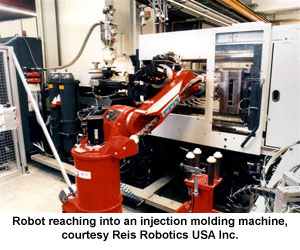 Robotic injection molding work cells are also carrying out sonic and laser welding, reports Douglas Stangle, Plastics Product Manager with Reis Robotics USA Inc. (Eglin, Illinois). "Integrators can put sonic welders, laser welder, or plasma shooters, on the end of a six-axis robot. The robot controls each by giving inputs and outputs to turn on and off any machine within the work cell." Stangle mentions that sonic or laser welding functions in an injection molding work cell help reduce cycle times. Reducing cycle time is crucial in the injection molding industry.
Pretreating plastic or rubber parts constitutes another job for injection molding work cells. "Reis put a plasma module at the end of a robot arm for treatment of plastic parts before painting or applying adhesives," affirms Stangle. "Prior to applying rubber or thermoplastic elastomers (TPE) weather-strips, seals or gaskets to plastic substrates, the plastic must be cleaned to activate its energy and facilitate adhesion."
Hot Parts
Parts ejected from an injection molding machine are warm and pliable by nature. Manufacturers do not want newly fabricated parts damaged or distorted by the robot when parts emerge from the mold. While vacuum extraction by robots is not the most common method of removing parts from a mold, vacuum's use is on the rise, declares David Haynes, Technical Sales and Product Development Manager at Vaccon Company Inc. (Medway, Massachusetts) "We made a vacuum tool that pulls four parts from an injection molding machine. I believe vacuum will become more common in the molding industry and Vaccon is making in-roads into that industry by small increments."
Haynes concludes, saying, "The molding industry is finding out that vacuum is a good method to remove parts from a mold. People do not have to touch the product and integrators have learned not apply too much of a vacuum on the product as to deform it."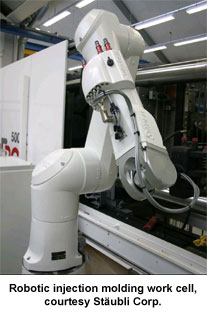 Using vacuum to remove parts from the injection molding machine is a solution for Stäubli's end-users, says David Arceneaux. "Handling injected molded parts before the material is fully cured is commonly accomplished using pneumatic grippers or vacuum. Specialized materials are used when the plastic cannot have any marks, such as contact lenses."
Preventing part distortion is also important to Robert Perly, Director of Engineering with Compass Automation (Eglin, Illinois), who says "Large injected molded parts requiring cooling are placed in a cooling fixture to prevent warping. Small parts can be tricky also and need a complex end-of-arm tooling to handle them."
Preventing certain types of thin parts to cool too quickly must be kept in mind by integrators when designing injection molding work cells, cautions Perly. "Advanced injection molded parts have a 'living hinge,' where a thin plastic part needs to flex. As the part comes out of the injection molding machine, the hinge must be flexed while the plastic is still warm." Allowing the part to cool makes the hinge brittle and will snap when flexed, warns Perly.
Motoman's Tom Sipple also says cooling parts properly is a factor integrators must address in injection molding applications. "A part's size will change based on its temperature and shrinkage must be taken into consideration. Placing parts into a cooling tower is a good policy." Sipple stresses the need to "Ensure parts are sufficiently cool when the robot handles them. When the mold's temperature become more consistent, the product becomes more consistent"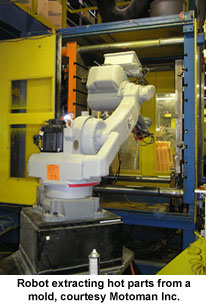 When a work cell is tested prior to actual production, the system will perform in a particular way. "When going into production mode, where the parts are not cool, the work cell offers a different set of challenges than during original run-off," Sipple notes. Due to variations in the type of parts and the temperature of these parts, a tool changer might be necessary.
When parts are to be removed from the mold is best determined by manufacturers and robot integrators with experience with injection molding applications, argues Douglas Stangle. "Parts need to be removed from the mold as soon as possible. The molder has to decide what that point is. That temperature is based on the type of plastic" Stangle says.
Molding a Robotic Future
Look to see more robotic injection molding work cells. "In the next five years, the United States will need more robotics for tended injection molding machines. Having operators taking parts from injection molding machines is old school," believes Robert Perly. "Injection molders will have difficulty staying competitive without robotics systems because of so much international competition."
Douglas Stangle also cannot see injection molding without using robotics. "I see more robotic injection molding coming to the United States. To keep manufacturing in the United States, we need to level the playing field with competitors in manufacturing through robotics."