What's New with Robots in Electronics and Semiconductors?
POSTED 07/07/2010
 | By: Bennett Brumson, Contributing Editor
Robotics manufacturing electronic components and semiconductors have a long history. As the trend towards ever smaller electronic devices continues along with the requirement for cleanliness, the need for robots will increase in these applications.
The electronics within the robots performing tasks in semiconductor and electronic applications mirrors the trends toward becoming smaller and more powerful.
Robotics used for manufacturing electronics and semiconductors are becoming smaller and more powerful. "High speed and precision are critical for electronic testing. Robots work at many very precise points because electronic components are becoming smaller," says Peter Cavallo, North America Robot Sales Manager with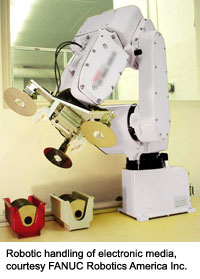 DENSO Robotics (Long Beach, California).
Changing to Delta
To meet high speed and precision requirements of manufacturing semiconductors and electronics, integrators are increasingly advising end-users to invest in delta-style robots, contends Garry Sperrick, Sales Manager with Progressive Machine and Design, LLC (PMD, Victor, New York). "High speed robots, for odd-form assembly are used at the end of production lines. I see delta-style robots have become more popular, replacing SCARA robots (Selectively Compliant Assembly Robot Arm) due to their speed. Delta robots provide better access underneath them, making for a larger work envelope," says Sperrick.
Likewise, Christopher Blanchette, National Distribution Manager with FANUC Robotics America Inc. of Rochester Hills, Michigan, believes delta robots are the wave of the future in electronics and semiconductor assembly applications. "Electronic assembly requires high speed, cleanliness, and precision. New delta-style robots with six-axis articulation can reorient parts to place them into proper position. Six-axis variance of delta robots are able to support the electronics industry that require parts finessed into a position."
Blanchette adds that the high speeds of delta-style robots makes them particularly suited for the electronic and semiconductor industries. "Delta-style robots have the advantage of working at extremely high speeds, a requirement for many electronic manufacturing applications. Six-axis articulation opens doors of delta robots to semiconductors and electronics manufacturing."
The rise of delta robots does not mean the fall of other types of robots for semiconductors and electronic manufacturing.
"SCARAs were once considered to be the only type of robot used for electronics assembly, but ABB is showing that articulated arm robots are becoming as fast," points out Nicholas Hunt, US Product Support Manager at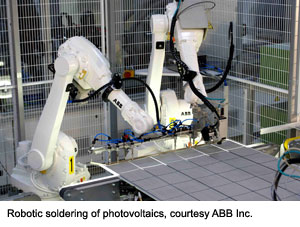 ABB Inc. (Auburn Hills, Michigan) "Articulated robot arms are approaching the speeds of SCARA robots but with more flexibility and ease in the programming, especially in an off-line programming environment. Articulated robots will not unseat SCARA robots completely but we can put two articulated arm robots into a work cell to perform comparably to one SCARA."
Small tabletop articulated arm robots are used in electronic manufacturing when moving parts from vertical to horizontal applications, says Brian Carlisle, Chief Executive Officer of Precise Automation LLC (San Jose, California). "Horizontal transfers within a work cell are generally done with SCARA robots. If the process requires components picked from a vertical tote, as in cell phone manufacturing, a small six-axis robot does that and rotates the parts into a horizontal plane for placement into a testing machine."
Carlisle maintains that semiconductor assembly generally uses SCARA robots due to their simple design and inherent cleanliness. "Component transfers are plainer using SCARAs because the robot's body is positioned lower than the wafer. Air flows down from above so any particles generated get swept out below the wafer so its surface is not contaminated."
"Stäubli sees an increase of six-axis robots in electronics and semiconductor applications [requiring] dexterity and accuracy, with more process tools on smaller footprint," says David Arceneaux, Operations Manager at Stäubli Corp., Duncan, South Carolina. "In the next five years, six-axis robots operating in a vacuum, producing products such as Organic Light Emitting Diodes (OLED), will increase." OLEDs have two or three layers of organic material no more than 500 nanometers thick that transports electrons from a cathode to an emissive layer.
Small Power
As robots are called on to manufacture ever smaller devices, the electronics within the robot continues to shrink. "Electronics within the robot enjoy the same benefits as in consumer electronics such as lower cost processors, smaller circuit boards, and greater speed with better reliability," affirms Rush LaSelle, Director of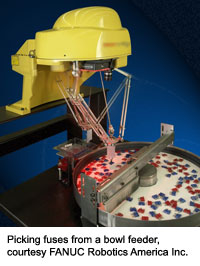 Global Sales and Marketing at Adept Technology Inc. (Pleasanton, California).
"Not too long ago, robots had controllers the size of a small refrigerator. Now, controllers are small and compact, integrated into the base of the robot for more efficient use of factory floor space." LaSelle concludes, saying, "Electronics manufacturers want more processes done within a smaller footprint."
Smaller electronics within robots is important to ABB's Hunt. "ABB launched a more compact controller, about the size of a desktop computer. Compact size is extremely important because the production environment of electronics is more like laboratories," Hunt says. "Rooms where electronic components are manufactured are much smaller than in automotive applications so the footprint of the robot and the controllers needs to be small."
Hunt goes on to say that smaller electronics within robots help make the robot smaller and lighter. "Decreasing the mass enables the robot to move very quickly in electronics assembly. The faster the robot goes, the better." Speed is very important stresses Hunt, but speed alone is insufficient in electronic and semiconductor assembly. "The robot cannot just go fast but must go fast along a precise path. Path performance of the robot continues to improve."
Hunt's sentiments are shared by Blanchette, who says, "Smaller more powerful motors make the robot faster, stronger and able to accelerate more quickly. In production of electronics, the robot makes short but very high-speed moves, so the robot requires high acceleration and deceleration." The mass of the robot is critical to improve acceleration and deceleration and uses advanced materials like plastics, aluminum and carbon fiber to bring down that mass, says Blanchette. "New smaller robot motors still provide the needed torque as would a larger robot motor. Smaller motors with higher outputs are changing electronics work cells."
Communications and Data Management
Ethernet functionality is of growing importance to semiconductor and electronics work cells. "Electronics within the robot have made amazing leaps in technology, especially in ethernet capability," asserts PMD's Garry Sperrick. "Ethernet connections provides very fast communication from robot to robot."
LaSelle agrees: "Connection between machines through ethernet help in data collection for analysis by those in finance and planning, who extract data from points along the production line to understand production capability."
Ethernet functionality is important to DENSO's Peter Cavallo. "Wiring through the robot includes a communications interface, allowing end-users to connect gigabit ethernet devices, servo grippers, and other complex electronic components to the robot. Electronic connectivity in the robot enables running test fixtures on the end of the robot and sends the data stream right through the robot, providing greater flexibility."
Ethernet connectivity facilitates data management, says Hunt "More data management devices are used as robotics in the electronics industry become more mature. The capability of communication technology along with inexpensive memory and faster processors help with data management and tracking."
Furthermore, Hunt maintains, "Software continues to provide the kind of tools programmers need to do more sophisticated data analysis, which is required to track components and maintain a data base. Robot manufacturers provide data base management software, giving end-users the ability to build sophisticated string matrices and parse data." Data can be manipulated or downloaded into files stored on a hard drive, allowing a central server to access it to update batch information, says Hunt.
Additional devices connected to the robot require real-time feedback through more powerful processors, says Blanchette. "The processor has to collect all the data, do all the mathematics, then manipulate the robot path based on that information. Processor speeds are getting faster and the robot has much more memory so that the manipulation of data is sped up."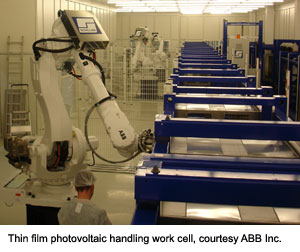 SEMI/GEM
As technology changes products containing semiconductors, along with the way these products are manufactured, the semiconductor industry has developed a set of standards for communications among production equipment. These standards, promulgated by the Semiconductor Equipment and Materials International (SEMI) help manufacturers that use robots to conform to a global protocol when producing cutting-edge products such as photovoltaics, flat panel displays, LEDs and other emerging products for both military and consumer electronics. SEMI's Equipment Communications Standard (SECS I and II) and Generic Equipment Model (GEM) delineates a universal communication standard for automated semiconductor manufacturing equipment, including robotics.
Mil Apps
A typical robotic manufacture and assembly of electronics and semiconductors includes devices for military use. Small articulated robots classified to work safely in an explosive environment can be used to assemble charges for mining and drilling as well as decommissioning bombs. Blanchette adds that "Military and defense electronics are encapsulated for better shock and thermal protection, but the production process is essentially the same."
The production process of military and consumer electronics was not always the same, recalls LaSelle. "In the mid-1990s, the 30,000 specifications unique to military products were thrown out by the Department Of Defense (DOD). Rather than unique military specifications, DOD enacted more commercial, off-the-shelf approach, in an attempt to bridge the need for the military to get access to innovation and technological development."
Some differences are still apparent says LaSelle. "When the military puts an electronic component into a military vehicle, these pieces of equipment are in service for decades, but consumer electronics are in service for only a matter of years or even months. Military electronics are more robust and the manufacturing process needs to support that with higher quality and standards of components." Military-specific standards are making a comeback, with more dynamic testing, reports LaSelle.
Offshore
Much electronics and semiconductor manufacturing has moved to China in an effort to tap into the large pool of inexpensive labor. That pool shows signs of drying up, says LaSelle. "Flextronics recently approved a 27% wage increase, while other labor groups that support the Ford Motor Company just received a 57% wage increase. Low wages was one of the reasons electronics and semiconductor companies moved to China." LaSelle notes that "Robot manufacturers are getting inundated with requests from companies such as Flextronics and their competitors, who believe that robotics are now more cost justifiable."
Carlisle has a similar take on Chinese wage labor in the semiconductor and electronics markets. "In the past five years, many cell phone manufacturers have migrated to China, where assembly is done manually. Now, even the Chinese are starting to use more robotics because of labor issues," Carlisle declares. "Large Chinese companies that build computers in their 20 to 30 factories are now looking at using more robotics. Some Chinese electronics manufacturers have an internal robot group to develop their own robots to automate their factories." China could be the next lucrative market for industrial robotics.
Bigger Market Byte
As the global economy emerges from the recent downturn, the electronics industry is experiencing a regeneration, argues Cavallo. "The electronics industry is having a resurgence right now. The computer and cellular phone industries are starting to ramp up again to provide new opportunities for robots to be used for ever increasing functions like assembly and testing." End-users continually find new and better ways of applying robotics in electronics and semiconductor fabrication, says Cavallo.
"The implementation of robotics in electronic applications has seen tremendous growth. Hard drive and flash drive storage is bordering on 5,000 petabytes of data," says LaSelle. "In the next five years, growth will reach 50,000-60,000 petabytes. That type of growth certainly impacts demand for hard drives, computers, flash drives, and semiconductors." A petabyte is a million gigabytes.
"The market is seeing more consumer power within the supply chain. Consumers want more mass customization," remarks LaSelle. "Robots satisfy the need to retool much more quickly with lower capital investment to move from one product style to another in a matter of months because of finicky consumers."