Top 3 Motion Control Trends Continuing in 2023
POSTED 12/09/2022
 | By: Cheryl Coupé, A3 Contributing Editor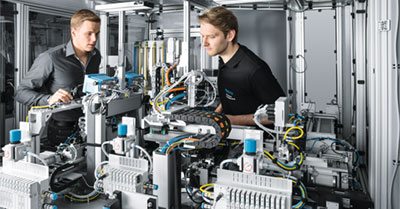 While it may be too early to say we are living in a true "post-pandemic world," most manufacturers have turned an important corner. What does that mean for the motion control industry and where do we go from here? These top 3 trends in the industry are clearly still being driven by ongoing pandemic effects, both direct and indirect.
1. Supply chain issues: the trend that just won't quit
It's impossible to look at any aspect of manufacturing without addressing the elephant in the room: Pandemic-induced supply chain issues continue to impact almost every industry. While the situation has improved for many commodities since the depths of the pandemic shutdowns, especially mechanical components, vendors of motion control systems expect extended lead times to continue through at least 2023. And there's no clear end in sight for shortages of key electric/electronic components, especially semiconductors, which could remain elusive into 2025. In response, motion control suppliers are pulling out all the stops to serve customers and maintain growth plans.
Eric Rice, product market manager, electric automation for Festo Corporation describes a two-pronged approach. On the supply side, Festo has large teams looking for alternative components as well as engineers working on redesigns. On the customer side, Festo is working closely with customers one-on-one to assess their situation and meet their needs. "Sometimes we can scramble up parts to make what they need, or sometimes we can shift them into other solutions that are more readily available," says Rice. "We're just trying to be as open and honest with our customers as possible, and work with them to find solutions."
Andy Sklierenko, vice president of stepper motor manufacturer Moons' Industries, sounds a similar note. "Planning with customers and understanding what their future needs are and preparing for those is really the only thing that you can do." He also explains that vendors with co-manufacturing capabilities in multiple regions may have an advantage in terms of being able to maintain production based on regional parts availability.
Kevin McNicholas, consultant at Integr-i-motion, says that the scope of the issue means that larger OEMS may be placing duplicate orders in multiple places in hopes of getting motion control systems sooner. This may be driving some false demand, which is not uncommon during periods of widespread parts shortages. Overall, however, he says the motion business is strong, with high demand levels due to increasing automation in everything from cobots to mobile robots.
2. Looking ahead with remote diagnostics, predictive maintenance, and data analytics
Perhaps one silver lining from the pandemic is the acceptance of remote work, which is also driving demand for services such as remote machine diagnostics. This and related technologies, including predictive maintenance and data analytics, have taken on greater importance.
Sklierenko explains that predictive maintenance is especially critical for industries running 24/7 operations, who simply can't afford unplanned downtime. And remote diagnostics is becoming more important for OEMS, who need to be able to anticipate and plan for efficient on-site service requirements for deployed fleets of equipment.
At the same time, manufacturers who have been stung by shortages of spare parts and availability of technicians are looking for ways to keep factories as productive as possible, for as long as possible. As McNicholas says, "More and more automation means more and more critical motion control applications you need to pay attention to." He sees increasing levels of intelligence being added to each new generation of products, which may lead to purchases of new motion control systems and networks with these technologies built in. But these new capabilities are unlikely to be incorporated into legacy equipment and old networks that simply can't support today's data requirements. "None of this is new," McNicholas says. "In some ways, it's just more apparent as the pressure to automate increases."
Other issues manufacturers are facing, especially in Europe, are strong new mandates to reduce energy consumption. While electric actuators are still more expensive than their pneumatic counterparts, those upfront cost differences can be quickly offset. Those calculations may also accelerate purchases of new equipment with greater capabilities and lower ongoing operating costs.
Rice describes a scenario where larger companies may already have teams on staff who can incorporate the latest technologies, while smaller companies are more likely to depend on the services that manufacturers and service providers can bring. This trend is leading suppliers to beef up their services and accessories offerings. In addition to services such as energy audits, Festo has recently launched a new version of its Festo AX AI and analytics platform. This helps customers navigate the process of getting data out of their machine or production line to gain insights into production lines and factory floors.
Similarly, McNicholas sees growing dependence on engineering teams at motion distributors and automation solution providers. "OEMs can't afford to have those capabilities in-house, so they've become more dependent on who they bought the product from," he says. That's especially true as motion control systems become more sophisticated.
3. Making complex motion control easier with connectivity and customization
While connectivity and digitalization are key elements to helping customers achieve their Industry 4.0 initiatives, challenges remain: primarily old, legacy networks that can't support today's data needs. In a typical plant, only half of the equipment may be connected. That's changing, though, due in some part to pandemic response as manufacturers prepare for future events that could keep employees from working on site and keep plants from running
An advantage for manufacturers is that new digital technologies are often designed to be easier to install and use, requiring less experience. Rice sees that trend continuing, to the point where once the servo, drive, and motor have been installed into a system, it will almost commission itself and be ready to work with very little effort. To support that trend, motion control vendors are providing more software tools to make sophisticated motion control easier to accomplish.
For Festo, that starts with a simpler process for procuring and commissioning motion control systems to exactly meet customer specifications. Festo's online sizing tool is an example. A customer can input their system requirements, put products directly into a cart, and download the digital commissioning file to install in the hardware when it arrives for a seamless experience. Rice says, "This allows them to focus less on being a motion control guru and more on being a guru of what they do: their machine, or product, or process."
Industrial customers may be more focused on the availability, support, and price advantages of standard products, Sklierenko explains. In contrast, standard products may not meet OEMs' needs as they scale production. "As a manufacturer of motors and drives, having that capability all under your roof allows the biggest flexibility to get the right mix of product that's the best solution for the customer, versus them just settling on what's available," Sklierenko says. This goes back to supply chain responses such as specifying parts with dual sources, both at the component and subassembly level. Sklierenko sees additional opportunities there to help customers redesign to address other issues and to look at future product generations.
Overall, post-pandemic trends seem to be accelerating many of the technologies and directions that have been in play for a while, but perhaps lacked the urgency of today's environment. For motion control suppliers, that brings both new challenges as well as opportunities.