Three Ways To Achieve Social Distancing Compliance Using Robots and AI
POSTED 01/20/2021
 | By: Emmet Cole, Contributing Editor
Manufacturers, fulfilment centers and logistics companies are facing a triple whammy of challenges as a result of COVID-19: increased demand for their products and services, labor shortages due to absenteeism and travel restrictions, and, on top of it all, social distancing requirements that place further limits on labor availability and operational efficiency.
E-commerce and retail were already "on the upside and pushing up" before COVID-19, but now they are booming, says Thomas Evans, CTO of Honeywell Intelligrated. "Everything that industry assumed required labor human interfacing is now being questioned and restructured because of social distancing requirements. The pandemic has forced the hand of many industries to understand the benefits of automation and AI, not just for social distancing, but also as a company and as an operator."
An automation investment study conducted by Honeywell Intelligrated during the early stages of COVID-19 revealed that more than half of U.S. companies are increasingly open to investing in automation to survive changing market conditions brought about by the pandemic, with the e-commerce (66%) grocery, food and beverage (59%) and logistics (55%) being the industries most willing to make such investments.
Technologies developed and supplied by RIA members are proving their worth as companies meet the challenge of complying with evolving social distancing regulations. In this article, we'll look at three scenarios that use automation and AI for social distancing and share expert tips for achieving compliance in the face of these challenges while maintaining –and even increasing—throughput and productivity.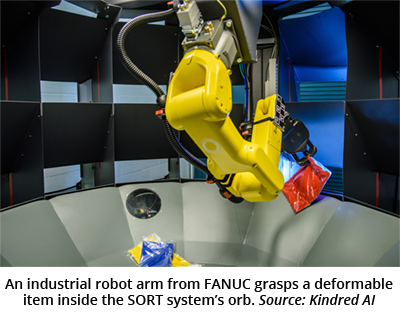 The Sortation Station
Manual sortation stations at customer fulfilment facilities typically involve two or more customer associates working in close proximity to each other –a situation that is no longer tenable due to social distancing requirements.
Enter Kindred AI's SORT robot. Designed to handle deformable items that arrive at the robot in dynamic, unstructured ways, the SORT automated putwall system is powered by continually updated machine vision and grasping neural network algorithms. SORT inherently helps with social distancing, says Marin Tchakarov, CEO of Kindred AI.
"Instead of associates standing closely together in front of the sortation station, sorting goods coming in through the chute, SORT enables one individual to look after three or four robots in a row performing the same function," explains Tchakarov.
The end result is effectively a quadrupling of throughput per customer associate, says Tchakarov, who emphasizes that despite SORT being 99.5% autonomous, keeping a human in the loop is key to successful SORT deployments. Leading apparel chain GAP Inc., a customer of Kindred AI's since 2017, quickly deployed more SORT systems as demand grew due to COVID-19.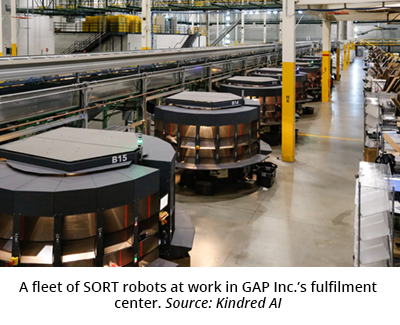 Additionally, the system's algorithms learn from every transaction: "SORT has successfully completed hundreds of millions of transactions in real-world production settings and every single transaction delivers a multitude of data that we learn from and we use to fine tune our AI algorithms. Think of it in terms of a 'hive mind,' in which the entire global fleet gets smarter through the learning experiences of any single robot within the fleet."
That SORT helps with social distancing compliance is "a very positive byproduct" of the way the system is already used by Kindred AI's customers, adds Tchakarov. And with fulfilment centers facing labor challenges long before the emergence of COVID-19, a trend Tchakarov expects to continue post-COVID, the case for SORT deployments will remain strong: "Our customers are looking for ways to improve throughput in their facilities and ways to increase the consistency and reliability of their operations. The undeniable way to solve for that --historically and especially during this pandemic-- is through using automation tools and solutions like ours."
The Distribution Center
Distribution centers are complex sites that produce millions of data points incorporating products, automation, business processes and worker location data. Combining all this information –from product arrivals and departures to bin-picking data-- into an actionable whole enables companies to achieve social distancing while improving productivity, says Honeywell's Evans.
"Using AI and data analytics, we help companies achieve full understanding of warehouse execution, labor requirements and how to make the best use of their automation hardware and software. Our systems enable distribution centers to learn from all of this data and then to decide, based on factors such as social distancing, how to maximize their resources," says Evans.
While Honeywell Intelligrated provides a complete portfolio of material handling automation hardware and software solutions that can be incorporated into social distancing measures, they also provide 'Operational Intelligence' software –an asset management platform that includes among its features the ability for workers to monitor social distancing on mobile devices.
The software, which is available through Honeywell's Productivity Solutions and Services business, monitors on-site social distancing compliance in real time, helps enforce customizable device cleaning procedures and can digitally trace who has handled each device.
"The data produced by supply chain logistics, goods movement, distribution, and transactions is constantly increasing in volume. At the same time, AI algorithms are becoming more intelligent through these millions of data points captured each day. This is where the industry is going. If companies want to be more competitive and get into that mix, they need to understand how to facilitate workers, processes and facilities through AI solutions. Companies should not hesitate to invest in this area," says Evans.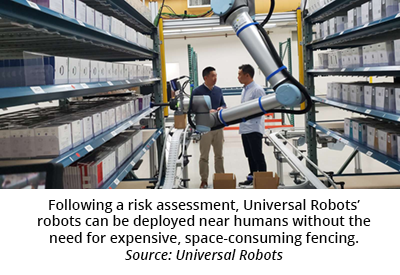 The Logistics Facility
Business-to-consumer order fulfilment companies are used to dealing with surges in demand, especially around the holiday season. But with labor shortages and social distancing putting the kibosh on hiring temporary labor, companies are turning to collaborative robots instead, says Joe Campbell, Senior Manager Strategic Marketing & Applications Development at Universal Robots.
"One of our customers, DCL Logistics, saw a sixty per cent increase in the amount of product they handled. In normal circumstances, the company would hire temp labor, but to protect their team and ensure social distancing compliance, this wasn't an option," explains Campbell. Instead, the company, which was already a Universal Robots customer, quickly added another cobot to its packaging line, enabling it to keep pace with customer requirements without adding more manual labor to the mix.
Speed of deployment and small footprint are key features of Universal Robots' collaborative robots making them a good fit for social distancing-related deployments, says Campbell: "Traditional automation is static and inflexible, which makes changing the layout extremely difficult, expensive, and disruptive. In contrast, Universal Robots' cobots are easy to deploy, are flexible enough to be deployed on a wide range of tasks from packaging to assembly and quality inspection, and they have a small footprint, which means companies can achieve social distancing without having to redesign their entire factory."
Campbell advises companies to exploit the flexibility of Universal Robots' cobots by exploring simple, incremental use cases for the technology at first: "Don't look for the million-dollar problem. Look for the series of 75,000-dollar problems. Particularly look for applications that are dull, dirty, or dangerous. This will help improve the health and work life of your team and reduce employee turnover."
Additionally, says Campbell, it is especially important for companies that are new to automation to see how a cobot deployment would fit into their current operations. To this end, Universal Robots provides an Application Score Card that enables companies to quantify the risks associated with their proposed cobot deployment, through a checklist of issues and topics from the impact of pre-existing automation through to the level of automation expertise already present in the workforce.
"Even with the close of the COVID crisis, which will happen before too long," Campbell concludes, "the outcome of these automation efforts is that the many benefits of our collaborative robots are going to shine through. If there is a small silver lining to this disaster, it is that people will be more accepting of automation and that automation will be a bigger part of their plans going forward."