Thermal Imaging to Diagnose Disease
POSTED 08/14/2018
 | By: Winn Hardin, Contributing Editor
Researchers around the world are employing infrared (IR) cameras to capture and record temperature variations on the skin for medical diagnostic purposes. By analyzing the images, researchers glean information on metabolic and vascular activity to recognize abnormal changes in physiology.
Thermal imaging is used to study a broad number of diseases where skin temperature can reflect the presence of inflammation in underlying tissues or where blood flow is increased or decreased due to a clinical irregularity. Currently, many physicians employ thermal imaging cameras to detect a number of medical conditions, such as arthritis, repetitive strain injury, muscular pain, and circulatory problems.
Relieving Pain
Rheumatoid arthritis is a chronic autoimmune disease that can affect the hands, wrists, feet, knees, and shoulders. Arthritic joints tend to have higher temperatures than nonarthritic joints, so thermography can help physicians evaluate and monitor inflammation caused by the early stages of the disease.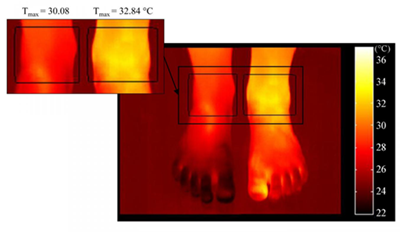 Figure 1: In ankle joint inflammation, the maximum skin temperature of the inflamed joint (left) is higher than that of the non-inflamed joint (right). Photo courtesy University of Eastern Finland.
At the Department of Automatic Control and Robotics at Bialystok University of Technology in Poland, Agnieszka Wasilewska has shown how images captured with a FLIR E60bx thermal scanning camera can reveal statistically significant differences between inflamed and healthy areas of tissue. The results could potentially enable physicians to assess inflammation in rheumatoid arthritis patients.
The ability of IR thermography (IRT) to detect joint inflammation has also been confirmed by Roope Lasanen from the University of Eastern Finland. In a recent study, Lasanen evaluated the capability of IR images captured using a FLIR A325 thermal camera to reveal inflammation in knee and ankle joints in children (Figure 1). The results showed that skin surface temperatures were significantly elevated in inflamed ankle joints but not in inflamed knee joints. This indicates that IRT could be used to detect joint inflammation in ankle joints. However, further research is needed to determine whether it can detect inflammation in the knee.
Thermography can also be used to diagnose muscular sports injuries. Since muscle injuries trigger inflammatory processes and inflammation generates heat, the level of inflammation can be measured by evaluating the temperature gradient of IR images. Manuel Sillero Quintana at the Faculty of Sciences for Physical Activity and Sport at the Polytechnic University of Madrid has tried to establish the capacity of IRT to evaluate such injuries. He and fellow researchers used thermal images captured by a FLIR T335 infrared camera to measure the average and maximum temperatures of the skin in injured and uninjured regions of interest. The results were compared with the diagnosis of an emergency unit practitioner. Results showed that IRT could be a suitable support tool, providing practitioners with additional information to identify sports injuries.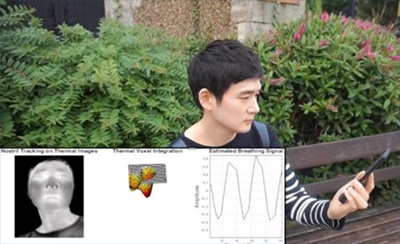 Figure 2: Low-cost thermal cameras interfaced to mobile phones can track how fast a person is breathing. Photo courtesy University College London.
As the performance of thermal imaging cameras continues to improve, low-cost thermal cameras that can be attached to mobile phones will herald new opportunities in diagnostic imaging. Indeed, at University College London (UCL), researchers have developed software that allows thermal cameras attached to mobile phones to track how fast a person is breathing. (Figure 2). This type of mobile thermal imaging could be used to monitor breathing problems in elderly people living alone, people suspected of having sleep apnea, or babies at risk for sudden infant death syndrome.
Led by Nadia Bianchi-Berthouze, the UCL researchers say that software combined with a low-cost FLIR ONE thermal camera performed well when analyzing breathing rates during tests simulating real-world movement and temperature changes. Although traditional video cameras can be used to track breathing, the researchers say they do not work well in low-light conditions. In addition to detecting breathing problems, thermal cameras may be able to detect subtle breathing irregularities associated with pain or stress and then send prompts that help individuals relax and regulate breathing. Although currently the software does not estimate the breathing rate in real time, Bianchi-Berthouze is working to incorporate this capability and to test algorithms for this process.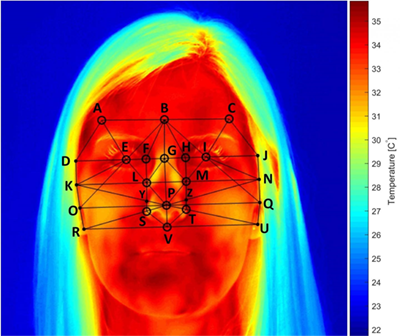 Figure 3: Facial temperatures, which can be measured using a thermal camera, are strongly correlated to mental workload. The effect is most pronounced around the nose. Facial temperatures are reduced as people perform tasks of increasing difficulty. Photo courtesy University of Nottingham.
UCL's research ties in with other evidence that thermal cameras could be used as tools to measure stress. Researchers at the University of Nottingham's Institute for Aerospace Technology, for example, have also shown that facial temperatures are strongly correlated to mental workload (Figure 3). The Nottingham researchers found that the effect is most pronounced above the sinuses around the nose and that facial temperatures are reduced as participants carry out tasks of increasing difficulty. The results show that when people are focused on a task, their breathing rate changes as the autonomic nervous system takes over. There may also be a diversion of blood flow from the face to the cerebral cortex as mental demand increases, although this is the subject of further research.
Infectious for infrared
Infectious skin diseases are another area in which thermal imaging technology can be employed. At the Institute of Microbiology and Hygiene at Charité University of Medicine in Berlin, Angela Schuster and her colleagues have shown that IRT can assess a skin infestation called tungiasis, which causes inflammation of the skin. Tungiasis is caused by fleas that bite the skin surface before burrowing into the epidermis. The fleas then burrow deeper, into the upper dermis, to feed from blood vessels.
Thermographic images of the foot of a person with tungiasis were captured using a FLIR T660bx camera. The results showed that the temperature around a lesion caused by tungiasis was significantly higher than the median temperature of the foot. Researchers believe that the technique might be used to diagnose hidden and atypical manifestations of tungiasis and other infectious skin diseases prevalent in the tropics.
Second That Emotion
Some researchers are trying to learn whether thermography can determine an individual's emotional state. At the University of Granada, researchers have analyzed thermal differences between subjects who were exposed to photos of their loved ones and those shown images from the International Affective Picture System, a standardized database of pictures for studying emotion and attention.
The results showed that when an individual viewed an image of a loved one, specific regions around the body increased in temperature by up to 2oC. Even more interesting, the thermographic system revealed that while passion increases temperatures around the hands and face, empathy (or the capacity to place oneself in another's position) decreases temperatures, especially in the nose.
Recent advances in thermal imaging technology have led to the production of lower-cost, more compact, and less expensive thermal imaging cameras. The compact design of these lightweight cameras will allow them to be used in a variety of medical imaging systems. Indeed, it is highly likely that many such cameras will be used to identify diseases, while thermographic camera systems will be employed as adjuncts to existing clinical diagnostic procedures.