The Robotmakers – Yesterday, Today and Tomorrow
POSTED 04/28/2017
 | By: Tanya M. Anandan, Contributing Editor
Hot on the heels of industry's greatest showcase for automation, Automate 2017, the most widely attended Automate event to date, we offer this retrospective. An opportunity to reflect on how far we've come as an industry since robotics pioneers George Devol and Joseph Engelberger introduced Unimate, the world's first industrial robot.
George Munson's fascinating account (condensed here) in "Pity the Pioneer: The Rise and Fall of Unimation, Inc." sets the stage. Munson was part of a small group of physicists and engineers that helped develop Unimate.
A closer look at history often reveals insights not readily apparent during its disparate events. Unimation Inc. no longer exists, but its legacy reaches far and wide. The robotics legacy players that along with Unimation shaped the industry's past will now help decide its future, even as new players enter the arena.
Legacy Robot Suppliers with Deep Roots
The RIA Platinum Robot Manufacturers represent the largest robot builders in the world, four of which are over a century old and three have ties to Unimation. Like rainmakers, the "robotmakers" are a multinational group of innovative technology leaders hailing from Japan, Germany, Switzerland, and Italy, all with full-service subsidiaries in the Americas, Europe, and Asia. All have rich histories of significant contributions to industry. RIA is proud to have supported their journeys for over 40 years. We will explore their origins, historic breakthroughs, and strategic visions for the future.
First, we take a rare look inside Unimation. Nearly 65 years have passed since Devol patented his Programmed Article Transfer Device in 1954. It was Engelberger that had both the foresight and entrepreneurial acumen to realize its potential and take it global. Technologies have matured. New ones have ascended, and companies have come and gone, expanded, or been absorbed. But somethings haven't changed.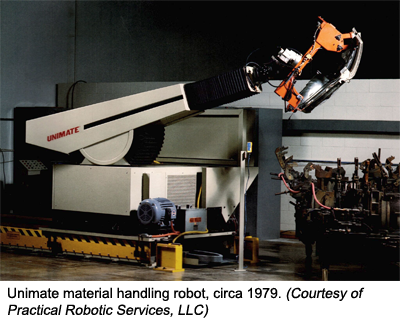 This becomes evident as Stanley Polcyn shares vignettes from his time working alongside Engelberger during Unimation's heyday. Polcyn was Chief Operating Officer at Unimation from 1973 through the early '80s. When he came on board, the fledgling company had already been in business since 1961.
"My job was to operate the company and make it profitable, and I did. Before I arrived, the company had only been profitable one year. We couldn't generate enough money in the American market, so we licensed the technology to Kawasaki."
Japan's Kawasaki manufactured Unimate robots for the Asian market. Swedish corporation ASEA and Ohio-based Cincinnati Milacron also became licensees. Both companies would eventually end up as ABB Robotics. Even IBM was a Unimate licensee at one time.
Jobs and ROI, the Timeless Debate
Listening to Polcyn's stories, we hear a familiar theme. Even as the latest report from A3 demonstrates that more robots lead to more jobs, the robots stealing jobs debate rages on, just as it did in the Unimation days.
"No matter who we would talk to, everybody was saying how can you put labor out of work? I had to stand up there and tell them we weren't taking jobs away from people. It's better to be an efficient manufacturer and reduce the expense of the operation, to be in the marketplace active and vital." (In the 1960s and '70s, the Big Three automakers were facing a competitive onslaught from abroad.)
"We learned after a year of failure that trying to talk about ROI wouldn't work either," says Polcyn. "There had to be things that we had to uncover. Like what does reliability mean to a company? What does reliability mean in ROI? That's what we had to promote and sell. And that's what we eventually did with GM, Chrysler, and Ford. Pretty soon they were building cars that could last for 200,000 miles."
Polcyn calls it "a period of market acceptance." Today, a whole new generation of manufacturers in various industries have yet to come up to speed on the ROI for robotics.
"We had to prove to the automotive companies that they could effectively and economically use the Unimate to assemble car bodies. They were all looking for economic payback and we couldn't justify it the way the accountants wanted to count it. So we had to overcome that hurdle as well as the technological hurdles of accomplishing the job. Which was the easiest part (the technological part), to be honest."
Changing the mindset was the difficult part. Still is.
"It really wasn't until the '80s that all the automotive companies recognized that they no longer could build cars indifferently," says Polcyn. "They had to do it precisely and correctly. This extended their product warranties and saved expenses overall. Robots actually did become a meaningful investment."
The End of an Era for a New Age
As for Unimation, the company would come to an unceremonial end after Westinghouse acquired it in 1982, signaling an industry shakeout on the horizon. Polcyn says Unimation had 1,000 employees at the time. Just a few years after the acquisition, they would be down to five.
Unimation's demise has been blamed on big-corporate politics, inflexibility, and indecision. Others attribute it to the inevitable transition from hydraulics to electric-driven robots. Or was it outside influences? Polcyn says they were at odds even within Unimation. Engelberger held steadfast for hydraulics, while others said the writing was on the wall. Ultimately, the market would decide. By the mid-1980s, all of the large purchases were going to electric robots and Japan's robot manufacturers were putting the moves on the Motor City.
In 1989, Westinghouse sold Unimation to Swiss mechatronics pioneer Stäubli. Unimation West, an offshoot on the West Coast formed by Unimation's purchase of robotics pioneer Vicarm Inc., eventually became Adept Technology, now Japan's Omron Adept Technologies.
Frank Pagano, General Manager of Practical Robotic Services (PRS), says even after all these years his company is still servicing Unimate robots. While pursuing his engineering degree, Pagano was a co-op at Unimation and in 1983 joined the company as Marketing Product Manager. PRS is based in Brookfield, Connecticut, just 8 miles from Unimation's old stomping grounds in Danbury. Polcyn resides in nearby Newtown and says Unimation alumni and their descendants are pretty common in New England.
Robotics technology was born in the USA. But it was essentially exported out of the country. The Big Three U.S. automakers are the largest beneficiaries of robotics technology, at least to date. However, the electronics industry, especially in Asia, is revving its motors.
The seven robot manufacturers we survey are the result of mergers, acquisitions, strategic partnerships and good, old-fashioned entrepreneurship. Most of these companies have roots in heavy industry, where they pioneered technologies that supported the Second and Third Industrial Revolutions. Healthy prodding from disruptors has forced them to step up their games in recent years. They are now poised to steer the Fourth Industrial Revolution. To equip the factories of the future with a growing brood of connected, evolving intelligent machines, vessels for the impending cyber-physical age.
KAWASAKI est. 1878
Kawasaki is perhaps best known for its motorcycles and jet skis. But this multinational group's origins date back to 1878, when Shozo Kawasaki founded a shipyard in Tokyo, which would be the precursor to Japan's modern shipbuilding industry.
Over the course of the next 65 years and two world wars, Kawasaki would expand into manufacturing railway locomotives and cars, submarines, bridges, trucks, and Japan's first metal aircraft. In 1969, the shipyard, rolling stock, and aircraft companies merge to become Kawasaki Heavy Industries, Ltd., as it's still known today.
Also in 1969, Kawasaki becomes Japan's robot pioneer following a licensing agreement with Unimation. Together, they develop the Kawasaki-Unimate 2000, the first industrial robot produced and sold in Japan.
Heavy on Industry, Strong in Welding
Through the 1960s and into the new millennium, Kawasaki launches its full-scale motorcycle business, produces Japan's first gas turbine generator, and builds everything from helicopters, recreational watercraft, and high-speed trains, to oil tankers, construction machinery, and tunnel boring machines.
Kawasaki's continuous focus to advance its own manufacturing methods leads to major improvements in robotic arc welding, laser welding and cladding, thick-section resistance welding, plasma cutting, and laser cutting. In 2004, Kawasaki develops a new technology for joining lightweight alloys called friction spot joining (FSJ). The Kawasaki FSJ robot system uses force and high-speed rotation to generate friction, which joins metals in a matter of seconds.
Today, Kawasaki's broad robot portfolio services a wide range of applications across diverse industries, from the assembly of miniature components weighing only a few grams, to the material handling of castings weighing 1,500 kg. All Toyota and Lexus brand vehicles are painted by Kawasaki explosion-proof painting robots. Kawasaki is also an industry leader in wafer handling robots for the semiconductor industry.
Just this year, Kawasaki released the one ton payload MG10HL robot in response to the growing need for handling ultra-heavy goods, such as car bodies and automotive floor pans, ship and aircraft parts, and cast and forged metal products. For payloads exceeding 1,000 kg, there is also a 1,500 kg option, the MG15HL. Kawasaki's innovative hybrid link mechanism combines the robot's JT2 (arm out-in) parallel link and JT3 (arm up-down) serial link configurations to achieve payload capacity without the use of bulky and limiting counterweights, maximizing the robot's motion range and achieving a compact footprint.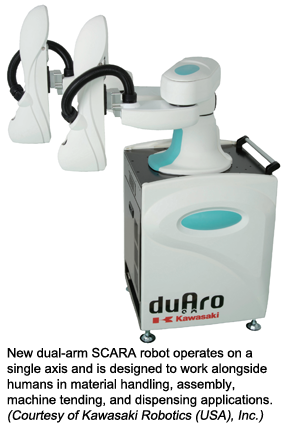 New Frontiers in Collaborative and Medical Robotics
Going forward, Kawasaki will leverage its expertise as a leading robot manufacturer and global pioneer in numerous industries to forge new frontiers.
"We will use the experience and system engineering technologies we have built up as a pioneer in industrial robots to drive the expansion of new sectors, such as medical and collaborative robots, to further serve and assist humans," says Dan Hasley, Sales Director for Kawasaki Robotics (USA), Inc., in Wixom, Michigan.
One of the most popular highlights of Automate 2017 was Kawasaki's new duAro collaborative robot (pictured). Showgoers lined up around Kawasaki's booth to get their hands on a soft-serve ice cream cone prepared by the duAro. Watch the "ice cream robot" in action.
The duAro is Kawasaki's first dual-arm robot that can easily reproduce work performed by a human and takes up the space of just one person. Installation and relocation are easy with the wheeled base. The duAro's soft body, low-power motors, speed and work zone monitoring, and deceleration function allow it to safely work alongside humans.
On the medical front, Medicaroid Corporation, a joint venture between Kawasaki Heavy Industries and healthcare diagnostics equipment manufacturer Sysmex Corporation, has established a U.S. subsidiary called Medicaroid, Inc. Based in San Jose, California, Medicaroid will develop surgical support robots and industrial robots for medical applications leveraging the manufacturing and R&D capabilities of Kawasaki and Sysmex to contribute to the advancement of medicine.
The Digital Factory
Kawasaki Robotics' Hasley says they are also developing new software and control technologies to help manufacturers digitally connect their machines and extract value from the Industrial Internet of Things (IIoT).
"We already offer Internet and LAN based predictive maintenance solutions that acquire and analyze robot data, enabling remote monitoring and troubleshooting to achieve zero downtime. Later this year, we will be releasing a new energy saving network controller with enhanced data collection and transfer capabilities to support overall equipment efficiency (OEE) calculations and smart manufacturing. The new Bluetooth-enabled controller will allow for the collection and analysis of both robot and production data, and provide the ability to link to the cloud, other robots or machines, tablets, vision cameras and various fieldbuses.
"The ability to develop, refine, and implement robotic automation technology and processes, before they are ever offered to our customers, has enabled Kawasaki Robotics to become a leader in flexible automation solutions."
STÄUBLI est. 1892
Stäubli celebrates a major milestone this year. The global mechatronics solution provider got its start in textiles 125 years ago. Founded in 1892 as a family-owned workshop in Horgen, Switzerland, producing shedding mechanisms for weaving machines, Stäubli is a pioneer in mechatronics for textiles, connectors, and robotics.
Textiles, Connectors, Robotics
In 1956, the Fluid Connectors Division is launched. In 1989, the Stäubli Group acquires Unimation from Westinghouse and continues development of the PUMA electric-driven robotic arm. The Electrical Connectors Division is launched in 2002. Stäubli introduces the SCARA robot product line in 2005 after acquiring it from Bosch Rexroth. In 2009, Stäubli launches its MPS line of robotic tool changers.
Today, Stäubli's comprehensive product line ranges from compact 4-axis robots, to medium and heavy-duty robots with payloads up to 190 kg, as well as controllers and software. Applications include food, life sciences, machining, painting, plastics, semiconductors, and photovoltaics.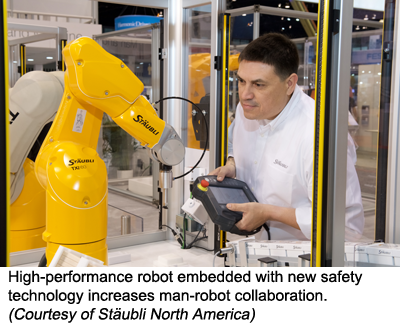 Man-Robot Collaboration
Stäubli has developed a robot series that is designed to cover all five stages of "Man-Robot Collaboration (MRC)" without sacrificing maximum speed and performance when desired. The TX2 line has pioneering safety features that make it an adaptable partner for humans.
Stäubli unveiled the full capacity of its new TX2 series of collaborative robots (pictured) to the North American market at Automate 2017. To ensure maximum safety, sensors make the robot aware of where the human is in relation to the robot at all times. All the coordinates of the robot as well as its speed and acceleration are recorded in real time. You can see some of the different stages of MRC demonstrated in this video from the show floor, where man and robot play Jenga.
The TX2 line's patented drive technology offers high levels of consistency, precision, speed and performance. The enclosed structures and waterproof construction are well-suited to sensitive environments, such as cleanroom operations and harsh conditions. Stäubli robots are also compliant with all criteria for use in Industry 4.0 environments and the smart factory.
"The fact that Stäubli is an innovative mechatronics solutions provider with multiple divisions is a huge benefit," says Roger Varin, CEO of Stäubli North America in Duncan, South Carolina. "The cutting-edge technology expertise from each division is shared across the other divisions, strengthening our product offerings and the ability to provide top-level service to our customers. Across all the divisions, Stäubli's innovative solutions are designed to maximize efficiency and safety."
KUKA est. 1898
KUKA has roots dating back to 1898, when Johann Joseph Keller and Jakob Knappich establish an acetylene plant in Augsburg, Germany, to produce affordable lighting for houses and streets. In the early 1900s, Keller und Knappich GmbH expands its business into welding and cutting technology.
Long before Twitter's 140-character limit, there were telegrams. Western Union charged by the word. So take the first letter of four words: the founders' surnames (Keller, Knappich), the German word for "and" (und), and their city (Augsburg), and you have the much shorter KUKA. A brand is born.
Innovations in Welding, Robotics
From the 1930s onward, KUKA is known for innovations in welding technology, and later robotics. The company builds the first automatic welding systems for household appliances in the 1950s and delivers the first multi-spot welding line to Volkswagen AG. For Daimler-Benz, KUKA builds Europe's first robotic welding transfer line in 1971.
KUKA launches the first industrial robot with six electromechanically driven axes in 1973 and introduces the first PC-based robot controller in 1996. In 2013, KUKA introduces the LBR iiwa, a lightweight robot with joint torque sensors in all of its seven axes for highly sensitive applications and safe human-robot collaboration.
Today, KUKA AG with its world headquarters in Augsburg is a global powerhouse in automation. The group comprises robot manufacturer KUKA Robotics, automated manufacturing and assembly solutions integrator KUKA Systems, and Swisslog AG, which provides automation solutions for health systems, warehouses, and distribution centers.
China Comes Calling
In January, Chinese electrical appliance maker Midea completed its $4 billion takeover of KUKA AG, assuring the 12,000 employees worldwide that existing locations and jobs would be maintained until the end of 2023. Just prior to that to satisfy U.S. government regulators, the aerospace business of the KUKA Systems division was sold to Advanced Integration Technology, a Texas-based provider of automation integration for the aerospace and defense industries. The automotive business and other automation integration remains with KUKA Systems, now under the Midea umbrella.
Envisioning Connectivity
We sat down with Stefan Lampa, CEO of KUKA Roboter GmbH, at Automate 2017. He shares the company's vision for the future.
"Technology-wise, the group is focusing on connectivity," says Lampa. "You see our KUKA Connect here. In the first stage it's very much focused on the robotics side, but it will expand to be a much wider offering that goes into our complete portfolio."
KUKA Connect (video) is a cloud-based software platform that allows customers to easily access and analyze data from their KUKA robots on any device, anytime, anywhere. Lampa sees a changing mindset where manufacturers are now more open to connectivity and the Industrial Internet of Things than just a few years ago.
"We have the first big users and now we are talking about the thousands of robots that we will connect this year. The main challenge is not the robot itself. The robot is super reliable. However, all the equipment around it causes the robot to stop. Now we will be able to predict conditions and help the customer to avoid stoppages. That's going to create a lot of productivity improvement for the customer."
He expects that a third of KUKA's installed base of robots will be connected by 2020. A strong partnership with Chinese telecommunications equipment giant Huawei will help.
"We have very close cooperation with Huawei moving toward 4.5G and 5G connectivity," says Lampa. "With 4.5G and 5G you get the speed and the bandwidth, so you can have a real-time understanding of what's happening with the installed base."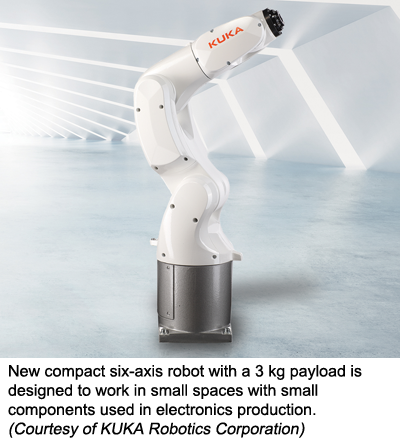 Small Spaces, Big Opportunities in Electronics
Leveraging its East Asia ties, KUKA has its sights set on the electronics industry. "For the whole group going forward there will be a lot of focus on Asia, especially China, because it's such a growing market," says Lampa. "Electronics will be the biggest robot user by number of robots in 2020. In the electronics industry, we have been growing by 300 percent from 2014 to '15, and '15 to '16," noting that they started from a relatively small market position. "We will see another 300 percent this year," he adds.
KUKA launched the KR 3 AGILUS (pictured) specifically to compete in electronics. The new robot redefines the 3 kg, low-payload class by mastering various tasks with agility, precision, and flexibility. The compact robot is designed to work in confined spaces and is ideal for 600 x 600 mm cells producing the smallest components and products. It's one of the fastest robots in its class offering minimum cycle times and larger production outputs. In this video, KUKA talks trends in the electronics industry and the impetus behind the new KR 3 AGILUS.
Quality and Innovational Spirit
KUKA has manufactured robots for over 40 years. Lampa says it's the company's obsession for quality and innovational spirit that sets them apart.
"We have tremendous freedom for people to find new ways to develop robot technology. That's why we have collaborative robots and mobile robotics. That's why we have entertainment robotics and medical robotics." (Speaking about robots in entertainment, did you know? For the 2013 blockbuster movie Gravity, a system created by Bot & Dolly called IRIS used KUKA robots to create the zero-gravity scenes featured throughout the film.)
Lampa acknowledges that quality and innovation come at a high price: "We are probably the most premium supplier among the mainstream big robot suppliers, but we always have a good balance in the cost-value benefit. In very competitive markets like electronics, we can offer more reliability. That has value," noting that in the high-stakes business of electronics manufacturing where product life cycles are often measured in months, production line stoppages come at tremendous cost.
"All of the sudden that price discussion seems to disappear for customers that really want to have a high uptime and high security."
YASKAWA est. 1915
Yaskawa began its journey in 1915 as Yaskawa Electric Manufacturing Co. creating motors for the coal mining industry. The Japanese company commercializes the three-phase induction motor in 1917, invents the "minertia motor" DC servo drive in 1958, and later commercializes its AC servo drive series.
Mechatronics Pioneer
During the 1960s, Yaskawa pioneers Mechatronics, the concept of fusing mechanisms with electronics, and in 1972 is granted the trademark. In 1977, Yaskawa introduces Japan's first all-electric industrial robot, the Motoman-L10, used for arc welding. An innovative robot controller, the ERC control system, is released in 1988, which is able to control 12 axes, more than any other controller at the time. In 1991, the company's name becomes Yaskawa Electric Corporation.
In 1990, the Motoman Robotics Division of Yaskawa America, Inc. (responsible for sales in the Americas), creates the ArcWorld® series, the industry's first standard, pre-engineered arc welding workcells. In 2006, the world's first 15-axis dual-arm robot, the Motoman DIA10, makes its debut. Motoman's 15-axis dual-arm SDA-series robots are the next generation. In 2010, Yaskawa introduces the MLX control platform, enabling robots to be programmed in a familiar PLC environment.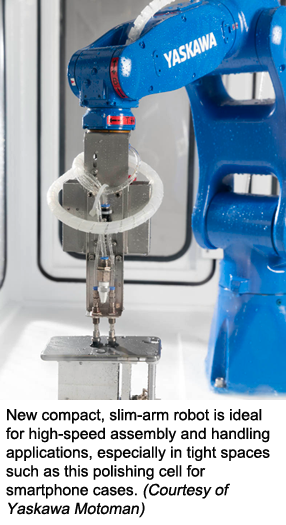 Robots, Motors and Drives
Today, Yaskawa's installed base is over 360,000 robots, and millions of servos and inverter drives. Headquartered in Southern Japan, Yaskawa has 14,000 employees located in 29 countries. In addition to robots, motors and drives, the company makes products for physical therapy and personal mobility. Yaskawa invested in ReWalk Robotics, the makers of robotic exoskeletons that help individuals with spinal cord injuries to walk.
At Automate, Yaskawa Motoman introduced the new HC10 collaborative robot. The speed- and force-limited design allows it to work safely with humans. Using Easy Teach software, the user can hand-guide the HC10 robot when teaching new program paths.
Yaskawa Motoman also released the new GP-series robots (pictured). Ideal for high-speed assembly and handling applications, the GP-series are fast, compact and efficient. These six-axis robots are available in three models offering different payloads and reach. The small footprint, slim-arm design allows for minimum installation space and minimizes interference with peripheral devices. This enables the GP-series robots to be placed in close proximity to workpieces and other robots to create flexible, high-density layouts.
Auto, Logistics, Food & Bev, Consumer Goods
Looking toward the future, Scott Jenkins, Vice President of Sales & Marketing for Yaskawa Motoman in Miamisburg, Ohio, sees continued potential for robotics in automotive applications, and other industries ripe for automation.
"The industry is moving at a rapid pace. We see acceleration in the adoption across multiple industries, including more novel applications within the traditional automotive space. Automotive will continue to be the largest user of robots for the foreseeable future because they have such a head start in the installed base, and more importantly, robot expertise. Significant growth is also occurring in food and beverage, logistics, and consumer product manufacturing. As robots begin to prove their worth in these industries, the numbers will escalate quickly.
"The perpetual debate of robots versus jobs is a challenge we must face daily by educating the public on the many benefits, both personal and commercial, that robots offer. When we deploy cost-effective solutions that produce good parts, the manufacturer grows, the supply chain remains intact and the surrounding economy prospers. Manufacturers deploy robots to increase production, not to eliminate workers.
"I am optimistic that public perception of automation will improve as it continues to reach the masses," adds Jenkins. "Whether it's a robot vacuum, a personal assistant device, or an autonomous vehicle, people will become more comfortable with robots in their place of work."
Yaskawa Motoman is creating more work-ready employees by participating in a variety of workforce development programs at the local, state and federal levels. These programs train and retrain workers to have viable careers in an automated workplace.
FANUC est. 1956
FANUC is an acronym for Fuji Automatic NUmerical Control. In 1956, the company is founded as a subsidiary of Fujitsu Limited after the Japanese IT giant decides to enter the factory automation business. The history of FANUC is rooted in the history of CNC itself, after Fujitsu's Dr. Seiuemon Inaba successfully develops Japan's first numerical control (NC) and servo systems. CNC (computer numerical control) would follow in 1972.
In 1974, the first FANUC robots join the workforce in FANUC factories. A few years later FANUC robots begin shipping to customers. In 1982, FANUC enters into a joint venture with General Motors, forming GMFanuc Robotics Corporation, to market robots in the U.S. This would prove to be a pivotal move leading to its eventual status as the world's largest robot supplier. In 2003, commercial production of intelligent ROBOTs begins, signifying the seamless integration of enabling technologies that make robots smarter, including integrated vision products, force sensing, simulation packages, and application software.
In 2008, FANUC launches the world's strongest heavy-payload robot, the M-2000iA/1200, able to lift up to 1350 kg. The gigantic yellow robot still holds its place in the Guinness World Records, with the latest model able to lift 2,300 kg and even bench-press a Corvette.
In 2015, FANUC introduces the first high-payload collaborative robot, the CR-35iA. With a 35 kg payload, this force-limited collaborative robot is designed to work alongside humans without the need for safety fences.
Largest Robot Supplier
FANUC's trademark yellow robots and CNC machines are the most recognized brands in industry. Today, over 450,000 FANUC robots and 3.6 million FANUC CNCs are installed around the globe. FANUC even has its own city!
FANUC City is a sprawling campus at the northeast foot of Mount Fuji, Japan's highest mountain and an active volcano. Covering 1.5 million square meters, the site is home to FANUC's R&D centers and "lights-out" production facilities, where robots build other robots.
With payloads from 0.5 kg to 2,300 kg, FANUC's extensive line of robots tackle a range of applications, including assembly, material removal, machine tending, packaging, palletizing, painting, dispensing, and welding. FANUC America Corporation has manufactured its line of paint robots in the U.S. for 35 years.
Dedicated to Workforce Education
FANUC's vision for the future is focused on educating the current and future workforce. As more companies incorporate robotics into their operations, the demand for high-paying careers related to designing, implementing, and using industrial robots is increasing. FANUC's Certified Education Robot Training (CERT) program provides educators with a STEM-based curriculum centered on robotics and automation training to prepare students for high-tech careers in advanced manufacturing.
"FANUC America's customers and system integrators say that one of their biggest concerns for the future is the lack of a skilled manufacturing workforce as more baby boomers retire," says Mike Cicco, President & CEO of FANUC America in Rochester Hills, Michigan. "That's why we've made a significant investment in the education market by offering affordable CNC and robotic solutions, related curriculum, and the development of national certifications. FANUC has taken a leadership role in collaborating with educators and our strategic industry partners to support a solution to address the skills gap. We believe that with an industry-based education strategy, manufacturing can continue to invigorate innovation, commercialization, and the high volume of production that is essential for our economy and future growth."
FANUC's education training is available at the high school, community college, and university level. FANUC is also an authorized provider of Continuing Education Units. All educational programs meet the national ANSI/IACET standards.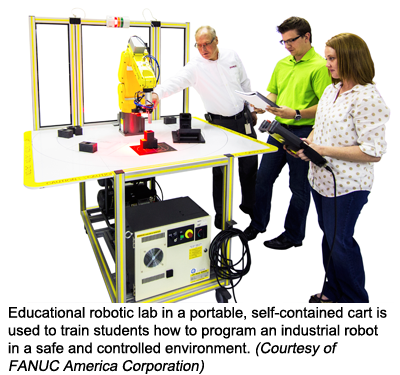 Classroom-Ready Robot Education Cart
FANUC's Fenceless CERT Cart (pictured) allows students to learn how to program and interact with a FANUC LR Mate robot in a flexible environment safe for human-robot collaboration. Currently, there are over 1,500 FANUC robots and CNCs at more than 600 secondary and post-secondary schools in North America.
"Many of our Authorized System Integrators and customers are beginning to work more closely with schools that offer FANUC programs, and have established direct pathways to hire individuals with FANUC credentials," says Cicco. "And because it's never too early to learn about advanced technologies, we are now exploring education product developments for primary schools.
"A STEM-based curriculum is definitely a requirement for our future manufacturing workforce, and skills are still being defined and certified," adds Cicco. "Those skills will continue to evolve to keep pace with the rapid advancements of manufacturing technologies. For that reason, industry-based programs and academic collaborations are essential to closing the skills gap. FANUC America will continue to make education one of our core business strategies in the years to come."
COMAU est. 1973
Comau began in 1973 as the COnsorzio MAcchine Utensili, or Machine Tools Consortium. It was formed by a group of engineers and companies based in Torino, Italy, that decided to pool their expertise after helping to build the Volga Automobile Plant in Russia, maker of Lada brand vehicles.
Over the next couple of decades, Comau would develop ComauFlex (video), for streamlining high-speed automotive manufacturing, and RoboGate (video), a modular robotic framing system, both of which become popular installations with automakers around the world. In the 1980s, Comau works with Trumpf to develop the first laser robots, which were in high demand at GM. In 1999, Comau acquires Renault Automation and PICO to add to its body frame and final assembly competencies.
The new millennium brings with it new industries beyond automotive and new product lines such as the Racer family of small payload robots. Comau, a member of the FCA Group (Fiat Chrysler Automobiles), has 9,000 employees in 17 countries.
Auto Body Assembly Specialists
For many years, Comau's automation systems worked behind the scenes helping build vehicles for well-known brands such as Ford, General Motors, Mercedes, Chrysler, and Nissan. Now, Comau as a manufacturer is stepping to the forefront, as evidenced by its recent showing at Automate 2017, where we met Maurizio Cremonini, Head of Marketing for Comau S.p.A., headquartered in Turin, Italy.
"In the beginning, we were providing these kinds of technologies only to Fiat," explains Cremonini. "But over the years, we started promoting our knowledge, competence, and technologies to the other automobile manufacturers."
Comau is known for its expertise in designing and building automated solutions for body assembly and powertrain assembly. This includes core competencies in robotic welding, laser technology, high-speed machining, and press automation.
"We are probably the number 1 leader in body assembly lines," says Cremonini. "This is our bread and butter."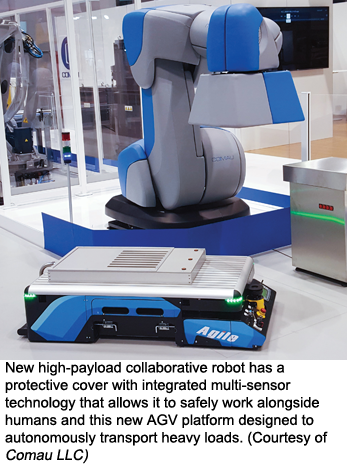 New Frontiers in Collaborative Robotics
Comau's vision for the future includes flexible automation solutions to address the needs of Industry 4.0, including human-robot collaboration, mobile robotics, and new opportunities for automation in expanding markets.
"Some of the brand new robots we have now are because we want to leverage our competencies in the automotive sector and expand into general industry," says Cremonini. He lists logistics, food and beverage, white goods, and electronics as new areas of focus.
Automate 2017 marked Comau's unveiling of its new collaborative robot to the North American market and a new AGV (Automated Guided Vehicle) platform. Watch them in action on the show floor.
The AURA (pictured), for Advanced Use Robotic Arm, is a high-payload robot with a protective foam covering equipped with sensors that can perceive both proximity and contact with a person or other equipment. Laser scanners and an integrated vision system allow the collaborative robot to dynamically monitor and predict the movements of a person in the workspace, so it can modify its trajectory accordingly, or ramp down its speed and motion to ensure safety.
The new Agile 1500 (also pictured) is an autonomous mobile platform designed to be a modular and flexible solution to optimize smart factory logistics. The new AGV platform can carry up to 1,500 kg with a maximum speed of 1.7 m/s. It works with multiple navigation systems that use both natural landmarks, including walls, pillars and fixed equipment, as well as predefined points, such as magnetic spot or tape.
"The idea was to have a small AGV but very powerful," says Cremonini. "It can carry 1.5 tons, so you can transport a full ICE (internal combustion engine)."
He says it's also highly configurable. "You can have a master AGV and some trailers, or you can combine four AGVs, two in the front and two in the rear, and put a wider platform on it so you can move a car."
Advanced security features and an integrated laser scanner allow the AGV to work autonomously and safely among humans and other obstacles it encounters on its route. Cremonini reveals that Comau is also looking at other forms of human-robot collaboration for the factory of the future. Think wearable robotics.
"We're developing an exoskeleton with a university in Italy. They are very specialized in biorobotics. The exoskeletons could help handle a lot of the manual operation within the factory, by reducing fatigue and improving ergonomics."
ABB est. 1988
ABB is an acronym for ASEA Brown Boveri, the result of a 1988 merger between two of Europe's best-known electrical engineering companies, Swedish corporation Allmänna Svenska Elektriska Aktiebolaget (ASEA) and Swiss company Brown, Boveri & Cie (BBC). ABB's world headquarters is in Zurich, Switzerland.
Robotics Heritage
Prior to the merger, ASEA in 1974 introduces the first microcomputer-controlled electric industrial robot, the IRB 6. ASEA would also introduce the first robot driven by AC motors and acquire Trallfa's paint robots business, all of which would be absorbed into the newly established ABB.
In 1990, ABB buys Cincinnati Milacron's U.S.-based robot business and begins focusing on robotic spot welding for the automotive industry. A year later, ABB releases IRB 6000, a large 200 kg spot welding robot, one of the fastest and most accurate on the market.
In 1998, ABB launches the FlexPicker®, one of the world's fastest pick-and-place robots, and RobotStudio®, a groundbreaking simulation tool for offline programming. In 2009, the IRB 120 makes its debut. Weighing in at just 25 kg, it is ABB's smallest ever multipurpose industrial robot. ABB's newest-generation IRB 1200 addresses the needs of material handling and machine tending applications, providing compactness and short cycle times while still maintaining a large working envelope. In 2015, ABB releases YuMi®, a collaborative dual-arm robot with a unique design that stops onlookers in their tracks.
Factory of the Future
Today, ABB Robotics operates in over 50 countries and has an installed base of 300,000 robots worldwide, supporting key industries such as automotive, plastics, metal fabrication, foundry, solar, consumer electronics, wood, machine tools, pharmaceutical, and food and beverage. Looking to the future, ABB is focused on three core elements it considers essential in building the Factory of the Future: collaboration, simplification and digitalization.
"As manufacturing moves from mass production to mass customization, the flexibility to efficiently change and adapt production becomes critical," explains Gustavo Sepulveda, Robotics General Manager for ABB, Inc., in Auburn Hills, Michigan. "This requires increased collaboration between people and robots, between islands of automation, and even between production sites. It also demands simplification to reduce programming time and provide intuitive human-machine interfaces, which allow manufacturers to seamlessly accommodate numerous products on a single system. Digitalization ties it all together, where actionable information drives better decisions and helps manufacturers unlock the benefits of the Industrial Internet of Things, increasing productivity, flexibility, and efficiency along the manufacturing value chain."
Collaboration
Collaboration is continuing to make it safer for people and robots to work closer together, to bring out the best of both and increase manufacturing flexibility. ABB's YuMi is specifically designed to work alongside humans in a variety of small parts assembly and material handling tasks. SafeMove2, the latest generation of ABB's safety-certified robot monitoring software, enables people to safely work alongside ABB robots with payloads ranging from 6 kg to 800 kg without compromising productivity. This scenario provides the optimum level of collaboration and flexibility for higher speed, higher throughput applications.
Simplification
Simplification is all about making robots easier and more intuitive to setup, program and use, reducing their cost of integration, and helping to remove barriers for new robot users, particularly small and medium-sized enterprises. RobotStudio is ABB's industry leading software tool for programming, configuration, and virtual commissioning. It's designed to maximize productivity and greatly simplify the user interface for ABB robots across all applications. ABB also offers lead-through programing solutions for applications such as painting, where robots are programmed by demonstration rather than software. This reduces the time needed to start production from hours to minutes.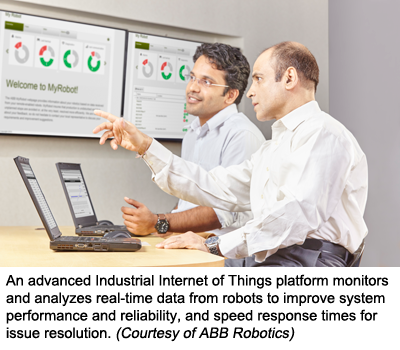 Digitalization
Digitalization is taking advantage of greater connectivity and computing power to gather information from the entire plant, which can be used to improve efficiency and reliability.

ABB's Ability™ Connected Services allow manufacturers to harness the full value of intelligence from single robots to entire fleets, using real-time data from intuitive dashboards to improve robot system performance and reliability. Connected Services are part of the ongoing evolution of the Remote Services platform, which ABB introduced in 2006 – years before the 'Internet of Things' was coined. Today, ABB has thousands of remotely monitored robots and offers fully integrated IIoT solutions. All ABB robots are ready to be connected.
Connected Services are delivered via the MyRobot web application (pictured), which is available on any connected PC or smart device. MyRobot helps self-servicing customers and ABB service experts identify the most frequent failures and alarms known to cause most stoppages, providing trends and warnings, and immediate notification and support in case of issues.
Collaboration, simplification, and digitalization are essential elements of the flexible and efficient Factory of the Future, where manufacturers can respond with ease to the high-mix, low-volume production cycles created by shorter product lifespans, changing customer tastes, and made-to-order strategies.
"The primary goal of ABB Robotics is to help its customers manage the transition toward this Factory of the Future by effectively tailoring innovative robotics technologies to their specific applications," says Sepulveda. "Many manufacturers understand the importance of embracing robotic automation, but seek a clear leader to help them achieve the most sustainable and effective competitive edge. ABB is that leader."
The Factory of the Future is now. Cyber-physical systems, the Industrial Internet of Things, and cloud robotics are building our smart factories. The transformational benefits are just starting to be realized. We will dig deeper into Industry 4.0 in our next installment of Industry Insights.
RIA Platinum Members featured in this article:
ABB Robotics
Comau LLC
FANUC America Corporation
Kawasaki Robotics (USA), Inc.
KUKA Robotics Corporation
Stäubli North America
Yaskawa Motoman