Robots to Extremes
POSTED 01/25/2019
 | By: Tanya M. Anandan, Contributing Editor
Robots perform dull, monotonous jobs every day. Traditionally, this was their domain. But time, technology and experience has shown us they are capable of so much more. Productivity, quality and efficiency have moved to the forefront. ROI is now often measured in months, not years. Volume is not as critical.
With more focus placed on the gains, sometimes we forget what we save. The freedom from extreme temperatures, strenuous payloads, harsh chemicals and toxic fumes. Their uncanny ability to go where we can't and perform jobs we shouldn't. From chemical refining and hazardous material handling, to toxic drug compounding and subzero palletizing, the superhuman capabilities of robots take them to extremes.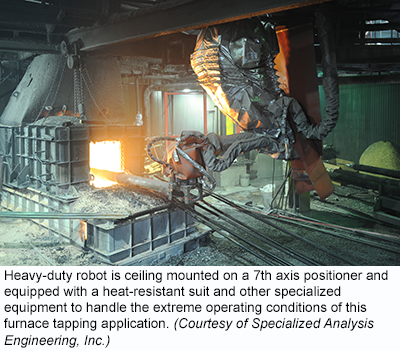 Robotic Furnace Tapping
Furnace tapping is a grueling job. The heavy lifting is repetitive and physically demanding. Temperatures are hot enough to melt metal. Noxious fumes and toxic dust make the task especially unhospitable for humans. But for robots, and an experienced automation integrator, furnace tapping is no sweat.
Founded in 1996, Specialized Analysis Engineering, Inc. (SAE) is an engineering services firm with expertise in industrial automation, robotics, process controls, systems integration, fabrication and wiring. The Logan, Utah-based firm has completed projects across a wide spectrum of industries including arc furnace tapping automation for phosphorus reduction furnaces and steel smelting furnaces.
SAE has automated six furnace tapping cells for a phosphate refining facility owned by pharmaceutical and agricultural giant Bayer. Located in Soda Springs, Idaho, the facility operates multiple electric arc furnaces to produce elemental phosphorus for herbicides.
During the refining process, a waste product is created in the form of molten slag that approaches 1650°C, hot enough to melt steel. This molten slag must be periodically removed from the furnace in a process called tapping. During the tapping process, the environment around the arc furnace is extremely harsh. Extreme high temperatures, the potential for splashing molten material, and noxious fumes and vapors make it hazardous for humans.
The operating environment is so extreme that even the robot needs protection. Under the metallic cover is a FANUC M-900iB/360 heavy payload robot inverted on a custom-built 7th axis positioner with coordinated motion. Inverted mounting allowed room for other activities in the workspace that would have been prohibited by a floor-mounted configuration.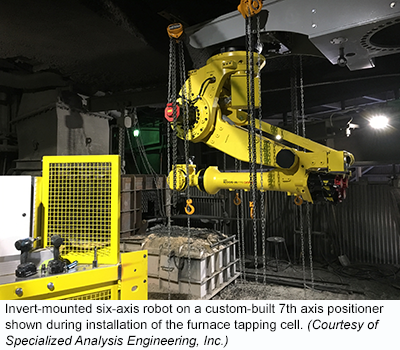 Takes the Heat, Lightens the Load
The robot must be able to operate in ambient temperatures that vary from -29°C during Idaho winters to over 38°C in the summer. To handle high ambient temperatures and the extreme process environment, the robot is protected by a heat-resistant Robosuit® made by RIA member Roboworld. SAE engineers worked directly with Roboworld to have their robot armor customized to accommodate the inverted mounting position and the accessory equipment required by this application.
SAE also equipped the robot with custom-built, thermostatically controlled, electrical-resistance heaters on all the joint motors and bearing housings to maintain operating capability during the extremely cold winter months. They also installed auxiliary insulation on the robot's wiring harness beneath the protective suit. All the conduit and wiring in the electrical enclosures and operator panels in exposed locations were shielded and insulated for protection from the harsh operating environment.
Lane Nielson, SAE's Engineering Manager, says that in addition to FANUC's high level of accuracy and repeatability, the robot has proven robust enough to survive the very harsh operating environment near the furnace tap holes. With a 360 kg payload, it also has the required power to manipulate heavy tooling and perform demanding tasks 24 hours a day, 7 days a week.
The heavy tooling was custom designed and fabricated by SAE. Each robot end-of-arm tool is approximately 5.5 m long and weighs 113 kg. Four different tools are required for the robot to perform multiple functions during the furnace tapping process. The tools are stored in an automated tool rack. Tool changers made by ATI Industrial Automation are used to accurately locate each tool in the rack as it's needed and automatically couple it to the robot arm.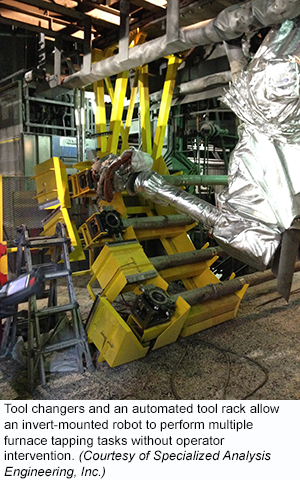 The PLC control system built by SAE provides master control for the robotic cell, associated equipment, and safety system. It also interfaces with the customer's SCADA system. A wireless remote pendant allows an operator to execute the system's primary functions without remaining at a fixed location next to the control panel. The safety system comprises physical barricades, personnel access gates equipped with locking safety switches, E-stop pull cables, and E-stop buttons to protect people working around the robotic cell.
Prior to automation, this furnace tapping process was entirely manual. It required operators to have a certain level of strength and stamina to perform repetitive tasks with heavy and cumbersome tools. By integrating a robotic system, it creates job opportunities for people who would otherwise be physically incapable of performing the previously manual tasks. The robot is also able to manipulate tools that are much heavier, more robust, and have a longer lifespan than the previous manual tools used by human operators to perform the same work.

Each of the six robotic system installations were unique to each location within the phosphate refining facility, requiring SAE engineers to design extensive structural modifications to the building and the robust mounting structures required to support these 680-kg FANUC robots. The first robot was installed in February 2013. Additional systems were installed over the next few years, with the most recent, sixth robotic installation completed in October 2018.
(Special thanks to Lane Nielson at Specialized Analysis Engineering for his technical contributions to this section.)
While FANUC robots are tapping furnaces in Idaho, not far from the Windy City, Kawasaki robots are making batteries.
Building Industrial Batteries
Heavy payloads and molten lead are no match for this heavy-duty robot helping to build industrial batteries. Neither is airborne lead dust, a health hazard for human workers.
When Battery Builders Inc. (BBI), a Naperville, Illinois-based manufacturer of industrial lead-acid batteries for lift trucks and other electric-operated equipment, decided to upgrade their facility, they got way more than expected from their new robot. They would more than double production with less labor, improve product quality, and reduce health and safety risks.
Frustrated by costly production delays caused by antiquated equipment, BBI worked with MAC Engineering from Benton Harbor, Michigan, to replace their 25-year-old COS (Cast-on-Strap) machine. MAC also integrated a Kawasaki ZX300S large payload robot to tend the new six-station COS machine. Automating the machine tending tasks reduced the number of workers from seven to five people and freed them up for more high-value tasks in other areas of the manufacturing facility.
The robotic process starts with the robot precisely aligning groups of vertically stacked battery plates, making sure the edges are even and flush. Then the robot picks up the plates and runs them over a large bristle brush to remove any lingering debris from the end connectors, or lugs. Next, the robot runs the product through a flux process, which prepares the metal lugs by removing metal oxides that could form beads when heated. The lugs are then dipped into tin to establish a stronger connection, and then dipped again into molten lead to connect the plates and establish the positive and negative posts. Finally, the robot places the battery plates into the last station, which automatically inserts the plates into a molded plastic casing.
BBI needed a precision workhorse to consistently align 136 kg of battery plates up to 500 times per day. The Kawasaki robot has a 300 kg payload and combines a long reach of 3230 mm with a minimal amount of dead space for a wide work envelope in a small footprint. High repeatability (±0.3 mm) makes it ideal for applications requiring precision and heavy lifting. Combined, these features enable the robot to reach multiple machines at varying heights, while generating a more consistent product.
"We have seen a visible change in product quality," says BBI's Assistant Manager. "It's not only the robot that's precise in its movements, it's all of the equipment around it, too. Everything is automated together, and the combination makes for a more accurate product."

Watch the Kawasaki robot on the job at Battery Builders, as it performs the entire six-station COS process, including battery plate alignment, brushing, flux application, tin dipping, molten-lead dipping, and casing.
During the multi-step COS process, the robot end-of-arm tooling only needs to change when the battery type is modified. When it's time for a different battery type, an operator changes the gripper on the robot.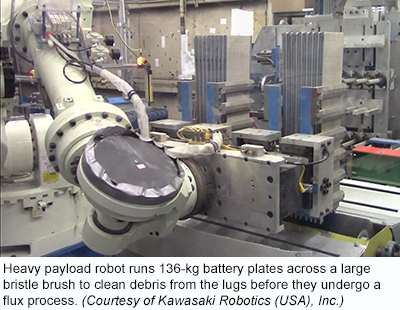 Higher Production, Lower Risk
Although increased production was BBI's primary goal for the upgrade, the manufacturer experienced unforeseen health and safety benefits. Manually stacking the battery plates and loading them into cases generated more airborne lead dust and posed a greater risk for exposure than the new automated process. The old process also required employees to lift heavier loads, resulting in a greater risk of injury.
For BBI, it was important to see automation's positive impact on not just their bottom line, but also on their employees' work environment.
"We have seen significant drops in exposure air monitoring results and we anticipate lower blood lead levels over time from the reduction of airborne lead dust concentrations," says BBI's Environmental Health and Safety Specialist.
Any airborne lead dust that is created during the automated process is immediately captured by a local exhaust ventilation system and deposited in a HEPA-filtered dust collector. Any residual lead dust that collects on the robot's surfaces is removed during BBI's daily housekeeping routine with a HEPA-filtered vacuum and wet wipe-down. The Kawasaki ZX300S robot wrist and base are rated IP67 and IP65, respectively, and are dust tight.
Since replacing their old COS machine, BBI has experienced better, more consistent product quality using fewer worker hours. Employees who used to operate the old machine are now working in the battery assembly department, allowing BBI to focus more staff hours on the final stages of battery assembly and ultimately improve the overall quality of their batteries.
Automating the manufacturing process reduced the operators' exposure to airborne lead dust and the amount of heavy lifting their roles require, resulting in a significantly safer work environment. Once all of the integration is complete, BBI expects to increase production from 400 to 1,000 battery cells per day – more than double their output before automation.
Robotic automation is taking on an ever-increasing role in the healthcare industry, too. Take the snake-like robots we explored in Robots and AI in the OR. They go where traditional surgical tools can't. In the pharmacy, robots are going where humans shouldn't.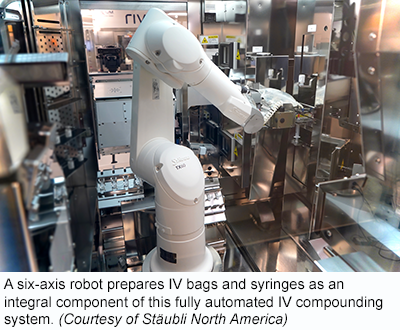 Handling Hazardous Drugs
Every year, 8 million U.S. healthcare workers are potentially exposed to hazardous drugs, according to the National Institute for Occupational Safety and Health. Chemotherapy, cytotoxic and oncology drugs used to treat cancer, as well as arthritis, multiple sclerosis and other non-cancerous medical conditions, can pose the greatest risk. NIOSH studies have shown that healthcare workers exposed to chemotherapy drugs have increased risk for cancers, chromosomal abnormalities, and reproductive harm.
Heightened concerns over the safe handling of hazardous drugs, a changing regulatory environment, and overall pharmacy efficiency and patient safety have focused more attention on automation. ARxIUM, a leading developer of pharmacy automation solutions based in Buffalo Grove, Illinois, developed the RIVA™ fully automated IV compounding system.
RIVA is used by hospital pharmacies to automatically and accurately prepare IV solutions in syringes and bags. By automating the process, RIVA improves safety for the patient and the pharmacy technician.
Safer and Faster
Automating the repetitive and complex tasks required for preparing IV bags and syringes reduces the incidence of contamination and human error. RIVA also ensures that hazardous and non-hazardous doses are accurate for pediatric, neonatal and adult patients. The system adds efficiency to the compounding process by allowing more doses to be prepared simultaneously.
A Stäubli TX-60L UL robot cycles the drug products from station to station through the RIVA compounding system. The speed at which the robot can move items through the process contributes to the system's impressive throughput. The entire system is enclosed aseptically in an ISO class 5 environment in order to adhere to the strict levels of sterile cleanliness required for IV compounding.
Watch the Stäubli TX-60L UL robot filling IV bags and syringes in one of two RIVA automated IV compounding systems installed at Mission Hospital in Asheville, North Carolina.
Technicians have the flexibility to run only single daily shifts or some run the system 24 hours a day, seven days a week. To date, ARxIUM has integrated over 50 Stäubli robots and controllers exclusively for RIVA compounding systems. More than 8 million doses have been filled by RIVA systems.
Prized for their cleanliness, reliability and repeatability, Stäubli robots help the RIVA system enhance patient care and pharmacy efficiency by improving the safety and accuracy of IV admixture compounding. In 2018, healthcare research firm KLAS named the RIVA automated IV compounding system the Top IV Robot for the sixth consecutive year.
From industrial and healthcare automation, to five-star entertainment on seafaring vessels, robots know no bounds. Landlubbers need not apply for these jobs.
Robots on the High Seas
Tranquil waters, rolling waves, rough seas … When robots meet the unpredictable nature of our world's oceans and waterways, all bets are off. These six-axis articulators have to be ready for whatever Mother Nature throws at them.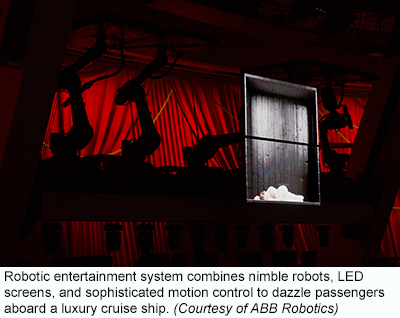 RoboScreens® combine industrial robots with jaw-dropping visual effects aboard one of the largest cruise ships in the world. The system not only takes onboard entertainment to a new level, it also takes robotic technology to new extremes.
Royal Caribbean's Quantum Class cruise ships were the first seaworthy vessels to feature their signature venue, the Two70°. This multilevel great room was named for its 270-degree panoramic sea views through floor-to-ceiling glass walls spanning almost three decks of the ship. A living room by day, Two70° transforms into an entertainment center by night, seamlessly blending live performances with cutting-edge visual technology and six RoboScreens attached to a gantry above the main stage.
Superior Motion Control
Developed by Andy Flessas (aka andyRobot®) in conjunction with ABB Robotics in Auburn Hills, Michigan, each RoboScreen is a 2-meter-tall Daktronics LED video display mounted to an ABB IRB 6620 robot. The screens present unique video and imagery while the robots perform choreographed movements in coordination with the screen images and onstage performers. A custom interface and software package called Robot Animator was created by andyRobot to ensure seamless communication between ABB's RAPID robot programming language, the video displayed on the LED screens, and the movement of the screens and robots in the environment.
Before its maiden voyage in 2014, the RoboScreen entertainment system toured the world with superstar rock band Bon Jovi. See our behind-the-scenes story of the robot whisperer who brings these spectacles to life in Elevating the Art of Entertainment – Robotically.
The ABB PC software team in Gothenburg, Sweden, collaborated with andyRobot on programming the robots, especially the unique challenges of operating robots at sea. Not only do the robots have to deal with their own six axes of motion, they also have to compensate for the yaw, pitch, roll and translation of the boat as it interacts with the waves, and moves through the water in normal, moderate and rough seas. To minimize the effects of this motion, the robots have well-defined thresholds for varying sea conditions.
ABB says the superior motion control built into each one of its robots is key to delivering the consistent, reliable and safe results needed to ensure the robots are part of the live spectacle without being intrusive. Watch snippets of the onboard show-stopping performances.
These aren't the only robots finding their sea legs aboard ships. These robot bartenders are serving drinks on five Royal Caribbean cruise liners.
Go to extreme depths with this underwater robot. Able to dive 150 m, this ROV (remotely operated underwater vehicle) is used around the world for aquaculture, commercial diving, municipalities, police search and rescue, military and research.
Back on land, robots prove their might under frigid conditions.
Heavy Lifting in Arctic Conditions
Albertsons, a large grocery chain based in Boise, Idaho, with stores across 35 U.S. states, needed a new automation solution for their cold packaging operation. The palletizing robot would need to satisfy very specific speed, payload, flexibility and footprint requirements. It would also have to withstand arctic-like conditions with food-grade chemical washdowns that could strip paint off a car.
After searching the market, Albertsons chose the KUKA KR QUANTEC PA Arctic robot. The five-axis robot performs palletizing tasks quickly and precisely even in ice cold temperatures as low as -30°C. Thanks to the Arctic design, it needs no protective suit. A narrow base and substantial reach allows for short cycle times and high flexibility when stacking items in frosty environments with limited floor space.
Not too many robots could withstand the rigors of this wet, cold environment for the long haul. Watch this KUKA robot do the bone-chilling, back-breaking work at Albertsons.
Braving at times subzero temperatures and dizzying heights, these transmission line inspection robots ascend hard-to-reach power lines and cover several kilometers a day. In turn, they keep their two-legged coworkers safer and closer to the ground.
It's not only the large industrial robotic systems or special-purpose robots like the search-and-rescue snakebots at Carnegie Mellon that can weather extreme environments. Collaborative robots are small but surprisingly mighty. Watch this Universal Robots cobot withstand high temperatures and a harsh environment while performing HVOF and plasma spray processes at an FAA Repair Station.
So give us your grueling, your hazardous, your toxic tasks. Your harshest of extremes. Those too hot to touch, and too cold to master. Where humans face great risk and flirt with danger. Free them from crushing weights and perilous heights. For we fear not noxious fumes, vapors and disaster sites. Robots rush in where others dare to tread.