Robots For Small Business: A Growing Trend
POSTED 10/31/2003
 | By: Bennett Brumson, Contributing Editor
Many people assume that the majority of robot customers are in larger, more traditional industries that deploy dozens of work cells in the course of production. While it is true that automotive, electronics, and consumer goods manufacturers are major users of robots, small businesses - enterprises with fewer than 100 employees and 10 robots or less - represent a growing segment of the market for robots.
These small businesses face special challenges and needs when deciding to invest in robotics. One fundamental challenge to small business is: 'What do I do after I buy the robot system?' Small companies face the challenge to develop and retain a robot 'champion' who can reprogram the robotic cell for new products and address technical issues as they come up,' says Carl Traynor, Senior Director of Marketing for Motoman Inc. According to Mr. Traynor, 95% of Motoman's customers have five robots or less.
Thanks to a steady decline in prices, robots have become very affordable to small business owners. Other financially attractive options include used and reconditioned robots.
'Another consideration is the new investment tax credit that is available for capital equipment of new or used equipment purchases this year and next,' says Ann Smith, Director, Communications & Market Research, ABB, Inc. 'This can make it much more affordable to both the small and mid-size firms.' She also notes that most robot manufacturers offer leasing programs as another viable alternative.
Small manufacturing firms often have little or no experience with robotics, and in some cases are unfamiliar with their potential. Yet, in many cases, the justifications made by small businesses for investing in robotics have commonalities with large corporations.
Size Doesn't Matter
While robots have demonstrated they can meet the economic requirements for small business owners, many people are only just beginning to appreciate their aptitude for jobs with small lot sizes, and how robots contribute to lean manufacturing practices.
'As an industry, we need to stress the benefits of using robots for small lots,' observes Smith. 'You do not need large runs. Robots provide the flexibility for small runs where frequency of production demand over time occurs; you can call the programs up later when required. We have many examples of where customers are using robots to handle multiple SKUs, up to 41 different case sizes and the same is true in machine tending applications where robot systems are handling up to 146 different parts. Also, with the use of offline programming you can keep your robots running while you prepare for new jobs.'
The difficulties and challenges that a small business faces when designing and integrating a robotic system do have some unique qualities.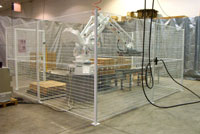 'Smaller companies are generally more focused on an exact application and a smaller range of products,' says Michael Perreault of Midmac Systems, Inc. 'Larger companies realize their capital investment in robotics can be used in other applications in the longer term. Small businesses generally have less opportunity to diversify their applications.' Perreault is Vice President at the St. Paul, Minnesota, system integrator.
Perreault described how these difficulties are addressed: 'It is a matter of how well-informed the small business is about how a robot can be used for other applications. Small businesses need to understand the flexibility of a system and how robotics could be used to meet future needs.'
Andy Carson, Vice President of Sales at RTS Wright Industries, LLC, described the challenges met by system integrators when implementing a robotic solution for a small firm. His company is a Nashville, Tennessee-based, robotic integrator.
'Many times, small companies don't have the experience with robotics, so a broad gap can exist between their fantasies of what a robot can do and the reality,' says Carson.
For some manufacturers, robotics technology is perceived as a quick fix to quality issues. It is true that the reliability and repeatability of robots greatly improves quality, however there are important considerations such as stack-up tolerances that must be addressed to realize the quality benefits of robots. On the other hand, robots are quick to prove their advantage as flexible automation systems when production entails several part styles, part model changes or new production runs. And their efficiencies are key contributors to lean manufacturing practices.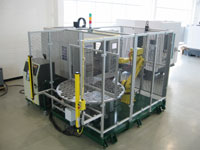 'Smaller companies typically deal with a larger variety of customers and lower quantities. Many small businesses using robotics don't have guaranteed contracts,' says Greg Hoerter. 'I have found that the biggest issue for small companies is to have flexible automation that can be set up quickly and can be switched over to another product line.' Hoerter is President of Synergy Circle, a robotic integrator located in Hubertus, Wisconsin.
Likewise, many small manufacturers make a multitude of items in the same family of products. Should this be the case, integrators need not design around a specific application but can redeploy a system for a job that could come about the following year, or even be unanticipated.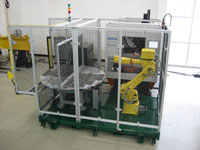 Reticence by a small company to invest in robotics is another obstacle to overcome by robot makers and integrators. This reservation is a combination of unknowns when dealing with what may be perceived as a complex robotic system or potential strain on a small company's finances. However, the benefits of eliminating wasted time and motion, such as less re-work and less scrap, are compelling reasons to consider robots. And robot manufacturers have gone to great lengths to make programming, operating and maintaining robots a simple and manageable process.
'A big challenge is to make a robotic system as user-friendly for the customer as possible. Small businesses must overcome the fear of using a robot and not think of them as complicated machines,' asserts Izzat Hammad. Hammad is the Robotic Systems Sales Engineer at Schneider Packaging Equipment Company, a system integrator of packaging and palletizing equipment headquartered in Brewerton, New York. 'It is prudent for a small business to rely on integrators for work cell maintenance if it does not have the in-house expertise to do so on its own.'
Ann Smith agrees, and goes on to point out how training can further bolster a business's ability to use and support its robots. 'All robot manufacturers and integrators offer training so that customers, large or small, can perform maintenance, programming, etc,' she points out.
Myriad of Justifications
The rationalizations for investing in a robotic work cell by a small company have some similarities to that of large corporations.
'From a business perspective, our smaller customers may think it's difficult to justify the investment in robotics until we show them that the return on investment, in most cases, is less than two years,' said Hammad. 'The business justifications of using robotic solutions include reduced labor costs and an increase in production speed. Flexibility is very important to small businesses and robotics provide the flexibility to accommodate their need for production changes,' contends Hammad.
Other reasons for investing in robotics are similar to those of large companies. He notes these justifications as decreases in health insurance benefits costs and ergonomic concerns. Hammad states that flexibility and ergonomic justifications are particularly strong for small businesses to invest in robotic material handling or palletizing work cells.
'It is also possible to lease robotic systems, which frees up capital while allowing the company to reap the benefits of robotic automation,' Traynor says.
Andy Carson has a slightly different outlook on the justifications small companies use when deciding to invest in robotics. 'We help justify the investment. When customers talk to us about robotics, they are serious about investing in them. Most of our customers know what they are getting into.'
Carson lays out some of factors that make a good business case for robotics: 'The justifications to invest in robotics are the same for a large company and for small ones. These justifications include making a return on the investment, better control over the manufacturing process, greater volume/yield and quality, as well as a reduction in labor where there are ergonomic issues.'
Another important benefit to all manufacturers is the reduction in consumables such as grinding wheels, belts, etc. according to Ann Smith. 'We have seen customers use the reduction in consumables to justify their second and third systems,' she states.
Motoman's Traynor adds, 'Regardless of their size, manufacturing companies minimize risk and cost and maximize reliability with pre-engineered, standard robotic solutions that come complete with fully integrated safety equipment.'
Small Biz Apps
With all this ready-to-use technology, what applications are the most commonly used by small companies?
'We see case packaging/palletizing, material handling, and assembly. Robotic work cells provide perfect automation solutions to case packaging/palletizing applications, especially to those that cannot be done with conventional equipment,' maintains Izzat Hammad. He indicates that case packaging and palletizing applications are Schneider's core business.
Michael Perreault has a different take on applications used by small businesses: 'I see a lot of multi-tasking applications requiring several positioners and frequent tool changeovers. Also, small companies invest in robotics where there is seasonal production. These work cells have tooling that resides in the work cell but is not used until necessary.'
Perreault indicated that assembly applications used for the production of holiday items are popular among Midmac's small business customers. He points out that manufacturers undertake holiday production only three or four months out of the year.
'In my experience, the most common small-business applications we see are definitely material handling and machine tending,' says Greg Hoerter. Synergy Circle has developed and is marketing a product that focuses mostly on machine tending along with secondary operations like deburring or polishing. The product utilizes a six-axis Fanuc robot on a mobile platform and features an infeed/outfeed system that has a servo-driven, pallet changer. This system is particularly suited for the changing needs of small businesses. By quickly replacing the end-of-arm-tooling and fixture plates on the servo-driven, pallet changer, a small company can use the loader for other products.
Robotic welding is a prevalent application used by small companies. 'Welding applications are where RTS has made the greatest inroads for small businesses to invest in,' reflects Andy Carson. 'These are typically off-the-shelf robots that are straightforward to use.'
Ann Smith adds that many manufacturers have standard arc welding cells which are 'plug and produce' systems. They are available for quick delivery and quick installation, she advises.
Carson also mentioned that the firm has integrated numerous work cells for assembly applications, dispensing adhesives, material handling and packaging.
'There are several small confectioneries that use robots for packaging. Also, some small companies have robotics for machine loading and machine-tool tending for overnight-production runs,' Carson says. For instance, robotics are used by small companies in the powdered-metal industry to unload and load parts from a molding press and put them onto continuous-feed conveyers.
With so many common applications, robot manufacturers and integrators have developed a number of 'standard' solutions that can easily be adapted to specific needs. 'To meet both end-user and integrator needs to minimize risk and nonrecurring engineering costs, Motoman offers a variety of standard products,' says Traynor.
Small, but Growing
Some applications used by small companies have grown faster than others.
'In the past five years, I have seen a growth in robot use by small biotechnology and clean room/medical companies,' expressed Perreault. 'Also, the costs of palletizing systems have come down considerably while programmability has increased dramatically.' This cost reduction has helped a lot of small business to invest in robotics, where it was cost-prohibitive before the mid-1990s.
Perreault predicts that the next five years will see an increase in work cells purchased by small businesses slated for consumer goods, particularly as the economy picks up. 'The medical and biotechnology areas will also pick up, but they are less affected by the economy,' he observes.
Welding was on the mind of Andy Carson, especially as an avenue for growth: 'Welding will grow, but maybe not as fast as other areas. As robotics get less expensive, they will replace labor, especially in the food industry where there are ergonomic issues and liability claims stemming from them.'
Looking even deeper into the future, Carson had this to say, 'I see more robotics used by small industry for inspection, dispensing, and assembly. The food packaging and medical-device assembly/packaging sectors, where there is high volume, could grow rapidly.'
Over the past five years, use of robots in packaging systems by small companies in the food/beverage, dairy products, and battery sectors has increased. Areas of opportunity include paper products and corrugated-carton manufactures.
'There are a lot of small companies out there,' said Carson. 'There is a mild trend of small companies investing in robotics.' His colleagues at the robot manufacturing companies tend to agree.
'We see more small companies - like larger companies before them - are turning to robotics to help them meet the quality and productivity requirements to survive in the increasingly competitive global market,' says Traynor.
Given the sinking prices of robots and rising awareness among small business owners, look to see this trend gather momentum and perhaps accelerate once the current economic slow-down passes. Small businesses are staged to be the next big benefactors of robotics technology and the lean, cost-savings benefits this technology offers.