Robots for Rent – Why RaaS Works
POSTED 12/20/2018
 | By: Tanya M. Anandan, Contributing Editor
Renting robots as temp labor? Not a new idea. But it's certainly one that is gaining followers.
Rising labor shortages, tightly contested global markets, and growing interest in automation are tightening the screws on traditional business models. A broader spectrum of users are seeking flexible automation solutions. More suppliers are adopting new-age rental or lease options to satisfy the demand. Some are mature companies answering the call, others are startups blazing a path for the rest of the industry. Robotics as a Service (RaaS) is an emerging trend whose time has come.
Steel Collar Associates may have been ahead of its time when RIA spoke with its owner in 2013 about his "Humanoids for Hire" – aka Yaskawa dual-arm robots for rent. Already several years into his venture at the time, Bill Higgins was having little success contracting out his robo-employees. Back then, industry was barely warming up to the idea of cage-free robots rubbing elbows with their human coworkers. Now every major robot manufacturer has a collaborative robot on its roster. And a slew of startups have joined the fray.
Just like human-robot collaboration is helping democratize robotics, RaaS will help bring robots to the masses. And cobots aren't the only robots for rent.
Whether you have a short-term need, want to try before you buy, forgo a capital expenditure, or lower your cost of entry to robotic automation, RaaS is worth a closer look. It's robots on demand, when and where you want them.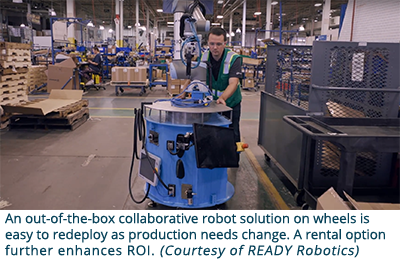 Robots on Demand
Out-of-the-box solutions like those offered by READY Robotics, which are easy to use and easy to deploy, are making RaaS a reality. Your next, or perhaps first, robotic solution may be a Johnny-on-the-spot – on wheels.
"The TaskMate is a ready-to-use, on-demand robot worker that is specifically designed to come out of its shipping crate ready to be deployed to the production line," says READY Robotics CEO Ben Gibbs, noting that manufacturers without the time to undertake custom robot integration are looking for an out-of-the box automation solution. Rental options make the foray easier.
"Time is their most precious resource. They want something like the TaskMate that is essentially ready to go out of the box," says Gibbs. "They may have to do a little fixturing or put together a parts presentation hopper. Besides that, it's something they can deploy pretty quickly. We're driving towards providing a solution that's as easy to use as your personal computer."
The system consists of a collaborative robot arm mounted on a stand with casters, so you can wheel it into position anywhere on the production floor. The ease of portability makes it ideal for high-mix, low-volume production where it can be quickly relocated to different manufacturing cells. Nicknamed the "Swiss Army Knife" of robots, the TaskMate performs a variety of automation tasks from machine tending to pick-and-place applications, to parts inspection.
The TaskMate comes in two varieties, the 5-kg payload R5 and 10-kg payload R10 (pictured). Both systems use robot arms from collaborative robot maker Universal Robots. The UR arm is equipped with a force sensor and a universal interface called the TEACHMATE that allows different robot grippers to be hot-swapped onto the end of the arm. Supported end effector brands include SCHUNK, Robotiq and Piab.
Contributing to the system's ease of use is READY's proprietary operating system, the FORGE/OS software. A simple flowchart interface (pictured) controls the robot arm, end-of-arm tooling and other peripherals. No coding is required.
For those tasks requiring a higher payload, reach, or cycle time than is capable with the power-and-force limiting cobot included with the TaskMate R5 and R10 systems, READY also offers its FORGE controller (formerly called the TaskMate Kit). Running the intuitive FORGE/OS software, the controller provides the same easy programming interface but is designed as a standalone system for ABB, FANUC, UR and Yaskawa robots.
"For example, if you plug the FORGE controller into a FANUC robot, you no longer have to program in Karel (the robot OEM's proprietary programming language)," explains Gibbs. "On the teach pendant, you can use FORGE/OS to program the robot directly, so you have the same programming experience on the controller as you do on the TaskMate.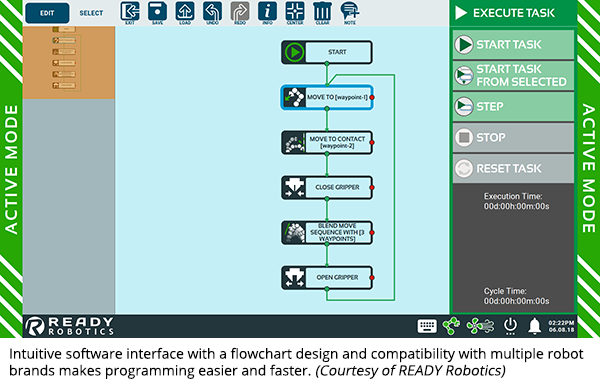 "We started primarily with smaller six degree-of-freedom robot arms, like the FANUC LR Mate and GP7 from Yaskawa," continues Gibbs. "We have started to integrate some of the larger robots as well, like the FANUC M-710iC/50. Ultimately, we're driving toward a ubiquitous programming experience regardless of what robot arm or robot manufacturer you're using."
In the Cloud
A common element in the RaaS rental model is cloud robotics. READY offers customers the ability to remotely monitor the TaskMate or other robotic systems hooked up to the FORGE controller.
"We can set them up with alerts, so when the production cycle is completed or the robot enters an unexpected error state, they can receive an email notifying the floor manager or line operator to check the system," says Gibbs.
You can also save and back up programs to the cloud, and deploy them from one robot to another. If an operator were to inadvertently lose a program, rather than rewrite it from scratch, you can just drop the backup version from the cloud onto the system and be up and running again in minutes.
The TaskMate systems and FORGE controller are available for both purchase and rental.
"We provide a menu to our customers of how they might want to consume our products and services," says Gibbs. "That may be all the way from a traditional CapEx (capital expenditure) purchase if they want to buy one of our TaskMates upfront, to the other end of the spectrum where they can rent the system with no contract for however long or short of a duration they want."
For an additional charge, READY can manage the entire asset for the customer.
"We set it up, we program it, and we remotely monitor it to make sure it's maximizing its uptime. We can come in and tweak the program if it's running into unexpected errors. All of the systems are equipped with cell modems, so they can update the software over the air. We handle all of the maintenance or it's handled by our channel partners."
No-Term Rental
Gibbs says flexibility is the biggest advantage to their rental option. READY offers a 3-month trial rental. But customers are not required to keep it for that full term.
"We have a no-term rental. That's even more appealing because it can come entirely out of your OpEx (operating expenditure) budget. Instead of going through a lengthy CapEx approval process, we've had some customers just run their corporate credit card, because the rental is below their approval level for an OpEx purchase. They can easily set up the system and use it for a few months. That alone provides them with a much stronger justification for moving forward with CapEx if they want, or just continue to expand their rental.
"At the end of the first month, if they decide that it's not working out, just like any incompetent worker, they can fire it and send it back."
If the customer chooses to continue renting, Gibbs says it's more cost-effective to sign a contract. This reduces the risk for everyone, so there's usually a financial incentive.
"The primary way we differentiate ourselves is that we offer that no-term rental with a fixed monthly fee, which allows these factories to capture the traditional value of automation. We don't have a meter running that says you ran it 22 hours this day, so you owe us for 22 hours of work. We encourage them to run it as long as they want. The expectation is the longer you run it, the cheaper it should be."
Flexibility for High-Mix, Low-Volume
READY's target customers range from small job shops to large multinationals and Fortune 500 companies.
"Attwood is a great example of the type of high-mix, low-volume production environment where the flexibility of the TaskMate really shines," says Gibbs.
Attwood Marine in Lowell, Michigan, is one of the world's largest producers of boat parts, accessories and supplies. If it's on your boat, there's a good chance this century-old company made it. They make thousands of different parts, but cater to a relatively small marine market. The challenges of high-mix, low-volume production in a highly competitive market had them looking for an automation solution.
The flexibility of the TaskMate to quickly deploy and redeploy depending on Attwood's short- or long-term needs was a deciding factor. With only a couple hundred employees and no dedicated robotics programmer on staff, the customer appreciates the FORGE software's ease of use. Plus the ability to rent the system plays to the seasonal nature of Attwood's business and lowers the cost of their first foray into robotic automation.
Attwood has deployed the TaskMate R10 to a half-dozen cells on the production floor performing CNC machine tending, pick-and-place tasks like palletizing, loading/unloading conveyors and case packing, and even repetitive testing. You need to actuate a switch or pull a cord 250,000 times? That's a job for flexible automation.
By deploying one robot system to multiple production cells, Attwood was able to spread their ROI across multiple product lines and realize up to a 30 percent reduction in overall manufacturing costs. Watch the TaskMate on the job at Attwood Marine.
Small to midsized businesses aren't the only ones benefiting. Large multinationals like tools manufacturer Stanley Black & Decker use the TaskMate R10 for machine tending CNC lathes.
"Multinationals may have robot programmers on staff, but usually not enough of them," says Gibbs. "Automation engineers are in high demand and very difficult to come by. Any technology that makes it faster and easier for people to set up robots is a tremendous value. Even with large multinationals, some like to be asset-light and do a rental, but everyone loves the ease of programming we offer through FORGE."
Forged in the Lab
READY's portable plug-and-play solution is a technology spinoff from Professor Greg Hager's research in human-machine collaborative systems at Johns Hopkins University. Gibbs, an alumnus, was working in the university's technology ventures office helping researchers like Prof. Hager develop commercialization strategies for their new technologies. Hager, along with Gibbs, and fellow alum CTO Kelleher Guerin cofounded the startup in October 2015. Another cofounder, Drew Greenblatt, President of Marlin Steel Wire Products (an SME in the Know), offered up his nearby Baltimore, Maryland-based custom metal forms factory as a prototype test site for the TaskMate. The system was officially launched in July 2017.
Prof. Hager is now an advisor to the company. Distinguished robotics researcher, Henrik Christensen, is Chairman of the Board of Advisors. In December 2017, the startup secured $15 million in Series A funding led by Drive Capital.
READY maintains an office in Baltimore, while its headquarters is in Columbus, Ohio. They are a FANUC Authorized System Integrator. Gibbs says they are in the process of building a channel partner network of integrators and distributors to support future growth.
Pay As You Go
Business models under the RaaS umbrella vary widely, and are evolving. Startups like Hirebotics and Kindred leverage cloud robotics more intensely to monitor robot uptime, collect data, and enhance performance using AI. They charge by the hour, or even by the second. You pay for only what you use. Each service model has its advantages.
Some RaaS advocates offer subscription-based models. Some took a page from the sharing economy. Think Airbnb, Lyft, TaskRabbit, Poshmark. Share an abode, a car or clothes. Skip the overhead, the infrastructure and the long-term commitment. Pay as you go for a robot on the run.
Mobile Robots for Hire
Autonomous mobile robots (AMRs) are no strangers to the RaaS model, either. RIA members Aethon and Savioke lease their mobile robots for various applications in healthcare, hospitality and manufacturing. Startup inVia Robotics offers a subscription-based RaaS solution for its warehouse "Picker" robots.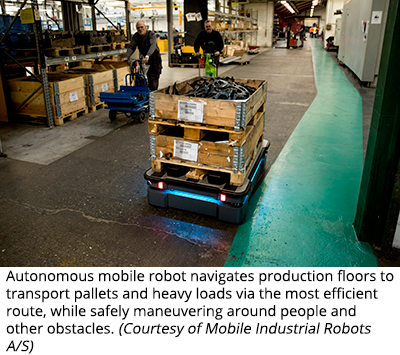 We first explored the emergence of AMRs in the Always-On Supply Chain. It's startling how much the logistics robot market has changed in just a couple of years. Since then, prototypes and beta deployments have turned into full product lines with significant investor funding. Major users like DHL, Walmart and Kroger, not to mention early adopter Amazon, are doubling down on their mobile fleets.
After triple-digit revenue growth in Europe, Mobile Industrial Robots (MiR) was just breaking onto the North American scene two years ago. Now, as they celebrate comparable growth on this side of the pond, MiR prepares to launch a new lease program in January.
MiR is another prodigy of Denmark's booming robotics cluster. They join Danish cousin Universal Robots on the list of Teradyne's smart robotics acquisitions. Odense must have the Midas touch.
Go Big or Go Home
Responding to customer demands for larger payloads, MiR introduced its 500-kg mobile platform at Automatica in June. The MiR500 (pictured) comes with a pallet transport system that automatically lifts pallets off a rack and delivers them autonomously. Watch it in action on the production floor of this agricultural machine manufacturer.
"Everybody we deal with today is making a big push to eliminate forklift traffic from the inner aisleways of production lines," says Ed Mullen, Vice President of Sales – Americas for MiR in Holbrook, New York. "That's really driving the whole launch of the MiR500. We've gone through some epic growth here in my division."
Mullen's division is responsible for supporting MiR's extensive distributor network in all markets between Canada and Brazil. Right now, the Americas account for about a third of the global business.
"We're seeing applications in industrial automation, warehouses and distribution centers," says Mullen. "Electronics, semiconductor and a lot of the tier automotive companies, like Faurecia, Visteon and Magna, have all invested in our platforms and are scaling the business. We see this being implemented across all industries, which is really adding to our excitement."
Lease Options
Although Mullen says they've seen tremendous success with the current buy model, MiR is trying to make it even easier to work with this emerging technology. That drove them to the RaaS model.
"We think a leasing option will allow companies that are still trying to understand the use cases for the technology to get in quicker, and then slowly scale the business up as they learn how to apply it and what the sweet spots are for autonomous mobile robots. The lease option is intended to reduce the cost of entry. Today it's mainly the bigger multinationals that are buying, but we believe by providing options for lower entry points, this will make the use cases in the small-to-midsized companies come to light."
He says a third-party company will handle all the leases. MiR's distributor network will engage with the third-party company to put together lease programs for customers.
MiR has also implemented a Preferred System Integrator (PSI) program to augment the existing network of distribution partners. Two and a half years ago, it was mainly large companies investing in these mobile platforms. They were purchasing in volumes of one to five robots. Today, they're seeing investments of 20, 30, or even more than 50 robots.
"When you get into these bigger deployments, it's more critical to have companies that are equipped to handle them. Our distribution partners are set up as a sales channel. Although most of them have integration capabilities, they don't want to invest in deploying hundreds of robots at one time. They rather hand that off to a company that's able to properly support large-scale deployments."
Over the last couple of years, MiR had been focused on bringing more efficiency to the manufacturing process; not necessarily replacing existing AGVs and forklifts.
"For example, you have a guy that gets paid a healthy salary to sit in front of a machine tool and use his skills to do a certain task. That's what makes the company money. But when he has to get up and carry a tray of parts to the next phase in the production cycle, that's inefficient. That's what we've been focusing on, at least with our MiR100 and MiR200 (pictured)."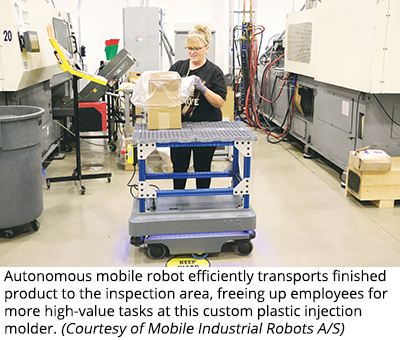 Watch a MiR200 robot improve efficiency at Metro Plastics Technologies, an Indiana-based company specializing in custom plastic injection molding and mold tooling. The mobile robot loops the shop floor, autonomously transporting finished product from the presses to quality inspection. This frees up personnel for more high-value tasks and eliminates material flow bottlenecks.
"With the new MiR500, we're going after heavier loads and palletizer loads. That's replacing standard AGVs and forklifts. We're also starting to see big conveyor companies like Simplimatic Automation and FlexLink move to a more flexible type of platform with autonomous mobile robots.
"Parallel to the hardware is our software. A key part of our company is the way we develop the software, the way we allow people to interface with the product. We're continuously making it more intuitive and easier to use."
MiR offers two software packages, the operating system that comes with the robot and the fleet management software that manages two or more robots. The latter is not a requirement, but Mullen says most companies are investing in it to get additional functionality when interfacing with their enterprise system. The newest fleet system is moving to a cloud-based option.
Hardware and software updates are all handled through MiR's distribution channel and Mullen doesn't think any of that will change under the lease option.
"The support model will stay the same. Our distributors are all trained on hardware updates, preventative maintenance and troubleshooting. I firmly believe the major component to our success today is our distribution model."
Mullen says he's looking forward to new products coming out in 2019. MiR is also hiring. They expect to double their employee count in the Americas and globally.
High-Tech, Short-Term Need
It's many of these feisty startups that we're seeing adopt nontraditional models like RaaS. But stalwarts are coming on board, too.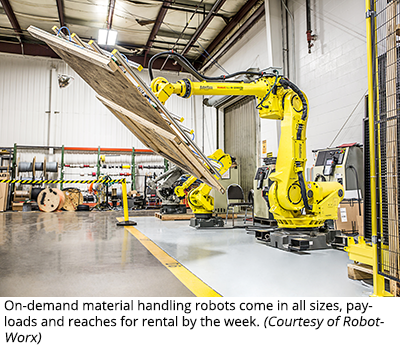 Established in 1992, RobotWorx is part of SCOTT Technology Ltd., a century-old New Zealand-based company specializing in automated production, robotics and process machinery. RobotWorx joined the SCOTT family of international companies in 2014 and recently completed a rigorous audit process to become an RIA Certified Robot Integrator.
RobotWorx buys, reconditions and sells used robots, along with maintaining an inventory of new robotic systems and offering full robot integration and training services. Rentals are nothing new to them. They've been renting robots for several years, before it was a trend. But in response to the upswing in industry requests of late, RobotWorx rolled out a major push on their rental program this past spring.
"We've done a lot with the TV and film industry," says Tom Fischer, Operations Manager for RobotWorx in Marion, Ohio. "If you've seen the latest AT&T commercial, there are blue and orange robots in it. We rented those out for a week."
Dubbed "Bruce" and "Linda" on strips of tape along their outstretched arms, these brightly colored robots have a starring role in an AT&T Business commercial promoting Edge-to-Edge Intelligence? solutions. Fischer says companies in this industry usually select a particular size of robot, typically either a long-reach or large-payload material handling robot, like the Yaskawa Motoman long-reach robots in this AT&T commercial.
Ever wonder if the robots in commercials are just there for effect? It turns out, not always. Fischer says these are fully functioning robots. AT&T's ad agency must have a robot wrangler off camera to keep Bruce and Linda in line. However, the other robots in the background are the result of TV magic.
"We basically just sent them the robots," says Fischer. "They did what they wanted to do with them and then sent them back."
For quick gigs like this commercial, or maybe a movie cameo or even a tradeshow display, rental robots make sense. But how do you know when it's better to rent or buy?
"We'll do a cost analysis with the customer," says Fischer. "We have an ROI calculator on our website if they want to see what their long-term commitment capital investment would be. (Check out RIA's Robot ROI Calculator). We also look at it from the standpoint that if they have a long-term contract with somebody, their return on investment is going to be a lot better with a purchase. If they think they're only going to use the robot for six months, it doesn't make sense for them to buy it."
Rent-A-Cell
RobotWorx rents robots by the week, month or year. A week is the minimum, but there's no long-term commitment required. A rental includes a robot, the robot controller, teach pendant and end-of-arm tooling (EOAT). Robot brands available include ABB, FANUC, KUKA, Universal Robots, and Yaskawa Motoman.
They also rent entire ready-to-ship robot cells for welding or material handling. The most popular systems are the RWZero (pictured) and RW950 cells.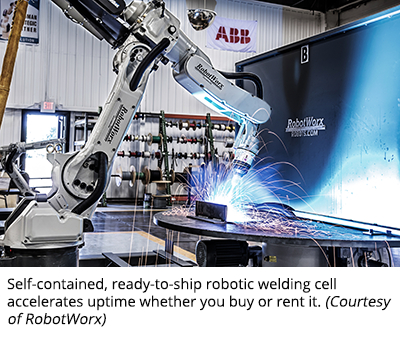 "The RWZero cell is very basic," says Fischer. "You have a widget and you need 5,000 of them. Rent this cell and you have a production line instantly."
The RW950 is more portable. Fisher calls it a "pallet platform." The robot, controller, operator station and workpiece positioner all share a common base, which is basically a large steel structure that can be moved around with a forklift whenever needed. See the RW950 Welding Workcell in action.
"We've done a lot of the small weld cells," he says. "We always have a couple on hand so we can supply those on demand. We've done larger material handling cells, as well.
"We have a third-party company that does the financing if you need it. A lot of people just end up paying it upfront. If they were to purchase the robot after they've rented it, we apply that towards the purchase as well."
Fischer says 20 percent of the rental price is credited to the purchase if a customer decides to keep the robot. All the robots and robotic cells are up to date on maintenance before they leave the RobotWorx floor and shouldn't require any major maintenance for at least a year. He says most customers end up buying the robot if their rental period exceeds a year.
Time is not always the deciding factor under the RaaS model. As robotic systems become easier to deploy and redeploy, the idea of robots as a service will gain more permanence as a long-term solution. In the future, robotics in our workplaces and homes will be as ubiquitous as the Internet. In the meantime, we'll keep our eyes on RaaS as it gets ready for primetime.
RIA Members featured in this article:
Mobile Industrial Robots (MiR)
READY Robotics
RobotWorx