Robotics in the Pharmaceutical and Life Sciences Industry
POSTED 07/06/2011
 | By: Bennett Brumson, Contributing Editor
Robots in laboratory, life science and pharmaceutical applications perform tasks at rates beyond human capability. These robots function in potentially hazardous settings in proximity to biological dangers, the threat of radioactive contamination, and toxic chemotherapy compounds. Robotics are called upon to assemble and package a variety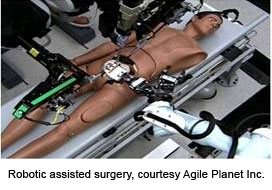 of medical devices and implants as well as preparing prescriptions for mail-order pharmacies or hospitals.

"Robots are doing assay analysis and automating the movement of test tubes in research laboratories. Because of the high number of samples that need analysis and the amount of data collection required, the process and costs are easily validated with robotics," says Chetan Kapoor, Chief Executive Officer of Agile Planet Inc. (Austin, Texas) "In pharmaceutical applications, hospitals use robots to mix potentially hazardous cancer drugs and those associated with radiation."

Trends
"Laboratory automation is a growing field for robotics, from drug discovery to pharmaceutical and medical device manufacturing, to performing blood sample testing," says James Shimano of Precise Automation Inc. (San Jose, California) "I see more interest in robotics by pharmaceutical companies for scientific research." Robotics have considerable potential in life science applications, says Shimano. "Consumers do not directly see the impact of robotics in life science applications but robots lead to better and less expensive pharmaceuticals. Robots also dispense medications in pharmacies."

Similarly, DENSO Robotics (Long Beach, California) finds more business in the medical and pharmaceutical markets. "We are heavily involved in manufacturing eyeglasses and a variety of other medical devices," says out Peter Cavallo, North America Robot Sales Manager. "Biological, pharmaceutical and chemical testing are growing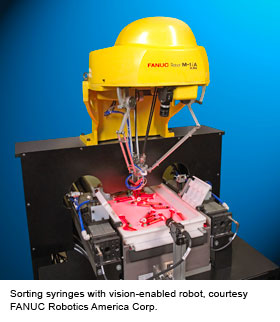 areas of robotics. In the life science and pharmaceutical industries, robots play a key role in liquid handling."

Cavallo delineates how robots can accommodate a wide variety of products that change frequently. "Integrators use tool changers and vision to recognize and react to different parts. Robots with vision and tool changers are flexible and able to accommodate multiple configurations of items on the same production line."

Richard Motely, Senior Account Manager at FANUC Robotics America Corp. (Rochester Hills, Michigan) says the benefits of robotics in traditional industries are replicated in the life sciences sector. "In clinical laboratories, robots are used for drug discovery and research and provide similar benefits as in other industries. These benefits include achieving higher consistency, product integrity, better record-keeping and traceability."

Motely says robotics assist pharmaceutical manufacturers in defending against fraudulently produced and marketed medications. "The pharmaceutical industry places an increasing emphasis on traceability for product safety and defense against counterfeiters. That emphasis on tracing the manufacturing through the supply chain to the point of sale has lead pharmaceutical companies towards increased use of robotics."

Motely explains when an over-the-counter medication is purchased, bar code scanners can determine if that product was legitimately sold. "If a bar code that should have gone to New York shows up in Michigan, the system can flag that product as counterfeit. That trend is interesting, particularly for packaging applications."

The use of robotics to thwart counterfeit pharmaceutics is important to end-users of robots made by Adept Technology Inc. (Pleasanton, California) says Rush LaSelle, Adept's Director of Global Sales and Marketing. "Driven by intellectual property concerns, pharmaceutical and medical device manufacturers are re-shoring, bringing production back to the United States. Off-shore pharmaceutical and medical device manufacturing is coming back and robotics act as a vehicle for re-shoring." LaSelle says robotics help general industry manufacturing move production back to the United States, although the process is occurring more rapidly in the medical devise and pharmaceutical sectors.

Research laboratories are often located within tight quarters. To address this issue, robot makers strive to downsize their product offerings. "The trend is towards decreasing the size of the equipment. Equipment takes up a fair amount of space and laboratories are usually not very large. I see a trend towards minimizing or miniaturizing the equipment, or 'lab on the chip'," says Dr. Andrew Goldenberg, PhD, Chief Executive Officer and President of Engineering Services Inc. (ESI, Toronto Ontario, Canada).

The "lab on the chip" are small devices that look similar to microchips but are etched with very tiny vessels into which liquid is pumped for biological tests, expounds Goldenberg. "The 'lab on the chip' uses much less quantity of material as well as being physically small and portable. The small size uses precious and expensive bioassays more efficiently and facilitates field tests," Goldenberg says. Miniaturization of equipment, transportability and minimizing quantities used is particularly important to laboratories that perform many thousands of experiments, while minimizing waste, concludes Goldenberg.

Integrated robotic systems using laboratory equipment are capable of impressive throughput. A biochemical assay can be read out in a tenth of a second per well. An entire 1,536-well microtiter plate can be analyzed in just over half a minute.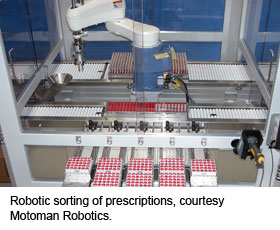 Despite high levels of general unemployment, clinical laboratories have difficulty recruiting new technicians to staff them, points out Craig Rubenstein, Life Science Technology Leader with Motoman Robotics Division of Yaskawa America Inc. (West Carrollton, Ohio) "The average age of technicians in clinical laboratories is in the 50's. Because these technicians are rapidly reaching retirement age and few people come in to take their place, the robotics industry sees an increased adoption and acceptance of robots in laboratories. Technician work in laboratories is unglamorous because the work is done at night or early in the morning."

Continuing, Rubenstein says, "Technician pay is okay but laboratories are generally located in windowless basements and is not an appealing environment to work in. Because of a gradual but consistent decline in the number of people trained in these positions, degree programs for these positions dried up and closed." Without a sufficient number of new people becoming laboratory technicians, robotics help fill the void, says Rubenstein.

Related to aging technicians, the general population is aging as well, comments Rubenstein. "As the population ages, more clinical testing is ordered by physicians. Because the demand for testing is going up and the availability of human resources to do the work has been declining, robotics offer an opportunity to meet that demand." In short, the trend in diagnostic laboratories is fewer people doing an increased amount of work with robotics helping to meet that increased demand.

Throughput and capacity are the leading justifications for end-users to invest in robotics, not elimination of labor. Laboratories would rather have scientists interpreting data the system produces rather than running the system itself.

Robotic Pharmacies
Due to the potential hazards and high volumes, some hospitals and larger health care clinics utilize robotics to dispense medication. "Robotic pharmacies are expanding rapidly within hospitals and clinics. Several companies are servicing that market and the interest level will only increase," says LaSelle. "On the retail level, robotics in local pharmacies will be a challenge. The technology is available but regulation will pace the growth of robotic pharmacies more than the technology."

Motley has a similar outlook as LaSelle. "Robotic pharmacies have been adopted in high-volume settings, such as mail-order pharmacies and by hospital and clinics with a high patient count," says Motley. "To make robots attractive to the local pharmacy, the robotics industry must implement another layer of cost-reduction for the overall system. Someone clever could put together a system at a reasonable cost, but robots are still only in higher volume pharmacies."

Lab Work
Robotics play key functions in assembly and packaging of medical devices, says Agile Planet's Kapoor. "In medical device manufacturing, robotics play an active role in assembly. The manufacturing process is highly regulated and must be approved by the Food and Drug Administration (FDA). Manufactures use robotics to reduce cost."

Kapoor also says robotics perform important tasks in surgical procedures. "Tele-operated surgical robotics are used to augment the surgeon. Robots are used for delivery of radiation and for proton therapy. The goal is to administer the smallest dose of radiation as possible to the precise location. Robots are very precise, positioning equipment and patients accurately in three-dimensional space."

Sylvie Algarra, Life Science Activity Manager with Stäubli Corp. (Duncan, South Carolina) says, "Robots are loading and unloading injection molding machines, assembling medical devices and polishing implants. In pharmaceutical production, robots handle bottles in the cell culture process, loading and unloading autoclaves and packaging machines, as well as de-nesting syringe tubs."

Applied Manufacturing Technologies Inc. (AMT, Orion, Michigan) works with companies that produce dental appliances. Jordan Merhib, AMT's Director of Business Development, describes a typical application. "A dental appliance manufacturer uses several robots primarily for sorting and packing at the end of the production line. Another company making personal medical devices and eyeglasses use robots for machine tending, loading raw materials into machines, and unloading finished product." Merhib states that personal medical devices have many unique parts and their assembly and packaging is especially suited to robotics.

Robots help researchers perform a sufficient number of experiments to ensure valid conclusions, says Goldenberg. "A robotic micro-array can put 40,000 dots of deoxyribonucleic acid (DNA) no more than 75 microns in diameter onto a single slide. That cannot be done with a human hand. Using vision, a robot can identify an object of interest on a petri dish."

Citing an example, Goldenberg relates that, "In cloning, robotic vision identifies what part of the colony bacteria comes from. Vision helps identify the quality of the bacteria and helps direct the robot with special tooling to move the high quality bacteria into another petri dish. Vision is used to identify what part of the colony needs removal for different processing or for disposal."

Prognosis
Robotics have a certain future in laboratory, life science and pharmaceutical applications. "I see increased activity for bench-top robotics performing various protocols. These stations are reprogrammable and many are complex," says Goldenberg. "Robotics are essential to modern scientific or commercial research and experimentation."