Robotic Inspection: A Guide
POSTED 07/09/2008
 | By: Bennett Brumson, Contributing Editor
Robot-based inspections systems are an application whose time has come. As vision systems become increasingly powerful and flexible, more end-users will consider inspection tasks being integrated into robotic work cells. Robot makers and integrators can offer end-users some valuable advice on having vision systems do more than just guide the robot.
"Robotic inspection systems are performing flaw detection on parts, ensuring complete part assembly, and measuring parts," asserts, Lisa Eichler, Director of Marketing for Vision Systems at Cognex Corp., Natick, Massachusetts. "The vision system must be able to both find and inspect the part accurately. Most importantly, integrators have to make sure of getting very good positional accuracy and communicating that back to the robot quickly."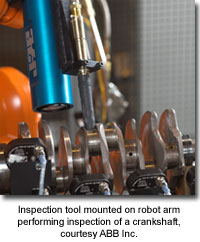 Parts or No Parts?
Inspection systems are called upon to determine part presence. "Integrators start by looking to see if certain things are present or not present on an assembly," says Steve West, Business Development Manager for Robotics Vision Technologies at ABB Inc., Auburn Hills, Michigan. "Inspection systems could be looking at an engine to confirm that it has been completely assembled. For example, at the end of the production line, car makers want to confirm that an oil filter has been put on the engine or determine if a certain bolt has been tightened down completely."
The robotic form of "go/no go" inspection utilizes a camera mounted on the robot's arm, which is moved around to check the presence of different features on a part.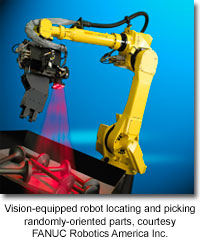 Measure Up
Robots are also used to measure items. "Inspection systems are measuring components but as tolerances of the measurements get tighter and tighter, these tolerances become harder to satisfy," points out Edward Roney, Development Manager of Intelligent Robotics with FANUC Robotics America Inc., Rochester Hills, Michigan. "Lighting and part presentation to the robot becomes more critical. When moving from verifying a part's presence to actually measuring it, integrators are adding complexity to the inspection system."
As an example of robotic inspection, Roney says the vision system is ascertaining if a nut or a bolt is where it should be or that a hole is tapped properly. "Those features are typically inspected with robotics," says Roney.
"SHAFI does three-dimensional robotic metrology that requires dimensional tolerance checking," says Adil Shafi, President of SHAFI Inc., Brighton, Michigan. "The robot's inspection system acts as a coordinate measuring machine so end-users do not need to send a sample of parts to a laboratory check to their measurements." Shafi adds that robotic inspection ensures that end-users are given correct answers when collecting data on their parts.
Error-Proofing
"Robotic flaw detection is looking at surface finishes or finding precise dimensions," describes Lisa Eichler of Cognex. "End-users must define what is a good part and what is a bad part. If you ask several line operators to define what is a good part and what is a bad part and they do not all give the same answer, the inspection system will also struggle with finding a good answer."
Knowing details of an inspection application is crucial to achieving success. "Issues relating to the detail of the part and the inspection requirements are important," stresses Greg Garmann, Software and Controls Technology Leader at Motoman Inc., West Carrollton, Ohio. "Integrators must know the specifics of the inspection requirements, such as the need to identify an extremely fine defect or detail, before selecting the inspection equipment to fit the application."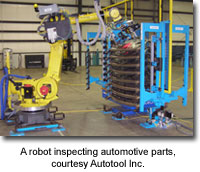 Likewise, notes Steve Forrest, Applications Manager, at Autotool Inc., Plain City, Ohio, "End-users have to define what the tolerance on the part is and define the appropriate way to do the inspection." To meet these challenges, integrators must use the right inspection method, professes Forrest.
Ed Roney of FANUC also emphasizes the importance of distinguishing good parts from flawed parts. "End-users need to understand exactly what needs to be verified or measured. Those doing robotic inspection not only need to know what the good state of an item is but also the bad state. When a bad part shows up, the system has to be configured to properly deal with it."
Roney adds that when setting up an inspection system, integrators need all the information from the end-user of what constitutes both good and bad parts. "Integrators often get a sample set of parts that might not be a true representation of what is going through long term," Roney cautions.
Adil Shafi contends that robotic inspection systems offer cost savings over traditional inspection solutions. "Robotic inspection improves quality in manufacturing because robots can do inspection on every part rather than just on samples." Traditional quality inspection has only one or two percent of parts sent to a laboratory to be checked out. "Quality and cost pressures drive robotic inspection," maintains Shafi.
Inspecting all parts rather than just a small sample is important to ABB's end-users, observes Steve West. "Traditional inspection has some parts shipped to the quality department, where these parts are put into a coordinate measuring machine for a quality check. With robotic inspection, manufacturers can perform in-line quality checks. The advantage is that manufacturers can check every part rather than just one out of 100."
Being able to perform in-line inspection saves on scrap, time and money, says Lisa Eichler. "Robotic inspection adds quality checks into the manufacturing process earlier, so end-users can stop adding value to a bad part and gets it off the assembly line sooner and more reliably." Eichler goes on to say while inspection adds complexity to vision applications in addition to just locating a part, the benefit stems from cost-savings through increased quality.
Inspecting Experience Counts
While inspection systems are getting more powerful and user-friendly, learning from those who are experienced can save time and money. Getting an experienced integrator tops the to-do list for end-users who need to get their vision systems up to speed quickly. Also, end-users can save time and money by doing as much research on the capabilities of inspection systems as is practical.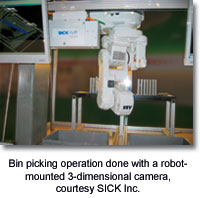 "Having an experienced integrator and getting good technical support are important. In challenging applications such as random bin picking, end-users need to have an integrator who has thorough knowledge in image processing, programming, advanced math, as well as robotics," advises KJ Fredriksson, Integration Manager, with SICK Inc., Minneapolis, Minnesota. "North America has about 1,000 vision integrators, and only approximately 30 are certified or authorized vision integrators for SICK."
Andrew Valentine, President and Chief Executive Officer of Valentine Robotics Inc., Sterling Heights, Michigan recommends, "The absolute first step is that end-users have to get good training and knowledge on the robot they are working with and on the inspection technology itself. If problems arise, end-users need to be able to differentiate if the issue is the robot or the inspection system."
ABB's Steve West suggests end-users of robotic inspection systems to "To take time to define the requirements of the application up front. Also, avoid getting too complex with the inspection solution and make sure that end-users have a strategy to anticipate, respond to, and manage false rejects."
Adil Shafi also stresses the need to find an experienced vision integrator. "End-users should do their homework. That way, users of inspection systems will be aware of how the technology works and what to expect of the solution and potential results. This ensures the inspection system fits their needs." Shafi emphasizes that those purchasing an inspection system for the first time should know what the dimensional tolerances of their applications are.
"Sometimes it takes a demonstration or a test to alleviate end-users' fears and to ensure the inspection system will work. Also, first-time users should request a tour of a plant where the vendor's system is already working," proposes Adil Shafi. "That ensures that the inspection vendor knows what they are doing, and can show the end-user what they are going to get." Shafi also mentions that the timing of inspection images is important and advises that inspections be done when sparks are not being generated during welding inspection applications. Otherwise, the flash of light will cause problems in the vision system's ability to capture a clear image of the part being welded.
FANUC Robotics' Ed Roney also believes that an integrator's experience is paramount. "Any vendor can sell an inspection system but only experienced vendors can apply it correctly and understand the issues involved," Roney says. "If an end-user has a system integrator implement the inspection, the end-user should look at the experience of that integrator. If the end-user is going to integrate the inspection system themselves, they need to do more homework and investigate what is required for their application."
Motoman's Greg Garmann urges end-users to, "Clearly identify the scope of the inspection and select inspection equipment to have higher specifications than required. This will provide some flexibility to enhance the inspection if needed or to overcome unforeseen obstacles."
Inspections to Come
As vision systems become more flexible and powerful, inspection systems will be able to better deal with environmental factors such as coping with the robot's changing dimensions as it warms during operation. Adil Shafi explains, saying, "In the next few years, inspection systems will be more accurate and will have better thermal compensation techniques. When the robot heats up, a millimeter expansion creates a significant change in inspection reporting results." Shafi also sees more three-dimensional vision packages offered in the market.
Greg Garmann anticipates that advancements in vision and inspection equipment will continue to simplify the inspection tools and process. "This trend will continue as industry continues to require more inspection data while consumers demand for quality manufactured products increases."
Ed Roney foresees greater acceptance of vision-based inspection systems. "I see a trend of more people becoming comfortable with the use of inspection systems. More companies are using vision for robot guidance as well as for error-proofing. They are finding value in vision systems more so than ever before."
If a vision system is already deployed for robot guidance, more end-users are thinking that the system can inspect the work the robot is doing, says Steve West. "More people are looking at how to use a robot for inspection. If the robot is already carrying out material handling tasks, not a lot of additional cost is necessary to use the same robot to do inspection by simply adding an additional sensor."
KJ Fredriksson of SICK also sees a transition from two-dimensional to three-dimensional inspection. "Today, SICK does 3D Vision primarily by triangulation." "In the next five years, faster computers will lead to more stereo vision inspection."Computers are not fast enough yet and stereo capable vision requires faster processors to do all the math in cycle times required for manufacturing. Increased computer processing power will open doors to stereo vision inspection." Fredriksson adds, "We know how to do stereo-based acquisition today but the bottleneck is computer processing power."
In the coming years, robotic inspection will enter the mainstream so most manufacturers will be able to routinely implement it. Also, look for vision systems with the ability to inspect multiple items simultaneously.
Editor's Note:
This article has been reviewed by members of the RIA Editorial Advisory Group.
For more information, you may contact any of the experts listed in this article or visit Robotics Online, Tech Papers.
Steve West, Business Development Manager for Robotics Vision Technologies, ABB Inc., 248-393-7120, steven.west@us.abb.com
Steve Forrest, Applications Manager, Autotool Inc., 614-733-0222, sforrest@autotoolinc.com
Lisa Eichler, Director of Marketing for Vision Systems, Cognex Corp., 508-650-3305, lisa.eichler@cognex.com
Edward Roney, Development Manager of Intelligent Robotics, FANUC Robotics America Inc., 248-377-7196, Edward.Roney@fanucrobotics.com
Greg Garmann, Software and Controls Technology Leader, Motoman Inc., 937-847-6200 greg.garmann@motoman.com
Adil Shafi, President, SHAFI Inc., 248-446-8200, adil.shafi@shafiinc.com
KJ Fredriksson, Integration Manger, SICK Inc., 952-941-6780, karl-johan.fredriksson@sick.com
Andrew Valentine, President and Chief Executive Officer, Valentine Robotics Inc., 586-979-9900, andy@valentinerobotics.com