Readying Your Robots and Workforce for Industry 4.0
POSTED 05/25/2017
 | By: Tanya M. Anandan, Contributing Editor
Industry 4.0 may seem more conceptual than real. More fantastical future than practical solution. For many manufacturers, the industrial internet of things (IIoT), cyber-physical systems, cloud robotics, fog computing, and big data, can be intimidating. Visions of a smart factory can make us feel pretty dumb.
The smart factory connects the digital world of information technology with the physical world of operational technology, what many call IT/OT convergence. But Industry 4.0 is not a distant vision for the factory of the future. It is here and it is now. Networks of robots are connecting to the cloud and contributing mass amounts of insightful data. Today, manufacturers are using these information pipelines to simplify asset management and maintenance, maximize equipment and process efficiency, and improve product quality.
We'll explore how one of the Motor City's Big Three automakers is capitalizing on its connected robots to not only prevent downtime, but predict failures before they occur. We'll demonstrate how you can put practical tools to work today to prepare your factory and your workforce for a future propelled by connectivity and collaboration.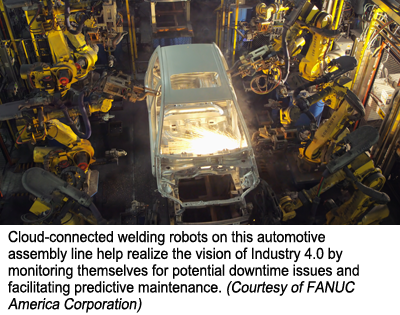 Stop Downtime Before It Occurs
General Motors is putting IoT and the building blocks of Industry 4.0 to work – today. The automaker's robot supplier and strategic partner, FANUC America Corporation, is helping GM build a strong foundation for smart manufacturing. GM, FANUC, and networking giant Cisco together developed the Zero Down Time (ZDT) solution. ZDT uses a cloud-based software platform to analyze data collected from robots across GM's factories in order to detect potential problems that could lead to production downtime.
In automobile manufacturing where a new car body comes down the assembly line every 60 or 90 seconds, downtime can cost OEMs over $20,000 a minute. A single downtime could easily rack up millions in losses. When lines screech to a halt, those backups can impact the entire supply chain, further compounding the losses. The delays also trickle down to customers, the automotive dealers, fleet users, and the car-buying public.
"We've had initiatives ongoing for some time now trying to better predict and maintain the health of our manufacturing equipment," says Marty Linn, Manager of Advanced Automation Technologies and Principal Engineer of Robotics at General Motors Co. in Detroit, Michigan. "We got together with FANUC and talked about what we could do to avoid issues while we're doing productive manufacturing. This wasn't some great vision for Industry 4.0. It was about what we can do to eliminate downtime in our plants from unpredicted maintenance."
A ZDT pilot program was launched at GM in 2014. The strategic partnership between GM and FANUC was a key enabler for the successful launch. The history between the two companies dates back to the early 1980s, when GM entered into a joint venture with the Japanese robot manufacturer to form GMFanuc Robotics Corporation to develop and market robots in the U.S. The venture would later be divested, but the strong relationship continued. It's a long history we highlighted in last month's article, The Robotmakers – Yesterday, Today and Tomorrow.
Of the approximately 35,000 robots GM has deployed worldwide, about 95 percent of them are FANUC robots says Linn. And that number continues to grow.
"We're integrating robots as we speak. Every day we have robots and systems from our integrators that get shipped to the plants as we're introducing new products and new programs."
Currently, GM has over 8,500 robots connected to FANUC's ZDT platform. More robots are hooked up to the cloud every day.
ROI
Every day, ZDT is making a difference on the plant floor. Linn says GM has been able to avoid over 100 significant unscheduled downtimes since the program's inception.
"That avoids on the order of 6 to 8 hours of unscheduled downtime depending on what was going to fail. You can do the math, it's a lot. It's a big deal to us for any of our facilities, but especially in our high-volume truck and SUV plants, where each downtime event is significant."
With thousands of robots connected and communicating with the cloud, it wasn't long before GM begin realizing their return on investment. FANUC won GM's 2016 Supplier of the Year Innovation Award for the ZDT solution. The robot maker was the only non-vehicle component supplier to win the esteemed award. This video explains how ZDT works in GM plants.
"This is not 'Jetsons' technology," says Linn. "This is using big data, the internet of things, new algorithms, computer capacity, all those things that have evolved over the past years, and using them in the most efficient way. Preventing downtime, and anticipating or even forgoing maintenance until it's needed, is huge!"
How It Works
ZDT includes both hardware and software platforms. The robots are connected via Ethernet, usually to the local workcell network. Then the local workcell network is connected to the plant network.
Data is collected on each robot and fed into the robot controller software. Then data collector hardware located in the production plant collects the data from all of the robot controllers across the plant. Once the data arrives in the data collector, then it is securely transferred to the Cisco Cloud. All of the data is fully encrypted by Cisco software as it's transmitted to the cloud.
Analytics software developed by FANUC analyzes the data coming into the cloud databases for potential areas of concern. Once an anomaly or specific criteria is detected, then an email alert is sent to the FANUC Service Center, so parts and service can be dispatched for preventive maintenance. Email alerts are also sent to predesignated customer personnel, so they can take appropriate action to address the issue before downtime occurs.
"A crucial element of ZDT is the ability to predict failure in advance," says Jason Tsai, Vice President of Product Development at FANUC America Corporation in Rochester Hills, Michigan. "This is a challenging task."
Tsai explains that the ability to predict the failure up to two weeks in advance may not be good enough due to 24/7 production schedules. That short of a window can still cost production downtime.
"If you're able to predict three or four weeks earlier, then you have a chance to schedule the replacement during the weekend to avoid downtime."
FANUC offers two options for data collection. Customers can either use the data collector hardware supplied by Cisco, or they can use their own server provided it meets certain system requirements. In that case, ZDT data collector software would need to be loaded onto the customer's server so that it is capable of the same functionality as the Cisco hardware. The Cisco data collector, called UCS™ for Unified Computing System, is designed to cover an entire plant of up to 1,000 connected robots.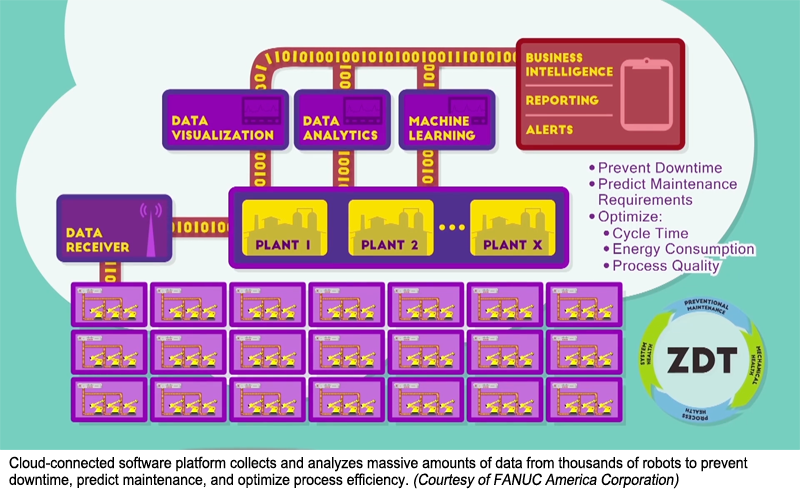 "Robots might be the most reliable piece of automation we have in our assembly plants," says GM's Linn. "But the robots still wear out. There are problems with cables that break. You have gearboxes that wear out. We tend to run our robots very hard. We run several of our plants on three shifts a day. That means you don't have as much time for regularly scheduled maintenance.
"For example, we might have a robot with a gearbox that is going to fail," he says. "The robot does a test. It determines that the gearbox is going to fail. We would then schedule during the next available downtime to swap out that gearbox."
Maintenance Only When Needed
GM started slowly, connecting a couple thousand robots over the first year or two. But by fall 2016, GM had over 6,000 robots connected to the ZTD platform, and just six months later over 8,500. Right now, the solution is focused on FANUC robots and FANUC robot-controlled processes. There's no intention to connect robots made by other manufacturers.
"We've probably used every manufacturer's robots since robotics started, so there are still some other manufacturers' robots that we're using in production today," says Linn. "But all of our new robot purchases for more than a decade have been with FANUC.
"We started out slow with the deployment. When we saw a problem, we went in and replaced parts. Then we studied those parts. Sure enough, we've been able to validate and verify that those parts were going to fail. They were going to cause us downtime. It was at that point when we were able to reduce unscheduled maintenance events that everybody got really excited and started saying, this is great, what else can we do with it?"
GM is also using ZDT to schedule maintenance only as needed, rather than beholden to routine maintenance schedules.
"For example, a robot might be designed to have routine scheduled maintenance at 1,000 hours. So we would plan to maintain it at that time," says Linn. "But it might actually last 1,250 hours before it needs maintenance. So we're working on getting away from fixed maintenance schedules to instead schedule as needed. This is one of the major ways you can find significant savings going forward."
Machine Learning
ZDT doesn't only apply to robots. It's also applicable to process equipment. Processes that are directly controlled by the robot, such as welding, painting and some dispensing applications. Linn cites GM's automotive paint shop as an example.
"Looking at air pressures, looking at downdraft pressures, the speeds of the actuators that are dispensing the paints, looking at a lot of the paint processes and the parameters that go into that, we're able to monitor the health of the equipment and therefore the quality of the job."
Finish quality is crucial in the automotive paint shop. All of FANUC's new paint robots are ZDT-ready, which means they can monitor a variety of functions including paint canisters, spray applicators, regulators, and drive health.
"If you count the total number of moving parts that relate to automotive painting, there are over 200 moving parts per robot," says FANUC's Tsai. "A significant number of those moving parts are related to the process-specific devices controlling the gun, regulator and pressure. If any one of those devices have any kind of premature failure, it can cause a quality issue and/or production downtime."
Right now, GM is using ZDT as more of a predictive maintenance tool as opposed to an in-process adaptive tool. But as the technology evolves, and more data is collected and analyzed, and the algorithms get more sophisticated, you can see how with machine learning it could become more of an adaptive tool for real-time process improvement.
"In the case of the paint shop, by recognizing and understanding that there are very subtle process changes going on and correcting for those, we're able to improve our processes," says Linn. "We want to expand this strategy of having the equipment be smart, able to diagnose itself, and notify us of changes to its operational performance, so that we can go in during the opportunities that suit us to make adjustments or repairs as needed."
Automotive and Beyond
FANUC's ZDT analytics solution is monitoring over 10,000 cloud-connected robots at customers' facilities around the world, and growing every day. Right now it's only used in the automotive industry, but FANUC plans to release software and hardware support for general industry, non-automotive customers in late 2017.
"Our solution needs to be scalable for small general industry manufacturers with two to three robots," says Tsai. "The way you install the software and set up the hardware needs to be plug and play for the smaller manufacturer, because they don't have the IT department to support it."
As part of their standard product, FANUC's data collection software is preloaded on the robot controller before the robot is shipped. For legacy robots, FANUC supplies the ZDT software which needs to be loaded onto the robot controller.
"At least 80 percent of those 10,000 robots that are already connected are legacy robots," says Tsai. "We've been successful loading those controllers with the software; it's straightforward."
Eventually, FANUC and Cisco intend to use this data communication highway developed for ZDT to connect other equipment beyond robots. ZDT is part of the FANUC Intelligent Edge Link and Drive (FIELD) system, which provides the open software platform that allows for advanced analytics and deep learning capabilities for FANUC CNCs, robots, peripheral devices, and sensors used in automation systems. FIELD is based on edge computing technology where a large amount of data is processed within the manufacturing site at the edge of the network, thereby minimizing the volume and cost of sharing data.
"With the ZDT Cloud solution the data is flowed from the devices on the production floor all the way to the cloud, where you will have latency or delays," explains Tsai. "The benefit of receiving the data on the floor using the FIELD platform is then you can respond to the event in real time, and that's what the FIELD does. It's a piece of open platform software that can be loaded into computing hardware, which then allows you to access data from the robot, the PLC (programmable logic controller), or the machine tool device, and apply analytics in real time. It can even change your production based on how you behave. That's where real-time machine learning can provide good value.
"Industry 4.0 is not just a dream. It's real," says Tsai. "It's an exciting time for automation."
Exciting indeed, as more robot manufacturers introduce their own IIoT solutions for embracing the level of connectivity heralded by Industry 4.0.
ABB's Ability™ Connected Services allow manufacturers to harness the full value of intelligence from single robots to entire fleets, using real-time data from intuitive dashboards to improve robot system performance and reliability. Watch it in action at this smart factory manufacturing circuit breakers in Heidelberg, Germany. Connected Services are part of the ongoing evolution of the Remote Services platform, which ABB introduced in 2006 – years before the 'Internet of Things' was coined. Today, ABB has thousands of remotely monitored robots and offers fully integrated IIoT solutions.
Robot Data at Your Fingertips
KUKA Connect is a brand-new platform officially released earlier this year. The cloud-based software platform allows customers to easily access and analyze data from their KUKA robots on any device, anywhere at any time.
The solution provides three main functions: asset information management, condition monitoring, and maintenance alerts. This video demonstrates how KUKA Connect leverages cloud computing technologies and big data analytics to provide customers insightful information about their connected robots.
"If you are a big OEM customer, you may have thousands of robots in one facility," explains Andy Chang, Director of Product Marketing, Americas, at KUKA in Austin, Texas. "The way they manage asset information management today is by using giant Excel spreadsheets that are manually maintained. The information on the spreadsheet may or may not be accurate and they may not actually know what type of robots they have."
Chang says that not having the right asset information could impact how well the robots are maintained over their lifetime.
"By using a tool like KUKA Connect, you can easily look up all the thousands of robots around the plant and navigate through them individually to see when they were commissioned, check serial numbers, and what software is currently installed without having to physically walk up to the machines."
For condition monitoring, KUKA Connect provides specific robot KPIs (key performance indicators) to help technicians and the maintenance crew gauge how well the robot is performing. Chang describes an example.
"We provide temperature charts for all the different axes on a robot. So if the production person or maintenance person starts observing that the trend of the temperature graph for a particular axis has been going up over the last week, that probably means a couple of things. One, the gearbox is probably overheating for whatever reason, or two, maybe the payload has to change. The object that the robot is picking up is maybe not what the machine was designed for."
KUKA Connect is designed to work on desktops as well as mobile devices, smartphones or tablets, anything that supports a web browser.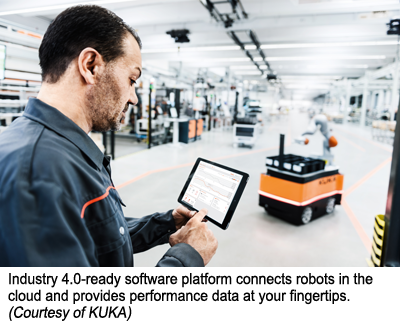 Currently, KUKA Connect only supports KUKA robots. Intuitive dashboards help visualize data according to specific criteria. Whether you're trying to optimize your maintenance schedule or manage spare parts inventory, all the data is at your fingertips, so you can anticipate potential downtime and take steps to fix issues before downtime occurs.
"Today, there are two ways that KUKA Connect provides information," says Chang. "One is very literal. When there is a controller error message, we provide the real-time notification to the user with the error code and the error description, so it's very dynamic. The second part is more passive. We present the data to the end user and then they will need to interpolate what that means for their robot, their line, their factory."
The software platform not only interfaces with the robots, it will also monitor the automation equipment controlled by the robot controller, such as a welding gun or gluing gun, or even an additional axis if the robot is on a rail.
"Any information that is controlled or aided by the robot control will be part of the platform," says Chang. "That's something we are currently working on, is the ability to actually visualize the robot data in conjunction with the process-specific data, so the end user can understand not only the health of the mechanics of the machine, but also the key performance of the process itself."
How It Works
KUKA Connect leverages a fog computing device, which uses end-to-end application software to securely discover, communicate, and transfer robot data to the cloud.
"In order to connect all the robots together, you need a physical device," explains Chang. "We partnered with a company called Nebbiolo Technologies. They provide a fogNode™ (edge computing device) that is built on Fog OS (operating system) technology. Essentially it's a real-time PLC and a network bridge two-in-one, so it can intelligently understand the network infrastructure, separate the firewall between the production firewall and IP firewall, as well as have the processing power to do some data ingestion onsite. Then on the other end it will send information to the cloud."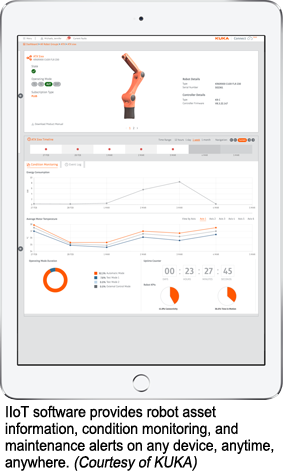 The fog computing device resides in the customer's factory. KUKA Connect is a subscription-based service. All that is needed is a user account in order to log in and see the robots that are connected to that fogNode. Each node can support up to 60 KUKA robots.
KUKA Connect works with the robot manufacturer's KR C4 controllers and supports KUKA.SystemSoftware (KSS) version 8.3.20 and above. Chang notes that it's the robot controllers that are actually talking to one another. Any robot that is connected to those controllers will work. But currently, KUKA does not support older legacy systems.
"We're exploring some mechanisms in which the customer experience would be consistent (across generations of controllers and system software versions). It wouldn't matter if you have a KR C2 versus a KR C4 controller."
"We want to make sure when customers purchase KUKA Connect, that hardware implementation is easy. It's plug and play," says Chang. "There's no software to load (every robot sold in the last year already has the software loaded on the controller). All our customer needs is a user account."
KUKA offers an instructional video to help users get started.
"When we designed and built this product, one of the key requirements was to lower the barrier to entry. We wanted to make sure KUKA Connect was user friendly, from user deployment to daily usage. The benefit of leveraging the cloud is that we can continue to push new features and new functionality to all of our customers as soon as we have it. We want to make sure when our customers want to have access to the latest and greatest technologies, they can have it right away. This is the platform we will continue to build upon."
Born and Bred in Austin
You might be surprised to learn that KUKA Connect was born in the Lone Star State. It's the product of a German robot manufacturer recently acquired by Chinese appliance maker Midea. This new KUKA division in Austin, Texas, was established in 2015 and is part of KUKA AG, the holding company in Augsburg, Germany.
So why Austin? Chang says the city has developed into a major technology hub.
"We've definitely seen momentum over the last 10 years. And similar to California, we have a really good education system with The University of Texas at Austin just down the street, and then Texas A&M and Rice University. Compared to other places like Silicon Valley and Boston, the cost is very attractive from a business standpoint. There is definitely a tremendous robotics community that's been brewing."
Chang says KUKA Connect was envisioned, developed and released all in the Austin office. They recently exhibited at SXSW 2017, where their bottle flipping robot stole the show.
Workforce Development for Industry 4.0
To truly realize the vision of Industry 4.0 and the smart factory, we will need vast talent pools across multiple geographic regions and industries to bridge the growing skills gap. One company is helping to build that talent pool and nurture the skills required for the factory of the future.
Festo is a leading global manufacturer of pneumatic and electromechanical systems, controls, and components for process control and factory automation solutions. The German automation supplier has already put Industry 4.0 into practice at their own factory, the Scharnhausen Technology Plant, where they make valves, valve terminals, and electronics. Their daughter company, Festo Didactic, is a worldwide leader in industrial education for technical training institutions and manufacturing companies.
At the Automate conference in April, Ted Rozier, Engineering Development Manager for Festo Didactic Inc. in Eatontown, New Jersey, gave a presentation on Growing the Next Generation Automation Capable Workforce, noting that more than 300,000 U.S. manufacturing jobs go unfilled for lack of qualified candidates. That number is only expected to grow.
"It's important to teach students to be familiar with the complete portfolio of automation hardware and the software," says Rozier. "They need to understand the integration process of robots and PLCs, as well as be familiar with how IoT can enhance the complete process. This is common practice in Europe and we are looking to raise the visibility of this type of training in North America."
Rozier stresses the importance of multidisciplinary learning, especially focusing on mechatronics.
"The Internet of Things has to thrive in order to assist in bringing life to Industry 4.0. To do that, you need a strong IT background and strong mechatronics background. We have the opportunity to breed individuals that can not only understand, but influence automation manufacturing processes from the top floor to the shop floor, from the IT level down to the sensors that assist in helping robotics make decisions. That's an important skill going forward."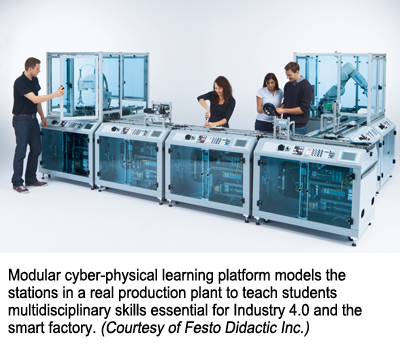 The Learning Factory
Festo Didactic provides "learning factory modules" for hands-on industrial training in mechatronics, control technology, and automation technology. The system starts with a single Project Workstation I4.0 for teaching the fundamentals of control technology. Several modules can then be added to create a complete learning CP (cyber-physical) Factory, which can include a realistic industrial pallet circulating system and an autonomous mobile robot to connect different workstations.
See Festo's CP Factory in action. The system is completely modular, so individual workstations can be added, removed, and moved around as learning requirements change. Training topics include: PLC project engineering, working with human machine interfaces and RFID sensors, commissioning the web server and TCP/IP and OPC-UA interfaces, energy monitoring and management, working with intelligent process data modules, enterprise resource planning (ERP) systems, manufacturing execution systems (MES), and rapid prototyping.
Community colleges with manufacturing and STEM tracks are using Festo's CP factory modules to prepare their students for jobs immediately upon graduation. York Technical College in Rock Hill, South Carolina, has an entire room devoted to the CP Factory, with about six modules. Companies like Mercedes-Benz in Vance, Alabama, are using Festo learning equipment to enhance their workers' knowledge.
Festo Didactic has also opened a learning center, where they host training and apprenticeship programs like one in Mason, Ohio. Trainers from Festo's Mason and Eatontown facilities also travel the country providing training for vocational programs and corporate continuing education.
We must prepare our workforce for the new ways in which humans, machines and data will interact in a hyper connected world. There are steps you can take now to prepare for Industry 4.0 and the smart factory. RIA member suppliers can help you get started on the right path.
To learn more about the many facets of Industry 4.0, including cybersecurity, join the Association for Advancing Automation as we partner with Automation Alley for the Integr8™ Global Industry 4.0 Conference on November 9, 2017. Registration is open now.
RIA Members featured in this article:
FANUC America Corporation
Festo Didactic Inc.
General Motors Co. (platinum user member)
KUKA Robotics Corporation