Press and Machine Tending Robotics
POSTED 03/18/2008
 | By: Bennett Brumson, Contributing Editor
Manual press and machine tending applications are among the least desired jobs in industrial labor due to the danger, repetition and nasty environment. When manufacturers manage to find people willing to perform these jobs, retaining them is another major challenge. Robotics have proven to be an ideal means for companies to keep their presses and machines running accurately at full capacity without the worry of who is going to tend them.
''Reko sees that machine or press tending robots are installed to increase productivity,'' says Douglas Matton, Vice President at Reko Automation & Machine Tool, Inc., Tecumseh, Ontario, Canada. ''The robot has end-of-arm tooling that handles parts faster than a human operator in loading and unloading presses or machine tools.''
Multi-tasking
One benefit of robotics is their ability to multi-task several different operations. The tasks that press and machine tending robots perform are a specialized form of material handling.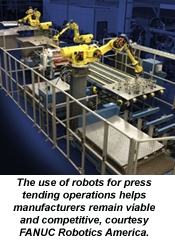 ''FANUC Robotics' customers are using robots for moving parts from one die to another, or parts into and out of a series of presses. A single press does not get integrated with a robot, as we usually automate a series of presses or machine tools with robots,'' declares Peter Stephan, Stamping Program Manager at FANUC Robotics America, Inc. (Rochester Hills, Michigan). ''These 'handling' tasks are performed by positioning a robot next to a press or a machine tool to load and unload it. Integrators often incorporate a sixth or seventh axis to move the robot overhead from one machine tool to another to service more than one machine,'' Stephan adds.
Likewise, Jay Sachania, Marketing Manager with Adept Technology, Inc., Livermore, California, describes the variety of chores that machine and press tending robots undertake. ''Press and machine tending robotic work cells are sorting, picking, placing, palletizing, polishing, deburring, gauging and inspecting product,'' Sachania says.
A typical machine tending work cell is described by James Morris, President of Automated Cells and Equipment, Inc., (ACE), Painted Post, New York. ''Robots load parts into a machine tool. The machine does its process while the robot unloads the part or transfers it to another machine,'' Morris says. Parts move among several machines that are tied together with a robot.
Morris continues, ''Parts are picked up from a bin using a laser sensor or another part presentation system. The robot loads and unloads a lathe, flipping the part if necessary.'' After the part is unloaded from the lathe, the robot loads it into a balancing machine to determine if the part meets quality standards. If the part is good, the robot places it into a finished parts bin.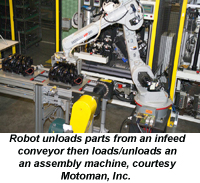 Tom Sipple, Handling Technology Leader with Motoman Inc. (West Carrollton, Ohio) gives examples of other value-added jobs that the robot can perform in press and machine tending work cells. ''Motoman's systems transfer blanks and formed parts. We integrate a wide range of applications, including load and unload operations for machine tending, as well as incorporating part washers or markers.'' Sipple adds that Motoman sees growing interest in packing and depalletizing operations that are coordinated with press and machine tending applications.
Sipple reports that several other processes can be undertaken in press or machine tending work cells. ''Deburring is natural in machining applications because it allows manufacturers to use time that the robot would otherwise be sitting idle. Also, many end-users want to do part marking as a value-added activity.'' Depending on cycle times, the robot can present a part to a marker, load and unload a washer, perform inspection routines or package completed parts, Sipple asserts.
Sipple notes that dispensing or assembly applications can be done in press or machine tending work cells, but can be difficult to implement. ''This potential difficulty is not due to the limitations of the robotics, but due to potential contamination. Parts need to be clean and dry prior to any assembly process – whether it is robotic or manual.''
Other processes that can be included in press and machine work cells are addressed by David Arceneaux, Business Development and Marketing Manager at Stäubli Robotics (Duncan, South Carolina). ''Robots can add a lot of value by incorporating multiple processes at their press,'' Arceneaux claims. ''Once the part has been unloaded, the robot can be programmed to inspect, deburr, package and collate it at the press. This can eliminate downstream processes and costs to the part.''
Reko's Doug Matton notes that machining generates chips which need to be removed before the part is further processed or used as an element of a larger assembly. ''Robots take parts out of a CNC machining center and loads them into an ultrasonic or a conveyor washer.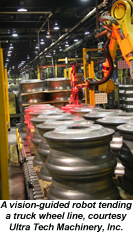 After machining, chips need to be removed from the part, so the robot is used to load those parts into washers.''
Matton goes on to say, ''End-users often need to do a post-molding or post-machining inspection of their parts. Robots are loading parts into measuring devises that qualify the work.'' Part marking involves robots presenting parts to equipment such as pin stampers or laser markers.
Having the robot reorient parts as they are presented to a machine tool also adds extra value to the manufacturing process, says George Toldy, Automation Sales Manager at Ultra Tech Machinery (Cuyahoga Falls, Ohio). ''A vision-guided robot can determine where the part is located and orient it.''
Toldy also says, ''Pick and place applications are popular with end-users, which is picking parts off of a pallet or conveyor and placing them into a CNC lathe or mill. The robot would then remove the finished parts and place them onto a tray.''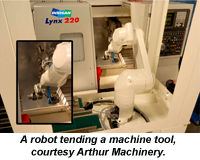 Tending it Right
While integrating and using machine or press tending robots are relatively easy, some first-time end-users have some trepidation when it comes to investing in robotics. Matt Dlugopolski, an electrical engineer with Arthur Machinery, Elk Grove Village, Illinois, a partner with Stäubli says, ''The biggest difficulty we have with machine tending robotics is getting first-time end-users comfortable with them. We solved this by programming menu-driven software that is easy to learn and adapt to an application.'' Dlugopolski is quick to add that when end-users get used to a machine tending work cell, they want to invest in additional robots for use with other machines.
Similarly, David Arceneaux stresses, ''First-time users are hesitant to use robotics for machine tending. Once they get used to machine tending robots and see how easy they are to use, how much value they add, the cost savings, and the quality improvements robots offer, they want to invest in more robotics for machine tending applications.''
Tom Sipple of Motoman also witnesses apprehension by plant managers concerning implementation of robotics for machine or press tending applications. ''We see a challenge in getting management to change their perception of machine or press tending robotics. Many mangers believe that if a company is not running high-volume production, they do not need robotics.''
Sipple further says that robotics offer many opportunities for press and machine tending robotics in job shops. ''Many people view high production as the only place that robotics makes sense. In fact, we have job shop customers who use robotics successfully for machine and press tending applications.''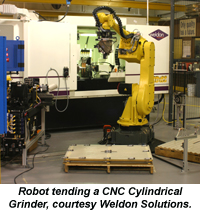 Integrating a press or machine tending work cell in the planning stage is vital to a successful system. Charles Gales, P.E., Automation Sales Manager at Weldon Solutions (York, Pennsylvania) gives some advice to integrators and end-users of robotic tending systems. ''Integrators should use simulation software to allow for accurate modeling that can show interference with the robot's access, reach and payload. Also, simulation software can confirm cycle times.''
Gales advocates ensuring proper communication protocols with machine tools when upgrading controls in retrofitted machine tending systems. Gales mentions that the robot is only 30 to 40 percent of the cost of a robotic tending work cell. To manage costs, integrators need to look at other elements in the work cell.
To ensure a tending work cell can handle a wide variety of parts, the system's end-of-arm-tool must be designed to accept many configurations of parts. ''Many end-users want their work cell to manufacture more than one product, so the end-of-arm-tool must be flexible or easily changeable,'' emphasizes Doug Matton. ''We design tooling and peripheral equipment that handles more than one product and can be easily changed.''
Why Tend with Robotics?
Why invest in robotics for press or machine tending applications when manufacturers can hire people at low wages to perform these tasks? Recruitment and retention are among the drivers pushing end-users to invest in press and machine tending robotics.
Peter Stephan of FANUC Robotics observes that low-wage machine-tending workers may not show up the next day. This leaves manufacturers scrambling to find someone else to do the job on short notice. Without some way to load/unload the machine, productivity suffers. Stephan points out, ''The manufacturer has to find someone else to do the job that day.''
Stephan further contends, ''No one really wants to do these jobs.'' Few people want to load and unload machines or presses all day. ''The rate of throughput is too great for a person to keep up without getting tired after 20 minutes. Robots do not get tired.''
Worker cycle times and throughput are also on the mind of George Toldy of Ultra Tech Machinery. ''Once programmed, a robot will run continuously. A robot is 97 percent efficient, but a person is about 60 to 70 percent efficient.'' Toldy concludes by stating that robots have more consistent cycle times than manual machine or press tending and robots are designed for repetition.
''Speed and flexibility are the major justifications for investing in press or machine tending robotics. Traditional handling methods have become a bottleneck when higher throughput, lower direct labor costs, maximum flexibility and quality are needed to meet customer needs while still making a profit,'' says Adept's Jay Sachania.
''The disadvantages of manual product handling are well understood by most companies. These include scheduling problems, limited throughput, repetitive-task injury claims and fatigue. However, as companies put a higher priority on flexibility, the shortcomings of hard automation or dedicated equipment are becoming a problem as well.'' Sachania says robotics decrease costs and increase flexibility in press and machine tending applications.
Ergonomics and safety pose major rationales by manufacturers to invest in press or machine tending robotics. ''When parts are very big and bulky, robots can more easily handle them,'' says Doug Matton. ''From an ergonomic perspective, manipulating large or heavy parts in and out of molding or CNC machines are better when done robotically rather than manually. Manipulating brake drum castings, for example, is not easy for an operator to do eight hours a day, but is very easy for a robot.''
Safety and ergonomics are also important to Stäubli's David Arceneaux, who says, ''Anything moving in a factory can be dangerous and pose ergonomic threats. Machine tools are very dangerous because parts are moving and the machine is cutting them. Repeatability and efficiency of a person is reduced throughout the day, but robots add value to presses 24/7.''
Pressing On
What does the future hold for machine and press tending robotics? ''Manufacturers are looking to cut labor costs to remain competitive. Even manufacturers in low-wage regions have turned to machine tending robotics,'' says Jay Sachania of Adept.
Lower prices and increased functionality are what Jim Morris of ACE anticipates. ''I see improved force control capabilities that will become less expensive and more user-friendly,'' Morris envisions. ''Better force control will give the robot a 'sense of touch'. This is already penetrating the robotics market.''
Morris adds, ''Three-dimensional vision will become adopted by the robotics industry, so end-users can think about random bin-picking. In five years, random bin-picking will be as common as semi-organized bin-picking is now,'' Morris predicts. Because of this trend, Morris believes press and machine tending applications are on the rise within robotics.
Editor's Note:
This article has been reviewed by members of the RIA Editorial Advisory Group.
For more information, you may contact any of the experts listed in this article or visit Robotics Online, Tech Papers.
Jay Sachania, Marketing Manager, Adept Technology, Inc., 925-245-3400, jay.sachania@adept.com
Jim Morris, President, Automated Cells & Equipment, Inc., 607-936-1341, jmorris@autocells.com
Peter Stephan, Stamping Program Manger, FANUC Robotics America, Inc., 248-377-7000, Peter.Stephan@fanucrobotics.com
Tom Sipple, Handling Technology Leader, Motoman Inc., 937-847-6200, tom.sipple@motoman.com
Doug Matton, Vice President, Reko Automation & Machine Tool, Inc., 519-727-3287, dmatton@rekointl.com
David Arceneaux, Business Development and Marketing Manager, Stäubli Robotics, 864-433-1980, d.arceneaux@staubli.com
George Toldy, Automation Sales Manager, Ultra Tech Machinery, Inc., 330-929-5544,gtoldy@utmachinery.com
Charles Gales, Automation Sales Manager, Weldon Solutions, 717-846-4000, cgales@weldonsolutions.com