Pharma Automation & Covid-19: Robots for Demanding Times
POSTED 11/10/2020
 | By: Emmet Cole, Contributing Editor
What effect has Covid-19 had on demand for automation in the pharmaceutical sector? Which robots are the big winners? And could mutations of the coronavirus have an impact on the future of pharma automation adoption? The RIA explores...
Twenty years ago, much of the automation in the pharma sector consisted of ad hoc setups, many of which were created by engineers with little experience developing industry quality automation. These 'robots' performed adequately, but in a strictly regulated sector like pharma, where consistency and traceability are essential, there was growing demand for industry quality solutions.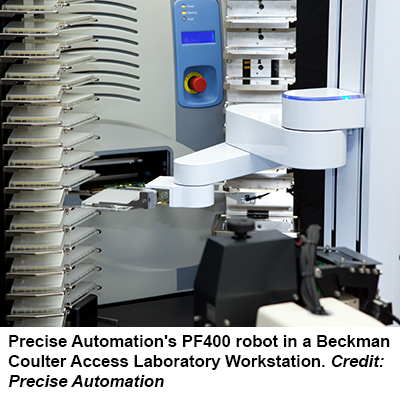 Over the past fifteen years, the robotics industry has stepped in to meet that need, says Jim Shimano, Program Manager at RIA member Precise Automation.
"The pharmaceutical industry has really come to understand the performance and reliability benefits that come with industry quality automation. People whose speciality is making robots can deliver these benefits in ways that others can't. So, there has been a real drive away from kit-type automation toward legit, industry quality robots."
Today, automation is found throughout the pharma sector. Robots are used to replace repetitive, manual tasks in the lab, such as pipetting and mixing. Pharmacy automation can perform the work of human pharmacists from reading prescriptions to dispensing the correct medication –and with far fewer errors. The penetration of automation in pharma goes beyond laboratory and pharmacy walls, with robots being deployed on conveyor-based material handling and packaging & palletizing processes too.
With the emergence of Covid-19 and the resulting increased demand for testing and production, demand has accelerated. One recent report predicts that the global pharmaceutical robots market will reach USD222.40m by end of 2026, up from USD93.37m in 2019, at a CAGR of almost 13.2 per cent.
Precision Automation supplies robot arms to OEMs that, in turn, provide automation solutions to the pharma, life science and medical sectors. Keeping up with demand this year this year while simultaneously keeping people safe and abiding by Covid restrictions has been a "real challenge," says Shimano.
"We're seeing a huge demand for our robots. People have been placing orders into May 2021 for demand that they expect to have through the middle of next year."
Shimano has seen a significant number of companies transition from human DNA sequencing and testing to viral DNA testing as a result of Covid-19: "The testing side of things has really exploded. We've seen businesses move from pharma research development to automated Covid-19 testing. We've seen customers that were tooled up to test for other types of viral infections tool up very quickly around our robots for Covid-19 testing instead."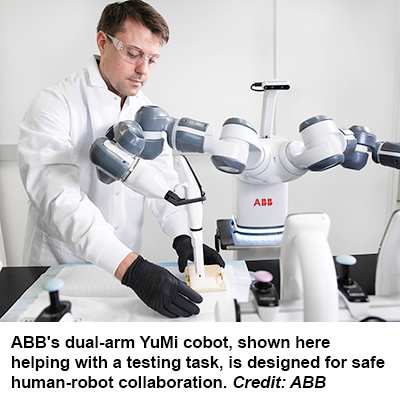 Covid-19 has massively increased awareness of the benefits of automation within the pharma sector, says Jose Manuel Collados, Healthcare Solutions Business Line Manager at robot giant and RIA member, ABB Inc.
"In this pandemic situation, it is key to maintain or increase production without compromising quality or safety. Flexible, modular automation allows pharma companies to ramp up production safely and to build lines faster and in a more scalable way."
ABB recently delivered an automated pharmacy distribution and dispensing solution for a hospital in China. Dubbed 'Robotic Pharmacy,' the system is a robotic storage and retrieval solution for inpatient pharmacy based on ABB's MiniLoad robot and 3D bin-picking solutions.
Robotic Pharmacy uses an IRB 2600 robot for medicine storage and retrieval and an IRB 1200 with 3D vision that can read prescriptions, sort and dispense medicine. Meanwhile, a dedicated medicine storage management system helps ensure 100 per cent traceability throughout.
Additionally, ABB has seen increased interest in both simulation tools and in its connected services, which provide remote monitoring and diagnostics, backup management, and remote access to enable commissioning and support.
While new use cases for robots have emerged due to the pandemic, with RIA members like Universal Robots leading the way with innovative mobile disinfection and cobot-based testing solutions, the greater impact has been to give a boost to pre-existing trends.
When compared to main industrial and cobot adopters in electronics, automotive and mechanical manufacturing, the pharmaceutical manufacturing industry is a "niche and mature industry," says Lian Jye Su, Principal Analyst at global tech market advisory firm, ABI Research.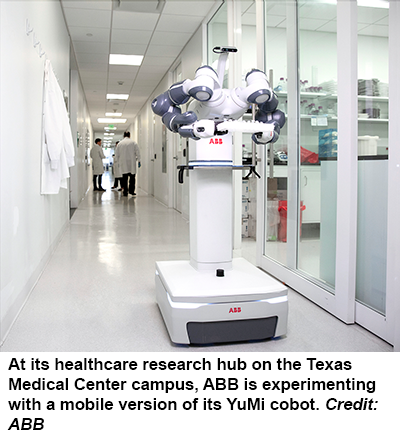 "The industry has been controlled by few major pharmaceutical firms with a very established supply chain and global footprint. This means that even when the demands for pharmaceuticals skyrockets due to Covid-19, there is no spike in new pharmaceutical factories, as compared to the massive ramp up in PPE manufacturing such as mask, protective shield and rubber gloves."
ABB's Collados agrees, stating that the main effect of the current pandemic has been a "confirmation and acceleration" of pre-existing trends, such as flexible automation, digitalization, batch production and personalization.
"These trends existed already in pharma and in other industries. Flexible automation provides the ability to maintain productivity, while enabling batch and personalized production. In pharma, there is now a massive pressure to react quickly to change. How are we going to produce while keeping our workers safe? How can we increase our workforce while keeping people safe? It's clear that robot automation offers many answers to these challenges."
The biggest increase in demand is for SCARA and collaborative robots, says ABI Research's Su.
"Cobots are designed to work well alongside human workers, allowing drug researchers to automate some of their repetitive tasks. SCARA robots have always been around, performing high volume high accuracy tasks. Due to their relatively small footprint, they can be deployed in smaller lab environments for sample testing."
As to whether the surge in demand for automation in the pharma market is likely to be permanent or short lived, much will depend on the behavior of the coronavirus itself, says Su.
"The demand can either be one-off, if the vaccination effect is long lasting, or may be constantly in demand like the flu vaccine, if the vaccination effect is short term due to virus mutation. For the latter scenario, I do believe there will be an increase in robotics adoption in the long run, as more spending will be catered to pharmaceutical industry moving forward," Su explains.
The pharma sector has transitioned from ad hoc automation deployments to become a mature robotics niche and an important tool in the global battle against Covid-19.
"It's very encouraging to work in this industry at this time knowing that we can help pharma and healthcare using technology to solve some critical industry challenges," concludes ABB's Collados.