Mobile Robot Standard R15.08-1-2020 —What You Need to Know
POSTED 02/15/2021
 | By: Laura Moretz, Contributing Editor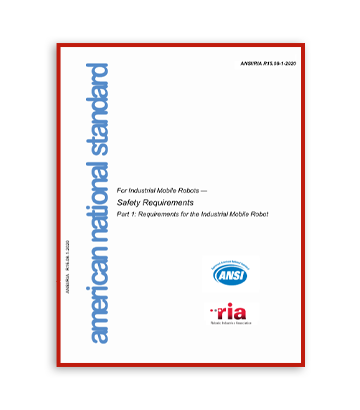 The use of mobile robots has increased quickly in the past decade, and as a result, manufacturers and integrators found themselves uncertain about the right standards to apply. Now the newly released safety standard for mobile robots, R15.08-1-2020, provides needed guidance.
Previous robot safety standards applied to stationary robots separated from people by fencing. Carole Franklin, the Director of Standards Development for Robotic Industries Association, said the fencing "essentially kept people safe by keeping them away from the robot." As long as 20 years ago, "the advent of collaborative robot systems made us think about a new paradigm because technology had advanced to the collaborative robot era." Now, another new paradigm has arrived in the form of robots that aren't fixed in place, that is, mobile robots.
Mobile robots in industrial environments have much more interaction with people than do stationary robots. Franklin said, "What's vastly different about mobile robots is that they don't stay in their cage; they roam around the factory floor. And even if humans aren't thinking about interacting with a robot, for example, if they are walking down an aisle, a mobile robot can approach. The hazard presented by the robot moves with it."
The R15.08 drafting subcommittee, which included a cross-section of the robotics industry, developed R15.08-1, and the standard was approved by the R15 Standards Approval Committee (SAC), a Standards Developing Organization sponsored and administered by RIA and accredited by ANSI to develop standards in the field of robotics.
R15.08-1 is a solid first step toward ensuring the safety of human workers near industrial mobile robots.
To purchase ANSI/RIA R15.08-1-2020, visit the RIA standards online store. RIA/A3 members can use their member discount.
Why is R15.08-1 important to the robotics industry?
About six years ago, people in the robotics industry saw a growing need to address mobility, Franklin said. The R15.08-1 standard was developed from the ground up, by bringing together experts with disparate backgrounds, including fixed industrial robot safety, mobile robot manufacturers and users, and advanced sensor technology developers.
Michael Gerstenberger, the chair of the drafting subcommittee, said: "The development of R15.08 presented a unique opportunity to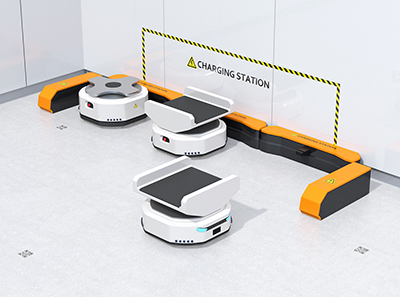 develop a completely new standard, involving volunteers with a broad range of expertise. I'm really pleased how everyone came together to work out critical, sometimes tricky language to provide useful guidance on safety for industrial mobile robots."
Industrial mobile robots (IMRs) and fleets (IMRFs) are increasingly found in industrial applications. R15.08-1 is important to the safety of the human workers in the same space with these robots. New mobility capabilities require a new standard.
R15.08-1 defines safety requirements beyond those in R15.06, which assumed robots were stationary, and B56.5, which is for AGVs that have predetermined guide paths.
What are industrial mobile robots?
Industrial robots operate in structured or semi-structured workplaces that are only open to trained personnel, not the public. For example, a warehouse would be included, but not the sales aisles of a retail store, due to the presence of the public there.
R15.08 classifies three types of IMRs, according to RIA.
IMR Type A: Autonomous Mobile Robot, with only an autonomous mobile platform.

The essential capability of an IMR Type A is the ability to move and navigate through free space.

IMR Type B: IMR Type A plus an attachment that is not a manipulator. The attachment can be passive or active.

In essence, any time any capability is added beyond the ability to move and navigate autonomously, the IMR becomes at least an IMR Type B.

IMR Type C: a mobile manipulator, where the manipulator is what would be considered an industrial robot according to R15.06 if it were stationary, mounted to a mobile platform. The IMR C comes in two varieties:

IMR Type A as the mobile platform, plus an industrial manipulator as its attachment.
AGV as the mobile platform, plus an industrial manipulator as its attachment.
R15.08-1 Is a Standard That Offers Flexibility
While R15.08-1 provides a common set of requirements for IMRs, it is also flexible enough to permit companies to develop their own solutions.
Robot manufacturers or integrators will find useful guidelines on combining an industrial manipulator with a mobile platform, especially when they have their own safety controller.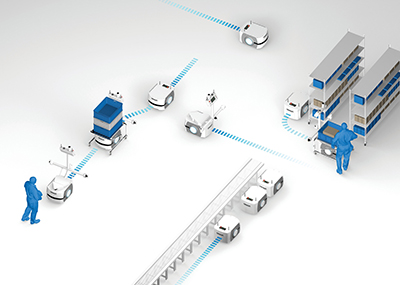 R15.08 answers questions about robots that are mobile manipulators and mounted on an AGV mobile platform. Robotics professionals may ask which safety standards take precedence, R15.06 for the manipulator or B56.5 for the AGV? R15.08-1 provides detailed requirements.
The new standard for mobile robots will help manufacturers develop guidelines for situations that don't occur for stationary robots. For example, mobile robots rely on sensors, and safe operation may depend on the robot's sensor suite. If a robot uses laser sensors, and a piece of equipment on the floor is very shiny, it could confuse the guidance system, Franklin said.
"Or if you have an infrared sensor and you suddenly open a big door to the outside, and suddenly sunlight comes flooding in, that could confuse an infrared sensor. So you have to be aware of things you didn't have to be aware of when the robot was fixed in place."
Next Steps for Mobile Robot Safety Standards
The R15.08 Drafting Committee will develop R15.08 Part 2 with safety requirements for industrial mobile robot systems and system integration. It will cover adaptations necessary for an application and the specific facility in which the IMRs will be used.
Part 2 will also provide safety requirements for IMRFs.
R15.08 Part 3 will provide safety requirements for users of IMRs and IMRFs.
The R15.08 Drafting Committee plans to write Technical Reports (TRs) to address emerging topics as mobile robot technology continues to advance. Some topics could include multi-sensor fusion, additional stability testing, and stability validation. Manufacturers who have topic ideas for TRs can contact RIA.
"R15.08 is something that the marketplace has been waiting for. I think it's going to be very useful and beneficial," Franklin said.