Industrial Computing Helps Usher in New Era in Industrial Automation
POSTED 08/04/2022
 | By: Jimmy Carroll, A3 Contributing Editor
Within the automation space, industrial computing can mean several things depending on the type of application and its processing requirements. A heavily parallel task such as deep learning requires much different computing requirements than a high-speed barcode reader with onboard processing, for instance. Luckily, several types of industrial computing architectures exist on the market today, from the traditional industrial PC to specialized processors designed for targeted applications.
A Push From Silicon Valley
Industrial computing advances come from disparate companies around the globe — from small operations to massive corporations. Technology giants such as Intel, for example, have gone far beyond just offering increasingly powerful processors for business and personal use computers. The company's latest deep learning processor for training workloads and inference deployments, for example, achieved breakthrough results for artificial intelligence (AI) time-to-train on the MLPerf industry benchmark. With the platform, end users can accelerate training and build new (or migrate existing) deep learning models with just a few lines of code.
In addition, Intel's VPUs (vision processing units) offer dedicated hardware accelerators for deep neural network inference. In combination with CPUs, the chipset allows developers and device makers to deploy deep neural network and AI applications in embedded devices. The company's VPUs and deep learning processors offer low-cost options for simplifying deep learning deployment.
NVIDIA's graphics processing units (GPUs) and embedded systems – which also achieve leading results in MLPerf benchmarks – continue to push accelerated computing forward as well. The company's latest edge AI platform — its most powerful to date — delivers up to 275 TOPS (tera operations per second) and is designed for increasingly demanding industrial needs, including robotics, intelligent video analytics, and industrial inspection applications.
"AI-powered autonomous machines represent the future of industrial automation," said Gerard Andrews, senior product marketing manager at NVIDIA. "For example, today's autonomous mobile robots are being equipped with multisensor payloads and numerous compute-intensive AI models that help the robot 'see' and make decisions in an unstructured environment."
As industrial computing technologies advance, the industrial automation space reaps the benefits. One fascinating development has been the industry embracing simulation and digital twin technologies as a critical part of the automation playbook. A recent example is NVIDIA's partnership with Siemens on developing an "industrial metaverse" that aims to transform manufacturing with immersive experiences across the life cycle, from design through operation (Figure 1).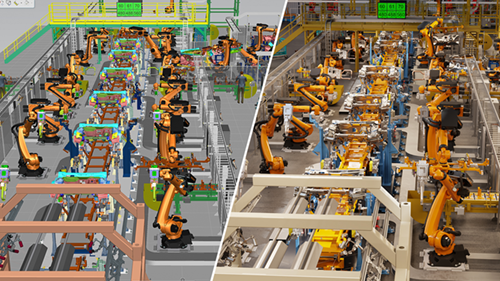 "From the planning of the industrial space to the monitoring of real-time data from a facility, companies will have the opportunity to improve operational efficiency and safety while leveraging new levels of predictive analytics," Andrews said.
Integrating the Latest Innovations
Several industrial computing vendors now integrate the latest products from companies such as Intel and NVIDIA in their offerings, including Neousys Technology, Advantech, ADLINK, and Cincoze. In fact, such a wide range of industrial PCs exist on the market today that businesses in urgent need of powerful processing power can typically find what they need, even during a global chip shortage, according to John DeWaal, president of industrial computing supplier CoastIPC.
"Because of the imbalance that exists today between supply and demand for semiconductor chips, everyone has been forced to get creative when it comes to finding a solution for their industrial computing needs," he said. "While we might not have the exact model someone is seeking, we've been able to find our customers effective alternatives that suit the challenging needs of all types of applications.
"As part of a drone detection system that uses vision and AI, for instance, the customer put forth specific requirements with tight timelines, and Coast has been able to custom configure a GPU-powered industrial PC that delivers, despite supply chain issues."
For its part, Teledyne FLIR recently launched an embedded vision carrier board specifically designed for NVIDIA's Jetson TX2 embedded AI computing device. The board provides systems integrators and OEMs a plug-and-play solution for up to four USB3 machine vision cameras simultaneously, while the embedded NVIDIA module enables decision-making capabilities.
"Based on a fully integrated system-on-module design — including power and data transmission over a single cable — the board allows users to deploy powerful multicamera embedded vision systems on a compact board without the need for additional hardware or host systems," said Riana Sartori, director of product management, Teledyne FLIR Machine Vision.
On the deep learning side, the Teledyne FLIR machine vision team integrates an Intel VPU directly into a line of machine vision cameras for deep learning. These cameras allow developers to deploy a trained neural network directly onto the camera, thereby reducing system cost and complexity.
Easing Deep Learning Deployment
Powerful processors designed for deep learning ultimately bring value when users can seamlessly deploy and run deep learning models on them. As deep learning applications become more mainstream in industrial automation, vendors in the machine vision and imaging community must ensure that their products can communicate with one another and be easily deployed onto edge devices on the factory floor. Recognizing this need, Landing AI recently introduced a deployment application within the company's automated inspection software. The app allows manufacturers to easily deploy deep learning–based solutions to edge devices and communicate with factory floor devices such as cameras and PLCs without the need for custom coding and development.
"With this application, manufacturers can more easily bring the power of deep learning to the factory floor, allowing them to better and more consistently detect product defects," said David L. Dechow, vice president of outreach and vision technology at Landing AI.
To simplifying deep learning deployment on the edge, Pleora Technologies offers drag-and-drop software designed for nonexperts to easily design, customize, and deploy directly on the company's edge processing systems. The edge device works with any vision standard–compliant camera and processing solution and can be integrated with existing machine vision components, allowing companies to bring deep learning–based visual inspection to the factory floor.
For Ontario-based Dairy Distillery — a producer of spirits that combines artisanal distilling techniques with a scientific process to transform milk into vodka — this means deploying prepackaged AI plug-ins to visually highlight product differences and deviations for operators and inspectors on a display. The distillery trained Pleora's Image Compare plug-in to identify key brand elements on the bottle, while a real-time on-screen image overlay then guides operators as they manually place the emblem on each bottle. The system can also act as a training tool to teach new employees on brand quality standards.
The system, according to Ed Goffin, marketing manager at Pleora Technologies, was designed with current and future needs in mind.
"Currently, the system is being tested with several other vision system components such as PLCs to ensure interoperability and simplify deployment, and there are also MQTT and OPC-UA no-code blocks available to help support future-proof Industry 4.0 capabilities," he said.
While Pleora Technologies' AI solution is designed primarily for manufacturers to develop and train deep learning or machine learning algorithms in the software and deploy on the edge, the company has partnered with other vendors to ensure compatibility with their solutions as well.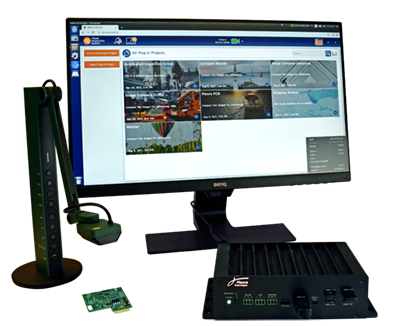 "The edge processing system was designed with a degree of flexibility in terms of integration with other software and hardware, recognizing that one of the main goals for manufacturers is avoiding 'vendor lock in' and supporting their ability to choose the best solution for their problem," said Goffin.
Integrated Solutions
Some machine vision vendors even deliver industrial PCs with machine vision software already integrated. Matrox Imaging, for example, offers a range of industrial vision controllers fully supported by the company's machine vision software development kit, providing systems integrators and developers a solid foundation for building challenging machine vision solutions.
Robotics and industrial automation specialists Mosaic recently deployed the Matrox software as part of a nine-camera machine vision system that inspects brake discs. In the system, the flowchart software eased the coding burden of the developers and allowed them to focus more on achieving desired accuracy, performance, and algorithmic logic. In addition, the team easily managed recipes and different parameter sets for each camera and created efficient image analysis algorithms.
Because the new computers come standard with our machine vision and image analysis SDK, the company provides a complete, scalable machine vision solution, according to Fabio Perelli, product manager, Matrox Imaging.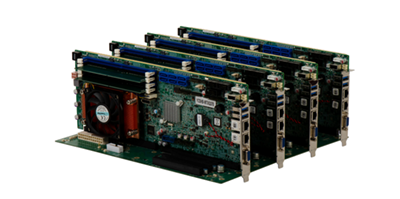 "By integrating the SDK into a high-density industrial computer with room for multiple system boards, the new computers provide integrators with a complete solution for today's most demanding machine vision applications," he said.
Propelling Processing Power Forward
Advancements in industrial computing come from companies all of types — from start-up chip makers to publicly traded global corporations — all of which push industrial automation capabilities forward. Learn more about some of these latest innovations at the upcoming AI & Smart Automation Conference on September 29, 2022, or check them out in person at The Vision Show from October 11–13.