Design Your Product for Producibility, Design for Automation
POSTED 12/16/2015
 | By: Tanya M. Anandan, Contributing Editor
Forget naughty or nice. Consumers want what they want, when they want it. Manufacturers have to deliver at prices the market will bear. As the world's manufacturers race new products to market and strive to cut costs while boosting manufacturing efficiencies, automation and robotics is atop many wish lists this year. China, once the motherland of low-cost labor, is now leading the robot race.

Automation and robotics is only expected to surge as labor costs rise around the globe and mass customization becomes the norm. Even sectors like the traditionally labor-intensive footwear and apparel industry is adopting more robotic automation and altering product designs in favor of no-sew, bonded fabrics that lend themselves to automated production. Robots in your sneakers? Nike did it, and Adidas will do it next year.

Design engineers know that 85 percent of a product's cost is determined in the design stage. So the earlier you start looking at the automated manufacturing process and how it affects your design, the better. When you make informed design decisions upfront, you reduce costs, increase efficiency, improve quality, and speed the time to market. But you can't do it alone. You need a trusted automation partner in the race.

"There are brilliant designers out there – ID (industrial design), ergonomics, mechanical engineers, electrical engineers, system architects – that design amazing products," says Mike Answeeney, Senior Director of Value Engineering for Jabil Circuit Inc. "But it's surprising to see how many of these brilliant engineers have little concept of producability in a volume manufacturing environment."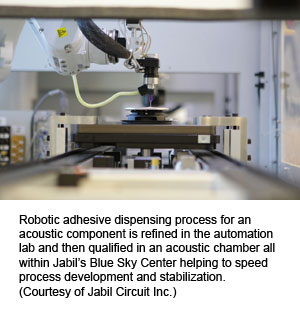 DFX and Producability
Producability is the ease of manufacturing a product in economies of scale. This often depends on the characteristics and design features of the product that enable its economical fabrication, assembly, and inspection or testing with available technology. Producability with automation is a growing concern as global competition to deliver products quickly and reliably reaches a frenzied pace.

Headquartered in St. Petersburg, Florida, Jabil is a high-volume contract manufacturer for some of the most recognizable brands around the world. In April 2015 Jabil launched its Blue Sky Center in Silicon Valley, an innovation hub with factory-of-the-future capabilities for incubating ideas from vison to prototype, to global production. With a client roster that reads like the who's who of high-tech electronics, Jabil knows a thing or two about how to design products for automated manufacturing and speed products to market on a global scale.

"The organization I run is called value engineering and it's all about product optimization," explains Answeeney. "We want to be involved in products early and our job is to help these brilliant design engineers make good decisions for producability in a manufacturing environment."

Jabil has been a fervent advocate of design for automated assembly, or DFAA. Part design considerations such as minimizing the number of robot movements required for assembly to reduce complexity and cost; adding self-aligning snap-in features to minimize the need for screws or other fasteners; and including grooves or channels to prevent run-off of automated dispensed adhesives, are just a few of the DFAA examples shared by a Jabil engineer in this informative article on design for automated assembly.

DFX, or design for X, where X can equal any of a number of initiatives, such as design for assembly, for cost, for test, for repair, or for logistics, is a proactive approach to designing a product for optimal results. Design for automated manufacturing takes the human element out of the equation and challenges product designers and automation engineers to work together to examine how the product design accommodates automated processes with little or no human intervention, from fixed automation to flexible automation with robots.

Earlier the Better
When should this collaboration take place? At the CAD design stage or when it's still a scribble on a cocktail napkin? Automation experts agree, the earlier the better.

"We would like to be involved as early as possible," says Answeeney. "In the concept stage, or even in the human factor and ID development stage of a product, it would be nice to be involved and provide input to the marketing guys and the ID development guys. Because ultimately, once they start developing the look and feel, and how the product is actually used from an ergonomic standpoint, that's going to define a lot of the shape and some of the functions of the product itself. That all dominoes into the design."

If you're producing something in high volume and you don't have these conversations early on, Answeeney warns that a design change may be needed down the line to accommodate cost reduction. But once a design hits the manufacturing line, the costs of changing the product design can be substantial.

This is especially true in the medical device market. Early intervention with design for automation is vital, for it's very difficult to make even minor design changes after regulatory approval. Check out this article on design for automated medical device assembly.

"Instead of going in and having to do cost reduction after the fact, be involved early and have cost avoidance," says Answeeney.

Nowhere is this more evident than in Silicon Valley where the startup and venture capitalist race has reached a fever pitch.

L2F, which stands for Lab2Fab™ (from laboratories to full-scale fabrication), is a rare species in Silicon Valley. Established in June 2011, L2F is one of a handful of industrial robot integrators on the West Coast and the only RIA Certified Robot Integrator in California. The Fremont-based integrator has experience automating manufacturing processes in the electronics, food and beverage, automotive, packaging, and biomedical industries, among others.

Although neck-deep in the valley's fast-paced startup world, L2F's cofounders are both graduates of Kettering University in Michigan, where they earned their undergraduate engineering degrees.

"We're Midwest people that love manufacturing and just happen to really enjoy the startup atmosphere in Silicon Valley," says CEO Shawn Lange, who prior to cofounding L2F spent six years at Mitsubishi Electric Automation. "Most everything we do is robotics today."

"We've been able to go after all these different markets by bringing our working culture and agile methodology to the way we approach project management," explains his cofounder and L2F President Derek Pietz. The two also attended Santa Clara University for their master's programs.

"We're able to iterate very quickly on designs and learn very quickly about our customer's product, internal processes, and about their manufacturing processes," continues Pietz. "You get a very tight coupling of engineering and product development expertise. The key to a lot of our success is this agile development methodology that comes out of Silicon Valley. You have to work together with your client to develop the product from scratch. The more interaction that you have with the client through the development process, the better the outcome."

Pietz credits both this agile development methodology and L2F's collaborative environment for the integrator's success.

"We have a number of clients where there's just three people in an empty building with a pile of money and trying to launch their product," he explains. "We have to work together with them to iterate the product, process, and the equipment all together. They may not even know exactly what they want, so you really have to work collaboratively to develop the concept from the very get-go."

Trusted Automation Partner
Lange says companies should bring them in as early as possible.

"One of our best relationships that we have going on right now, we engaged the customer 30 days from them forming their company," he says. "Early on, we were seeking out these kinds of companies. Now they are coming to us. Robot manufacturers that just need a presence in Silicon Valley are coming to us. We're the only (RIA) certified company out here."

He says most of their clientele don't initially understand what the Robotic Industries Association does and the significance of the rigorous integrator certification process.

"But then we explain to them what the certification process is and how RIA actually looks at our processes and how we do things, what type of talent we have, and training we do, and all of that. We like to explain it as an ISO certification for what we do."

The RIA Certified Robot Integrator program upholds best practices for integrators and is about Protecting End Users and Suppliers.

"People will call us to come in and help get them out of a jam," says Jordan Merhib, Director of Business Development at Applied Manufacturing Technologies (AMT), an RIA Certified Robot Integrator in Orion, Michigan. "That's a very common storyline for us. They usually spend more money getting out of a jam."

This automation engineering firm prefers that you save your money and let them keep you out of trouble in the first place. AMT specializes in material handling, machine tending, coating, dispensing, assembly, packaging, palletizing, and welding applications.

"We don't really specialize in specific markets," explains Merhib. "Because we're in Detroit and have been around for a while (26 years), we've done a lot of automotive work in body shop and in powertrain parts. Over the past eight years we have diversified quite a bit into other industries. That includes food and beverage, medical device manufacturing, life sciences, and alternative energy.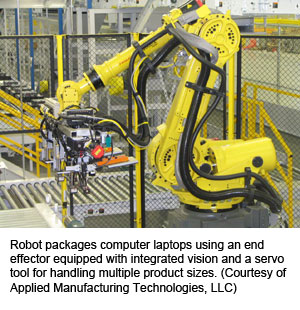 "We have experience across a lot of industries and a lot of applications, so we're able to objectively look at someone's manufacturing problem and help them figure out the proper way to solve it," says Merhib. "In manufacturing, there are many processes that are similar across industries. We're able to help a lot of companies that are new to automation. They may have a problem that they think is unique to their industry, but we've seen it in other industries, so we can help them figure out how to automate it."

He echoes what others say about engaging your automation partner as early as possible in the product design process.

"As soon as you're thinking about how you're going to manufacture the product, bring us in," says Merhib. "If we get called into an opportunity early enough, a lot of times we'll make recommendations on how they might change their product to help facilitate automation." He cites a specific example.

"We had a company come to us that was designing a product for use in the water industry," explains Merhib. "The magic to their product was in the software and how they were going to introduce this software into a product you could control remotely via a Bluetooth device. Then they had to actually design and build a physical product that would go into the water system. But they didn't know anything about manufacturing.

The company turned to AMT to help them automate the assembly.

"Part of the product had an electronic component to it, which had wires that had to be soldered into it," explains Merhib. "We looked at their prototype designs and said well, that's great, but if you build it in this order, you will need a person to take it apart to solder the wires and then put it back together, which was extremely impractical. We explained to them that they could use quick disconnects, which enable you to build the product in sequence without compromising the functionality."

Merhib says simulation plays a critical role in design for automated manufacturing.

"The current state of what we call digital manufacturing, which is really simulation tools and 3D modeling, that software is at a state now where we can virtually manufacture a part before we actually produce it," says Merhib. "In that way, we can anticipate many problems before they occur, and recommend process or product design changes to fix the problem."

He describes a particular application where a slight tweak made all the difference in successfully implementing a robotic waterjet cutting process.

"We were working with a solar company to help take their product from prototype to high-volume manufacturing," explains Merhib. "Part of this effort included finding automation solutions for various parts of their fabrication and assembly processes. When evaluating robotic waterjet cutting as an option for one of their glass components, we realized that their specified design tolerances were beyond the capability of readily available robotic waterjet solutions.

"Along with the waterjet integrators, we investigated technical options for dialing in the accuracy of their systems, but in the end, after further evaluation and discussion with our customer, we determined that the specified tolerances of the glass components were unnecessarily tight. We demonstrated that loosening the component tolerances would have no impact on the final product performance, but it would allow them to implement a standard robotic waterjet solution in their factory. And that is exactly what they did.

"Anyone can buy the products and components that go into an integrated system," adds Merhib. "A lot of people say well, I don't need the integrator. I'll just go buy all this stuff and put it together myself. But most of the time, the people that try to do that don't have the experience to avoid the pitfalls of a poor automation experience."

Time to Market
Pietz says the biggest advantage of design for automation for L2F's customers and the tech-oriented markets they serve in the valley and beyond, is time to market.

"Time to market of a new product, a new innovation, a new company, that's what is critical. By looking at automation early on, you can maybe skip some development steps. You can maybe prove out some level of pilot development that will let you iterate your product more effectively. And maybe even skip some automation steps that you won't need later. You can have that initial ramp and initial launch occur months, maybe years earlier because you successfully managed risk and your end user experience more effectively."

He says it's also critical to the venture funding race.

"What venture capitalists really want to see is a couple of key demonstrations," explains Pietz. "First they want to see demonstration of a viable product and later the ability to scale the product. And that's where having an automation partner early on is important. We probably have a little bit more mechanical capabilities and product development capabilities than other systems integrators. We're able to help with that initial proof-of-principle step, where we can help someone get a tangible prototype in front of their investor or client. Then later demonstrate a pilot production to show that they will be able to effectively manage mass production. That will help them gain traction in raising their series A funding."

"The Silicon Valley Sand Hill Road investors, VCs out here, they don't have patience," says Lange. "They want to see something happen quick. We're really good at working with our clients on those technology road maps and understanding what it is you need to show your investors. We'll help you get to those milestones so you can get your next portion of funding released. That's something that Silicon Valley does better than anywhere else in the world, getting engineers to come together and innovate really quickly."

Whether your trusted partner is an automated solutions integrator or a contract manufacturer, design for automation allows you to scale up for global production.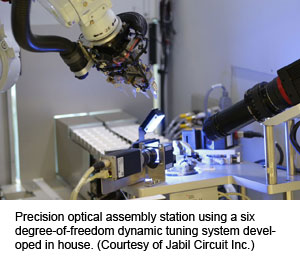 Have Automation, Will Travel
Designing a product for automated manufacturing provides more flexibility in the placement of your manufacturing facilities.

"If you're designing the assembly for automation, it also allows you to put it anywhere in the world," says Jabil's Answeeney. "You're not tied down to labor costs. If you've designed it so you're almost fully automating the assembly process, you can put that process anywhere, whether it's in a high-cost labor region or a low-cost labor region, because you're really talking about capital equipment cost at that point and that doesn't change a whole lot from region to region.

"We have a lot of cases where customers will transfer products from one CM (contract manufacturer) to another," says Answeeney. "Their existing CM may be having quality issues or yield issues, or they can't meet supply and demand, or maybe even cost issues. Maybe they are at a Tier 1 or Tier 2 manufacturer and it may be a U.S.-based manufacturer and they don't have any manufacturing capabilities in Asian or lower-cost regions. Their volumes have increased to a point where it makes sense to go to a larger contract CM and then move it into a lower-cost region. They'll come to somebody like Jabil."

Easier by Hand or Machine
No plans to automate? So you think there's no need to consider automation in your product design? Think again. Products designed with automation in mind often end up being more easily assembled by hand as well.

"I think it's much easier to design for automation upfront than to try to shoehorn automation after the fact," says Jabil's Answeeney. "If you design a product with the intent to automate the assembly or automate portions of the assembly, it's typically just good design practice. Even if you end up hand assembling it anyway, it's probably easier for the assembler to hand assemble it when it's designed for automation, because you're talking about mirroring parts and either a bottom-up or top-down assembly. It's a simpler, sequenced process."

When a product is designed for hand assembly, the human assembler has the advantage of tactile feedback. If a part doesn't fit together just right, they may reorient the position of the components, or even twist and bend them to get them to snap together more easily.

"When you're automating something, you don't have as much tactile feedback," says Answeeney. "It has to be very repeatable and aligned, and tolerances have to match up, which are all part of good design practice. I think every product should be designed for automation. Ultimately in the end, it's going to make it easier whether you're automating or hand assembling it."

Flexible, Precise Automation
Consumer electronics are getting smaller and the assembly tolerances tighter. Flexible automation becomes critical to the production process when the product cannot be made to satisfactory precision, consistency, or cost using manual processes.

Check out this video courtesy of Jabil on flexible automation.

"The wearables market is exploding and it's huge! Everybody has some sort of wristband that monitors a half a dozen functions in your body," says Answeeney. "Most of them are either splash resistant or try to be waterproof. But there are challenges with that level of liquid ingress, trying to keep fluid and liquid out of the device. You have a lot of functionality packed into a very small device that is somewhat flexible. Something that is worn all the time, that could be submerged, that could be worn in the shower. Something that needs to be assembled easily, something that is high-volume manufacturing. How do you accomplish all that?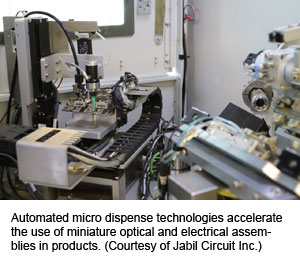 "You start using adhesives to put things together," explains Answeeney. "Really the only way to get a consistent product with something that small where you're laying down a bead of adhesive is to automate it. But then that goes back to how to design the unit itself, so you don't have adhesives squishing out when you put the product together.

"Automating it will allow you to more accurately dispense a particular amount of adhesive as opposed to a manual process where somebody is sitting there with a syringe that may or may not put a whole bunch in this area and very little in that area," he continues. "If you're automating it, you have a very definitive route to lay down the adhesive and a very definitive amount to dispense. Then the actual assembly process could be automated, so you're applying a consistent amount of pressure over different areas of the product to bring them together. And then you can have vision systems to make sure that you don't have any cosmetic issues or gaps in the assembly process."

Key Considerations – Get a Grip
L2F's Pietz says most of their robotic applications are in material handling or assembly, often small parts assembly. With material handling, the parts may be larger, in the 700 kilogram range. He elaborates on several important considerations when designing products for automated handling.

"We typically design the entire end-of-arm tool and the feeding system as well to present parts to the robot," he says. "It's very important to make sure there's somewhere to pick the darn thing up, some safe handling area on the part. If the part is delicate it could be difficult to find somewhere to grab it or pick it with a suction cup. Sometimes it's helpful to have an extra flange or at least an area that is safe to grip. If there's a cosmetic surface that we should not be touching, they need to be sure to provide a non-cosmetic surface for the robot to make contact."

"It's also very important to understand how many different products need to run on the same piece of automation and group those products in an intelligent fashion so you don't add too much complexity to your in-process," he adds.

He also says it's important to include features that allow for the alignment of the assembly. These can include lead-ins, guide pins, tapers or chamfers.

"If you're trying to push a shaft into a hole, if the first part of the shaft is a smaller diameter that will fit into the hole more easily, then you can push it straight into the opening. It's also very important to include things that will be useful in inspecting the assembly after you've put it together, so that you know you are producing good assemblies. That may be tabs, or flanges, or marks that can be identified with machine vision."

Pietz adds that designing the parts with a careful use of symmetry is a good tactic.

"If the parts can either be infinitely symmetric, where their orientation won't matter after we get the part, that's good because it can make gripping much easier," explains Pietz. "Or if the parts are clearly asymmetric, then we can also exploit that to keep the system simple, and use alignment, gripping features, or recognition and identification to exploit the asymmetry."

Get It in Your Sights
As the cost of cameras and supporting software continues to decline, machine vision is increasingly becoming an integral part of the automated manufacturing process.

"We really like vision or non-contact sensors," says L2F's Lange. "A lot of robot manufacturers today have good packages that come with the robot. The key with vision is to eliminate reflectivity of parts if you can. Everybody likes to make things nice and shiny, but that's really hard for vision to identify details in parts because they get reflection and it blurs things out. You can play with lighting and do all sort of things, but that's when the development costs for vision start to get high. When you need to start deviating from the standard inspection camera that can come with every robot, you're going to increase costs."

For a quick take on the latest in machine vision capabilities, check out Latest Sensors Offer More than High Rates – Resolution.

Jabil's Answeeney provides an example of a manual inspection process that was automated with machine vision.

"We were building a product in Asia, a kind of rack-mounted system that had a bunch of LEDs on the front user interface panel," he explains. "It involved a manual inspection, so there was an actual person that was looking for alignment, brightness or intensity, and color consistency of the LEDs. If you had two red LEDs next to each other, you want the red color to be the same. You can get variations like that in batches of LEDs.

"With a manual process, you're talking about subjectivity," says Answeeney, pointing out that there's always a higher risk of "failure escape" when humans do the inspection. So after discussing it with their customer and conducting tests to show the impact, Jabil proceeded to automate the visual inspection process.

"We had a camera that allowed us to look at the alignment of the LEDs," he says. "It allowed us to look at the consistency of the color, the brightness, and whether they were actually installed and functioning. It eliminated the need for on-line inspectors on the manufacturing line. It allowed for a larger, quicker inspection process, and a more consistent inspection process. Our yields went up, our (product) returns went down. It made our customer extremely happy.

"Customers always want cost reductions, so that's something we are always looking at, to see if we can automate processes in the manufacturing assembly," adds Answeeney. "Sometimes there are some higher upfront costs, but over the life of the products, automation brings that cost down. It reduces headcount in manual laborers, in physical touching of product, which always brings in risk. The more hands-off assembly, the better."

Answeeney says humans on the assembly line can provide feedback, but it's subjective.

"Two inspectors may witness the same failure but categorize it differently," he explains. "So making that an electronic automated process with vision systems and sensors, and putting that all into a database that is consistent and able to be accessed remotely and run data analytics, is a huge part of the factory of the future."

Connectivity, IoT and Data – The Future Now
L2F's CEO says the factory of the future is here. Machine-to-machine (M2M) communication, the Internet of Things (IoT), cloud computing, and all the data they churn out are quickly gaining momentum on the factory floor, even faster than we had predicted in January's edition on Robotics 2015 and Beyond: Collaboration, Connectivity, Convergence.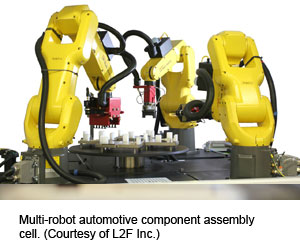 "We're big believers in anywhere that data can be generated, captured and trended – do it," says Lange. "If you can reject something as the reject happens, it's much better. A lot of inspection occurs after the whole thing is fully assembled. But today with technology and automation, the data they can collect, you can see things happen in real-time. You can say don't put the rest in, don't waste those parts. No faults forward, that's big in automotive manufacturing. Let's not allow a fault to move on. Fix it right there or get it out of the system."

"The Internet of Things and the Industrial Internet of Things (IIoT), it's here," says Lange. "Get as much data as you can. Look at current, look at voltages and motors. The data from the machines can really improve your manufacturing processes. We already have one of our own offerings for MES connectivity you can buy from us off the shelf. The system can pretty much connect to any PLC and we can get deep into tools on the floor and extract information to help improve production, yield, and throughput. It's very powerful."

"We include energy monitoring on most of our machines, so that people can reduce their energy usage, which for clients is huge. Data and IIoT is ripe for innovation. We design it into our systems from the get-go."

"You can't do continuous improvement without data," says Lange. "I think that's why a lot of people can't figure out the IoT and how it works in manufacturing, because you actually have to implement the data collection first and look at the data before you even know how useful it is."

Lange cites an application example in the food and beverage industry that had never been automated before.

"The entire project parameter was to reduce manual labor. It was a very intensive operation that people couldn't handle for more than 10 or 15 minutes. So we developed an automation solution with a number of robots and it took their operation from five people to two people. That gave them an ROI of two years or less from the get-go."

But he says the real advantage was rather unexpected.

"After we deployed our systems and we had vision for quality checks, we started rejecting a bunch of their product. As we made all those fixes, by the time we were done, we hit the best one-day total ever for production rate."

He says it was the highest in the customer's 50-plus-year history.

"We didn't hit it just barely. We smashed it! They are now, on average, getting 25 percent more product out the door every day. They are hitting somewhere around 90 percent of theoretical maximum, when most of the food and beverage industry is about 80 percent of theoretical."

Lange says you don't realize how much room you have for improvement until you start putting in the sensors and software, and examining the data.

Exploring the possibilities (and challenges) of automation in the early stages of product design, engaging automation experts from the get-go, and paying attention to the little details that can influence cycle time, quality and cost in a big way, are all good manufacturing strategies for 2016 and beyond. Your move.

RIA Members featured in this article:
Jabil Circuit Inc. (User Member)
L2F Inc