Collaborative Robotics Puts People First
POSTED 02/27/2018
 | By: by Tanya M. Anandan, Contributing Editor, Robotic Industries Association
Far from Silicon Valley and worlds away from Asia's electronics hub, a little startup with a lot of soul is making waves. At the eastern tip of Lake Erie, a company started by Danish immigrants is building mobile computers in, of all places, downtown Buffalo.
At Bak USA, five technicians sit at a half moon-shaped workstation building laptops and tablets from scratch. Just an arm's length away, a screwdriver-toting robot collaborates on the assembly. You have a three-year-old startup, with a hundred employees, and one robot. What are the odds? With the advent of human-robot collaboration (HRC), they're growing. Small and medium-sized enterprises are taking note.
Right away we realize this company is not run of the mill. The Bak family has a unique vision. To make mobile technologies accessible to every human being on Earth. Rather ambitious. But this startup is charting a path one community at a time, and with a millennial brand of social responsibility to boot. Plus some heavyweight partners, including Microsoft, Intel, and Esri.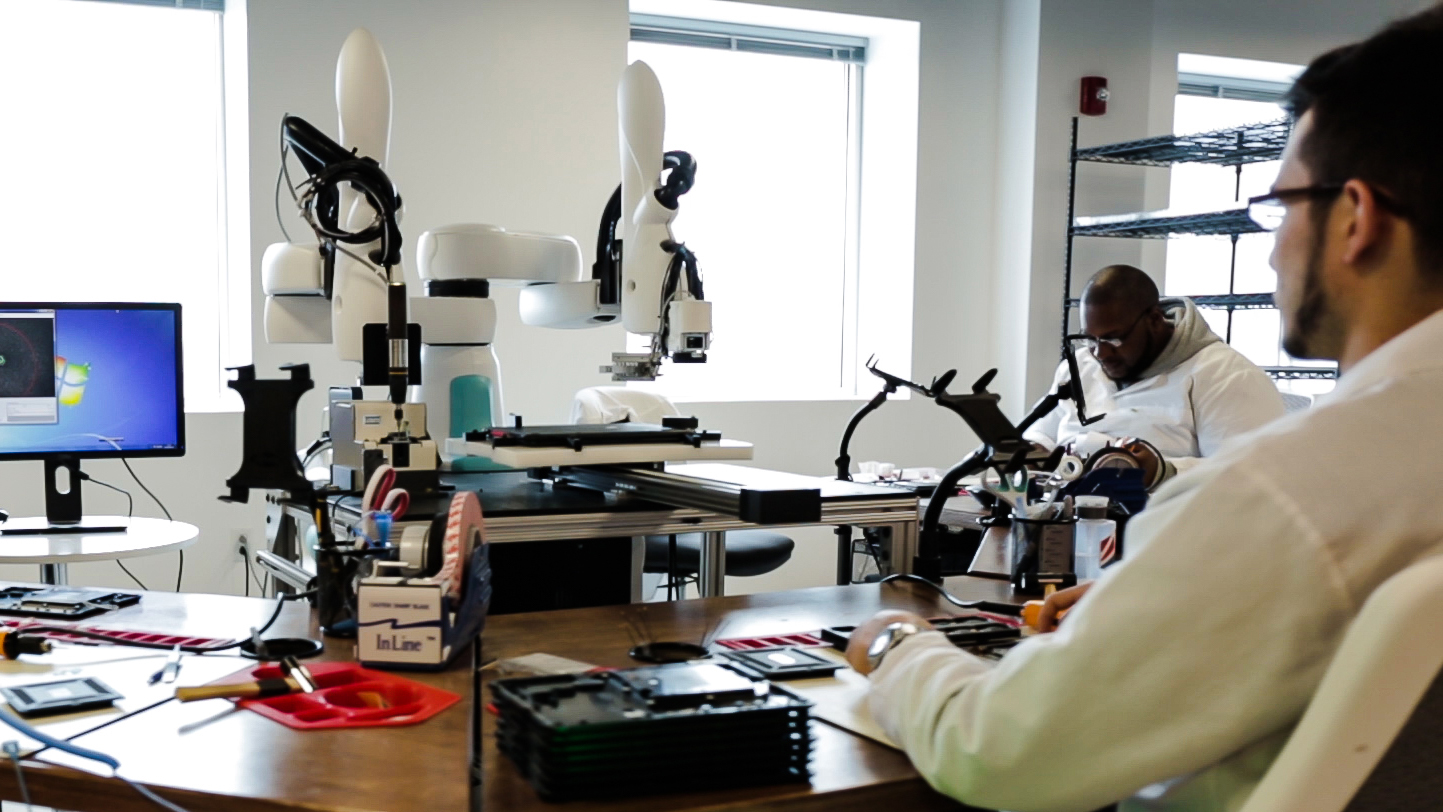 Technicians and a dual-arm robot work collaboratively to build computers at this consumer electronics startup in Buffalo, New York. (Courtesy of Bak USA)
Dedicated to high quality and affordability, Bak USA builds 2-in-1 laptops for K-12 classrooms, with the belief that every student has the right to high-tech learning opportunities. They also make rugged tablets for the everyday worker, whether they are in the factory, on a construction site, or our men and women in blue.
All the while, Bak USA believes strongly in taking care of their own "working class." A people-centric business model means they put their employees first – always.
So what does an unconventional company do to rock the boat? They adopt a robot. Not only their first robot, but their first piece of serious automation on the production floor. And not just any robot. A robot free of the safety "cages" typically associated with traditional industrial robots. Disruptive technology times two.
Cobot Campaign
This was a new frontier for Bak USA. They had always put people first. Now they were introducing a robot to the mix. It turns out, they had some help sowing the launch.
Buffalo Manufacturing Works operated by EWI is an engineering consulting organization established by a New York state development initiative. Bak USA brought them onboard to help the startup evaluate their production processes for out-of-the-box solutions.
And boy, did they go outside the box.
"Nothing was off the table," says Matt Malloy, Director of Advanced Manufacturing at Bak USA. "We looked at everything from an AMR (autonomous mobile robot) that would drive parts around, to flying drones through the building that would drop off parts."
It was Buffalo Manufacturing Works that introduced the idea of a collaborative robot, or cobot.
"We looked at everything we do as a business and said where can we have the biggest impact?" says Malloy. "We had the luxury of a leadership team that was very much in favor of saying we are new in the industry, we want to make an impact, we want to do right by everyone who works here, we want to make people's jobs exciting and interesting and comfortable, so we're willing to explore. It's the benefit of a company that is very strongly behind what it wants to do technically and socially."
Bak USA's social mission is behind everything they do. They wanted to relieve their technicians from an ergonomically challenging task, while increasing production efficiency so they can continue making high-quality, affordable electronics for young minds and the workforce.
"If you can imagine working with tiny, mobile device-sized screws all day," explains Malloy, "trying to hold them with your fingertips and get them on the tip of a screwdriver, and put them in, and get the right torque. It's a difficult part of the process."
The Kawasaki duAro dual-arm SCARA robot was deployed to ease the load. After a few months of testing, the system is now in full production.
The production process involves technicians seated around the robot in a semicircle. Each technician builds a computer device from start to finish within their own station. When the device is ready for screws, the technician initiates a quick process that shuttles the device to the robot. The robot inserts the screws and drives them in, and then the device is shuttled back to the technician for additional assembly if needed.
Since there may be five technicians feeding devices to the robot at any given time, if the robot is busy installing screws in one device, the other device waits in the cue for its turn. Meanwhile, the technician can be building the next device.
Each arm on the dual-arm cobot is equipped with a vision camera and a torque-feedback electric screwdriver. Machine vision is used to confirm placement of the screws in the assembly. It also helps determine which screw sizes to use for different devices. A screw feeder presents the screws to the robot.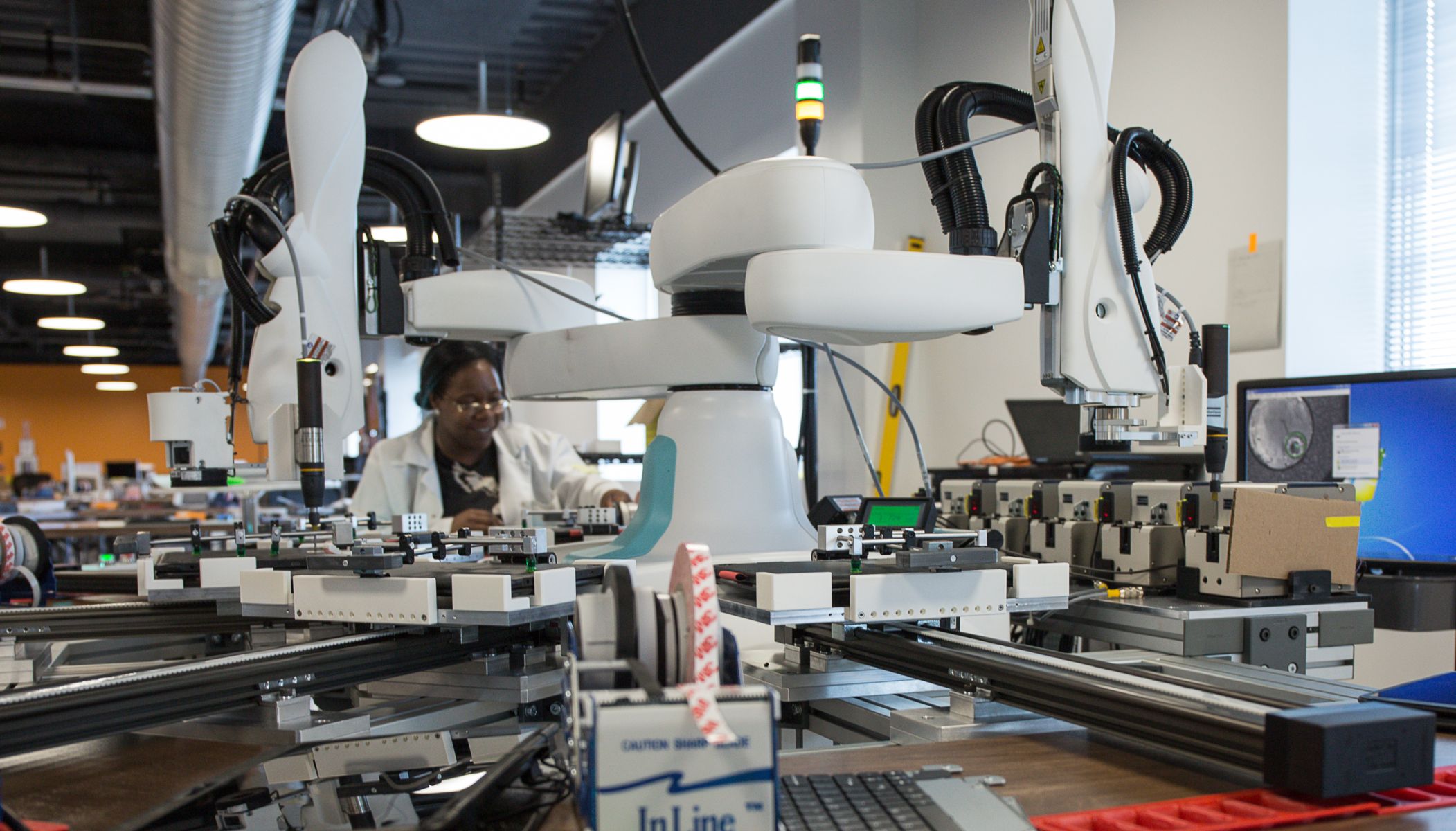 A dual-arm SCARA robot equipped with a screwdriver and a vision camera on each arm assists technicians with production by inserting and driving screws into computer assemblies. (Courtesy of Bak USA)
While the robot is definitely faster than a human performing the same operation, Malloy says that's not the key consideration.
"More importantly, it's taking away a step that nobody building the device wants to do."
Bak USA looked at other collaborative robotic systems. They chose the duAro robot for its precision, small form factor and inherent safety, among other considerations.
"The duAro was a good fit because of how it moves. It's a two-arm cobot, which makes it really nice," says Malloy. "You can work on two devices at once or run it in various ways. The controls and the sensors and the feedback on the system are great. And the system itself is padded, so even if it does bump into you, it's like a cushion hitting you."
People First, Safety First
The duAro robot was designed with the harmonized ISO 10218 and ANSI/RIA 15.06 robot safety standards in mind for collaborative operation says Samir Patel, Director of Product and Advanced Engineering for Kawasaki Robotics (USA), Inc. in Wixom, Michigan.
"For the highest level of safety," explains Patel, "Kawasaki has a hardware and software package called Cubic-S, which monitors the workspace and speed of each arm."
Low-power motors, less than 80 watts according to Patel, coupled with a soft-cushioned body and speed, force, and work zone monitoring enable the duAro to safely collaborate with humans. A collision detection function instantaneously stops the robot's movement in the unlikely event of a collision.
Bak USA had initial concerns about safety, mostly because of the newness of the technology. They worked with external companies to help assess safety and provide training courses for their workforce. Malloy says they probably went overboard in terms of safety.
"For now, just to be extra safe, we have light curtains in front of every workstation. We have safety mats behind each tool, so no one can walk near it, even though it is a collaborative robot. We have dual touchpoints for safety control, so nobody can load or unload a device with their hands in the way."
If someone or something does breach the light curtain or trigger the safety mat, the robot comes to an immediate stop.
"Buffalo Manufacturing Works has been able to develop the system for us in such a way that it's so fast to reset," says Malloy. "In my experience, whenever interlocks or those types of things were triggered, it was always a complicated process to get it back to an operational state. Here, they've put so much thought into making it safe and easy to use, and easy to troubleshoot."
Ease of use is a common theme we hear with cobots. For many, "teaching" has replaced programming.

Easy to Teach
Kawasaki provides three options for programing the duAro. The lead-through teach function allows you to grab one of the robot's arms and physically move it to the desired point, and then record the point on the programming tablet. You repeat these steps for each point to teach a complete path.
The second method involves using an Android tablet, which wirelessly connects to the duAro robot controller, to jog the robot in joint, base or tool coordinates. The third method is for advanced users programming complex applications. A laptop may be connected to the duAro controller to program the robot using Kawasaki's advanced text-based AS language.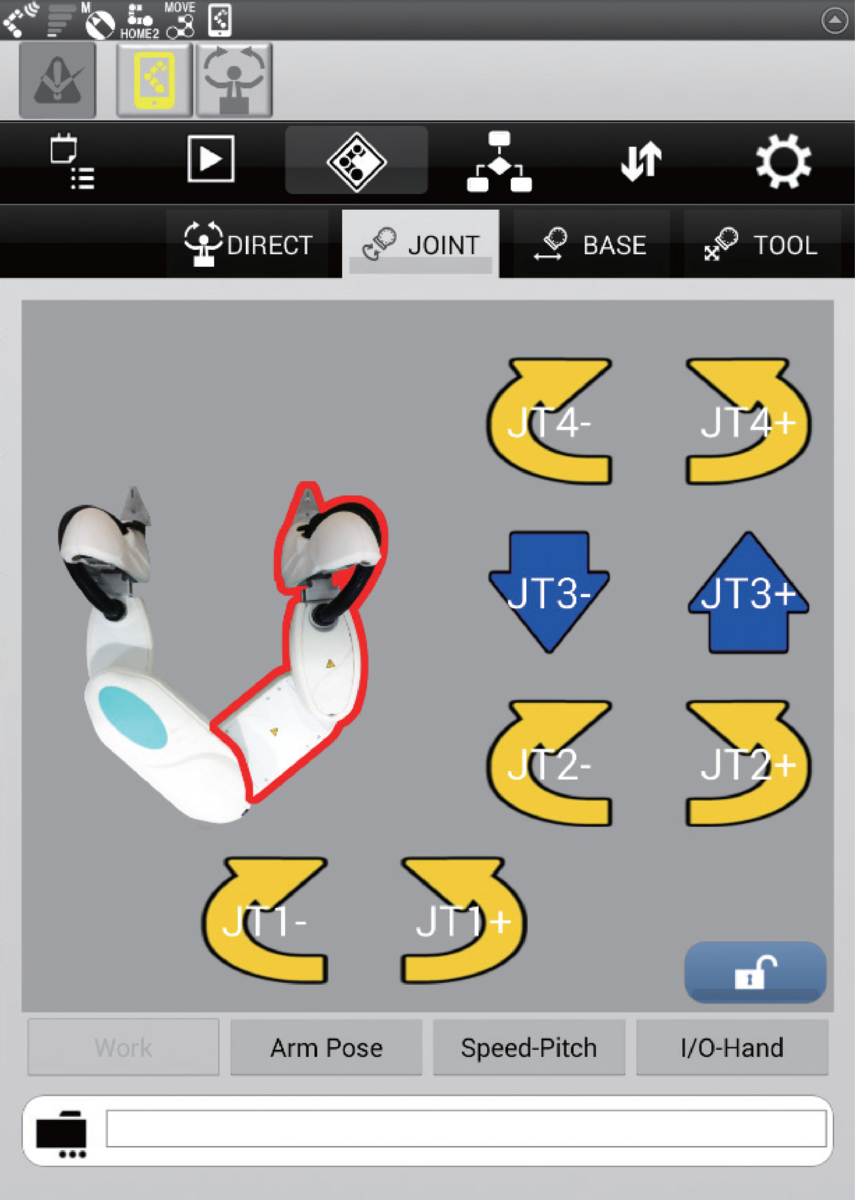 Tablet user interface offers intuitive touch features for collaborative robot programming. (Courtesy of Kawasaki Robotics (USA), Inc.)
After experiencing how intuitive the lead-through teach feature is, Malloy says he can't imagine having to teach a robot with a teach pendant, which is how most traditional industrial robots are programmed.
An advantage of the duAro is that the two arms can be taught to work independently performing different tasks, or their movements can be coordinated to perform a task together. Kawasaki's Patel provides examples common in electronics manufacturing.
"In many electronics assembly applications, it's necessary to fixture the parent part for precise positioning before assembly. With the duAro, one arm can hold the parent part in position while the other arm does the assembly application, like screw fastening or gluing."
The arms can also coordinate to carry a larger load, such as a printed circuit board. With the robot's coaxial design, the two arms share a common axis, Joint 1, so they can rotate completely from the front to the back of the robot. Each arm can handle a payload of 2 kg. Coordinating, they can carry 4 kg. Bak USA uses the dual-arm functions independently or in a coordinated fashion as needed depending on their production requirements.
Preparing Your Workforce for Cobots
Contributing to Bak USA's successful adoption of collaborative robotics was early involvement by their workforce. Before even starting the project, they got their technician team involved.
"We worked closely with Buffalo Manufacturing Works and we had them work with our technicians to understand our process and what works and what doesn't," says Malloy. "We did field some of the typical questions, like why add a robot and what does this mean for my job? But we kept everybody in the loop throughout the whole process.
"We had multiple occasions to get them involved, even if it's as simple as having people take pictures with the cobot. By the time it got here, people were excited. The first day they were using it, people were asking, when is the next one coming? You can't even imagine the smiles on people's faces the first time we all saw this thing running and the five people that were thrilled they were the ones doing it."
The unveiling was indeed a company-wide celebration. Watch it unfold.
The program has been so successful that Bak USA has two more duAro robots on order.
"The first day we had it in production it exceeded our expectations," says Malloy. "Then we were very quickly breaking records internally. We're in the process of commissioning our second and third system right now."
Bak USA has nearly doubled in size over the last 12 months, adding 48 new jobs. The two additional robots will increase the number of technicians using the systems.
"We have a lot more people on the manufacturing floor. We have enough people now to run all three systems. And we're still hiring."
The Future of Co-Automation
As for the future, Bak USA plans to spend some time improving current systems. Malloy says they have learned a lot from this process, especially what they can add to the system or change to make it better.
"When we started it was just by hand. There was no co-automation. Now we're rethinking how we design our products to take into account those design for automation features."
One of Bak USA's biggest challenges you might find surprising.
"The duAro works great. The system integration works great," says Malloy. "But some of the seemingly more trivial things like trying to keep a very small screw on the end of a screwdriver bit while it's moving, that has proven to be one of the most challenging things for us."
But the biggest lesson Bak USA learned?
"Nowadays, everyone is saying if jobs aren't somewhere else, then they are being taken away by robots. We wanted to prove that doesn't have to be the case. We want to show the industry that this can be done in a way that allows you to add automation and also create jobs at the same time, and make a good work environment. The biggest positive lesson learned isn't even the technology, it's the fact that we proved to ourselves that you can do that."
Cases like Bak USA's prove that it doesn't have to be all or nothing. Automation and people can coexist. Humans and robots can work together, safely. Not just as coworkers, but as collaborators.
Co-automation is also moving into automotive final assembly, an area that's typically highly manual. Using a FANUC CR-35iA collaborative robot (pictured), with its 35-kg payload capacity, Esys Automation developed a collaborative robotic system that applies urethane to automotive rear quarter glass.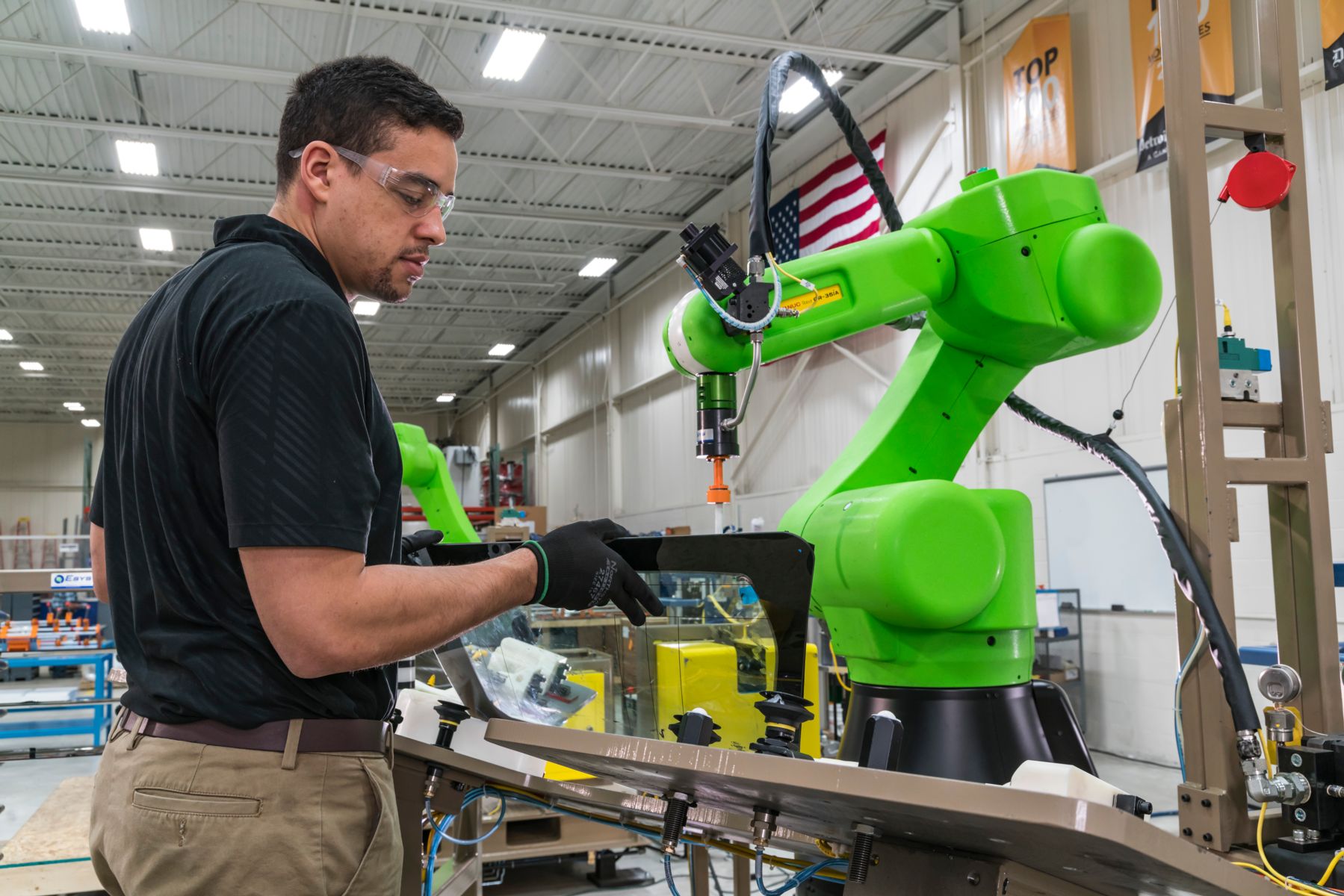 A collaborative robot applies urethane to automotive rear quarter glass without the need for traditional safety guarding between the operator and robot, effectively saving valuable floor space. (Courtesy of Esys Automation)
The customer required the consistent quality of robotic urethane application, but lacked sufficient floor space for an enclosed cell with traditional safety guarding between the operator and robot. Esys was able to reduce the footprint by half and create a process where the operator works hand in hand with the collaborative robot. Watch it in action.
Now watch these inverted six-axis collaborative robots from AUBO Robotics working side by side with their human coworkers on this valve-testing production line. Humans and robots can coexist, even if the robots are upside down.
These six-axis cobots, the dual-arm SCARA, and even the larger 35-kg payload robot are all collaborative power and force limiting robots (PFLRs). These types of specialty industrial robots have inherent limits on their speed and the forces they can exert, and the payloads they can handle. In most cases, these robots can work in close proximity or directly with humans without the need for safety fencing or other peripheral safety devices.
Human-robot collaboration, however, is not reserved for PFLRs. High-payload and high-speed robots can get in on the action. You just have to think outside the box.
RIA's new whitepaper on Collaborative Robotics End User Applications profiles several types of collaborative robotic applications deployed at a wide variety of companies. Get the download.
Heavy-Duty Robots, More Collaborators
One startup is developing technology to make it easier for humans and high-performance robots to coexist and collaborate.
"We believe humans and robots have very complementary strengths and a lot can be achieved by allowing them to work together collaboratively," says Clara Vu, Cofounder and Vice President of Engineering for Veo Robotics, Inc., in Cambridge, Massachusetts. "There are tasks throughout manufacturing where human dexterity, judgement, and flexibility can be effectively combined with the strength, speed, precision, and repeatability of robots.
"Power and force limiting robots are clearly an important step, but they only solve a piece of the problem," says Vu. "We're seeing customers coming to us with applications where, for example, they want a robot to pick up a heavy part and hold it in a particular location while a worker performs an operation on it."
Vu sees a lot of demand for a system that can leverage a standard industrial robot's incredible power, speed and submillimeter precision, but have the ability to work collaboratively with people. Veo's cofounders have their sights set on tapping into that demand.
Established in 2016, the startup secured seed funding from Siemens Venture Capital (now next47). Last October they hit the ground running with $12 million in Series A funding from GV (formerly Google Ventures) and Lux Capital.
Veo seeks to bridge the gap between humans and robots by helping robots better perceive their surroundings and be able to "understand" what's going on in a workcell. Watch a demo of the Veo system with an example of a human collaborative application with a high-payload industrial robot assembling white goods.
"The way our system is different from setting up a laser scanner, for example, and hooking that up to a functional safety unit, is that our system understands what's going on in the workcell and understands what the robot itself is doing. We're doing that in 3D, which makes the system much more flexible and able to react to someone reaching out a hand versus stepping into a workcell."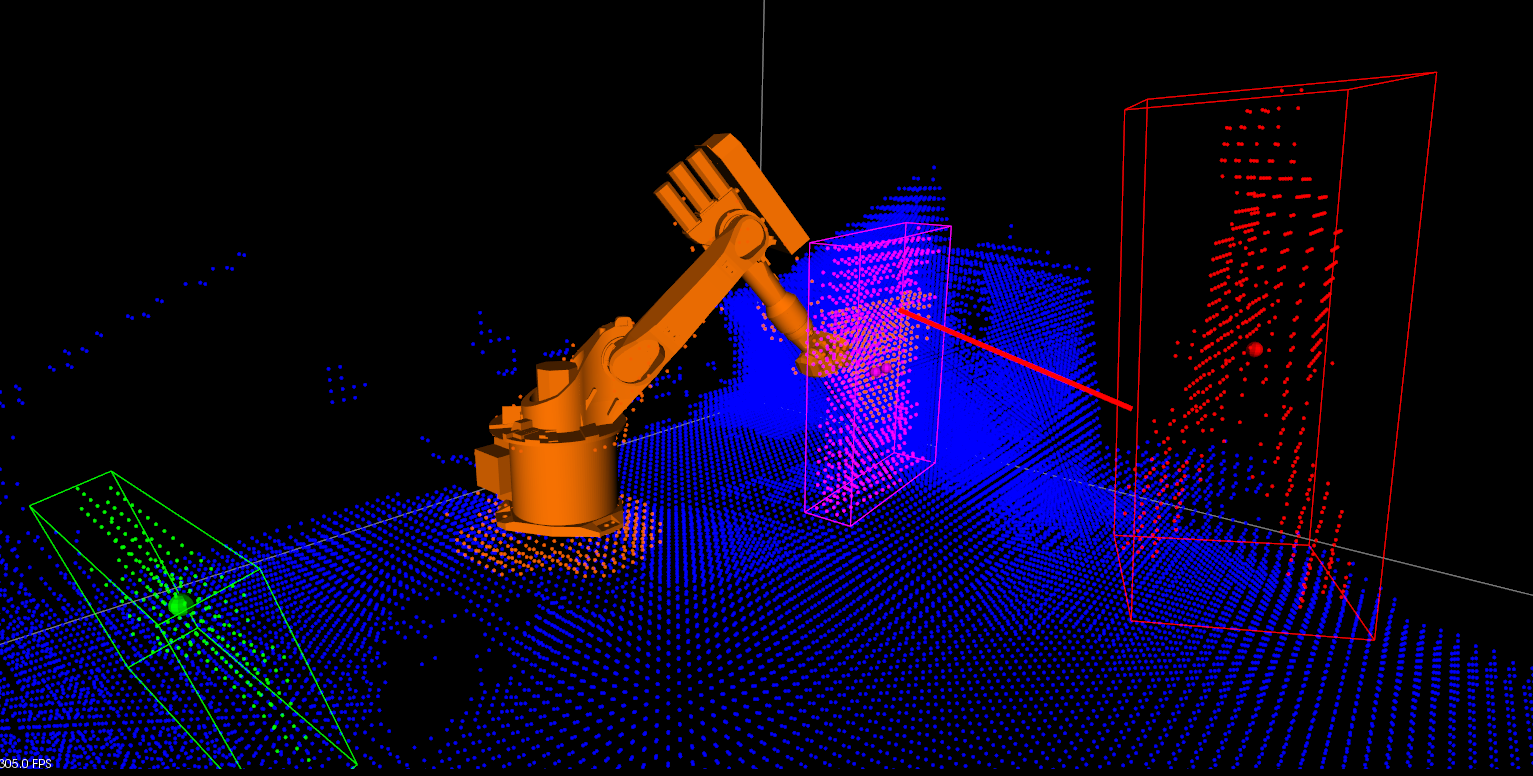 Screenshot of software user interface that continually monitors a human-robot collaborative workspace for safe operation. (Courtesy of Veo Robotics, Inc.)
Veo's system is a combination software-hardware solution. Vu explains.
"Our system hardware consists of custom, safety-rated time-of-flight (ToF) sensors that send data to a high-performance, embedded computer that runs our computer vision and robot control algorithms. The computer lives in the workcell and communicates directly with the robot controller."
The system is designed to work with any robot from any of the major manufacturers. It will ship with four depth ToF cameras, which Veo expects to cover most manufacturing workcell applications, although Vu says they are building the system to be configurable up to eight cameras for more complex environments.
"Our system can track robots, workpieces and people through the scene and know if the situation is safe based on where those objects are."
More importantly, if a camera's view becomes occluded for any reason, the system defaults to the safest position. The system will only allow the robot to move if it can be sure that the movement of the robot is safe.

Veo is already working with a number of partners, including automakers and their Tier 1 suppliers. They are also looking at applications in material handling, metal manufacturing and appliance manufacturing, areas where humans and robots still tend to be separated.
"Today, when a manufacturing engineer designs a process, they're thinking is this a manual process or an automated process?" says Vu. "What we really want them to be able to do, and what we're seeing demand for across the board, is to say what elements of this process should be done by a person and what elements should be done by a robot."
It's the essence of human-robot collaboration. Applying the unique strengths of each and bringing them together for the optimal solution. Co-robotics is revealing itself in interesting ways on the factory floor.
Exoskeleton Vest
What could be more collaborative than a robot you wear on your body? Exoskeletons have one of the most intimate relationships with humans. The only devices that surpass that level of collaboration are robotic medical devices that work inside the body (RIA will cover surgical robots later this year). Last December, we explored the realm of rehabilitation robotics where exoskeletons are changing people's lives.
Now we'll take a look at an exoskeleton for the industrial space. Assembly line workers at Ford Motor Company are donning the EksoVest, an upper-body exoskeleton made by Ekso Bionics in Richmond, California.
You might not think of exoskeletons as robotic, especially unpowered exoskeletons like the EksoVest. But researchers around the globe are constantly exploring alternative means of actuation that are often more affordable, lighter, safer, and yes, unpowered.
ABI Research includes unpowered exoskeletons in their report on robotic exoskeletons, predicting the market to hit $1.8 billion by 2025. Industrial exoskeletons are expected to represent some of the strongest growth.
Ekso makes unpowered exoskeletons for the industrial arena and powered exoskeletons for rehabilitation applications. Ekso makes a good case for unpowered exoskeletons, especially for upper-body support (more on this in a moment).
"Foundationally, exoskeletons have to be collaborative because you're putting a device onto a human body and if they don't work together to perform the intended task, the human will reject the device," says Claire Cunningham, User Experience Manager at Ekso.
"We want to complement and support the user to do their task versus inhibit them," she explains. "Especially with the EksoVest, which is designed for all day use. We have people wearing it 8 hours a day on the automotive line, so comfort is of utmost importance. That's a really hard challenge to drive force into the human body and make it comfortable at the same time."
The EksoVest is designed to elevate and support a worker's arms in order to assist with tasks ranging from chest height to overhead work. The vest weighs just under 5 kg, but you don't feel the added weight because it's distributed over different areas of the body. It supports up to 6.8 kg per arm.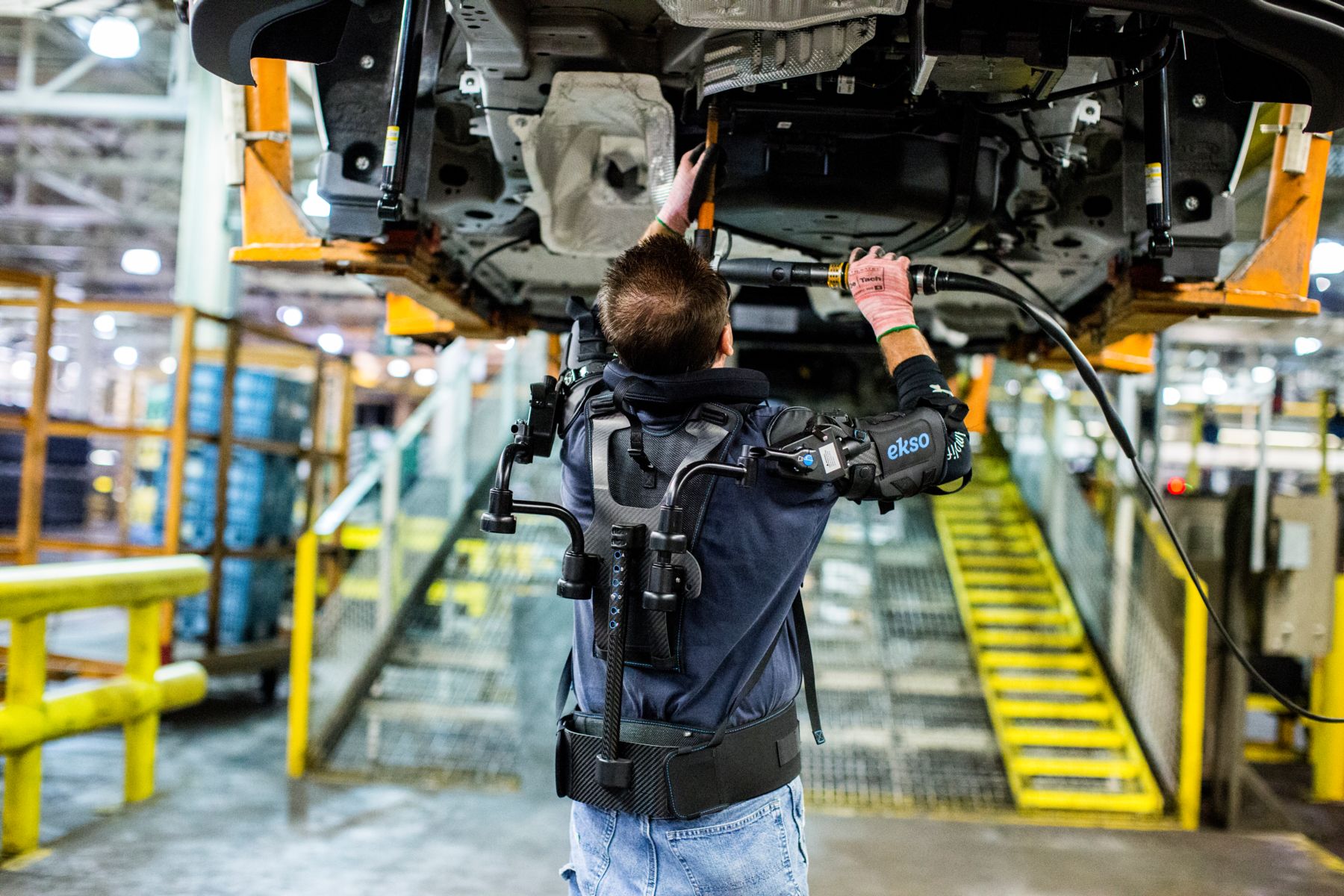 An exoskeleton helps support a worker's upper body while he performs repetitive overhead work drilling underbody car panels. (Courtesy of Ford Motor Company)
"You don't have to think about it when you're wearing it," says Cunningham. "A hip belt transfers a lot of the weight of the device into the user's hips and pelvis, which can take that load. Also backpack straps and arm cuffs channel the force coming from the actuator and spring system, and then transfers it into the arm in a very strategic way. You can hold a tool up to 15 lb. (6.8 kg) in your hand and it will support that all day."
Wearable Co-Robotics
Ekso is quick to point out that their vest is not a lift-and-carry assistive device. It's not meant to give you superhuman strength, a common misconception about many exoskeletons.
"This is a marathon device versus a power-lift device," explains Cunningham. "It will help your endurance and you will really notice the benefit after a couple of days. You will have more energy and your arms will be less tired, and you will feel better. Our goal with this device is to prevent injury that is commonly seen on jobsites where you're working overhead all day."
As you begin to raise your arms, the mechanical actuator kicks in and starts to provide a little boost for your arms. Applications include any type of repetitive overhead work like underbody panel drilling on automotive assembly lines, or exhaust system installation. The vest could also be used in construction environments where workers are performing overhead plumbing and electrical work, industrial painting, acoustic panel ceiling installation, and industrial sanding.
Ford has been piloting the EksoVest for just under a year and beta testing all the different iterations of the device. Cunningham says the partnership with Ford has provided helpful insights into how the exoskeleton works on the job. Check out the EksoVest at Ford.
"We've taken the feedback from Ford and various other pilots, and put that into design changes. Now we're working toward distributing these vests to the market."
The EksoVest can be personalized. The soft goods, which include the hip belt, arm cuffs, and backpack straps come in different sizes. You can also change the amount of force that is provided to the user by adjusting springs within the actuator.
"We can also adjust the actuators independently of each other," explains Kevin Dacey, Lead Engineer on the EksoVest project. "For example, if someone is drilling underbody panels on a car line, they could have a drill in one hand and in the other hand they are usually handling nuts and bolts, so they may want more force on the driver arm and less force on the other arm."
There is clearly some intelligence engineered into this device, but it's purely mechanical. Unlike today's industrial robots which are electromechanical machines, these are passive devices. No motors. No electricity.
"Not all exoskeletons have to be electrically or battery powered," says Dacey. "The mechanical design is more affordable, more durable. In the industrial space, these workers are wearing the vest 8 hours a day, 5 days a week. They don't want to have to remember to charge it every night."
"It requires a lot less power to mobilize upper extremities than the lower extremities," explains Cunningham. "With our rehab exoskeleton, it is an electromechanical device and it takes an incredible amount of torque to bring someone up from sit to stand. It's almost overkill to have electromechanical power for an upper-body exoskeleton."
Robotic exoskeletons are still a new frontier. Cunningham says the field is constantly evolving.
"You're going to see a lot more mechanical exoskeletons out there, because they are a lot more affordable. With affordability, will come accessibility. Mechanical exoskeletons are the solution for the everyday person. We envision in the next 10 years that there will be an exoskeleton in every single home. Your DIYer will be able to buy one of these at their local hardware store. That co-robotic relationship in the near future will be a mechanical one."
Mechanical, electromechanical, hydraulic, bio-inspired. Robots come in all configurations. Just like we do.
Teammates
Hang out in the robotics field long enough and you start to see things differently. You see the trials and failures, the setbacks and successes, and your eyes are opened wide. You marvel at the progress, but also begin to understand more clearly the challenging road ahead.
You become acutely aware of the amazing capabilities of the human body and mind. More astonishing, you find yourself crediting robots for helping you appreciate the truly unique faculties humans possess and take for granted every day. Our creativity, imagination, perception, dexterity, and incredible capacity for empathy and critical thought.
How can robots ever compete? They shouldn't have to. We're more powerful as a team.
RIA Members featured in this article:
AUBO Robotics
Esys Automation
Kawasaki Robotics (USA), Inc.
Veo Robotics, Inc.
Service Robots
This content is part of the Service Robots curated collection. To learn more about Service Robots,
click here
.