Closing the Skills Gap in Automation: A Call for Action
POSTED 04/30/2015
 | By: Tanya M. Anandan, Contributing Editor
Manufacturers are adopting more automation than ever before. For many, it's no longer a question of whether to automate, only when and to what extent. With wages offshore rising, robot prices down and performance up, robot sales are at an all all-time high.
Meanwhile, an aging workforce moves closer to retirement. Misconceptions of manufacturing as crude and demoralizing persist. Women and other minorities are still underrepresented. The skills gap is growing. Demand for automation talent outweighs supply.
The result over the next decade according to a skills gap report by Deloitte: 3.4 million jobs, but only 1. 4 million qualified workers. It doesn't take a mathematician to see the huge disparity here.
This is a call for action. A panel of automation professionals has weighed in, sharing ways to bridge the skills gap, recruit talent, and prepare our future workforce.
As one industry expert put it so aptly, "If a robot can take your job, you need to up your game." As an industry, we need to up our game. We need to provide access to the hands-on training, educational tools, and early childhood STEM building blocks integral to shaping our technical talent.
When they said it takes a village, it does. It takes automation suppliers and users, colleges, technical and career centers, government, parents and teachers, mentors and volunteers … all working together. It won't happen overnight. A problem three decades in the making will take time to correct, to shift that trajectory in the right direction and fill the gap. Some are already on the right track.
The Great Divide
Recruiting top talent is an ongoing challenge when you're one of the largest private job creators in the Buckeye State. Intelligrated has experienced rapid growth. The RIA Certified Robot Integrator has manufacturing facilities in its Ohio headquarters, Missouri and Kentucky, and is planning its second major expansion in just two years.
"We have engaged with various universities and established a relationship with our hiring management staff," says Matt Wicks, Vice President of Product Development, Manufacturing Systems. "For instance, I sit on a corporate development council at the Missouri University of Science and Technology. These kinds of relationships allow us to provide feedback regarding the skill sets that we see coming out of these programs, and share the challenges that we're having. Maybe there's an opportunity to adjust the curriculum."
Machine vision expertise is one of those skills sought after by many robot systems integrators, especially when they are on the forefront of growing demand for material handling automation.
"Basic computer vision has been applied in the material handling field for awhile, but we're seeing more advanced types of solutions," says Wicks. "We provide that feedback to the university and then also look at recruiting those types of resources to solve problems we haven't been able to solve before. We're primarily looking for four-year, master's and PhD candidates."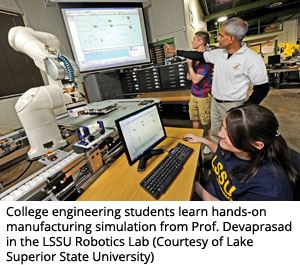 Wicks says the company's heavy interest in research and development influences the high degree of education and skill sets needed to develop advanced solutions. It's also application-driven given Intelligrated's focus on material handling and logistics.
"In an environment where automation is used to do basic case packing, I might not need a PhD-level candidate to be able to solve that problem, because we've done it before," he says. "But robotics in warehousing and distribution is relatively new and some of the challenges in that space are unsolved, and so the skill sets involved are greater than what we would necessarily require to iterate on a known solved problem."
According to Wicks, there are two kinds of skills gaps. You have the kind internal to an individual organization. Then there's the gap represented by where the marketplace is going and the skills needed to address technological advances. Sometimes they converge, but not always.
"At Georgia Tech we have a large graduate program, both master's and PhD," says Henrik Christensen, Executive Director of the Institute for Robotics and Intelligent Machines, and Professor of Interactive Computing at Georgia Institute of Technology in Atlanta, Georgia. "We have about 150 students in that program, which implies that we're getting 40 to 50 people out every year."
Rethink Community Colleges
"But if I look at the general discussion about jobs and education, the big economic growth is not going to come out of the universities," says Christensen, who is also Founder of the Robotics Virtual Organization and key contributor to the U.S. Robotics Roadmap. "It's going to come out of the community colleges. I see the general shift going from unskilled labor to operators on the line that must have some minimum degree of education, but they don't need a four-year college education. So the big numbers are going to be in those community college educations where you get a two-year degree."
"We need this for all the big factory lines, and I'm seeing lots of factories," says Christensen. "The best example we have in the Southeast is Airbus, which is building a factory in Alabama. Mercedes is building a new factory. Kia built a factory a few years ago. Porsche just moved its North American headquarters to Atlanta. We're seeing tremendous growth in automotive, electronics, aerospace and in general industries. That's where I see the big economic lift. But we have to make sure we have enough people with a certain degree of education that can be machine operators."
"They need to be able to operate robots and do some basic programming," he adds. "If they can do this, they can be very valuable contributors."
"We're trying to build relationships with a number of community colleges in the Southeast, and would like to see a partnership between companies and the community colleges to get this education out there," says Christensen. "We can then help the community colleges design curriculum that's targeted."
The state of Georgia is helping. Christensen cites the Kia Georgia Training Center as an example. Kia got a boost from the state's Quick Start workforce development program as described in this article.
"Kia went to the state and said you have a lot of people in our region but none of them have machine tending, machine programming, or machine operator expertise," says Christensen. "You need to build a college next to our factory that can train people so they can get certified. The state of Georgia actually did this to make sure they got the right sort of skill sets into play, and that's been very successful."
Many industrial employers recognize a need for both two-year and four-year programs depending on the automation skill sets needed. Applied Manufacturing Technologies (AMT) is an RIA Certified Robot Integrator based in Orion, Michigan, specializing in robotic automation engineering and integration for material handling, machine tending, assembly, and welding applications. AMT recruits from community colleges and universities.
"Oakland Community College's robotics and automation program is very good," says Diane Haig, the integrator's CKO. "It's not a four-year degree. It's an associate degree, but we've had some very successful people come out of that program."
"Automation engineers (typically four-year degrees) have exposure to and an understanding of how the different engineering disciplines go together to make automation a possibility," says Haig. "They're familiar with the electronics, the control system, the robots, the mechanical design and some of the software tools that are used in automation."
"Coming from a community college, they may be well-versed in one of those disciplines," she says. "We've had people start from the two-year program and develop very quickly and work their way into automation engineer positions."
AMT also heavily recruits from four-year engineering programs like those offered at Lake Superior State University (LSSU) in Sault Ste. Marie, Michigan.
"A good engineering program will train you to be able to innovate, design and create good options for applying technology to solve problems," explains Jim Devaprasad, Professor in the School of Engineering and Technology, and Director of the LSSU Robotics Center. "A robotics engineer, for example, can come up with a quick way to use 3D vision with appropriate lighting to solve an assembly problem. They come up with that design and a game plan. Then they rely on technicians to actually build the fixtures, wire the PLC, program the robots, assemble them and install them. Both functions – engineer and technician – are important."
Industrial Robotics Concentration
LSSU is a public university located in the Mitten State's eastern Upper Peninsula. It offers bachelor's degrees in mechanical, electrical, and computer engineering, each with an option for robotics concentration. The robotics minor is also available as an option for students pursuing degrees in manufacturing engineering technology and electrical engineering technology. All five degrees with the robotics minor provide hands-on experience with industrial robots.
"We want our graduates to have the breadth and flexibility to go anywhere in the country in any industry with a recognized engineering degree, but then we're probably the only university in the nation to offer a concentration in industrial robotics and automation," says Devaprasad. "These grads can design and implement innovative robotics and automation solutions for manufacturing. This is an area with dire need."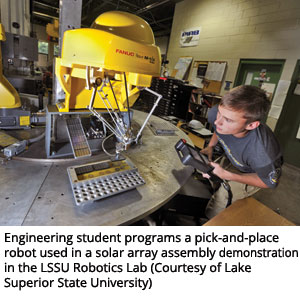 Devaprasad says they typically graduate between 20 and 30 students with this robotics concentration. Graduates end up working for robot manufacturers, robot system integrators, or robot end users such as GM, Ford and Boeing.
"We don't have any lab robots here. These are all expensive industrial systems," says Devaprasad. "It's hard to get the funding, because we don't have the big endowments like some universities. Also, you can't have large class sizes if you're going to achieve what we're trying to do, which is give our students a one-on-one experience with the systems."
He says their lab size is typically 8 students with a maximum class size of 12, so they get "knee deep" into problem-solving robotics and automation applications. Recruiting companies provide funding and equipment.
"We're able to pull it off because we have phenomenal industrial support through alumni and potential employers who see the value," says Devaprasad. "More than that, our biggest asset is the longevity of how long we've been in the business of training grads with robotics experience. Since we were the first university in the nation with a robotics program in 1984 (back then LSSU had an actual robotics degree), we have over 30 years of alumni out there, specific to industrial robotics."
"We've identified focus areas in automation that we believe industry values based on our alumni and employer input, including robotics programming, robotics systems integration, robotics controls, robotics kinematics, PLCs, machine vision, simulation, and flow line analysis and optimization."
Hands-On, Real-World
Opinions differ widely on where the gaps are and what skills are needed. But no one disputes the need for hands-on training.
"All of our seniors have to go through a year-long program called Senior Design Project Experience," explains Devaprasad. "For the most part, these are projects sponsored by industry. Right now we're involved in a senior design project with HIROTEC AMERICA. They have given us a specific set of project objectives that a team of five engineering and engineering tech students are working on. It's using FANUC ROBOGUIDE software in innovative ways for simulating and designing robotic systems."
Devaprasad says the senior project is valuable experience because it provides students with the opportunity to work on a "professional-type project" as they transition from academia to industry.
They learn timelines. They do budgeting, project planning, and all the soft skills that come with it. But it also turns out to be an awesome opportunity for faculty to professionally double-up and keep ties with industry."
He says it's a win-win for students and sponsoring companies. Each student gains real-world experience, while the companies get useful project outcomes and a preview of potential hires.
"Lake Superior State's program is definitely hands-on and very much in the applied (engineering) direction," says AMT's Haig. "You don't necessarily see that at many other colleges. The students get real-world experience in their senior projects. We like the small class size and we like the rigger. Their students are ready to work when they leave that program."
This video shows a solar array assembly demonstration with four FANUC robots mounted on a rotary index table. Sponsored by AMT, the work cell was not only designed, constructed, and integrated by LSSU engineering students for their senior design project, it now has a permanent home in the robotics lab as an educational platform to train future LSSU students.
Haig says AMT looks for candidates with a strong work ethic and good problem-solving skills.
"Because of the time that Lake Superior State students spend in the lab and working in teams, they have to develop a good work ethic in order to survive in that rigorous program and they have a lot of technical challenges that they are faced with, so they need to be able to solve problems," says Haig. "They not only interact with the university professors, but also with industry, so they learn how to deal with customers."
Academia–Industry Bridge
This bridge between academia and industry is vital in developing well-rounded automation professionals. Educators and recruiters are united on that front.
The Manufacturing Innovation Learning Laboratory (MILL) is a hands-on learning environment at Rensselaer Polytechnic Institute in Troy, New York. Undergraduate and graduate students who are taking courses in engineering design, manufacturing processes, and senior capstone design use industry-grade equipment to practice various manufacturing processes. As students work in teams developing a product, they experience the same design, process engineering, technical documentation, and rapid prototyping used in industrial research and development. They also undertake large-scale production runs and experience the challenges associated with quality control.
This video gives you a taste of the MILL environment at Rensselaer.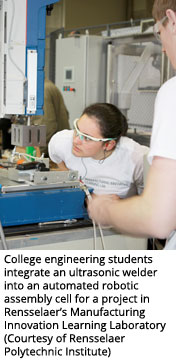 "Pharmaceutical company Regeneron and the second-largest chip fab in the world, GlobalFoundries, are in our backyard," says Professor John Wen, Department Head of Industrial and Systems Engineering at Rensselaer. "They both have automation issues and engage our students from a research perspective as well as from a recruiting perspective."
"Our MILL program really highlights the hands-on experience our program offers to operate injection molding, 3D printer, robotics, and software tools," says Wen. "How to design and operate machines, those are very important skills, but at the same time we teach our students to look at the overall system. For example, how to analyze data to improve process controls and quality. We offer a Six Sigma Green Belt kind of training, as well as quality control types of courses. I think that integrative perspective is really our strength."
Well-Rounded Engineers
Wen says companies are looking for well-rounded engineers with exposure to a variety of disciplines and automation equipment. Soft skills, like strong teamworking, are also important.
"Companies are also looking for communication skills. They want people skills, more soft skills, and engineers who work better in teams. We really emphasize these skills with our students and give them project experience."
"We have courses and research related to social robotics," says Wen. "They may not be so important to our manufacturing environment today, but now increasingly we see with Rethink Robotics and Universal Robots that humans and robots do have to work together. We have NAO (Aldebaran Robotics) and Hanson (RoboKind). These are small-scale social robots. We also have three Baxter robots. In fact, we were the first to put them on wheels."
This video shows Rensselaer researchers using a wheelchair-bound Baxter Research Robot teleoperated by a harmonica-like, breath-driven device to demonstrate how it can provide hands-free assistance for people suffering from quadriplegia or quadriparesis.
Rensselaer's lab is also equipped with traditional industrial robots from Stäubli, Adept, and Yaskawa. A $1 million expansion is planned for the MILL facility to build a second floor to accommodate growing student demand and additional equipment.
Leading the university's advanced manufacturing research program is the Center for Automation Technologies and Systems (CATS).
"For the CATS, part of our funding comes from New York state to do economic development, so the focus is to help companies, generally small and midsized companies, but sometimes multinationals. We work on all kinds of industrially relevant robotics and automation projects," says RIA Board Member and CATS Sr. Research Scientist Steve Rock. He shares a unique success story.
"Glen Hoppes started as an undergrad student here and then he moved on to our graduate program. He worked on manufacturing process development in Rensselaer's lab for BASF Fuel Cell, and ended up with patents for it and doing robotics work related to it. Then he followed the project to the integrator in Rochester and oversaw the build and runoff of the pilot fuel cell manufacturing line. It was eventually flown over to Frankfurt, Germany, and set up. He followed the project there and worked at that facility for a number of years."
"That's probably the best-case scenario," says Rock, "to see a student that has gone all the way from the germ of an idea to implementation, to commercial production, and stayed with it that entire time."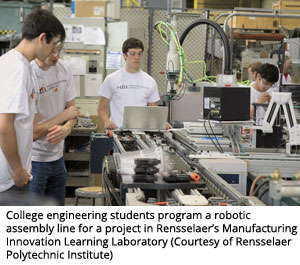 "The multidisciplinary design lab, the Capstone class, and the MILL all have industrial sponsors to help fund those programs and the students' projects," says Rock. "Then the sponsors also come in and contribute time to bring industrial relevance to what the students are learning. One of Rensselaer's strengths over the years is graduating hands-on students that are ready to hit the ground running."
Wen notes that the sponsoring companies often hire Rensselaer students as summer interns or co-ops. Rock sees additional benefits as well.
"Think about a recruiter that collects 25 percent of the first year's salary just for connecting two dots," he says. "Whereas here, if a company were to put that money in a student, either through sponsorship in a class or through an industry-focused project at a research center like ours, I think the bang for the buck is a lot better. It's not just the project deliverables, but the fact that you can test drive a student for a semester or two. I think that's a huge advantage. We've seen that happen time and again in the CATS where our students have been working on a project and then end up getting hired by a company they worked with."
Co-op Programs
On the industry side of the academia-industry bridge, Intelligrated has a very active co-op program, which it credits for scoping out valuable talent as well as other important benefits.
"The co-op program gives the students an opportunity to work with our team, and gives us an opportunity to assess their skills while they assess Intelligrated as an organization," says Wicks. "But it also helps us mentor them in their academic careers as to some of the skill sets that will better serve our needs."
Every year during National Robotics Week, Intelligrated hosts students from St. Louis-area colleges and universities. Engineering students are treated to interactive presentations by Intelligrated engineers and tours of the manufacturing facility and Alvey Robotics Lab. Wicks notes the importance of engaging college-level students and showing them how robotics is applied to solve real-world material handling challenges.
"We have over a hundred co-ops (undergrad and graduate-level) active at any one time throughout the organization. They tend to focus on the technical side of our business, which supports a lot of your engineering disciplines and IT disciplines. That is where the skills gap is in the market," says Tom Luers, Senior Director Corporate Human Resources at Intelligrated. "Software engineering is another tough area that's really short in skills right now."
The co-op positions are paid, and depending on the school, the students also get course credit. He says most schools have a formal co-op program. Students usually alternate semesters between attending classes and working full time. For schools that don't have a formal co-op program, the students might work full time during the summer and 20 hours a week during the school year.
"We've found the co-op program to be just an incredible experience for the students and the company," says Luers. "Using a baseball analogy, it's our farm team. We have a very high success rate of converting college co-ops into permanent, full-time employees. We're doing really cool stuff that the kids get excited about and they want to work for us."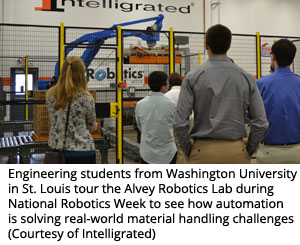 Recognizing that the majority of the engineering population is entering the corporate world from the analytical academic realm, Intelligrated focuses on developing well-rounded students and future employees.
"Soft skills are definitely something we try to cover in our program here," says Roy Nickerson, Senior Manager Corporate Learning and Development for Intelligrated. "We're trying to expose them to experiences that challenge them to grow in the intangibles, like being able to work as part of a team. We define the characteristics of a high-performance team and then give our engineers experiences where they can practice those skills."
"It's incumbent on us to teach them how to work in the corporate world," adds Luers. "Their landscape is no longer academia. It's a corporate technical work environment and they need to learn how to be successful in that environment with the intangibles as well as their highly honed technical skills."
Industry Ambassadors
Georgia Tech's Christensen reinforces the importance of connecting academia and industry. This is where industry ambassadors play an important role.
"We had a student-industry mixer where we invited 25 companies to come in for an afternoon," he says. "We basically had a speed-dating event with 30 students in our graduate program. Every five minutes they were in front of a different company. In some cases they were seniors looking for jobs. In other cases they were looking for summer internships. But also they were looking to build relationships, trying to understand the hot problems in industry, so they can hone their skill set to make sure they are as competitive as possible by the time they enter the workforce."
"We had companies like Cisco and Boeing. We had integrators like Factory Automation Systems and Energid. Then we had robot suppliers like Universal Robots and ABB. Having the full spectrum in front of the students telling them this is what we're doing today and these are the kinds of people we need one, three, or five years out is very inspiring to the students."
Christensen likens it to sports recruiting. The students are naturally inspired and it's more effective than simply telling them what they need to do to be prepared. The participating companies get early access to skilled talent.
Narrowing the skills gap is about nurturing talent and providing the tools they need to hone their skills. As an industry, we need to make sure students have better access to hands-on training tools. One way to do that is to bring the robots to the classroom.
Robotics Education Carts and Curriculum
Most of the major robot suppliers have educational tools they offer to technical and community colleges, universities, career centers, and high schools for promoting STEM education and robotics training. Two of those manufacturers, KUKA and Yaskawa, demonstrated their portable robot educational carts at Automate 2015 in March.
KUKA's new KORE Robotic Education Cart incorporates a KR AGILUS robot in a portable unit on casters. Collapsible walls allow it to fit through standard classroom door frames. Designed to add robotic learning to career technical education programs, the cart comes with built-in safety features, mounting hardware, and KORE course curriculum materials.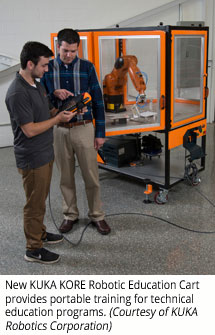 "Our KORE program provides a knowledge-based, hands-on environment and authentic assessment for academia to provide a manufacturer's certificate to its students," says James Cooper, Vice President Sales and Marketing at KUKA Robotics Corporation in Shelby Township, Michigan. "KORE certification joins innovative robot curriculum with career cluster credentials and is specially designed to support community workforce retraining initiatives. Now high schools, technical centers, community colleges and universities can add certificate-based robot education to their STEM, advanced manufacturing and mechatronics programs."
Yaskawa's new STEM Platform for education and workforce development is a redesigned portable cell incorporating an MH5 robot in an aluminum enclosure on wheels. It can fit through standard classroom doors and plug into any wall outlet. The standard configurations and available options provide a package of leading technologies typically encountered in manufacturing environments, including components provided by the Yaskawa Motoman Education Consortium (YMEC).
"All of the major players have products that they sell into education. It's hardware, software, curriculum and services," says Bob Graff, Senior Manager of Robotics Education for Yaskawa Motoman in Miamisburg, Ohio. "In that sense, everyone is contributing to the education market to help provide the right tools. But what we've done at Yaskawa is take more of an education-centric approach in terms of how we provide value to the schools. It's a deeper comprehension and understanding of how we can help education."
YMEC is a partnership between Yaskawa and several suppliers, including Cognex, SCHUNK, Schmalz, Miller, and conveyor supplier QC Industries. Each provides an integral element of the STEM educational platform.
"Especially in education, no one can be one source for all the solutions," says Graff. "So we picked some of the leading robotics companies that provide extra value with vision, grippers, power supplies, and integrated peripherals to come up with a more balanced solution that works for education. That's what YMEC is all about."
Graff says schools are asking for curriculum that is academic-based and provides industrial certification. But how do you package the curriculum in a way that they can use it in their environment?
"In the education environment, learning management systems play a huge role in most, if not all, schools in terms of how they deliver their classes, their curriculum, their objectives, their information system, all of that," explains Graff. "We look at it as an opportunity to provide this portable curriculum and integrate it into their learning management system to blend their lessons and activities with our curriculum. Then you have the best of both worlds."
"It's an industrial education curriculum. That's the big wave quietly going on in education right now," says Graff, echoing other industry insiders. "We're going from a degree-type environment to more of an industrial education certification kind of environment."
"Career techs are really embracing robotics. It's a natural fit. Two-year colleges, community colleges are kind of reflecting what the career techs are doing and vice versa."
"Robotics and education make perfect sense to me," says Graff. "Having really compelling, impactful technology that helps students within their careers and their experiences, that's been my passion."
Graff is a 35-year career veteran of the educational technology industry. He spent 14 years with Apple. He joined Yaskawa in early 2014.
"One of the first things I did is approach a couple of our education cart customers and challenged them to take their best and brightest students and look closely at the current platform. I asked them what they would do differently. I provided all the tools, drawings and prints, and just let them go to town. Over a three-week period, we had these amazing designs coming from high schoolers and their instructors. So I came back to engineering and said, 'Let's build it that way.' And that's the new version of our STEM cart."
Key design changes include a lighter-weight, ergonomically designed cart with smooth edges and an illuminated interior. Instructional tools for teachers and students come standard with the cart. An air compressor is now integrated into the system. Safety features were also added. The STEM cart has an educational robotic option for welding or material handling.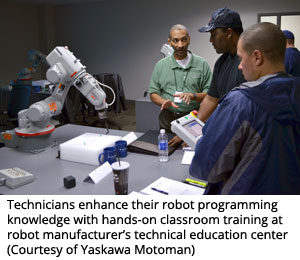 "The instructional tools that we developed were based on feedback we got from the schools and also our training organization, because they do most of the industrial training for teachers," says Graff. "We designed the cart with curriculum in mind. The lessons are aligned, the activities are aligned, and the tools that the teachers use are part of the curriculum. We wanted to make it plug-and-play for the teachers and students."
Robotics Education Options
Graff says funding continues to be a major issue for schools. One way Yaskawa tries to make robotics education more affordable is by offering a simulation environment that is a fraction of the price of a robot training cart. A simulation platform may provide that all-important first step into robotics education.
"When I visit these schools and career techs, one of the questions I keep getting is, 'How much is this all going to cost me?' They will have 25 students go through this program every year. We know they won't be able to provide a hands-on experience because they won't able to buy 25 robots."
"Well, what if you had a tool to provide an interactive virtual robot environment and all the tools to program it and train on it? Then if you have a robot, take what you've done on the computer and run it on the robot, would that work? Of course, the answer is absolutely. 'Well, what's the cost difference?' A robot will cost you around $25,000 while this virtual environment will cost you about $5,000."
"Now we're talking more in line with what they would be able to afford with a technology purchase, like buying tablets for each student," says Graff. "Then it becomes more cost effective and it has more impact. They can jump into robotics sooner."
Graff says there's tons of funding for STEM education, but it's not sustainable. Hardware and software need to be updated every few years to keep pace with technology. Yaskawa tries to help, but what the robot supplier is really trying to do is come up with sustainable models.
According to Graff, RAMTEC is an example of a sustainable workforce development model.
Sustainable Education Funding
Through a partnership between Tri-Rivers Career Center, Marion Technical College and The Ohio State University at Marion, the new Robotics Advanced Manufacturing Technical Education Collaborative (RAMTEC) was born. The three schools combined forces with Yaskawa, FANUC, Honda, Lincoln Electric, and RobotWorx to operate this industrial robotics and advanced manufacturing training center in Marion, Ohio. Spurred on by a $15 million grant, eight more facilities are planned to replicate the RAMTEC concept across the state.
"We've probably had 2,000 people tour this RAMTEC facility since it opened in October 2013, and every company that comes through says they need maintenance technicians and robotics technicians," says RAMTEC Coordinator Ritch Ramey. "I think the state of Ohio right now is short 200,000 technicians and nationally we're short 1.5 million technicians. We know if we meet those needs, it's going to help our state."
Take a video tour of the RAMTEC facility to see how the concept plays out via an array of robotic automation systems and eager students.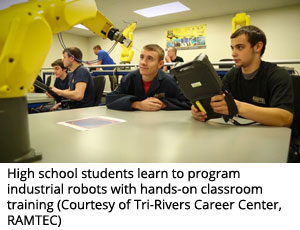 "We're looking at four different groups: high schoolers, college students, incumbent workers who need additional training, and then we have an industrial maintenance program at night for people who want to get into maintenance but also have exposure to robotics," says Ramey. He explains the sustainability of the RAMTEC concept.
"As part of that Ohio Straight A Fund, we have to prove that our program is sustainable or they won't give us the money. How we proved it was sustainable is that we secured large educational discounts by buying in volume for these nine facilities. You get state funding by the number of students you have in the program, so as you add students, there's more money for your school to pay for the program, the teacher, and all the equipment."
"The adult training part of it will be profitable in two ways," explains Ramey. "One, it's going to help bring industry to our community. We've already seen that a plant is moving into our community and it's due to the RAMTEC facility being here. Two, all companies are in desperate need of adult training. If we can meet that need, industry will come. Companies are paying for that training and because they are paying, that's how we will sustain the equipment and buy new equipment as technology advances."
Build It, They Will Come
By buying into the RAMTEC concept, companies are realizing that they're not only making an investment in their current workforce, they're making an investment in their future workforce by supporting the training center's longevity.
"Two of our big employers are Honda and Whirlpool," says Ramey. "We have former students now working in maintenance engineering programs at both companies. If we can get our kids working and going to college here, then we can keep them here in Ohio where we need them."
"We built this facility knowing that we already had a market, but then we realized that we needed more than just robotics. We need everything it takes to be a robot technician and keep the assembly lines running," says Ramey. "So we added Allen-Bradley PLCs, and Parker hydraulics, and Mitsubishi electronics to our training program. We want to create integrators, so we want the students to be able to hook up all these different products together and make them work."
The RAMTEC facilities house about $9 million worth of industrial robotics equipment, including systems from Yaskawa and FANUC. In fact, RAMTEC students provided some of the input for Yaskawa's redesigned STEM cart.
"Our kids come in here every day and work with these carts, 3D printing different end effectors and trying different things. We're kind of a think tank or research center, because our kids are constantly testing what these robots can do."
He says students in the high school program have to be juniors or seniors with a minimum 2.5 GPA and be on track to graduate.
"Parents don't realize the amount of money their kids could be making at age 20 right now," says Ramey. "The jobs are out there. My generation and my parents' generation said if you don't get a four-year degree, you're not successful. That sent the wrong message."
As a result, many manufacturers are teetering on the edge of that ever-widening skills gap.
JR Automation Technologies, LLC in Holland, Michigan, is one of those rapidly growing companies with jobs to fill. The RIA Certified Robot Integrator designs and builds automated equipment from stand-alone stations to fully automated assembly lines for the automotive, medical device, consumer goods, furniture, food processing, and aerospace industries.
What began as a focus on recruiting engineering candidates has grown into many different fields. JR's Technical Talent Acquisition Specialist Kate Puisis is struggling to find people for the skilled trades, including welding, CNC machining, painting, and fabrication. She says journeymen electricians are especially difficult to find.
Puisis says many of the applicants either represent the population of skilled tradespeople nearing or already at retirement age, or they are young recent tech center graduates with limited experience. The gap is largely due to the two-decade-old trend toward four-year degrees over the skilled trades, which is only now beginning to shift.
This video shows how military veterans are helping manufacturers tackle the skilled welder shortage.
Start Young
The mantra 'Start Young' is the fresh face of industry STEM efforts. Can't find the talent? Grow it.
JR is involved with several initiatives to attack the skills gap from many angles. One such program is called futurePREP Connections, which links West Michigan businesses with major school districts to focus on improving the local talent pool by targeting middle school and high school kids.
"It's one of many programs that we try to get our hands on to make sure that these younger students, their parents, and the teachers know that it doesn't always take that four-year degree," says Puisis. "When these kids think of manufacturing or automation, their minds immediately go to a dirty shop where they're tending a machine for 10 hours a day. That's not what it is anymore. These kinds of programs are changing those misconceptions. We're starting to plant the seed a little earlier now."
"One of the futurePrep programs is for middle school kids," says Puisis. "We're trying to show how this is a fun and open, creative environment. We deal with technology every single day. This is certainly not what you think of when you think of a shop. There's something for everybody. It's not just that we need robot technicians, because yes, we need people to maintain them, fix them, and install them. But we also need folks to program the robots and understand how they integrate with systems."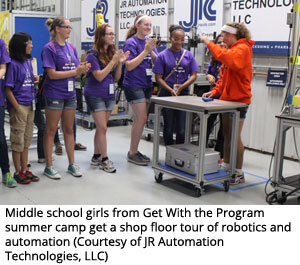 FuturePrep for middle schoolers is a weeklong program. The students are either presented with a challenge or have to come up with one on their own after surveying the community. Then they apply real-world manufacturing solutions to solve it.
"Last year was pretty awesome," says Puisis. "The kids came up with an automatic bike rack that uses robots to take a bike from an overhead rack and put it on the ground, so that people on the streets of Holland, Michigan, could pick up a bike and rent it for the day. We gave them a tour of our shop and showed them some of our automated machinery. On their own, they picked up on some of our safety mechanisms like our indicator lights and light curtains. When they built their model of a bike rack, they included light curtains in case the operator gets a little too close to the robot and they included indicator lights so people knew when to walk up to get their bike."
"It's interesting what they come up with. They're definitely perceptive. You just have to give them the opportunity to have these kinds of experiences," says Puisis. "It proves how important it is to get involved with these younger kids. By the time we talk to them in college, they already have their minds set on what they want to do."
"We're involved with Get With the Program. It's through Grand Valley State University and that's 7th and 8th grade girls," says Puisis. "We've been doing it for some years now. Every summer we'll get a day camp of girls to come through and tour our shop. Then we put them in a room with a couple of engineers and show them what we do, so they get some exposure to engineering in general.
"One of the most significant ways we hone desired skills and help train our employees is through our apprenticeship and co-op programs," says Puisis. "One of our most successful co-op programs is through Grand Valley State University. They do three rotations here, so a semester on and a semester off. By the time they graduate, they can come straight into the workplace and hit the ground running." (Coming up, we'll meet one of those co-op success stories.)
JR also recently participated in Career Quest, a hands-on career and college readiness event for middle and high school students, hosted by a local chapter of the Michigan Works! Association.
"We're trying to stay on the front edge of all the different programs that are happening in our area," says Puisis. "We all benefit if we all pitch in and do what we can to promote our industry."
Number 1 in STEM Inspiration
No other entity has mobilized a more concerted effort in the STEM education movement than FIRST® (For Inspiration and Recognition of Science and Technology). Founded in 1989 by renowned inventor and recent Engelberger Robotics Award winner Dean Kamen, the "Super Bowl" of robotics has grown to epic proportions. A reported 400,000 students from around the world competed in the 2015 FIRST Championship and sister events that descended on St. Louis this April.
After his introduction to FIRST, one father called it a "combination sporting event, dance contest, NASCAR pit crew competition, costume party, and rock concert all in one" in this poignant blog article Top 10 Differences Between High School Sports and Robotics.
While the robots may get the bulk of attention, it's not about them. The student teams are the real stars, both boys and girls on an equal playing field. Learning real-world skills they can use in future careers, the kind eagerly sought by industry.
This year's FIRST challenge had a strong material handling and recycling theme that may hit close to home for many manufacturers and distribution centers. The game called RECYCLE RUSH challenged teams to transport and stack multiple bins and recycling containers in a staging area. In prior years, the challenges were more sports-themed, such as tossing Frisbees or shooting balls into baskets. Still, many of the learned skills were universal to automation.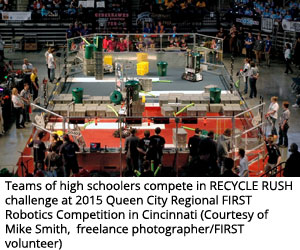 "Moving and stacking the bins and garbage cans, objects that are very top-heavy and awkward, and navigating the robot with that stack, those are features that the students didn't necessarily have to design around in past competitions. But all the teams rose to the challenge," says Elizabeth Kautzmann, Program Manager of Laser/Fabrication for FANUC America Corporation headquartered in Rochester Hills, Michigan.
Known as "Lazer Liz" in the industry, Kautzmann is Chairman of the Industrial Laser Council, serves on the board of directors of the SME Education Foundation, and is a 2014 STEP honoree.
"I was nine when I saw my first laser and was immediately smitten. I didn't ask if girls could do this. I asked, 'What is it? How does a laser do that? What else could it do?' Then I said, 'That's what I want to do!' And I still say it."
This is Kautzmann's fourth year as a FIRST volunteer and her third official year as a judge. She joined thousands of other passionate volunteers in St. Louis for the world championship round.
"There are so many different designs and some of the solutions the students came up with were really innovative and interesting, and easily translate in manufacturing to conveyors, to palletization, to automatic sequencing, and of course we have to do vision feedback and product manipulation everywhere in automation."
Certain bins had reflective tape on them so the teams' robots could identify and place them in the shared part of the play field. Teams earned additional points by putting these bins in the center and letting both fields have access to this repurposed piece. Some of the students took this recycling theme even further by building their robots out of scrap components.
"We're trying to foster this recycling idea of being responsible in how we manufacture and interact with our environment," says Kautzmann. "That's very powerful for them to learn as early as possible in manufacturing."
"The worst trap that we can fall into is to become so familiar with manufacturing that we take things for granted. You have to be very deliberate to say, 'How else can we look at this challenge and find a solution that doesn't necessarily have to be exactly like what we've always done before?' We have to build on the expertise that we already have in house and value continuous improvement."
"FIRST does a good job of keeping that fluid movement between engineering, design, final execution, and the application of it."
Fuel Their Fascination
In the process of student teams designing, building and testing their robots, they are bound to fail along the way. Kautzmann says that's good. It's an important part of learning and growing.
"I was one of those kids blessed with a family that encouraged us to discover and let us build. We learned at a young age that Edison had 1,000 ways (failures – she has difficulty even saying the word) before he came up with the incandescent light bulb. So when people say you failed 1,000 times, I remind them of Edison's sentiment, 'No, we found 999 ways that didn't work.' If you learn from a failed attempt, it's not a failure. It's a stepping stone. That's what I think FIRST has really captured."
"They've captured a safe, exciting environment for failure to get redefined," says Kautzmann. "It becomes the natural progression of learning and gaining expertise. That's why FIRST resonates with me. If I had my own company, I wouldn't want a bunch of people that never failed. Because the first time they hit that brick wall, how resilient are they going to be? How resourceful? How much are they going to bring to the table with new ideas and unique perspectives?"
She says FIRST has done a good job of creating a model that provides enough constraints that students know what needs to be accomplished. Then the mentors, volunteers and sponsors can help encourage the students, but at the same time also let it be the students' own discovery.
"You want them to discover that they can find their own path and put their own specific slant on it, so that expertise is now theirs. As humans we need to be creative, industrious, resilient, and be observers. I don't know how companies stay in business without that natural tendency to push the envelope, to ask questions. To have every person feel like they can suggest something."
Confidence to Contribute
Kautzmann says it's that "boldness in a person" that FIRST inspires so well.
"They do it in a way that a child doesn't have to be an arrogant and loud, bossy person to win or lead, but rather inspire a boldness to say, 'I've observed this, here's my input, or I've got some insights from additional observations and here's my final conclusion.' You're layering these different aspects of students and giving them confidence that they can contribute in their own unique way."
"What I think kids get out of it the most is confidence," says Pat Davison, a long-time FIRST volunteer and Director of Standards Development for the Robotic Industries Association in Ann Arbor, Michigan. "The challenges can be very daunting and they only have six weeks to build this functioning robot. But it goes beyond robotics."
"You see kids exceeding in not only the technical challenges, but also in fundraising and outreach, community involvement, and working with other teams," says Davison. "You teach 14-year-olds those skills and it just propels them to go further in careers regardless of what fields they go into."
"Even if they don't go into engineering, they're taking those same thought processes and that respect for other individuals that don't have their same skill sets, talents or even the same interests, and they're bringing an appreciation for what that other person has to offer," says FANUC's Kautzmann.
"FIRST does such a good job of developing that mutual respect," she says. "They have a word called Coopertition (cooperation and competition). I've seen top teams lend their top programmers to other teams that might be struggling, so that the whole competition didn't lose a team or an aspect of that team's experience. They would rather win when it's exciting and knowing that they all had the best chance at it."
Mutual Respect
This cooperative competition sends a powerful message and is often seen throughout the robotics and automation industry as a whole.
"We've seen cases where FIRST teams that were rookie teams a few years back and were mentored by more mature teams are now just as powerful as the teams that mentored them, and now those teams are mentoring other rookie teams," says Davison.
That peer-to-peer mentorship speaks to Coopertition and another FIRST ethos, Gracious Professionalism. RIA's Davison says the program instills the notion to do the right thing and pay it forward. As a judge advisor, he's in his eighth season of volunteering with FIRST.
"We're starting to see the same students who came up through the program and graduated, now volunteering as mentors or judges," he says. "At the Michigan State Championships, there were three judges and three judge assistants who were former FIRST students. It's great to see that they were giving back following their graduation."
Giving Back
Nicki Bonczyk knows firsthand about giving back. She was one of those kids that came up through the FIRST program. Now a mechanical engineer at JR Automation, Bonczyk never forgets where she came from. She's a "Woman on a (FIRST) Mission."
Bonczyk volunteers as a referee at FIRST competitions and helps mentor young teams. She compares her work as a machine designer to her experience with FIRST.
"It's very team-based here at JR. We all work together and get input from all the different groups while working on a design, because something we see, they might see it differently. It's very similar in FIRST. There's a group of kids and they all have different skill sets on the team, but you have to all come together to make it work. The kids who are good with programming and electrical have to work with the kids who are good at design to make sure everything will function well."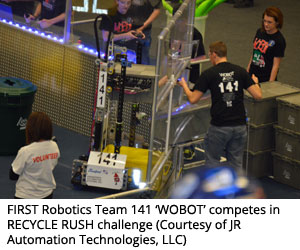 Bonczyk echoes the role confidence played in her development.
"FIRST kids come into industry with a big advantage, because we have hands-on experience. Having to make parts myself, I understand how the mill works, how the lathe works. If I design the part one way, they can make it. If I design it another way, it's almost impossible to make on the machine. You get an exposure to industry."
"You're physically putting things together, seeing how things work and you're building up your fundamentals of design," she says. "Being able to think in a 3D world of how things actually go together. Then coming to JR and working with engineers that had been doing it much longer than I have and being able to contribute to the team is a wonderful skill."
It didn't hurt that while earning her degree in product design and manufacturing engineering from Grand Valley State University, Bonczyk participated in JR's co-op program. She began her career at JR as an intern working in the design department every other semester until she was offered a full-time position upon graduation.
"I'm really passionate about the FIRST program and my job at JR couldn't be more supportive," says Bonczyk. "It's just on a more grand scale of what I did in high school with FIRST."
Kautzmann says FANUC is very supportive of her role with FIRST as well. She's not only a dedicated volunteer and one of the foremost experts in lasers, she's a busy mother.
"We're all busy and I have three sons, so you have to really calculate where you're going to put your time. In 2014 FIRST clocked 4 million volunteer hours. You know that people don't put that amount of time into something that doesn't bear fruit. It's very powerful."
The STEM Continuum
Rensselaer's campus was again the site of the FIRST New York Tech Valley Regional Robotics Competition in March. More than 1,200 students from five states and Canada competed in the event, with qualifiers advancing to the 2015 FIRST Championship.
"We find that involvement in FIRST has been a great indicator of success for the students that we work with in the research lab," says Rock, Sr. Research Scientist at Rensselaer. "If you can cultivate that interest young, do it. Even at the elementary level, because most of these kids are never going to get in a GM assembly plant to see a line of robots stretching longer than a football field."
Most children are naturally inquisitive at a very young age. Many experts suggest encouraging this natural inclination for discovery as young as possible. There seems to be a pivotal age when children either embrace the STEM disciplines or they don't. Much debate has ensued about what that age is, but most agree on the point of no return.
"Middle school is the most critical age," says Paul Schoch, Associate Professor of Electrical, Computer and Systems Engineering at Rensselaer and Director of the university's Center for Initiatives in Pre-College Education (CIPCE). "Especially for girls, it's seems like they start to lose interest in 7th or 8th grade. We're trying to encourage more schools to have the programs in middle school so they don't have a gap. If they get excited in 4th or 5th grade, they can continue on. We need to create that continuum."
Rensselaer's pre-college outreach arm hosts several programs aimed at K-12 students and teachers to promote STEM initiatives. Programs include LEGO Robotics, VEX Robotics, gaming and animation programs, Arduino programming, and summer enrichment camps.
"Activities like the FIRST and VEX competitions get them excited and engaged, but if you really want to make a change you have to get it into the classroom. You have to make it part of the math and science curriculum in these grades," says Schoch. "You have to train the teachers, and have teachers train other teachers. We are working with the schools of education so that they can train the pre-service teachers."
Schoch says they started working with teachers in about six different school districts and those teachers were spreading it within their schools. The model is working even though the federal funding has ended.
"The teachers are still doing it," says Schoch. "We just don't have the financial backing for expansion. But they see the value in it."
Inspiring Diversity
Georgia Tech also has outreach initiatives specifically geared toward getting girls interested in STEM careers. This video shows the variety of activities and cool robots in the HumAnS Lab that open young girls' eyes to the possibilities.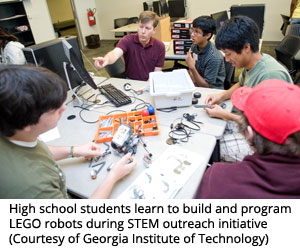 "We also have a summer camp program for high school children to get exposure to robotics and automation, and also get a sense for what they might want to study in college," says Christensen. "It's very popular. We had two summer camps with 60 students in each."
Sponsored by the National Science Foundation, the SURE program is a ten-week summer research program at Georgia Tech designed to attract minority students into graduate school in the fields of engineering and science. Approximately 30 undergraduates are recruited nationwide to conduct research projects in Georgia Tech's College of Engineering and College of Sciences. This video highlights the program.
Christensen says the push for more women and minorities in tech is not just about being politically correct.
"When you have women in the workplace, it changes the dynamic. Otherwise it can easily become a very rude atmosphere. There's also a difference in thinking that is very important. We find in many cases, at least in my experience, that some of the design aspects are much better addressed by women than they are by men – the aesthetics, the interaction … those aspects. We need the broadest possible skill sets."
"In many cases we're designing robots that are used by women," says Christensen. "If I look at the service robotics industry, most men have no idea what these robots are being used for when they are introduced to the home. So we need to engage a representative set of users. It's about providing the right mix."
"I also think it's very important that we get minority role models," he says. "In the service robotics area, we have people like Helen Greiner (CyPhy Works, iRobot) and Cynthia Breazeal (Jibo), who was also at MIT. They are rock stars."
"The girls say, 'Wow! If they can do it, so can I.'"
FIRST, VEX and LEGO. Summer camps, pre-college outreach and co-op programs for budding technicians, engineers and roboticists. They're all vital to replenishing the pool of STEM talent. As an industry, the future is in our hands. Plant the seed now.
RIA Members featured in this article: