Clean Machines: Clean Room Robotics
POSTED 08/17/2006
 | By: Bennett Brumson, Contributing Editor
With the miniaturization of electronic components comes challenges for people to assemble their tiny constituent parts. Humans have difficulty seeing and manipulating the impossibly small elements that make up electronic devices, so they are a good candidate for robotics. However infiltration of dust that is shed by robots and other equipment could damage electronics while in production. The remedy to this: Manufacturers use a special class of robots, those that are designed for use in clean rooms.
''Particle disbursement is the most important issue in clean room robotics. In order to prepare a robot for clean room applications, there is a basic change in its construction, as well as in the way it interfaces with its environment,'' says Peter Cavallo, Sales Manager for Robotics at DENSO Robotics, Long Beach California.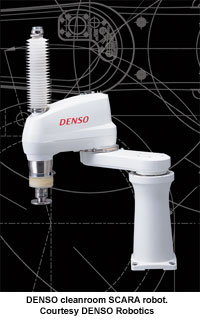 Particle Fallout
Clean room is a subset of robotics for electronic assembly and other applications. To prevent the robot itself from becoming a source of contamination, special features are incorporated into them. Like any mechanism, robots shed particulates from belts, gasses from hoses and cables, and dust particles from the movement of end effectors. All of these can be a source for contamination for fragile electronics such as hard disk drives and semiconductors.
''The robot, belts and other moving parts have to be made out of special non-dusting materials,'' says Wolfgang Jeutter. ''Vacuum chucks that handle electronics have to be made out of materials like PEEK because some rubber materials gas out and leave a residue on parts.'' Jeutter is Vice President at Manz Automation, Inc., North Kingstown, Rhode Island.
One method to ensure that particles are not generated by the robot in clean room environments is to apply a vacuum to the arm's interior. Philip Baratti, Application Engineering Manager at Epson Robots, Carson, California, speaks about how clean rooms are protected from particle shedding through the use of a vacuum. ''To keep particulate from being generated from the robot's motion, a vacuum is drawn on internal cavities,'' Baratti says. ''When under a vacuum, particulate will not be able to move down toward the end of arm tooling.'' Baratti adds that all the joints are sealed up tightly so the vacuum remains constant and no contaminates can leak out.
Baratti points out that while a non-clean room robot might emit a relatively small amount of particulate, even that much could add up over the working life of a robot or its gripper. ''As grippers open and close 10,000 times over its lifetime, they are going to create some particulate,'' Baratti says. Emitting particles onto hard disk drives while their parts are manufactured, assembled and tested could render them useless. Clean room robotics is the perfect means by which parts of hard disk drives are assembled and tested.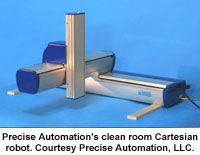 Brian Carlisle, President of Precise Automation, LLC, Los Altos, California, speaks of the need for minimal particle emission as well as the need for high-speed movement in hard disk drive fabrication. ''When making hard disk drives, the robot must be clean and move several meters at high speeds without emitting particles,'' Carlisle says.
Carlisle states that another way that particle discharge is kept to a minimum is by the use of high efficiency particulate absorbing filters (HEPA) in clean rooms. ''Clean room work cells are designed to have HEPA filters so only cleaned air is blown in. The robot and grippers are positioned below parts so if any particles do come off them, those particles will not fall onto the parts.'' Carlisle went on to say that it is vital to keep any equipment that might emit particles underneath hard disk drives or semiconductors, or to cover them. ''Cell layout is important,'' Carlisle concludes.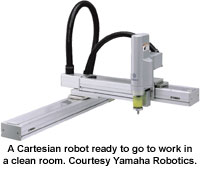 Likewise, Douglas Dalgliesh, Vice President and General Manager with Yamaha Robotics, Edgemont, Pennsylvania, stresses: ''In wafer fabrication, the robot arm is mounted below so contamination will fall away from the product being manufactured.'' Dalgliesh adds that there are some exceptions to robotic arm placement in wafer production. If the arm is mounted above the wafer during fabrication, the arm's cleanliness standard becomes much higher.
The robot and its arm are not the only elements in the work cell that need to be kept ultra-clean. It is necessary to have other surfaces be as inert and cleanable as possible. Klaus Papendorf of Stäubli Robotics addresses the need for surfaces to be kept sterile. Papendorf is Worldwide Account Manager for Semiconductors at Stäubli, Duncan, South Carolina. ''Clean room robotics requires special surfaces, like polyurethane and three-lip seals,'' Papendorf says. Polyurethane, that tough and chemicals-resistant thermosetting plastic, is used to coat some clean room work cell surfaces.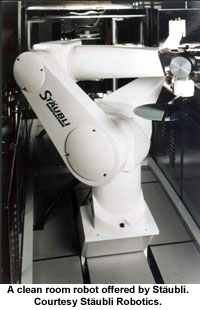 Getting parts to the place when and where they are needed in a clean room work cell without particle dispersion is a challenge that must be overcome when manufacturing sensitive microelectronics. If parts are blown-fed into the work cell, that could be a source of dust contamination. Epson's Philip Baratti explains: ''Integrators should avoid configuring clean room work cells to blow the screws in for final assembly on hard disk drives because there is a fair amount of particulate that also gets blown through. There are too many opportunities to get unwanted particulate in that process,'' Baratti warns.
''Rather than blow feeding screws for assembly, integrators might use a vacuum chuck to pick up screws to put them in place before final assembly of the hard disk drive. That adds to cycle time,'' Baratti says. He concludes there are a lot of challenges in the tooling that goes into clean room environments, but these are challenges robotics readily meet.
Mark Handelsman, Manager of Industry Marketing at FANUC Robotics America, Inc., Rochester Hills, Michigan, has an interesting view on how robots meet clean room requirements. ''The solutions to preventing particles, liquids, and gases from getting into robots apply to preventing them from leaving the robot.'' In other words, how fragile electronics are kept uncontaminated in clean rooms is similar to how robots are protected from hazardous elements when they are working with explosive or radioactive materials.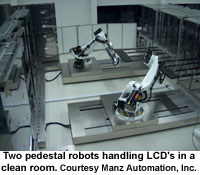 ESD
Electrostatic discharge (ESD) is another variable that clean room robotics must deal with if they are to be used efficiently in manufacturing electronic components. Electrostatic discharge is stationary electric charges that could cause electronics to short out during manufacturing, relegating the device to scrap. Steps must be taken to prevent static electricity from building up in a robotic work cell. Most often, this is accomplished by utilizing materials that are non-conductive or by grounding the robot and its peripheral equipment.
''Manz uses materials like carbon fiber, from which we make our gripper heads,'' says Wolfgang Jeutter. Manz provides nonconducting carbon grippers to manufacture flat panel displays (LCD's) and solar panel components. Jeutter went on to say that carbon grippers are necessary because it has to interface with cassettes, conveyors, coating machines and test equipment, as well as hold the LCD substrates. Any metal-based equipment poses a danger of producing static electricity that could harm electrical components.
Sealing or grounding the equipment is the primary means to prevent electrostatic discharge, says Brian Carlisle of Precise Automation. ''Electrostatic discharge is bad for hard disk drives and other clean room electronics. Metal surfaces are painted to prevent electrostatic buildup, and components are often made from stainless steel which is grounded,'' Carlisle says. ''The air going into the work cell is strictly controlled to reduce ions and humidity to prevent electrostatic build up.''
By the same token, Peter Cavallo of DENSO says that the ability to deal with electrostatic discharge is a requirement of clean room robots used in the electronics industry. ''Electrostatic discharge is handled by modifying the robot such as increased grounding or different construction techniques, so the robot will not build up static electricity.''
Epson's Phil Baratti maintains that protection from electrostatic discharge and clean room precautions are linked. ''Electrostatic discharge requirements and clean room requirements for electronic manufacturing go hand-in-hand. There was a time when you could specify either that your robot will be EDS protected or for clean rooms, or both. Now, when you get a clean room robot, it is ESD certified as well,'' asserts Baratti. ''It does not make sense to have a clean robot that has electrostatic 'hot spots' because they can damage electronic product as easily as a non-clean robot can.''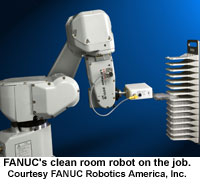 How Clean is Clean?
There is a classification system to determine what level of cleanliness is required for a clean room work cell. Cleanliness classes 1 to 100,000 are a scale that measures the particle count per cubic foot of a clean room's volume. A class 1 clean room has no more than one 0.5 micron particle per cubic foot of air, a class 100 has no more than 100 particles 0.5 micron in size per cubic foot of air.
A potential pitfall in planning and integrating a clean room is using equipment that is too clean for a particular application. This problem is addressed by DENSO's Peter Cavallo. ''From a robotics standpoint, the question is: 'What does my clean room actually need?' It is always best to match your requirements to the equipment you are going to need,'' Cavallo advises. ''If you are careful about what your requirements are, you can build an efficient yet less costly system.''
Cavallo went on to say that during the planning process, requirements for clean room work cells are often not yet fully defined and there is a tendency to require a more stringent cleanliness class than is actually needed. ''It is helpful in controlling costs to have a better idea of what cleanliness level is required. That is more efficient for the cost of equipment and for providing for a larger range of potential product,'' Cavallo says.
As the requirements become more stringent, the range of product that can be manufactured in that cell get smaller. ''If you narrow the funnel, the view is much smaller,'' Cavallo concludes.
Cavallo's sentiment is echoed by Douglas Dalgliesh of Yamaha Robotics: ''Many end-users need a clean room robot but have not developed what specifications are necessary. Many companies tell us that they could use a Class 10 or 100 robot, but have not nailed it down yet,'' Dalgliesh says. ''They need to specify what cleanliness level they are looking for. Otherwise, they spend a lot of money on a Class 10 when they really need a Class 100 or Class 1,000 clean room.''
Typically, semiconductors need the cleanest environment, Class 1, while most other electronics such as LCD's and hard disk drive assembly require Class 10 or Class 100.
Bright and Clean Outlook
As electronics get smaller yet ever more powerful, there will be an increased need for clean room robotics. One need only look at the evolution of smaller cells phones and MP-3 music players to see that.
This trend was summed up by Peter Cavallo: ''The size of components are getting down to extremely tiny levels, so any kind of contamination creates problems. As manufacturing environments get cleaner, people will not be able to work in them, so robots will be taking a more important role.''
Editor's Note – For more information, you may contact any of the experts listed in this article or visit Robotics Online, Tech Papers.
DENSO Robotics: Peter Cavallo, Sales Manager for Robot Dept., 310-513-7343, [email protected]
Epson Robots: Philip Baratti, Applications Engineering Manager, 562-290-5931, [email protected]
FANUC Robotics America, Inc. Mark Handelsman, Manger of Industry Marketing, 248-377-7000, [email protected]
Manz Automation, Inc., Jeutter Wolfgang, Vice President, 401-295-2150,
[email protected]
Precise Automation, LLC, Brian Carlisle, President, 530-888-6256, [email protected]
Stäubli Robotics, Klaus Papendorf, Worldwide Key Account Manager Semiconductors 49-921-883-378, k.papendorf@@staubli.com
Yamaha Robotics, Douglas Dalgliesh, Vice President and General Manager, 610-325-9940, [email protected]