Automation in Health Care Revolutionizing the Medical Industry
POSTED 11/01/2023
 | By: John Lewis, A3 Contributing Edtior, Tech B2B
From cutting-edge robotic technologies to innovative magnetic applications, automation is revolutionizing health care delivery and improving patient outcomes.
Automation technology has been transforming various industries, and the health care sector is no exception. From robotic surgeries to lab automation, the health care industry is witnessing an automation-driven revolution that's not only improving efficiency but also enhancing the accuracy of diagnoses and prognoses, advancing research, and refining surgical techniques. The key players in this revolution, robots and related technologies, are making significant contributions both inside and outside the operating room.
Human–Robot Collaboration
One of the most exciting developments in health care automation is the collaboration between humans and robots. This partnership is improving the accuracy and effectiveness of health care professionals. Robots can perform repetitive tasks with precision, freeing up health care professionals to focus on more complex tasks. This collaboration leads to improved patient care and reduced medical errors.
KUKA Robotics Corporation has been active in the health care space for more than 20 years, according to Corey Ryan, director of medical robotics at KUKA. The company's robots are used in a variety of health care applications, including radiation therapy, angioplasty, cranial maxillofacial surgery, hair transplantation, and rehabilitation. The company is also developing new automation solutions for laboratory automation and startups.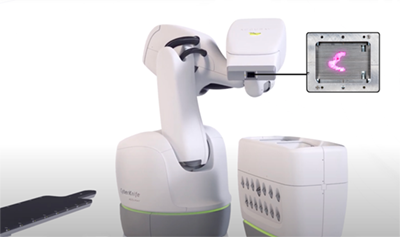 One example of KUKA's work in health care is its collaboration with Accuray in developing a robot-mounted linear accelerator for radiation therapy. Accuray's collimated beam system delivers targeted radiation to patients. The robot makes the system more precise, reducing radiation and minimizing damage to surrounding healthy tissues.
Another example is KUKA's work with Siemens to develop a coordinated motion system for angioplasty suites. The system helps prevent collisions between the C-arm and the table, improving patient safety and reducing potential equipment damage.
Precision Laser Bone Cutting
KUKA is also developing robots for use in cranial maxillofacial surgery. These robots can perform precise laser cuts to the jaw. The cuts' interlocking tooth pattern helps hold the jaw in place after the procedure and increases the surface area for healing. The technology improves the outcome of surgery and reduces recovery time compared with traditional saw cutting.
In addition to these surgical applications, KUKA's robots are also being used for rehabilitation. For example, ROBERT® from Life Science Robotics (LSR) provides a complete and flexible robotic solution for rehabilitation. In this application, the KUKA robot is programmed to guide patients through range-of-motion exercises designed to help them recover from injuries or strokes.
Lab Automation and Drug Discovery
Robotics is also making significant strides in lab automation and drug discovery. Robots can handle delicate tasks such as pipetting and sample preparation with precision and consistency. This not only improves the accuracy of lab results but also accelerates the process of drug discovery.
According to Ryan, KUKA is also developing new automation solutions for laboratory automation and startups. The company's mobile robots can be used to automate tasks in laboratories, such as sample handling and testing. KUKA also offers a development kit to help startups create professional-looking robotic systems.
Surgical Robots
Surgical robots are another significant advancement in health care automation. These robots increase precision, minimize surgical time, and improve patient outcomes. They can perform complex procedures with a level of precision that surpasses human capabilities. This not only leads to better surgical outcomes but also reduces patient recovery time.
Stäubli Robotics offers a range of robotic solutions for many industries, including manufacturing and health care. In the health care industry, Stäubli robots are used in a variety of applications, including neurosurgery, spine surgery, and ophthalmic surgery according to Brandon Harrison, sales account manager for medical robotics at Stäubli.
For example, the company worked with Zimmer Biomet to develop ROSA ONE Brain. This robotic platform assists surgeons in planning and performing complex neurosurgical procedures in a minimally invasive manner. ROSA ONE Brain improves the accuracy and speed of neurosurgery and reduces the risk of complications.
Another example is the work Stäubli has done with Keranova Photonic Surgery. Keranova's system uses a femtosecond laser to perform photo keratomileusis (PKL), a type of cataract surgery. Stäubli helped Keranova develop a precision, autonomously operating robotic arm for the system. Equipped with vision technology and advanced sensors, the robot delicately and precisely positions the system on a patient's eyeball, under the direction of the surgeon. After the surgical steps are completed, the robotic arm returns to its parking position.
Stäubli also worked with BHS Technologies on its RoboticScope®, a novel surgical microscope providing hands-free access to surgical sites. In this application, a robot-mounted camera gives the surgeon a permanent view of the operating field. The surgeon uses head movements to change the camera's position, providing hands-free control without the need to put down any surgical tools. The system also allows the surgeon to remain seated and upright during surgery, improving ergonomics and reducing fatigue.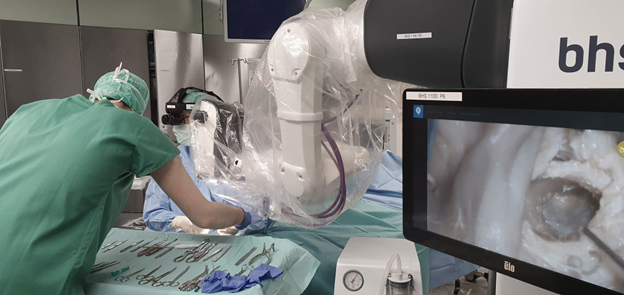 Hospital Robots
Hospital robots play a crucial role in disinfecting medical equipment, monitoring patients' vital signs, and delivering medications to laboratories. These robots can work around the clock without fatigue, ensuring that hospitals maintain high standards of cleanliness and patient care. They also free up staff to spend more time interacting with patients.
According to Chris Barnes, strategic account manager for life sciences at Omron Automation — Americas, autonomous mobile robots (AMRs) used in health care settings fall into four main application categories.
General Use AMRs
General use robots are essentially AMRs equipped with lidar and sensors. They are primarily used for security patrols and delivery tasks, such as transporting food, sanitizer, and clean or dirty linens. These robots can work continuously without overtime pay; they helped hospital staff maintain safe distances during the pandemic.
Complex or Sterile Robots
These robots handle more complex tasks, such as transporting items to and from labs or sterilization departments. Integrated heating or cooling elements with temperature sensors for delivering meals in heated or cooled cabinets, like airplane food trolleys, hermetically sealed compartments to prevent contamination, or integrated autoclave capability, make these robots more complex. They are designed to handle more complex tasks such as the delivery of medical instruments to or from MDR (Medical Device Reprocessing), glassware and other lab tools from lab to sterilization and return, while fulfilling spot calls for other supplies such as gloves, bandages, disinfectant, masks, etc. to nurses or other departments.
Secure Robots
These robots are used in applications where security is necessary, such as transporting narcotics or blood samples. The robots are equipped with security equipment, such as RFID technology or cameras to prevent unauthorized access.
Cleaning and Sterilization Robots
These robots assist with tasks related to maintaining cleanliness and sterility in health care facilities, such as long-term care facilities and hospitals. In addition to addressing sanitation needs, they also address labor shortages. Such robots may integrate floor cleaning, UV sterilization, and technology for documentation of cleaned areas.
The advantage of using robots, particularly mobile ones, is that they don't require additional infrastructure. They use lidar technology to navigate, which also helps create accurate floor plans. This eliminates the need for uploading CAD drawings or floor plans separately and gives robots the ability to avoid and move around obstacles and personnel that may be in the way.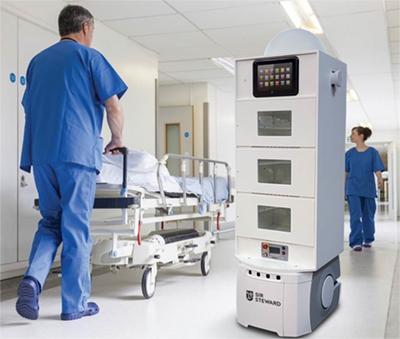 "The biggest surprise is that those who we think would object to robots, like seniors or unions, usually embrace them," says Barnes. "Seniors love the new technology, and unions are thrilled because robots take over the parts of the job they don't want to do."
A Force for Better Health Care
Automation in health care is not just about replacing human effort with machines. It's about augmenting human capabilities with technology to deliver better patient care. Advancements in robotics are enhancing accuracy, reducing medical errors, and revolutionizing the health care sector. Automation is not just a trend; it's a revolution that's advancing health care. By embracing this revolution, we can look forward to a future where health care is more accurate, efficient, and patient-centric.